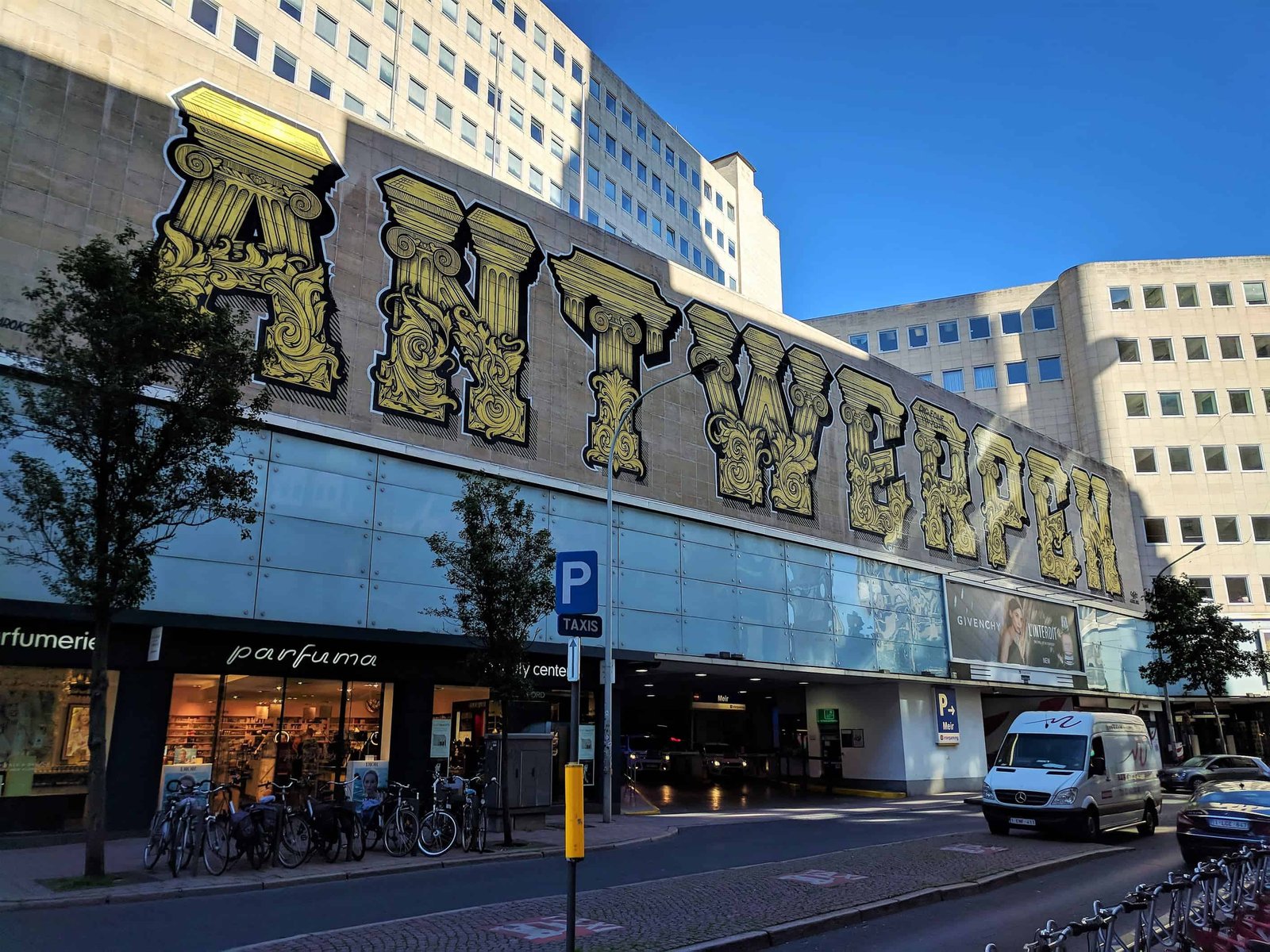 26 Jun

Antwerp, Belgium – Travel Guide

Antwerp Guide

Antwerp is perhaps best known as a busy port or as a commercial city, especially in the trade of diamonds. Overshadowed by its more popular Belgian neighbors of Bruges, Ghent or Brussels, we were, however, pleasantly surprised to find that Antwerp had much to offer visiting travelers.

Antwerp is only a 35-minute train journey from Brussels, where we were based, and we planned a one day trip this busy city on the River Scheldt. What we found, however, was that there was plenty to see in this fine municipality and would make a really good long weekend destination.
---
5 Unmissable Attractions: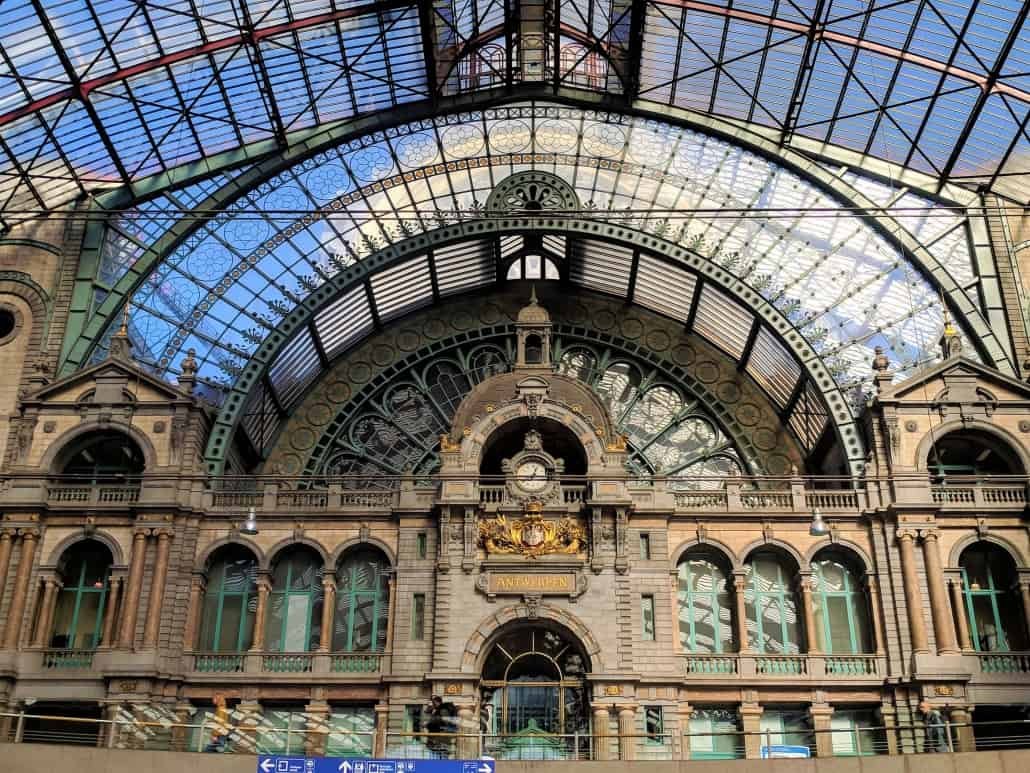 Central Station – Our first contact with Antwerp was as we stepped off the train at the Central Station. The sight in front of us was awe inspiring. It was easy to see why the American magazine Newsweek chose the Antwerp Central Station as the fourth most beautiful train station in the world. We are quite used to departing the train and hurrying through the station to the city outside. However, this time we spent half an hour walking around and taking in the artwork, design and sheer size of the station – Central Station deserves its nickname of Spoorwegkathedraal (Railroad Cathedral). Being built in 1905, the stone clad terminus buildings, with a vast dome above the waiting room hall were designed by Louis Delacenserie and the vast (185 metres long and 44 metres high) iron and glass trainshed by Clement van Bogaert.
Address: Koningin Astridplein 27, Antwerp 2018, Belgium
---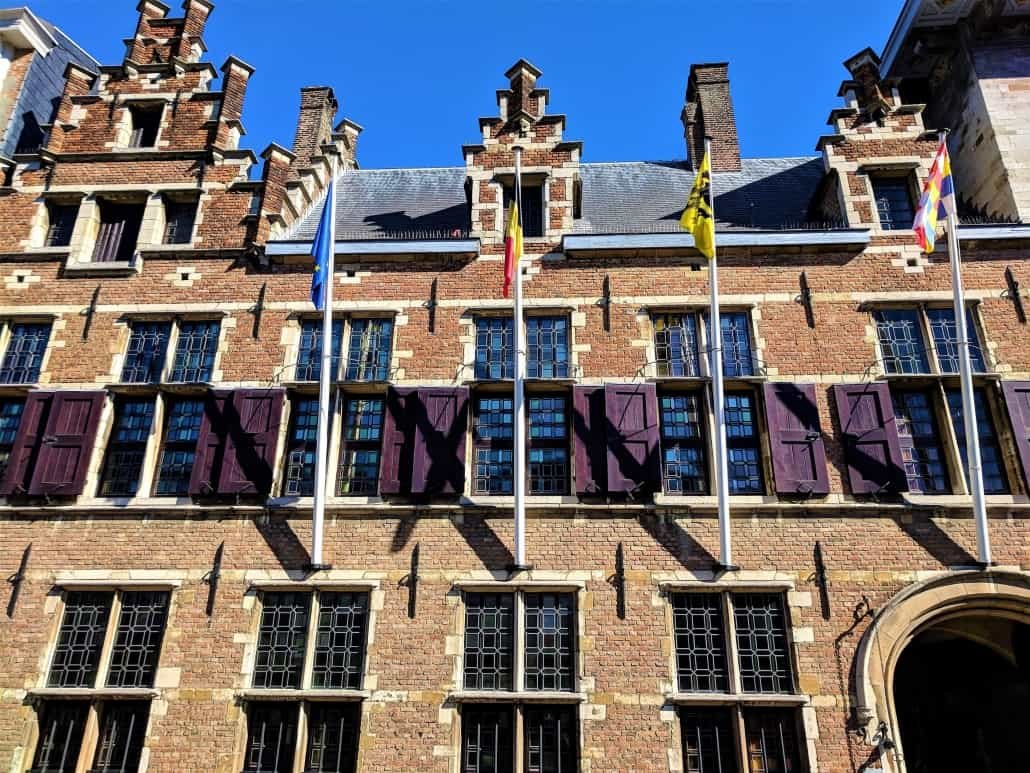 Rubens House (Rubenshuis) – Perhaps Antwerp's most famous resident was the 16th-17th–century Baroque painter Peter Paul Rubens and you can even visit the house where he created his masterpieces. The Rubens House can be found in the heart of Antwerp, and we found it surprisingly quite large. Rubens had designed the house himself, the size was due not only to accommodate his family, but the team of professional artists that he used during the height of his fame. The interesting history of the house did not stop with Rubens though. Following his passing, the family rented the building our as a popular equestrian centre. Then, at the end of the 18th century, the French even confiscated the property to use it as a prison. In 1937, Antwerp bought the property and turned it into a museum.
Address: Wapper 9-11, Antwerp 2000, Belgium
---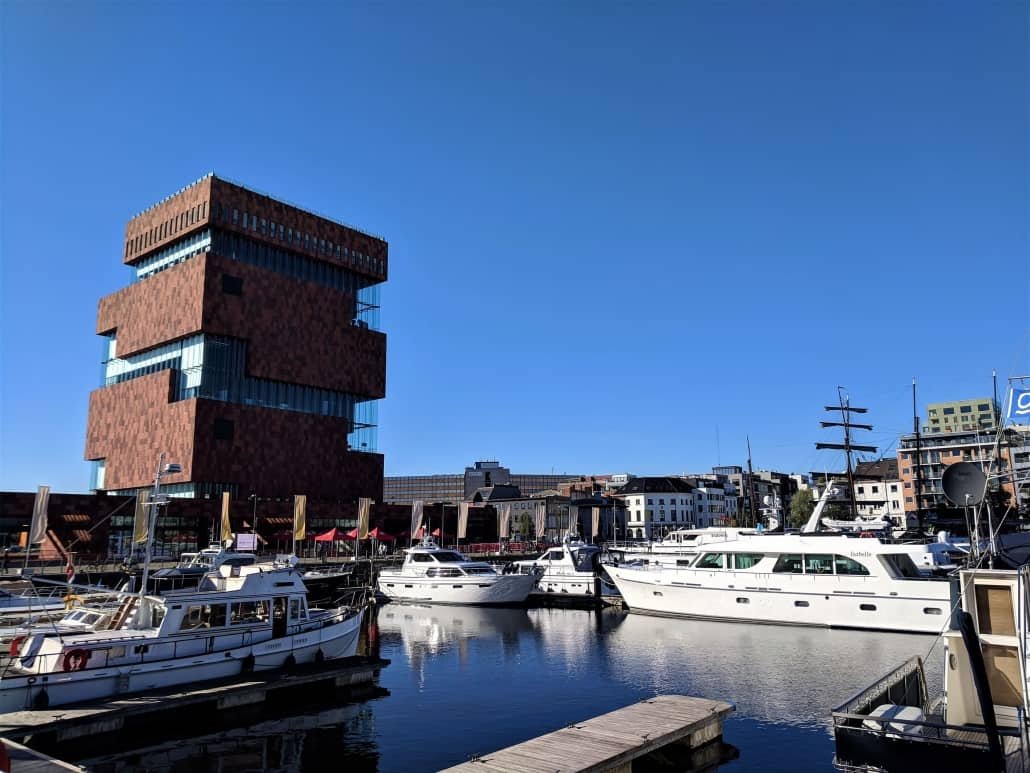 MAS – Museum aan de Stroom – Over the years, much of the wealth and power of Antwerp came from its location on the River Scheldt as a busy port. The MAS building towers over this port are and tells the story of Antwerp, the river and the port. The collection boasts over 500,000 museum pieces. At the top, on the tenth floor, you'll enjoy a 360-degree panorama of the city, the port and the river.
Address: Hanzestedenplaats 1, Antwerp 2000, Belgium
---
Grote Markt van Antwerpen – No trip to Antwerp is complete without a visit to the Grote Markt. This bustling square seems to be a magnet for local and visitor alike. Originally this was a forum or square just outside the medieval residential quarter, when, in 1220 Duke Henry I of Brabant (1165-1235) donated this community land to the city. Soon the square became home to annual markets (Brabant fairs), where merchants from all over Europe would congregate and do their business. It was partly due to these fairs that by the end of the fifteenth century Antwerp overtook Bruges as the most prominent city of the Low Countries and the wealth of this city becomes obvious when you study the architecture around the market.
Address: Grote Markt, 2000 Antwerpen, Belgium
---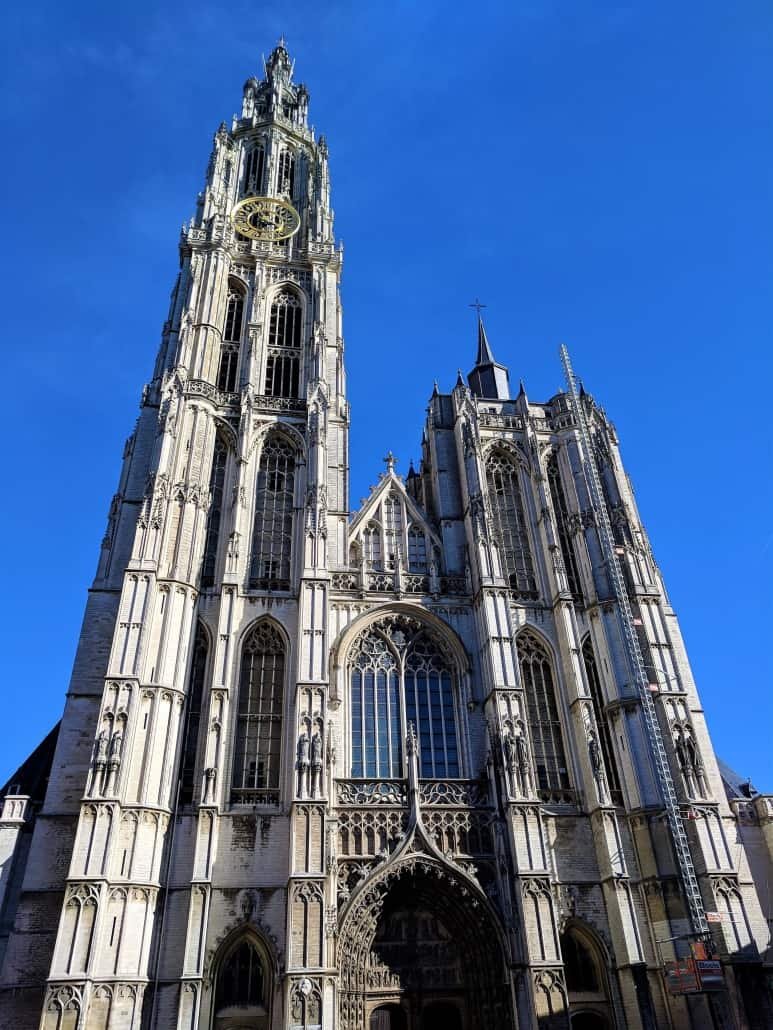 Cathedral of Our Lady – The centre of medieval Antwerp is dominated by the huge Cathedral of Our Lady. This sanctuary took 169 years (1352-1521) to build and the steeple rises 123m heavenward, making it the highest Gothic building in the Low Countries. As impressive as it is outside, we found that the interior was just as awe inspiring, being a treasury of major art works, including a series of paintings by Rubens including the 'Elevation of the Cross' and his 'Descent from the Cross'.
Address: Groenplaats 21, Antwerp 2000, Belgium
---
10 Hidden Gems: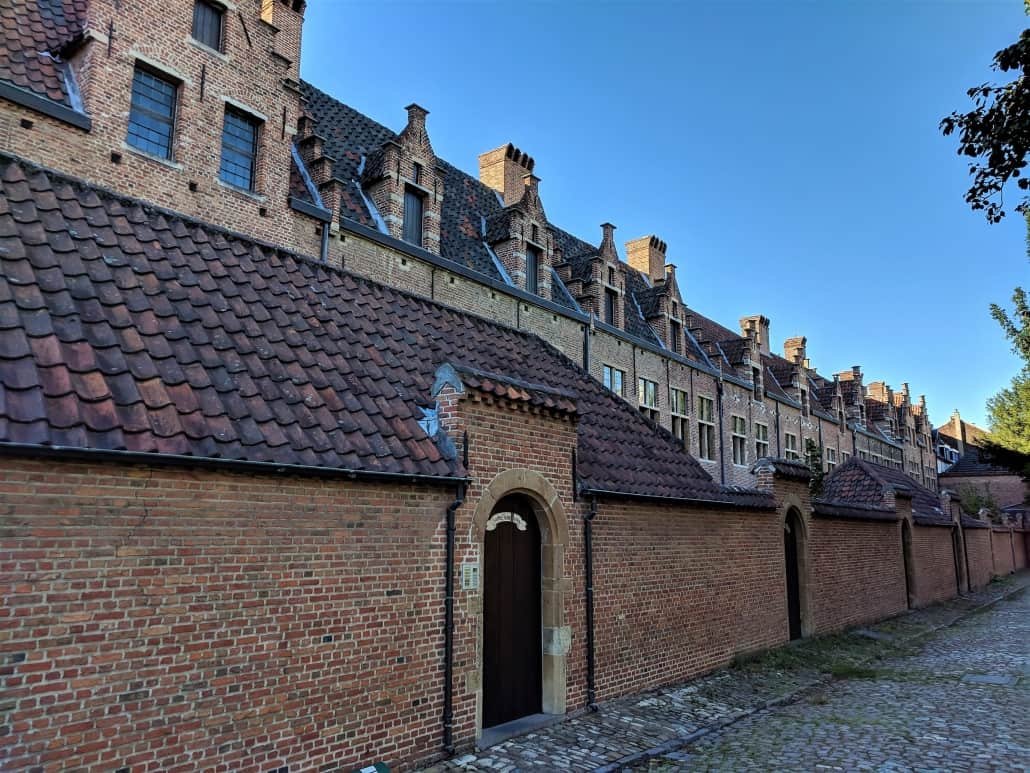 Beguinage – During our tour of Belgium, we have always been inspired by the peaceful Beguinages that can be found in the medieval cities. The Beguinage is a community of tiny houses which offers a haven of silence, having been built to house local devout women. The Antwerp sanctuary was built in 1545, with beautiful homes, connected by cobbled streets. The last Antwerp beguine, Virginia Laeremans, died in 1986, but the original character and tranquillity of the beguinage has been preserved.
Address: Rodestraat 39, Antwerp 2000, Belgium
---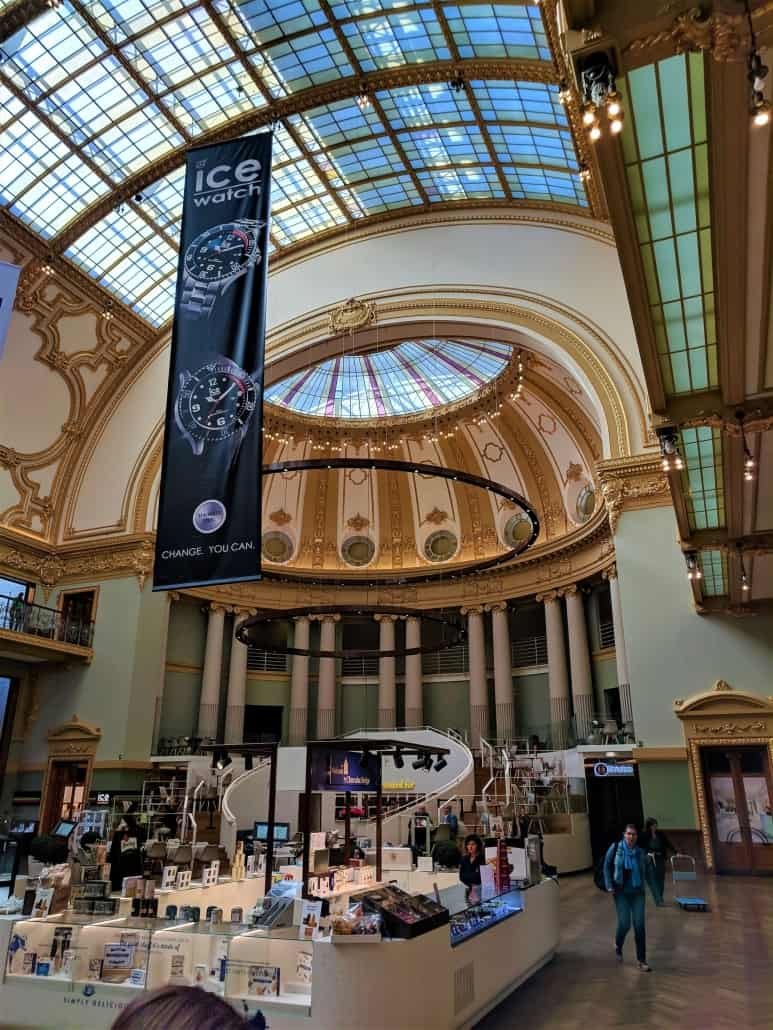 Shopping Stadsfeestzaal – On our travels, we tend not to visit shopping malls. After doing our research on Antwerp, however, we realised that we would have to make an exception and check out Stadsfeestzaal. We weren't concerned about the goods on display, rather we were captivated by the beautifully restored hall the shops are housed in. Originally the building served as a large party and exhibition hall and was restored to its former glory in 2007.
Address: Meir 78, Antwerp 2000, Belgium
---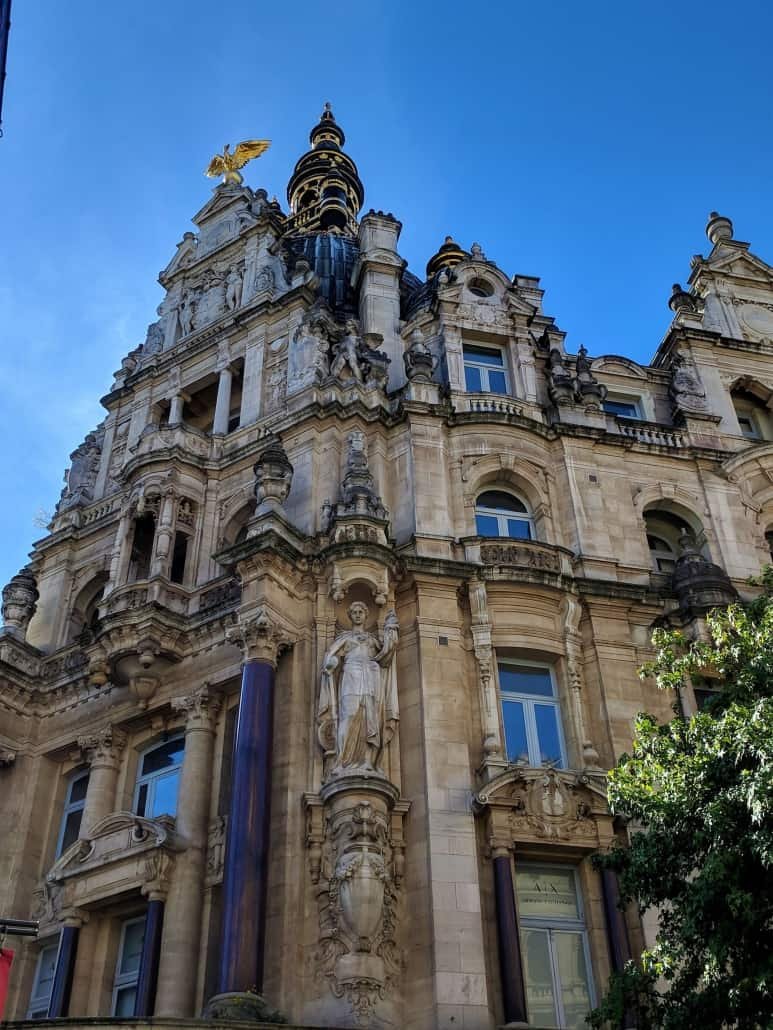 Meir – All visitors to Antwerp will walk along Meir, the vibrant main shopping avenue of Antwerp, but it is worth stopping and taking in the beautiful architecture. Our eyes were first focused on the shop fronts of the many large international chains; however, we soon learned to look above this and study the stunning Rococo designs of the these stately 18th and 19th century buildings.
Address: Leysstraat, Antwerp, Belgium
---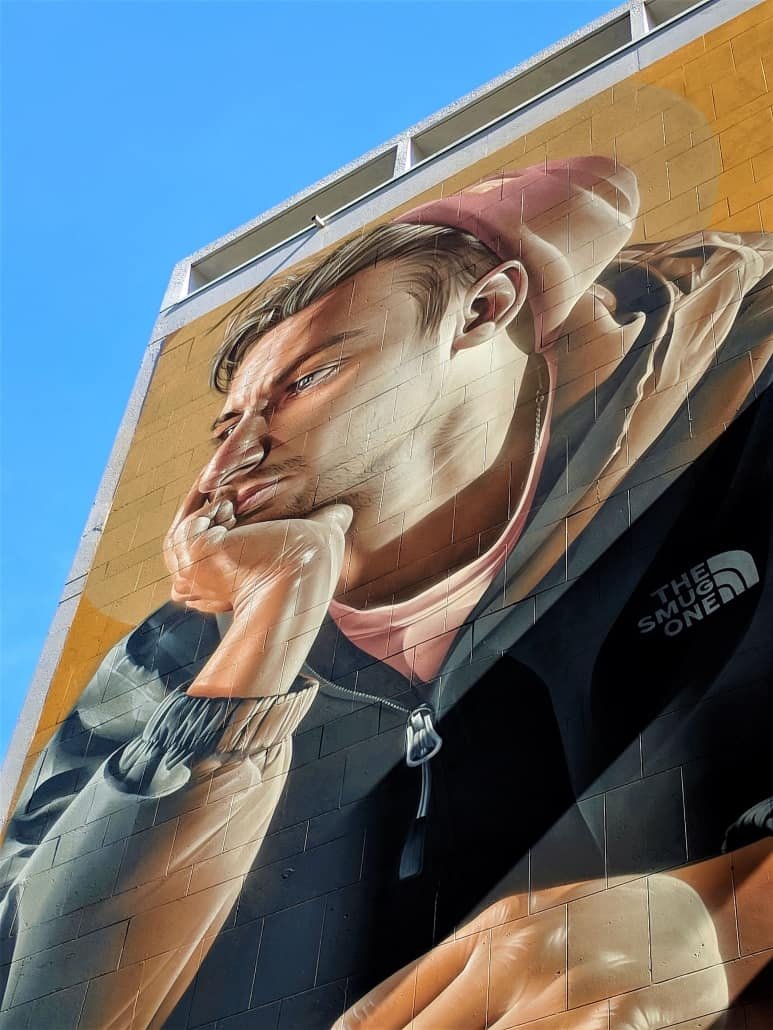 Street Art – Street art is very popular in Belgian cities, no more so than in Antwerp. Many murals are in plain sight as you walk around the centre of the city, but it is well worth checking out the street art map (click on link) to find those stunning pieces of artwork hidden down a side street.
Address: Various
---
Kapel Onze Lieve Vrouwe van Toevlucht – It would be quite easy to walk past Kapel Onze Lieve Vrouwe van Toevlucht without noticing this small chapel, built near the old Shoe Market. However, it is well worth stopping by this little sanctuary known as the Little Shoemakers' Chapel. The chapel is devoted to the mother Mary and is a lovely oasis of calm within the busy city.
Address: Schoenmarkt 8, Antwerp 2000, Belgium
---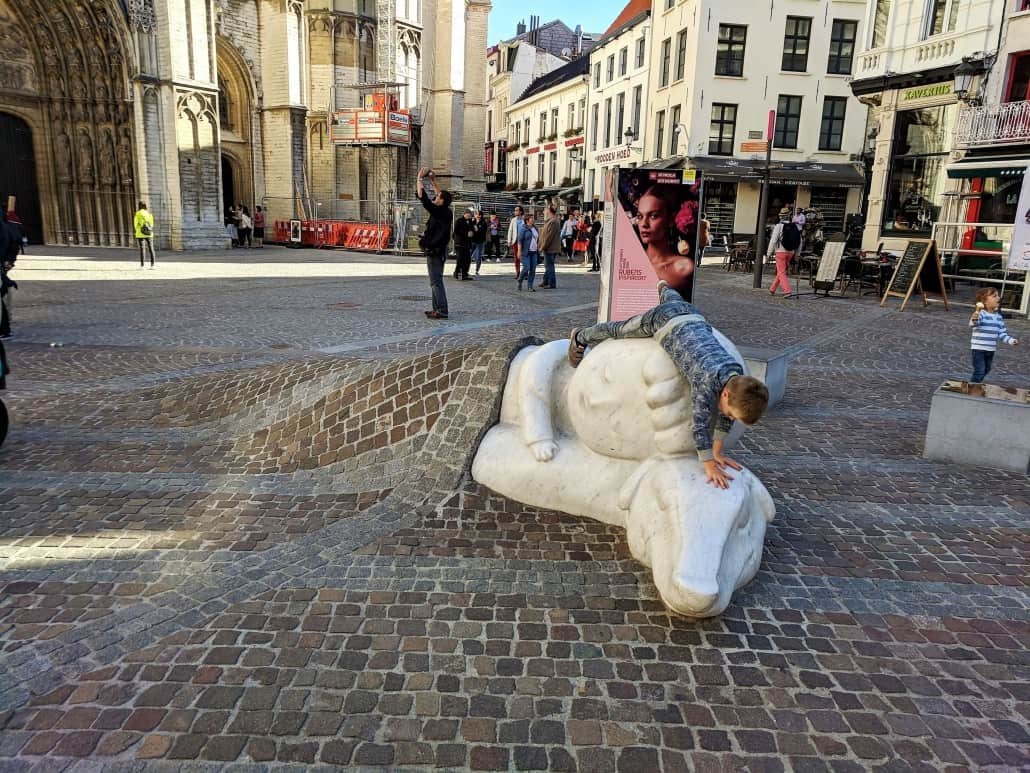 Nello & Patrasche Statue – When visiting the cathedral, it is hard to miss the striking Nello & Patrasche Statue. It is a statue of a boy and his dog, created by artist Batist Vermeulen. The two were the main characters in the 1872 novel A Dog of Flanders, which is a story of pride and unconditional friendship.
Address: Handschoenmarkt, In front of the Cathedral of Our Lady, Antwerp 2000, Belgium
---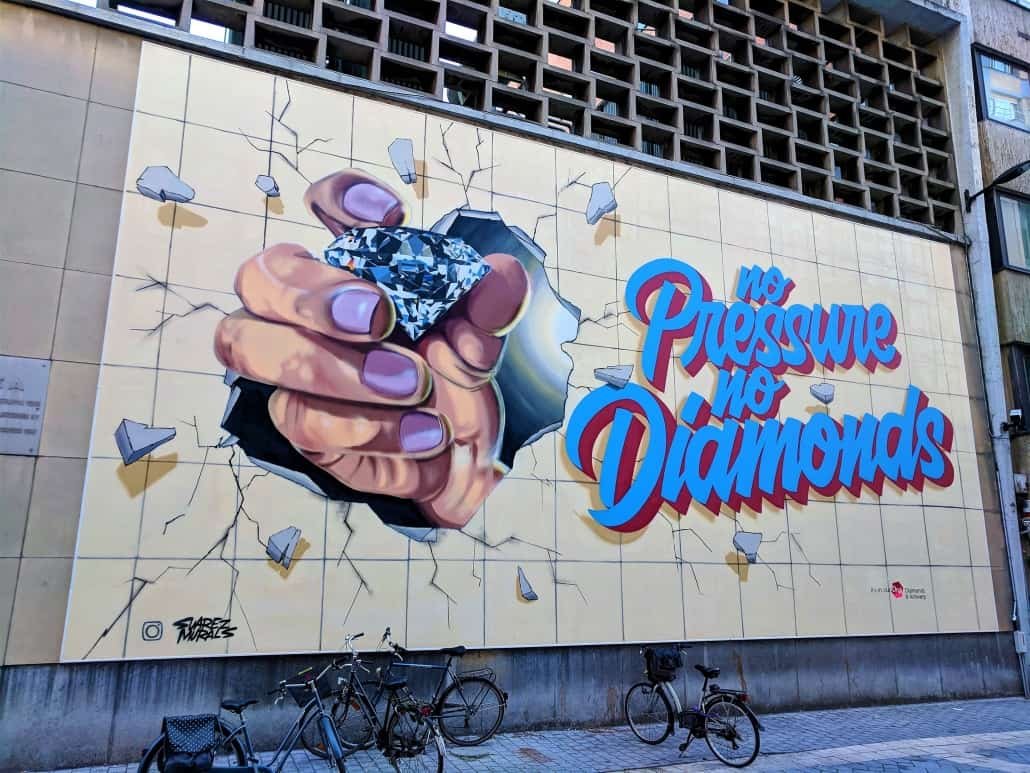 Diamond District – Antwerp has been the largest and most dependable diamond centre in the world for more than five centuries. It controls no less than four-fifths of the rough diamond market and half of the polished market. The district is adjacent to the Central Station, and it is an interesting walk, seeing the diamond exchanges, stores and the general hustle and bustle of the place.
Address: Bounded by De Keyserlei, Pelikaanstraat, Herentalsestraat, Antwerp 2018, Belgium
---
Saint Paul's Church – Antwerp has a number of splendid churches, none more so than Saint Paul's Church. The church, which was completed in 1639, is more like an art gallery, boasting more than 200 statues and 50 paintings. Masterpieces by artists such as Jordaens, Rubens, Van Balen and Van Dyck are all on display.
Address: Sint-Paulusstraat 22, Antwerp 2000, Belgium
---
Brabo – When admiring the buildings around the Grote Markt, it can be easy to overlook the significance of the Brabo Fountain, which is in the centre of the square. It was unveiled in 1887 and is based on the legend of the giant Druon Antigoon. The giant is said to have cut off the hands of all ship captains refused to pay his toll when they moored in the area, throwing their hands into the Scheldt. The giant, however, received his comeuppance when the captain of the Roman army, Brabo, cut off Druon Antigoon's hand, imitating what he had done. The fountain reflects the moment when the Brabo throws the giant's hand into the river.
Address: Grote Markt, Antwerp 2000, Belgium
---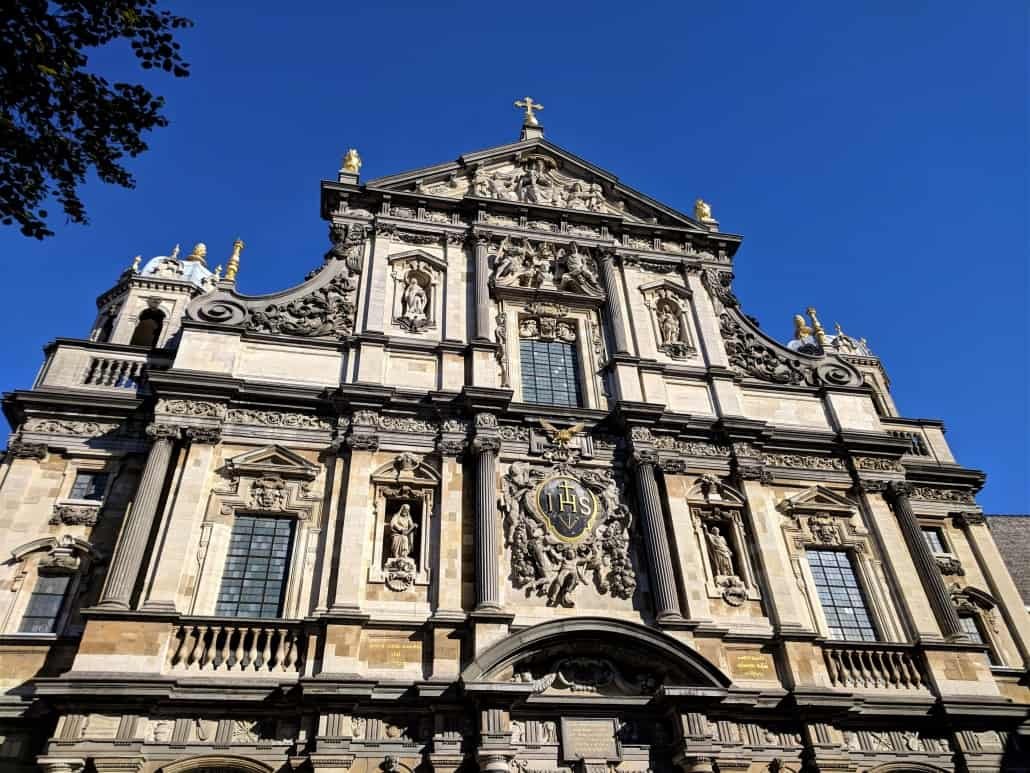 Carolus Borromeus Church – The Carolus Borromeus Church has the usual Jesuit façade, but the real interest in this refuge would have been the stunning ceiling paintings created by Peter Paul Rubens. The 39 paintings led to the church being described at the "the eighth world wonder" and attracted visitors far and wide during the seventeenth century. Unfortunately, the paintings were destroyed in a fire, but it is still a beautiful church to visit.
Address: Hendrik Conscienceplein 12, Antwerp 2000, Belgium
---
Where to Eat: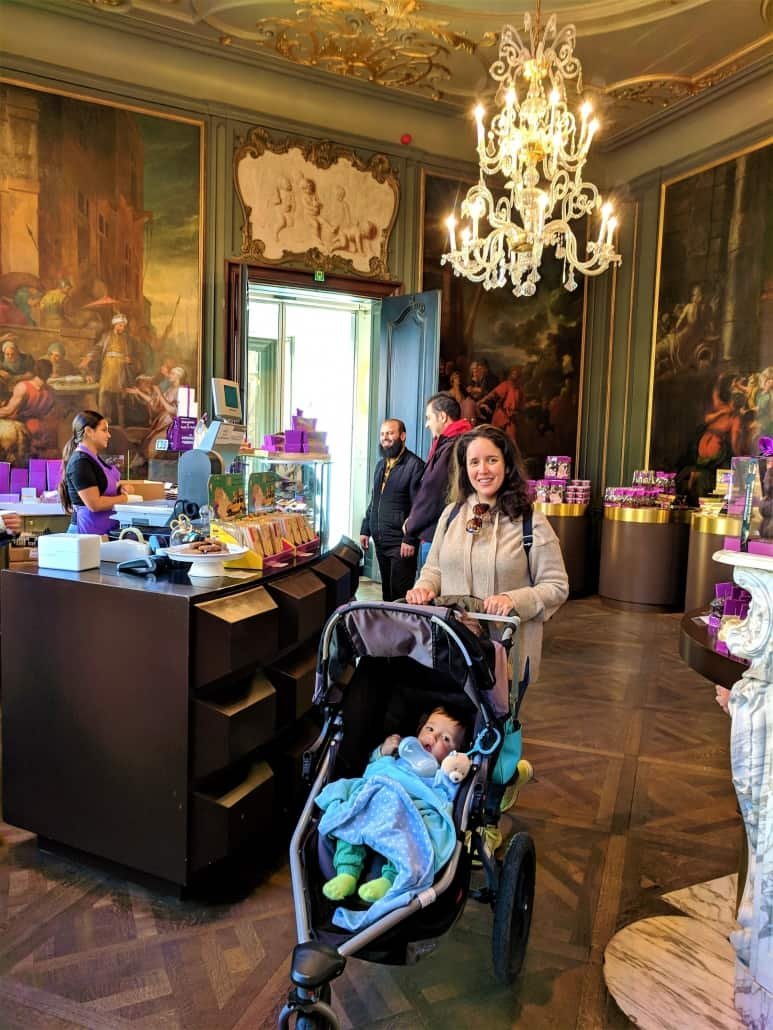 Paleis op de Meir – We are notorious 'chocoholics', so a visit to the Chocolate Line by Dominique Persoone was top of our list when visiting Antwerp. Not only was the chocolate to die for, the building – the Paleis op de Meir – has a great history. Due to its favorable location, the palace attracted the attention of Emperor Napoleon, who acquired it in 1811. Napoleon never actually stayed in the palace, but during the exile of the French emperor on the island of Elba, his rival Alexander I of Russia did live there.
Address: Meir 50, Antwerp 2000, Belgium
---
Morso – Vintage style restaurant serving great French / Belgian cuisine, near the Grote Markt.
Address: Suikerrui 8, 2000 Antwerpen, Belgium
---
Senzelle – A cosy bistro where you can go for a quick lunch or a delicious dinner in a relaxed setting.
Address: Vlaamsekaai 10, 2000 Antwerpen, Belgium
---
Where to Stay:
The ASH – Antwerp Student Hostel – Budget Price
Address: Italiëlei 237, 2000 Antwerpen, Belgium
---
TRYP by Wyndham Antwerp – Moderate Price
Address: Plantin en Moretuslei 136, 2018 Antwerpen, Belgium
---
Hotel Julien – Luxury
Address: Korte Nieuwstraat 24, 2000 Antwerpen, Belgium
---
Hints, Tips and Useful Information:
Respect: Avoid speaking Dutch in Wallonia and French in Flanders. Sometimes it can cause offence. Speaking English is often the safest bet for travelers. It is customary to kiss three times on alternate cheeks amongst friends.
Electricity: Power plugs and sockets are of type E (round two pin). The standard voltage is 230 V and the standard frequency is 50 Hz. This socket also works with plug C and with plug F if it has an additional pinhole.
Currency: Euro in denominations of €500, 200, 100, 50, 20, 10 and 5. Coins are in denominations of €2, 1 and 50, 20, 10, 5, 2 and 1 cents.
Banks and ATMs: American Express, Mastercard, Visa, Cirrus, and Maestro are widely accepted at major restaurants, stores and hotels. However, it is best to carry a certain amount of cash to smaller shops as there are some that do not accept cards. ATMs are usually free to use.
Language: Belgium has three official languages: Dutch, French and German. Dutch is spoken Flanders, the northern half of the country, and French is spoken in the southern Wallonia region. Brussels is officially bilingual, being both Dutch and French. German is spoken in an eastern enclave. English is widely spoken in Flanders, but less so in Wallonia.
Basic words:
Thank you – Danke je (Dutch) / Merci (French)
Please – Alsjeblieft / S'il vous plaît
Good morning – Goedemorgen / Bonjour
Good afternoon – Goedenmiddag / Bonne après-midi
Good evening – Goedenavond / Bonsoir
Yes – Ja / Oui
No – Nee / Non
Religion of the country: Christianity is the main religion in Belgium. Just over half the population are Roman Catholic.
Telephone dialing code: +32
Emergency numbers: Dial 112 for Ambulance and the fire department and 101 for urgent police assistance.
Internet: Free Internet access via Wi-Fi is possible in many busy tourist spots.
Transport – Taxis: Taxis cannot be hailed on the street. Instead, go to a designated taxi rank, or phone a reputable company.
Transport – Driving: Belgians drive on the right-hand side and seat belts must always be worn in the front and back. A child less than 1.35 metres in height travelling in a car, van or lorry, must be seated in a child seat or child restraint.
Visitors driving in Belgium are required by law to carry the following items: reflective jackets, a warning triangle, headlamp beam deflectors, a first aid kit & fire extinguisher.
Motorcyclists: Motorcyclists riding in Belgium must wear protective clothing, i.e.: gloves, jacket with long sleeves, trousers with long legs or overall, and boots protecting the ankles.
Climate: Spring (March to May) and Autumn (September to November) tend to be mild, with warm Summers (June to August) and cold Winters (December to February). It can rain during any season.
Water: Tap water is drinkable, but most prefer bottled water.
Shopping: What to buy in Brussels:
Chocolates
Comic books (especially Tintin)
Lace
Beer from a Trappist Monastery
Beer glasses
Eggwhite soap
Cuisine: What to try in Brussels:
Mussels with fries
Fries by themselves!
Chicons au gratin – chicory wrapped in ham and then covered in a creamy bechamel sauce and topped with cheese
Flemish stew – beef cooked slowly in beer
Waffles
Eel in the green – eels in a herb sauce
Rabbit with prunes
Jenever – a juniper flavoured liqueur
Smoking: Smoking is banned in bars, restaurants and casinos.
Alcohol Consumption: It is illegal to "sell, serve, or offer" any form of distilled alcohol to those under the age of 18 or any alcoholic drink to those under 16. So fermented drinks like beer or wine are permitted above 16.
Tipping: Tipping is not very common in Belgium. Service workers are generally well paid and so you won't be expected to leave a gratuity.
Safety: Overall, Belgium is a safe country, with a small risk of pickpockets in tourist areas.