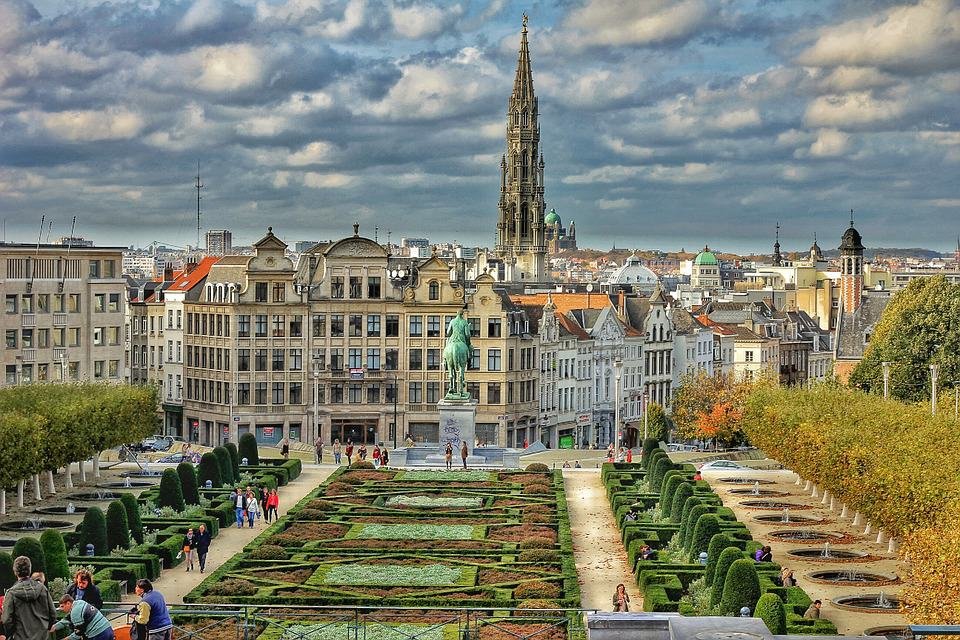 21 Feb

Brussels, Belgium – Travel Guide
---
It is often said that Belgium is in the heart of Europe, but little did we expect that we would leave with Brussels firmly planted in our hearts. Brussels is an historic, but equally modern city. We found many of the city's attractions situated in the centre of the city, around the magnificent Grand-Place, but we soon found out that the city's suburbs held Art Deco gems, peaceful parks and interesting museums. With a good and regular train service, we found Brussels was also an ideal launch pad for exploring the rest of the country, with the like of Bruges, Ghent and Antwerp within an hour's train journey, although more about these beautiful cities in future guides!
---
5 Unmissable Attractions:
---
Grand-Place and Hotel de Ville – All trips to Brussels should start at the Grand-Place, the stunning central square of Brussels which dates back to the 12th century. The square is surrounded by guild houses, the Hotel de Ville and the Maison du Roi, buildings which date mainly from the late 17th century. The Grand-Place was registered on the World Heritage List of the UNESCO in 1998. The highlight of the calendar is the Flower Carpet event which is organised every 2 years in mid-August, when over 500,000 begonias take over the square.
The square is dominated by the Hotel de Ville (City Hall) which was built on the south side of the square in stages, between 1401 and 1455. It towers 96 metres (315 ft) high, and is capped by a 4-metre (12 ft) statue of Saint Michael slaying the devil. Opposite from the Hotel de Ville it the Maison du Roi (King's House) which was built by the Duke of Brabant from 1504 to 1536, and now houses the Museum of the City of Brussels.
Address: Brussels Main Square, Brussels 1000, Belgium
St. Michael and St. Gudula Cathedral (Cathedrale St-Michel et Ste-Gudule) – Only a few minutes' walk from the square is the St. Michael and St. Gudula Cathedral. It was only given cathedral status in 1962, however the history of this sacred site probably stretches back to the 9th century. It seems likely that there was a chapel dedicated to St. Michael at that time, but by 1047 the chapel was replaced by a Romanesque church. The relics of St Gudula were then brought to this church and the church was dedicated to the two saints, who were also to become the patron saints of the city. When you leave the Cathedral, take a minute to walk up Treurenberg and admire the mural called 'The Scorpion'!
Address: Parvis Sainte-Gudule, Treurenberg Hill, Brussels 1000, Belgium
Atomium – The modern icon of Brussels must be the Atomium. This landmark can be found in the Heysel district and is far from the city centre, although it is well-connected by the underground and buses. The Atomium was constructed for the 1958 Brussels World's Fair and was designed in the shape of a unit cell of an iron crystal magnified 165 billion times. Interestingly, the designer, André Waterkeyn, was not an architect, but an engineer in the metallurgical trade. It seems that one of the original ideas had been to build an upside-down version of the Eiffel Tower, but in keeping with a 1950s atomic age theme, they built the Atomium. The tubes of 3 m (10 ft) diameter enclose stairs, escalators (including one which is 35m – 100 ft long) and a lift (which reaches the summit in 23 seconds) to allow access to the five habitable spheres, which contain exhibit halls and other public spaces. The top sphere includes a restaurant which has a panoramic view of Brussels. The Atomium was designed to last for only six months, but proved so popular with the people that it was kept. Not surprisingly, the Atomium is very popular with visitors and queues for tickets can be long – so either buy your tickets online or buy a joint ticket at the nearby ADAM design museum. Even once you have your ticket, you then have to queue to get to the elevator, so aim to arrive at opening time.
Address: Atomium Square, Laeken, Brussels 1020, Belgium
Magritte Museum – We had visions of re-enacting the Thomas Crown Affair and stealing a Magritte, but we settled for checking out the world's largest collection of art of the surrealist artist René Magritte. 250 Works of art are placed on display of the 2,000 that the artist painted. The collection includes the paintings The Return, Scheherazade and The Empire of Lights. There are also, gouaches, drawings, sculptures and painted objects, as well as advertising posters, musical scores, photographs and films on display. The Museum also has the most important collection from the artist's "vache" period.
Address: Place Royale 1, Brussels 1000, Belgium
Manneken Pis – Every visitor to Brussels should attempt to have a selfie with the Mannekin Pis (which means "Little Pisser" in Dutch). He is a bronze sculpture of a little boy, just off the Grand-Place and was designed by Hiëronymus Duquesnoy the Elder and put in place in 1618 or 1619. Due to the statue having been stolen several times, it was decided to remove the original in 1965 and replace it with the replica that is currently on view. The original statue can be seen in the Museum of the City of Brussels, which in on the Grand-Place. Famously, the Manneken Pis is often dressed in a costume. There is an up to date calendar of when he wears his clothes, so check it out so that you can time your visit to see him resplendent in his outfit.
Address: corner of rue du Chene and rue de l'Etuve, Brussels 1000, Belgium
---
10 Hidden Gems:
---
Horta Museum (Musee Horta) – If you are a fan of the architect Charles Rennie Mackintosh like us, a visit to the Horta Museum should definitely be on your itinerary. The Horta Museum is located in the private house and studio of Victor Horta (1861-1947). Victor Horta was a Belgian Art Noveau architect and built his house between 1898 and 1901 and lived there till 1919. The interior decoration has largely been retained and there is a permanent display of furniture, utensils and art objects designed by Horta and his contemporaries as well as documents related to his life and time.
Address: Rue Americaine 25, St-Gilles, Brussels 1060, Belgium
Autoworld – Autoworld is an automobile museum based on the Mahy Collection and has a permanent display of more than 250 vehicles. The entire collection amounts to around 1,000 vehicles. The museum displays some of the earliest cars all the way through to modern classics in the making. There are special sections on sports cars, automobiles of the Belgian Royal Family and micro / bubble cars. The collection also focuses on Belgian makes, such as Minerva, Germain, FN, Imperia, Fondu, Vivinus, Nagant, Belga-Rise and Miesse.
Address: Parc du Cinquantenaire 11, Brussels 1000, Belgium
Villa Empain – The Villa Empain was a private mansion of 2,500 square metres built in 1930 and is a masterpiece of Art Deco. The building is now home to the Boghossian Foundation which hosts a rich artistic program throughout the year, with an emphasis on bringing together the cultures of the East and the West.
Address: Avenue Franklin Roosevelt 67, Brussels 1050, Belgium
GardeRobe MannekenPis – If you miss seeing the Manneken Pis all dressed up, check out the GardeRobe Manneken Pis. It is a museum displaying around 100 of the 1,000 costumes which have been worn by the statue. The tradition of clothing the statue dates to the 17th century and today the Manneken Pis is clothed around 130 times per year. A ticket to visit this museum also gives access to the Museum of the City of Brussels, where you can see the original statue.
Address: Rue du Chêne 19, 1000 Bruxelles, Belgium
ADAM – Brussels Design Museum – The ADAM displays plastic design from the fifties to the present day in its permanent exhibition – Plasticarium. There are also temporary exhibitions on other forms of design.
Address: Place de Belgique 1, Brussels 1020, Belgium
Jeanneke Pis – Jeanneke Pis is a bronze statue of a little girl squatting and urinating and was erected in 1987 as a companion to the Manneken Pis. The statue can be found down a narrow cul-de-sac next to the Delirium Café.
Address: Impasse de la Fidelite 10-12, Brussels 1000, Belgium
The Comic Strip Walk – Brussels has a great history of comic books, with Herge's Tintin being perhaps the most internationally famous. Over recent years the artistry has leapt out of the pages and onto the walls of Brussels, with rich and colourful murals appearing regularly. The Comic Strip Walk takes in more than 60 murals and has transformed Brussels into a gallery and open-air museum.
Address: Various
Van Buuren Museum – The Van Buuren Museum is based in the house built in 1928 for the banker and patron of the arts David van Buuren and his wife Alice. The outdoor architecture of the house is typical of the Amsterdam School, which the indoor decoration is a masterpiece of the Art Deco movement. The beautiful well-manicured gardens cover over 1.5 hectares.
Address: Leo Errera Laan 41, Brussels 1180, Belgium
Rene Magritte House Museum – The Rene Magritte House Museum can be found in the house where the great surrealist painter lived from 1930 to 1954. The downstairs comprises the furnished apartment and studio where the artist lived and created almost half of his work, while the flats upstairs now host a biographical exhibit, holding a collection of over 400 archive documents, photos and objects, as well as 30 original works.
Address: Rue Esseghem 135, Avenue Woeste, Jette, Brussels 1090, Belgium
Royal Museum of the Armed Forces and of Military History – The Royal Museum of the Armed Forces and of Military History opened in 1923 and is housed in some of the spectacular buildings of the Parc du Cinquantenaire. The collections cover ten centuries of military history, from mediaeval armours to present-day armoured vehicles and airplanes, including the recent addition of a F-16 Fighting Falcon. While at the museum, make sure that you check out the roof terrace for breath-taking views of the park.
Address: Parc du Cinquantenaire 3, Jubelpark, Brussels 1000, Belgium
---
Where to Eat:
---
Belgian Waffles – No trip to Brussels, indeed Belgium, should be undertaken without trying the waffles. Try plain or add as many toppings and sauce as you wish!
Address: Various
Restaurant 'T Kelderke – Handily located on the Grand-Place this restaurant housed in a cellar is an ideal place to try the mussels.
Address: Grand-Place 15, Brussels 1000, Belgium
Fritland – Another iconic Belgian food is their frites (French fries or chips if you are British). A great place to try them, Fritland is just a five-minute walk from the Grand-Place.
Address: Rue Henri Maus 49, Brussels 1000 Belgium
Delirium Café – More a place to drink than eat, Delirium Café holds the Guinness World Record for the most beers offered with a staggering 2004 beers available to drink!
Address: Impasse de la Fidélité 4, 1000 Bruxelles, Belgium
---
Where to Stay:
---
Hotel Ibis Budget Brussels Airport – Budget Price – With easy access to the airport and only a ten minute walk from the train station at Diegem from where you can get a train straight into the centre of the city is a great budget option for the traveller.
Address: Bessenveldstraat 17, 1831 Machelen, Belgium
Catalonia Brussels – Moderate Price – Located within a five-minute walk of the Horta Museum, the museum is also well connected to the city centre by bus, tram and underground.
Address: Av. du Haut-Pont 2, 1060 Saint-Gilles, Belgium
Hôtel des Galeries – Luxury – Perfect location within sight of the Grand-Place.
Address: Rue des Bouchers 38, 1000 Bruxelles, Belgium
---
Hints, Tips and Useful Information:
---
Respect: Avoid speaking Dutch in Wallonia and French in Flanders. Sometimes it can cause offence. Speaking English is often the safest bet for travelers. It is customary to kiss three times on alternate cheeks amongst friends.
Electricity: Power plugs and sockets are of type E (round two pin). The standard voltage is 230 V and the standard frequency is 50 Hz. This socket also works with plug C and with plug F if it has an additional pinhole.
Currency: Euro in denominations of €500, 200, 100, 50, 20, 10 and 5. Coins are in denominations of €2, 1 and 50, 20, 10, 5, 2 and 1 cents.
Banks and ATMs: American Express, Mastercard, Visa, Cirrus, and Maestro are widely accepted at major restaurants, stores and hotels. However, it is best to carry a certain amount of cash to smaller shops as there are some that do not accept cards. ATMs are usually free to use.
Language: Belgium has three official languages: Dutch, French and German. Dutch is spoken Flanders, the northern half of the country, and French is spoken in the southern Wallonia region. Brussels is officially bilingual, being both Dutch and French. German is spoken in an eastern enclave. English is widely spoken in Flanders, but less so in Wallonia.
---
Basic words:
---
Thank you – Danke je (Dutch) / Merci (French)
Please – Alsjeblieft / S'il vous plaît
Good morning – Goedemorgen / Bonjour
Good afternoon – Goedenmiddag / Bonne après-midi
Good evening – Goedenavond / Bonsoir
Yes – Ja / Oui
No – Nee / Non
---
Religion of the country: Christianity is the main religion in Belgium. Just over half the population are Roman Catholic.
---
Telephone dialing code: +32
Emergency numbers: Dial 112 for Ambulance and the fire department and 101 for urgent police assistance.
Internet: Free Internet access via Wi-Fi is possible in many busy tourist spots.
Transport – Public: Brussels is well served by a network of buses, trams and metros. Tickets can be bought from kiosks in metro stations, vending machines in stations and at most tram and bus stops, and come valid for one, five or 10 journeys – 24, 48 and 72-hour passes are also available.
Transport – Taxis: Taxis cannot be hailed on the street. Instead, go to a designated taxi rank, or phone a reputable company.
Transport – Driving: Belgians drive on the right-hand side and seat belts must always be worn in the front and back. A child less than 1.35 metres in height travelling in a car, van or lorry, must be seated in a child seat or child restraint.
Climate: Spring (March to May) and Autumn (September to November) tend to be mild, with warm Summers (June to August) and cold Winters (December to February). It can rain during any season.
Water: Tap water is drinkable, but most prefer bottled water.
Shopping: What to buy in Brussels:
Chocolates
Comic books (especially Tintin)
Lace
Beer from a Trappist Monastery
Beer glasses
Eggwhite soap
Cuisine: What to try in Brussels:
Mussels with fries
Fries by themselves!
Chicons au gratin – chicory wrapped in ham and then covered in a creamy bechamel sauce and topped with cheese
Flemish stew – beef cooked slowly in beer
Waffles
Eel in the green – eels in a herb sauce
Rabbit with prunes
Jenever – a juniper flavoured liqueur
Smoking: Smoking is banned in bars, restaurants and casinos.
Alcohol Consumption: It is illegal to "sell, serve, or offer" any form of distilled alcohol to those under the age of 18 or any alcoholic drink to those under 16. So fermented drinks like beer or wine are permitted above 16.
Tipping: Tipping is not very common in Belgium. Service workers are generally well paid and so you won't be expected to leave a gratuity.
Safety: Overall, Belgium is a safe country, with a small risk of pickpockets in tourist areas.