07 Dec

Georgia – Travel Guide

[av_one_full first min_height=" vertical_alignment=" space=" custom_margin=" margin='0px' padding='0px' border=" border_color=" radius='0px' background_color=" src=" background_position='top left' background_repeat='no-repeat' animation=" mobile_breaking=" mobile_display=" av_uid='av-cys341′]
[av_image src='https://www.dreampursuits.travel/wp-content/uploads/2017/05/Georgia-Gergiti.jpg' attachment='1461′ attachment_size='full' align='center' styling=" hover=" link=" target=" caption=" font_size=" appearance=" overlay_opacity='0.4′ overlay_color='#000000′ overlay_text_color='#ffffff' animation='no-animation' admin_preview_bg=" av_uid='av-b817o1′][/av_image]
[/av_one_full]

[av_one_fifth first min_height=" vertical_alignment=" space=" custom_margin=" margin='0px' link=" linktarget=" link_hover=" padding='0px' border=" border_color=" radius='0px' background='bg_color' background_color=" background_gradient_color1=" background_gradient_color2=" background_gradient_direction='vertical' src=" background_position='top left' background_repeat='no-repeat' animation=" mobile_breaking=" mobile_display=" av_uid='av-2hxcc1′][/av_one_fifth]

[av_four_fifth min_height=" vertical_alignment=" space=" custom_margin=" margin='0px' padding='0px' border=" border_color=" radius='0px' background_color=" src=" background_position='top left' background_repeat='no-repeat' animation=" mobile_breaking=" mobile_display=" av_uid='av-4hfadd']
[av_textblock size=" font_color=" color=" av-medium-font-size=" av-small-font-size=" av-mini-font-size=" admin_preview_bg=" av_uid='av-2gbwfl']
Georgia

Georgia is perhaps one of the most unusual and strange countries you could tell someone you're going to. The first thing you will get asked is "What, you mean like, Savannah?". No, you mean ​Georgia, ​  as in ​the Caucasus. ​    Still you might get quizzical looks as if to say "I'm still lost.". In reality, many people wouldn't know where to find Georgia on a map, and that's one of the reasons this unique country has retained much of its authentic cultural and historical charm.
The Caucasus in general have a long and storied history being one of the stopping off points on the Old Silk Road which connected Europe to the Orient, and so it's a bit of a microcosm of several different cultures and traditions. One of the earliest countries to adopt
Christianity, the countryside is dotted with Byzantine-era Orthodox churches and cathedrals set amid the jagged  mountains and rolling hills. Much of the countryside still practice traditional ways of milking cows, shearing sheep and making many goods such as cheese by hand. Alongside this, you have the wine making.
tradition here, which predates many of those throughout the rest of the world – with wine being known to have been first produced in the region sometime around 6-8000 BC. One can attest to the fact that the Georgians truly know what they're doing when it comes to wine, as this is some of the best tasting wine in the world.
So – what exactly does Georgia have to offer those people who find their way here? Well, depending how much time you have at your disposal – tons!
The capital city, Tbilisi, is well equipped with a number of excellent shopping malls complete with arcades, bowling and other fun bits and bobs, as well as a plethora of bars and restaurants serving everything from western burgers at one of the Irish pubs, Turkish food, authentic Georgian food and even Chinese or Indian dishes. Hookah bars are found throughout the central core, with fantastic outdoor couches allowing you the opportunity to relax and enjoy some shisha with friends.
The food in Georgia is in one word – mouthwatering. There is a real sense of a melting pot of different influences here, and many dishes are made based on what is available in Georgia – and that is essentially every fruit, vegetable, nut and berry you can imagine. Many dishes are made with nuts – so if you have allergies, plan ahead. One of the main dishes that is Georgian in origin is the  khinkali – a dumpling-like dish of a large circle of dough, twisted up around a small mound of seasoned meat and then boiled or sometimes fried.
 If you find yourself invited for a meal in Georgia, khinkalis will almost certainly be served. You can also find them in pretty much every eating establishment and come with many fillings – including dessert based ones filled with jams and berries!
If you find yourself in the downtown core – and undoubtedly you will – two must do activities are as follows:
A) You really must make time to either get the cable car or hike up to the 4​th century ​ Narikala Fortress​ , which sits on a hill high above​ the Tbilisi Old Town​ ​. Old Town itself is a wonderful exhibit of back alley streets and colourful, kitschy bohemian art hangouts. Much of the "Old Town" has been damaged in previous earthquakes, so you will find many buildings looking as though they could be simply pushed over – and perhaps
unsurprisingly, people still live in these "Jenga-like" buildings with their skewed doors, windows and cracks throughout the brickwork.
The hike up to the fortress through the Old Town is at times, very steep and somewhat difficult, but anyone with a level of relative fitness should be able to conquer this climb. The views on the way up and from the top are extremely rewarding, and there is even a restaurant and bar along the steep climb offering panoramic views of Tbilisi from their rooftop terrace.
B) ​The Sulfur Baths​. The Sulfur Baths are located directly below Narikala Fortress and are one of the highlights of Tbilisi. Tbilisi literally means "Warm Spring", and by that, they didn't mean the weather in March (although that is notably quite warm as well)! These baths are fed by thermal springs from within the Earth and are known for their healing qualities. There are a number of baths in the "Abanotubani" district, and they vary in prices from 20 GEL (about $10 USD) for a public soak to 100 GEL (about $50 USD) for a private room and your own bath. Most of the bath houses have optional scrubs and massages with people who have been trained through the generations in their families on how to do these tasks correctly. The best comparison to the Georgian Bath is that of a Turkish or Moroccan hamam.
A word to the wise here is to book ahead with some of the more well-known bath houses such as the Royal Baths. Additionally bring your own towel as many of the houses charge (albeit only around 5 GEL or less, which is cheap in comparison to towel rentals at spas in the west). Some bath houses are open 24 hours, while the majority appear to be open between 630 am and 10 pm.
There are a number of hotels and hostels in Tbilisi which range in price from as little as $5USD a night all the way up to around $100USD a night or more. In truth, you can find every range of accommodation in the city from cheap backpacker hostels all the way up to the Radisson Blu Iveria, so finding somewhere to stay will be one of the least of your concerns. For a more local and authentic feel, considering getting an Air Bnb for the duration of your stay – affordable and good value Tbilisi Air Bnb's are really great to get that home away from home feeling. If you're heading out of the city, be prepared as a lot of the accommodation in smaller villages and towns are primarily homestays where you literally stay with a family. This can range from having a room amongst the family rooms, or being housed in a small extension for guests – but many (if not all) will also provide dinners and breakfasts for a small additional charge (and it's well worth it!).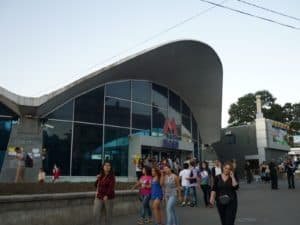 If you have a couple of days free to explore Georgia, it's well worth heading out of the city of Tbilisi for awhile. There are a number of main spots to check out, including Gori – the birthplace of Josef Stalin. While many wouldn't think of this as a noteworthy stop, the home he grew up in has been transitioned into a museum of his life, and is worth a look for those interested in that part of history.
The wine growing region of is worth a look – with the mountains of Russia and Azerbaijan providing a picturesque backdrop against the miles and miles of sprawling vineyards and stone walled gardens. Here if you are around during harvest you may run into the opportunity to help harvest or even crush grapes for the wines that travel all over Georgia, and experience some real old world hospitality. Check out the town of Sighnagi for some real old world experiences – and stay with Nato and Lado at their guest house, which is highly recommended amongst travelers. Marshrutkas from Tbilisi cost around 7GEL (about $3-4 USD) and takes around an hour and a half.
The northern border with Russia is home to two majestic mountainous regions – Svaneti and Kazbegi (now known as Stepantsminda).
The latter is home to the Gergeti Church is is high atop a smaller mountain which is climbable in about 3-4 hours round trip from the center of town. The top offers some breathtaking views and more challenging hikes to glaciers for the more experienced mountaineer. The town itself is a lovely old world Georgian town, where much of the more affordable accommodation is by way of home stays with locals, who often feed you as well for around $20-25 USD a night. Ira and Dato's guesthouse is highly recommended in Kazbegi, and it's often the fact that guesthouse owners will meet you off the marshrutka bus from Tbilisi. Marshrutkas from the city cost 10 GEL (about $5 USD) and takes about three hours.
For something a bit wilder, you can check out the coastal city of Batumi. It's known as the Vegas of Georgia and is home to casinos, nightclubs, some vaguely alright beaches and the Black Sea. If that's not your thing, head a bit further north to the coastal town of Poti, which has beaches with magnetic and volcanic black sand – excellent for your joints and muscles, or head a bit further south for some better beaches and botanical gardens as well.
Further afield, there is the opportunity to head to Yerevan in Armenia for the relatively low price of about $15 USD by marshrutka which takes several hours but is said to be well worth the trek.
Opportunities exist to head into Turkey, but most people find that their time is spent exploring
Georgia and Armenia if they have the scope for an excursion further afield. Azerbaijan and
Russia are also possibilities (the land border to Vladikavkaz, Russia is just near
Stepantsminda), but this would be pending receipt of the appropriate paperwork and so isn't usually done on shorter trips to the area.
Two things to point out as a final point on Georgia is that you are still able to smoke indoors in many bars and restaurants, so if you are sensitive to this, you may find it more useful to sit outside weather permitting. Additionally the language uses its own script but many places have English as well as Georgian. The Russian language is also widely used and understood.
I hope this has helped you get a good idea of what Georgia – the seemingly unknown country, not the state – has to offer and what to expect out of a couple of days in this wonderful place. As it gets more popular and more well known, some of the charm may be replaced by the usual tack that comes with a tourist destination, but there's still awhile before that happens here, so get in while you can to soak up a bit of this rich and exotic culture!
[/av_textblock]
[/av_four_fifth]