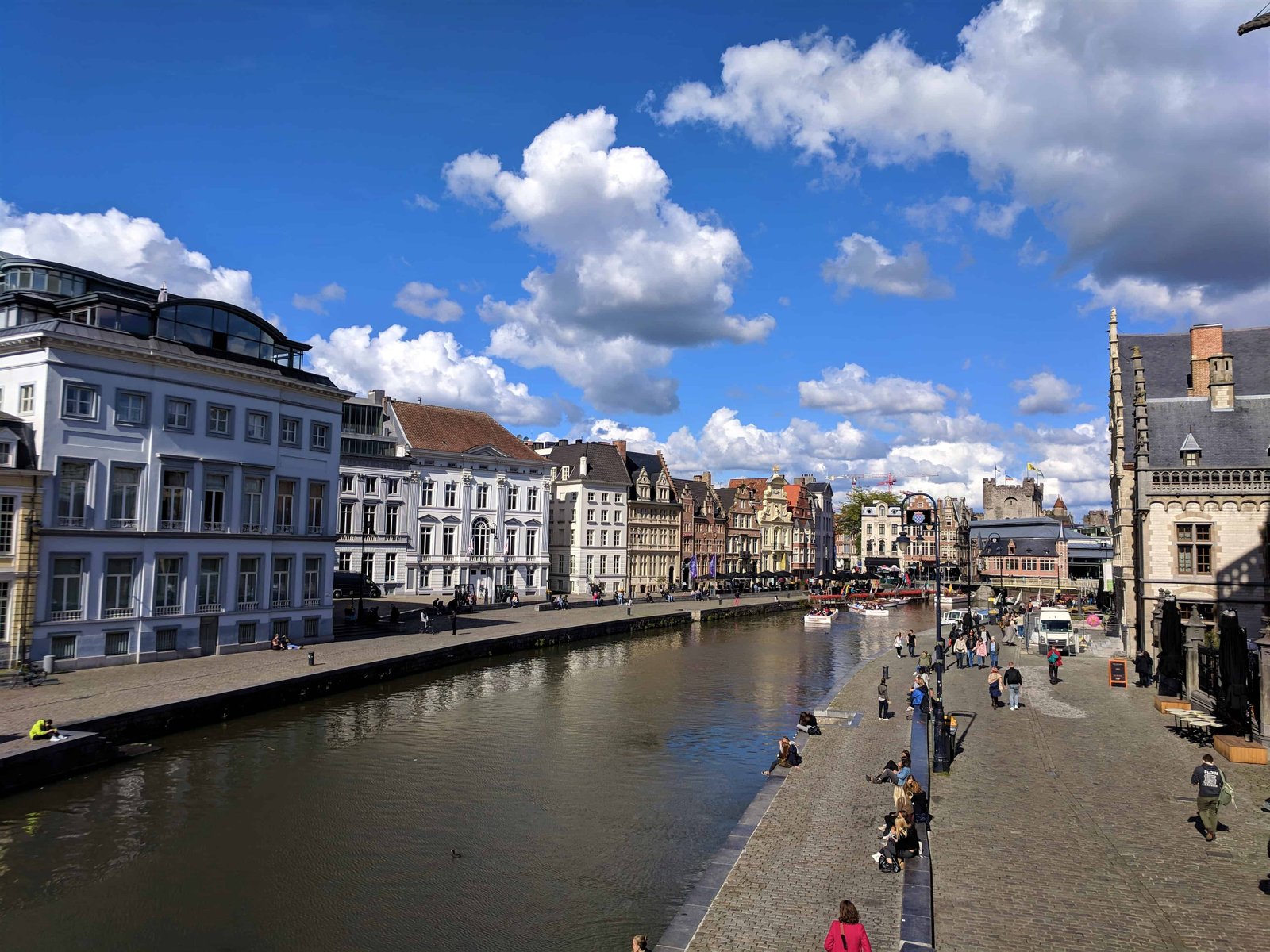 01 Jul

Ghent, Belgium – Travel Guide

Ghent is a university city, with an interesting history stretching back into the Medieval period. Being only a 30-minute rail journey from Brussels, where we were based, Ghent was an ideal day trip for us. The city centre and its main attractions are close together, easily accessible by foot, making a tour of Ghent quite comfortable within a day.
---
5 Unmissable Attractions:
St. Michael's Bridge – The centre of medieval Ghent boasts the picture worthy arched St. Michael's Bridge. So called because of the beautiful central lantern topped with a bronze statue of St. Michael. No matter which direction we looked, we were amazed by the stunning architecture of the surrounding buildings.
Address: Sint-Michielsplein, Ghent 9000, Belgium
---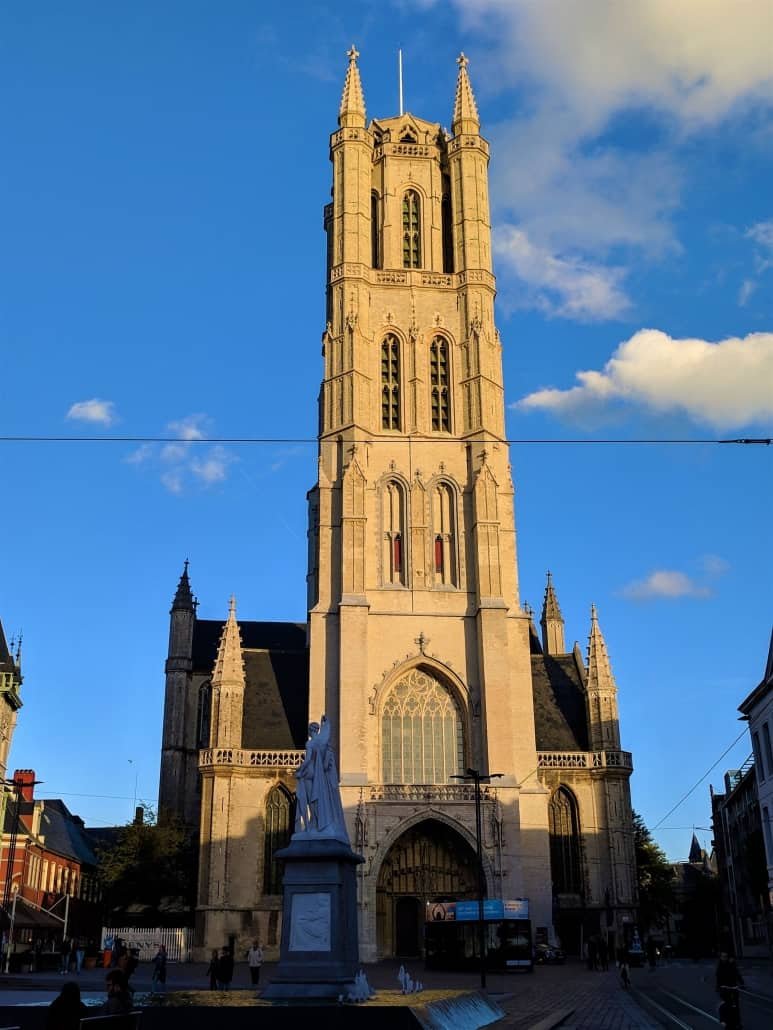 St. Bavo's Cathedral (Sint-Baafskathedraal) – St Bavo's Cathedral is the oldest and most famous church in Ghent. There has been a church here on this site since the 10th century and it was then developed into a Romanesque church in the 12th century. At this time, Ghent was a rich and powerful trading city and the elite wanted this opulence reflected in the main church. To this end, further building work was undertaken, converting St Bavo's into an imposing Gothic style cathedral during the 15th and 16th centuries. We were impressed by the exteriors, but the cathedral is perhaps best known for its art treasures, especially the renowned 'The Adoration of the Mystic Lamb' by the Van Eyck brothers. So that you have a chance to admire all the panels of the Ghent Altarpiece in all their glory, the outer panels of this masterpiece by Van Eyck are folded inwards every day between 12.00 and 13.00. Admission tickets for this chapel are sold until about 15 minutes before closing time.
Address: Sint-Baafsplein, 9000 Gent, Belgium
---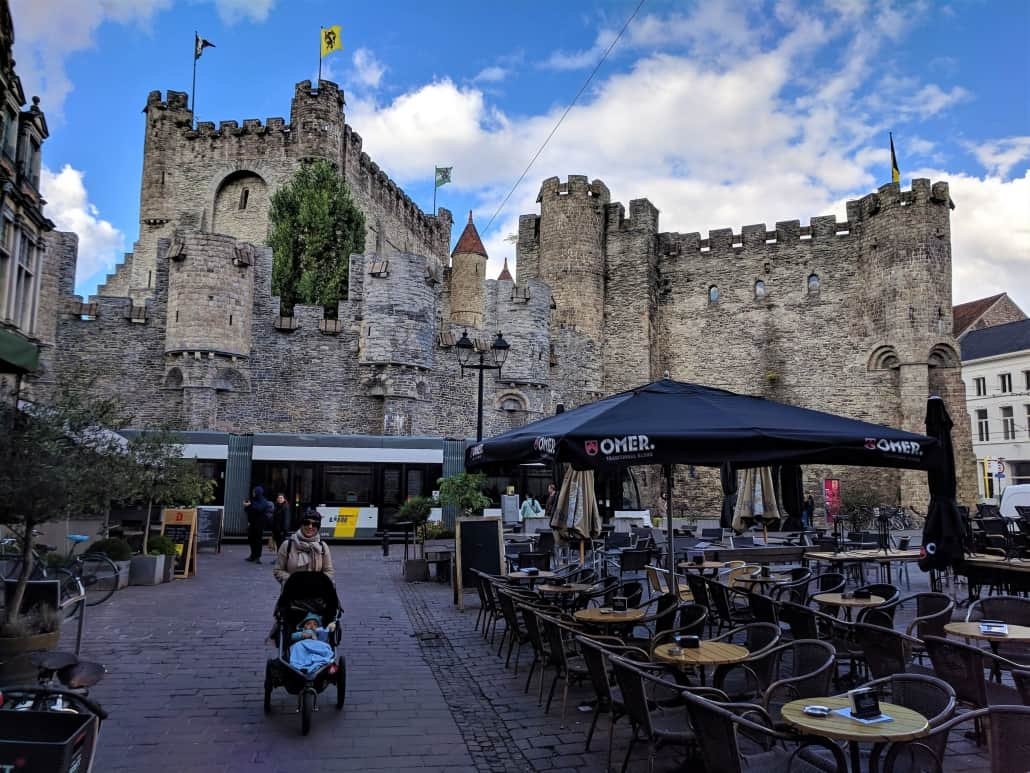 Gravensteen Castle – We were surprised to learn the 'Castle of the Counts', is the only remaining mediaeval castle with a moat and largely intact defence system in Flanders. Impressive for a castle located in the centre of the city to remain intact for so long. Perhaps even more surprising is that the castle was converted into a cotton mill in 1807, and the outbuildings served as accommodation for around fifty families of workers. Thankfully the mill is not in operation these days, and we were able to wander through the gatehouse, ramparts, keep, count's residence and stable.
Address: Sint-Veerleplein 11, Ghent 9000, Belgium
---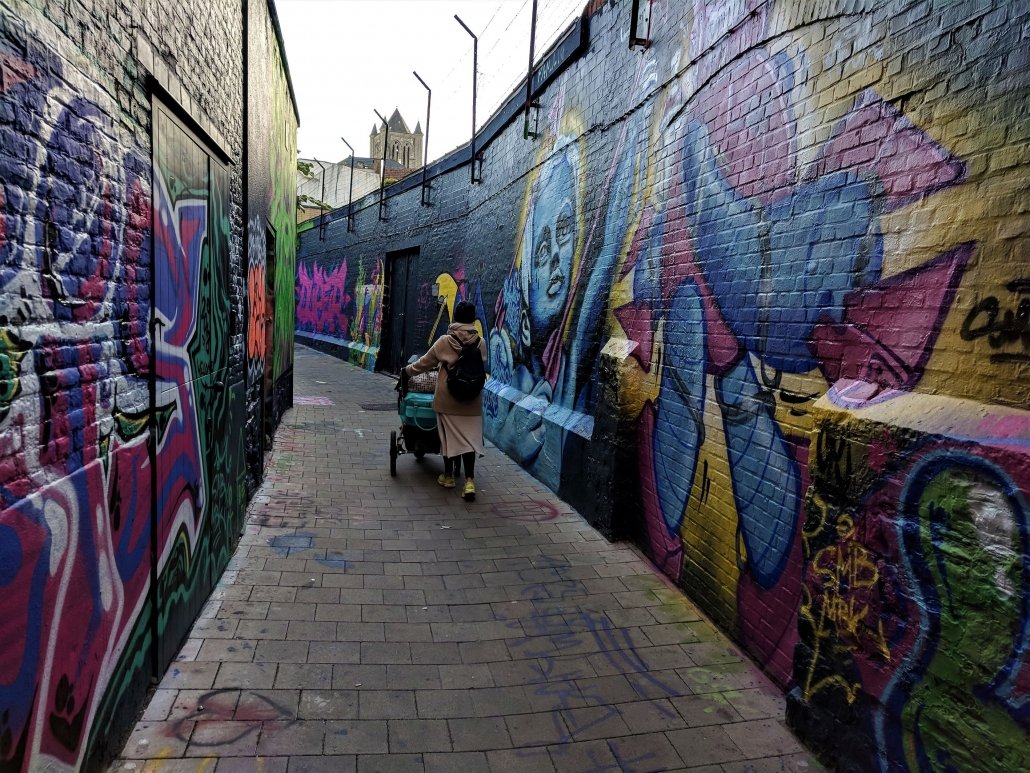 Graffiti Street – We found that Graffiti Street was an interesting contrast to all the medieval architecture in Ghent. More of a lane than a street, artists are allowed unlimited access to express their spray-can art on the surrounding walls, making Graffiti Street an ever-evolving work of street art. If you are lucky like us, you will also get a chance to watch one of the artists compose another signature piece.
Address: Werregarenstraat, Ghent, Belgium
---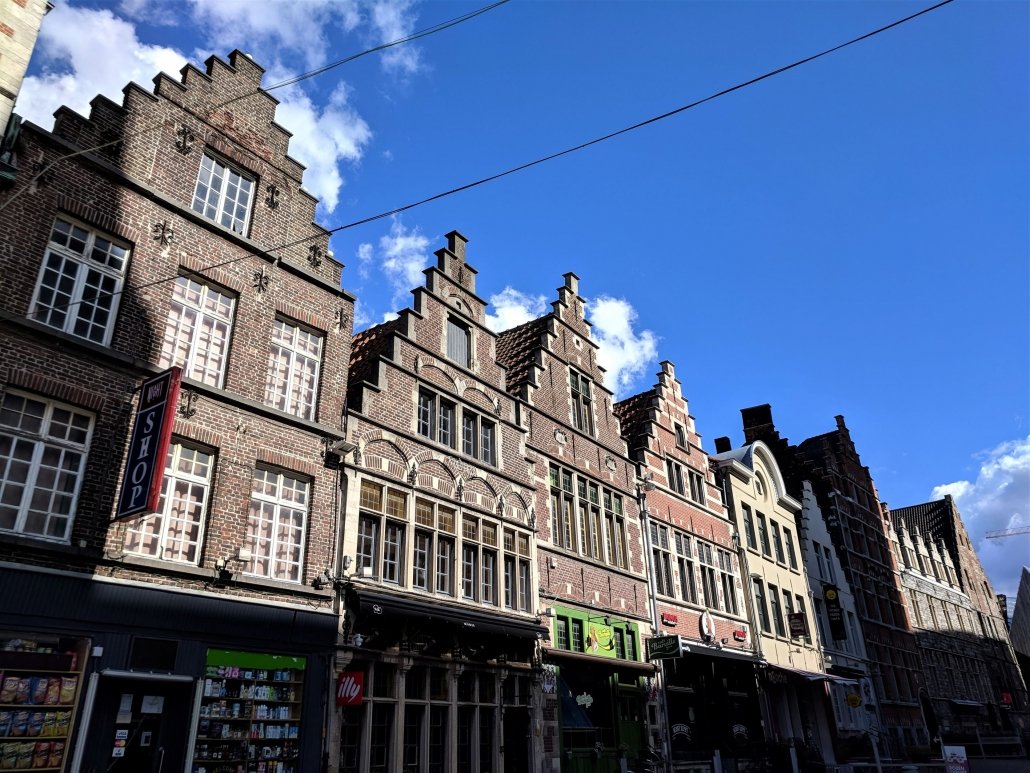 Korenmarkt – The Korenmarkt is a fantastic place to sit outside with a coffee and watch the world go by. Almost 1000 years ago, this was the place where grain was traded after arriving in the city along the Scheldt and Lys rivers, and today it seems even busier and more interesting.
Address: Korenmarkt, Ghent 9000, Belgium
---
10 Hidden Gems: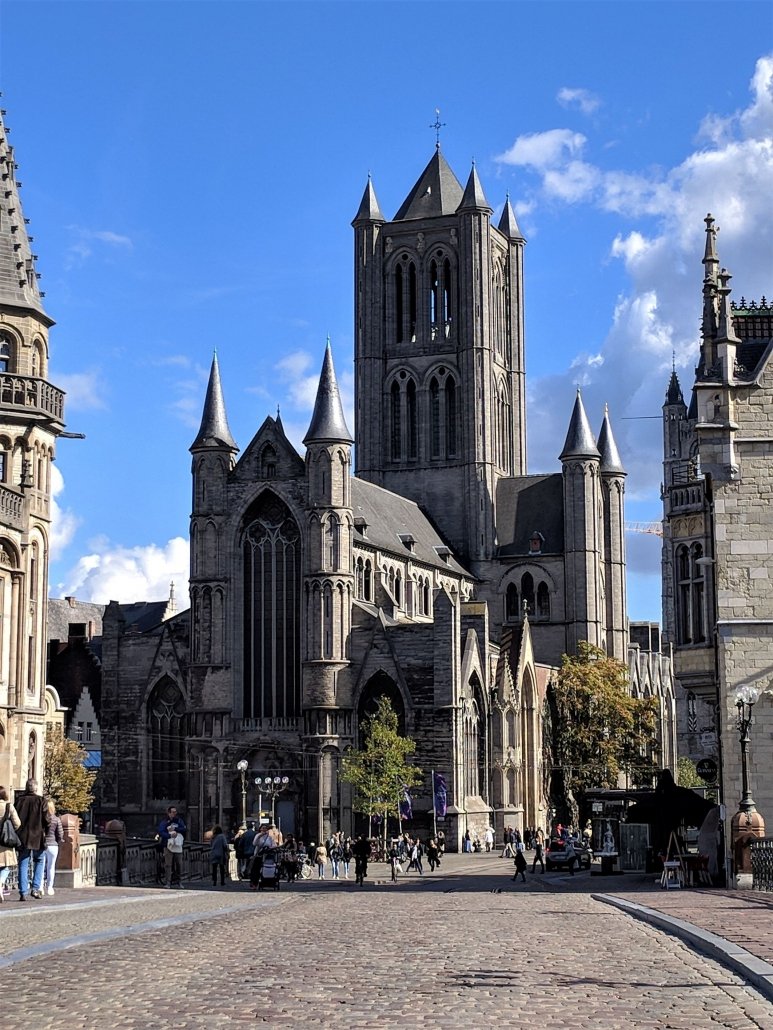 Saint Nicholas Church – Saint Nicholas Church, built from Tournai bluestone, is one of the most beautiful examples of the Scheldt Gothic style. Interestingly, the tower is not above the entrance but above the crossing of the nave and transepts. It functions as a sort of natural lantern as the light shines into the transept from the tower.
Address: Cataloniestraat 4, Ghent 9000, Belgium
---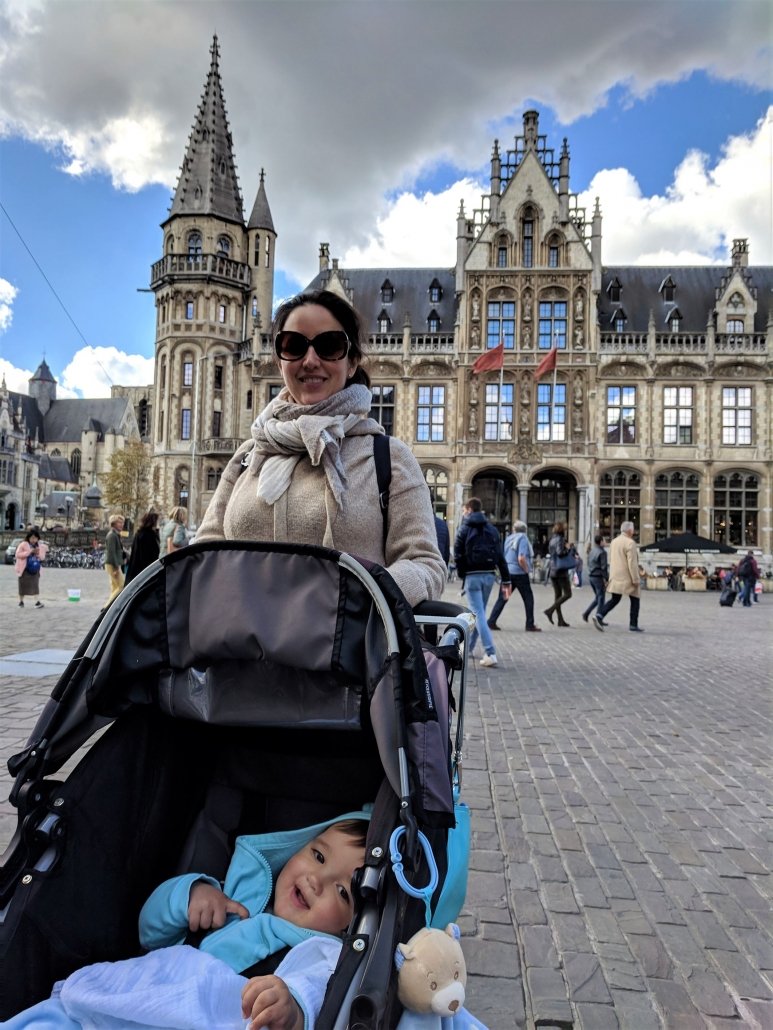 Post Plaza – In an area of striking architecture, it is perhaps Post Plaza which stands out more than any other building. Post Plaza is located in a former post office building. The richly decorated building, which was built in 1909 using several styles, has been turned into the 'De Post' shopping centre and luxury hotel '1898 The Post'. Remember to look up at the beautiful 52-metre clock tower!
Address: Korenmarkt, Ghent, Belgium
---
Ghent Town Hall (Stadhuis) – The Ghent Town Hall is a building in two parts making it a fascinating sight. The façade on the Hoogpoort side displays a flamboyant Late Gothic style that dates from the early 16th century. But then, unexpectantly, the facade swaps to Renaissance style on the Botermarkt side, with its Doric, Ionic and Corinthian columns. We looked closely at the Gothic niches and saw the statues of the Counts of Flanders, although they were only added in the early 1900s. It is a working town hall, but it is worth nothing that tours are available of the building, although only with a guide.
Address: Botermarkt, Ghent 9000, Belgium
---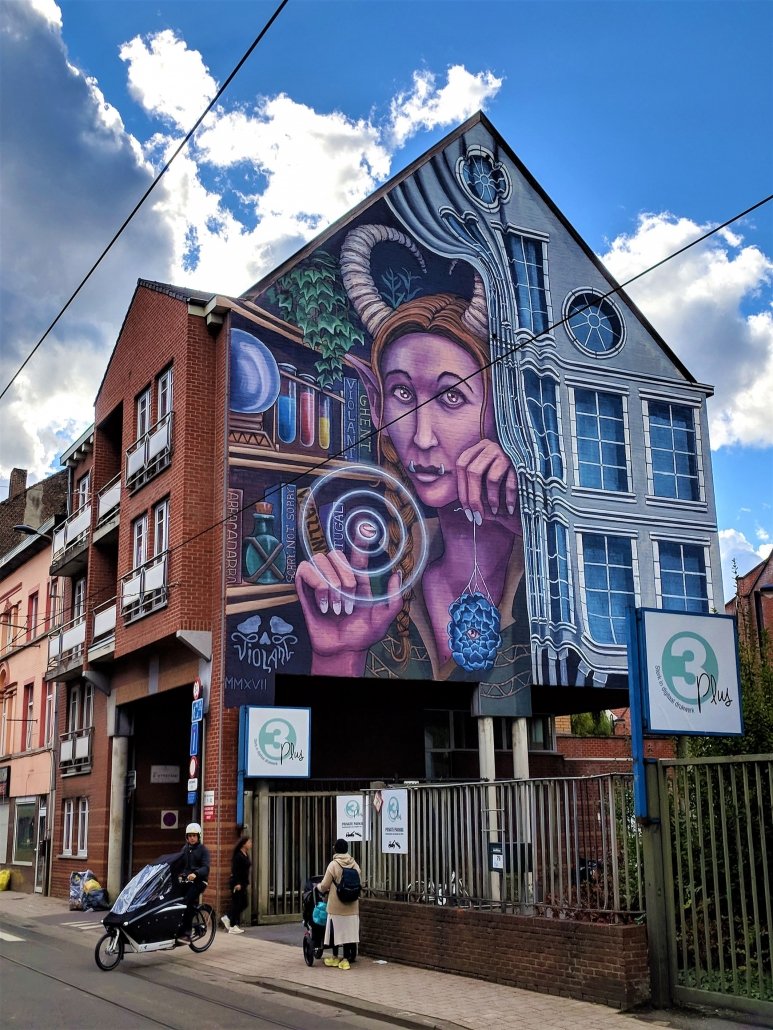 Street Art – As with many other Belgium cities, Ghent has a thriving street art scene, with over 100 major pieces and countless other little gems of art. We enjoyed the aforementioned Graffiti Street, but we also had a great time including some of the impressive wall murals doted around the around the city as we walked around.
Address: Various
---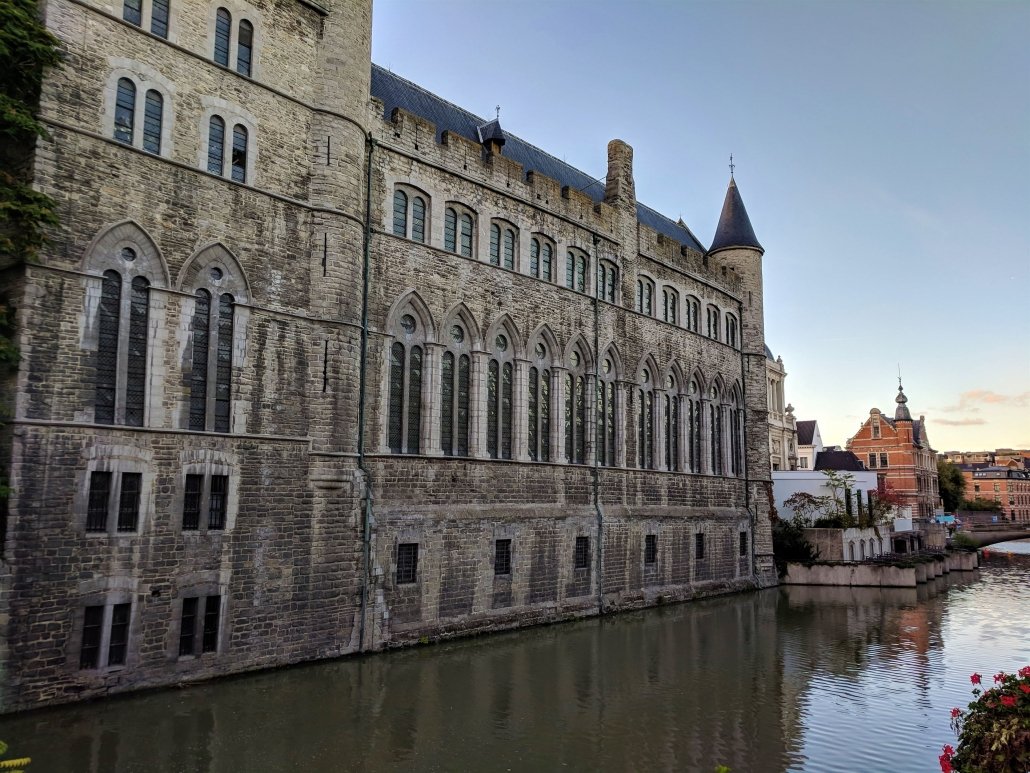 Geeraard de Duivelsteen (The Castle of Gerald the Devil) – As we walked along the banks of the Reep, we couldn't help but notice the fantastically sounding building that dominates the canal. The Castle of Gerald the Devil has been used as a knights' residence, an arsenal, a monastery, a school and a bishop's seminary. In 1623, it became a madhouse for the mentally ill and a home for male orphans. Another part of the building was used as a prison or detention centre. Despite the name and its grim appearance, the devil has never actually resided in this 13th-century fortress.
Address: Geraard de Duivelstraat 1, Ghent 9000, Belgium
---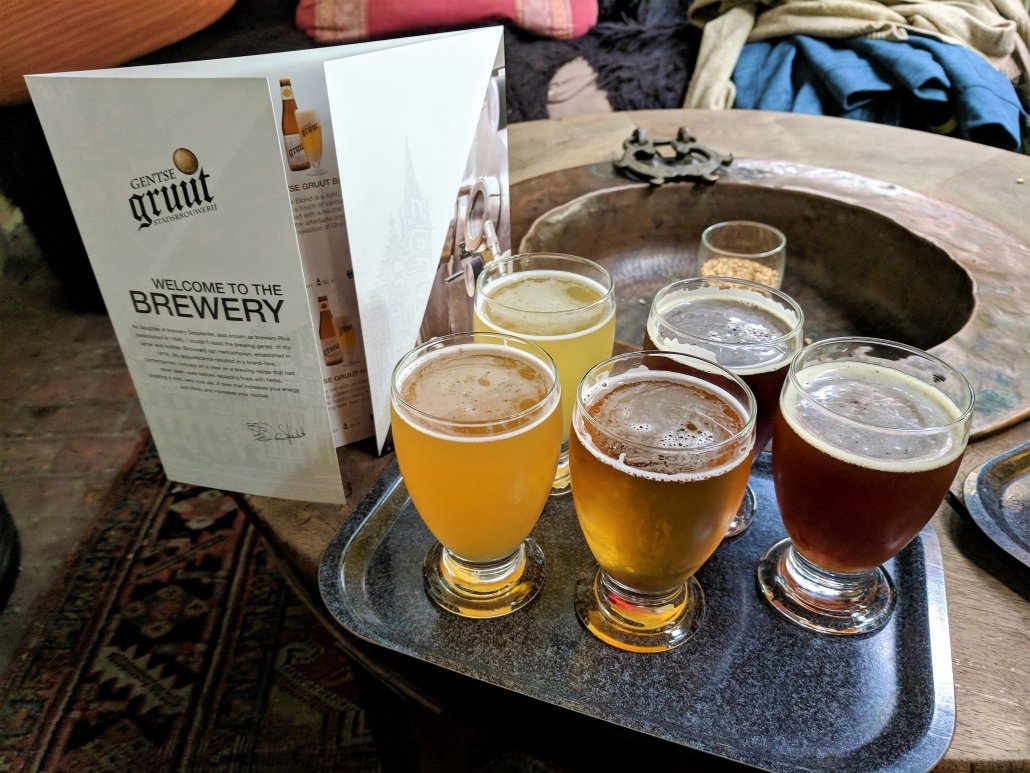 Gentse Gruut Stadsbrouwerij – The Gruut City Brewery is no ordinary brewery. You'd be forgiven for thinking that its distinctiveness comes from the quirky interiors, which includes giant stuffed animals! However, what is special about this brewery is the way they brew their beer – they do not use hops, but rather a combination of herbs. To make sure we tried as many different blends of herbs as possible, we had to try a flight of beers. All in the name of travel research!
Address: Grote Huidevettershoek 10, Ghent 9000, Belgium
---
Achtersikkel – After visiting St. Bavo's Cathedral, we walked less than fifty metres to find the small oasis of calm called Achtersikkel. This beautiful little square is often graced by a muscian or two, since the buildings surrounding the square houses Ghent's music academy. The Achtersikkel's name is derived from the name of rich patricians, the vander Sickelen family. This family enjoyed political and social prestige and long owned the buildings around the beautiful inner courtyard.
Address: Biezekapelstraat, Ghent, Belgium
---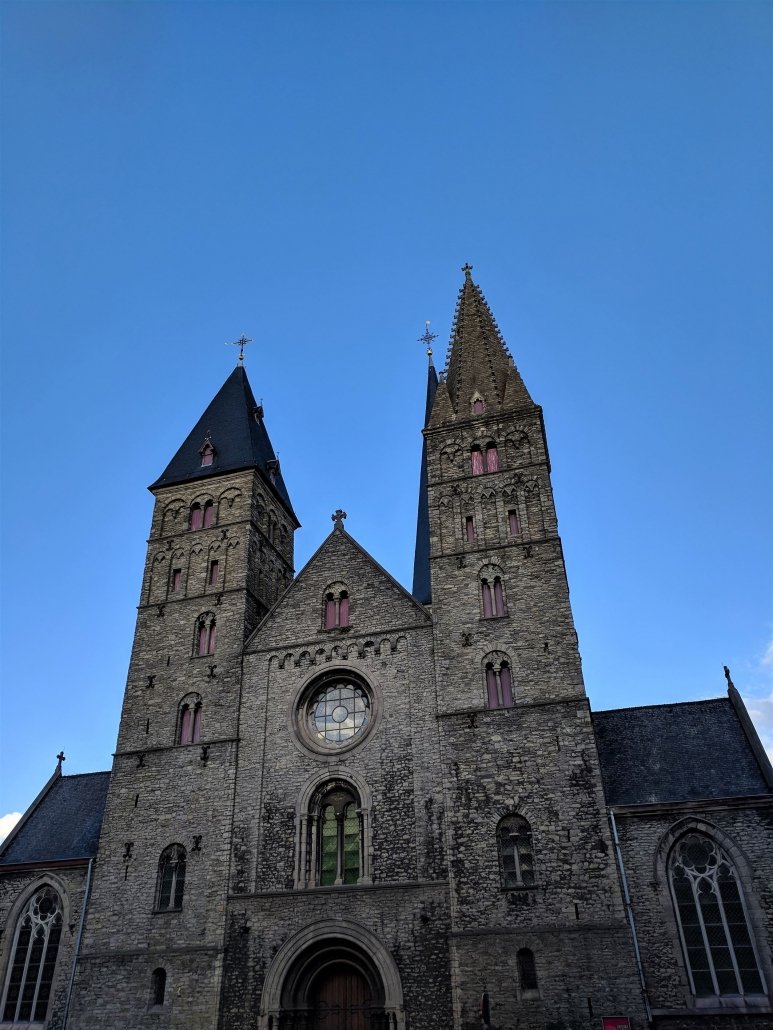 St James' Church – We found the St. James' Church situated in the Bij Sint-Jacobs square, right at the heart of the world-famous Ghent Festivities, the annual people's festival in mid-July which really signals the beginning of summer in Ghent. The two imposing church towers date from the Romanesque period but since then the church has undergone many structural changes.
Address: Bij Sint-Jacobs, Ghent 9000, Belgium
---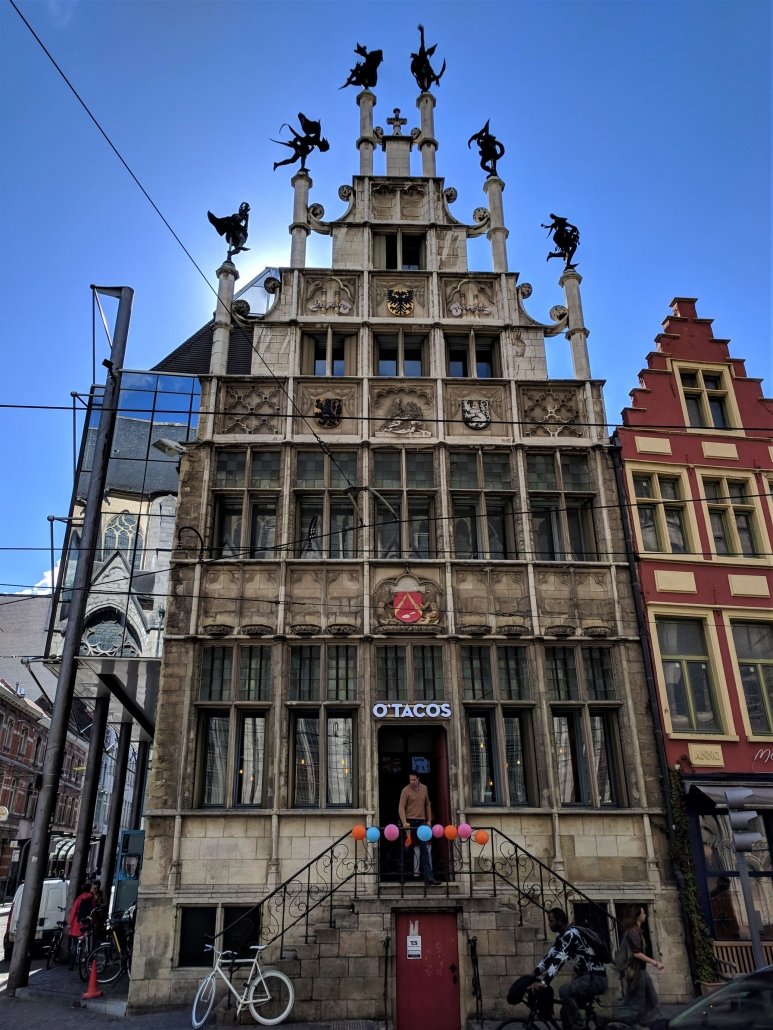 Masons' Guild Hall – Due to the richness of the architecture surrounding Saint Nicholas Church it could be easy to walk past the Masons' Guild Hall and think that it was just another beautiful 16th-century building. However, make sure that you look up at the stunning stepped gable, and notice the six dancers turning merrily with the wind..
Address: Sint-Niklaasstraat 2, Ghent 9000, Belgium
---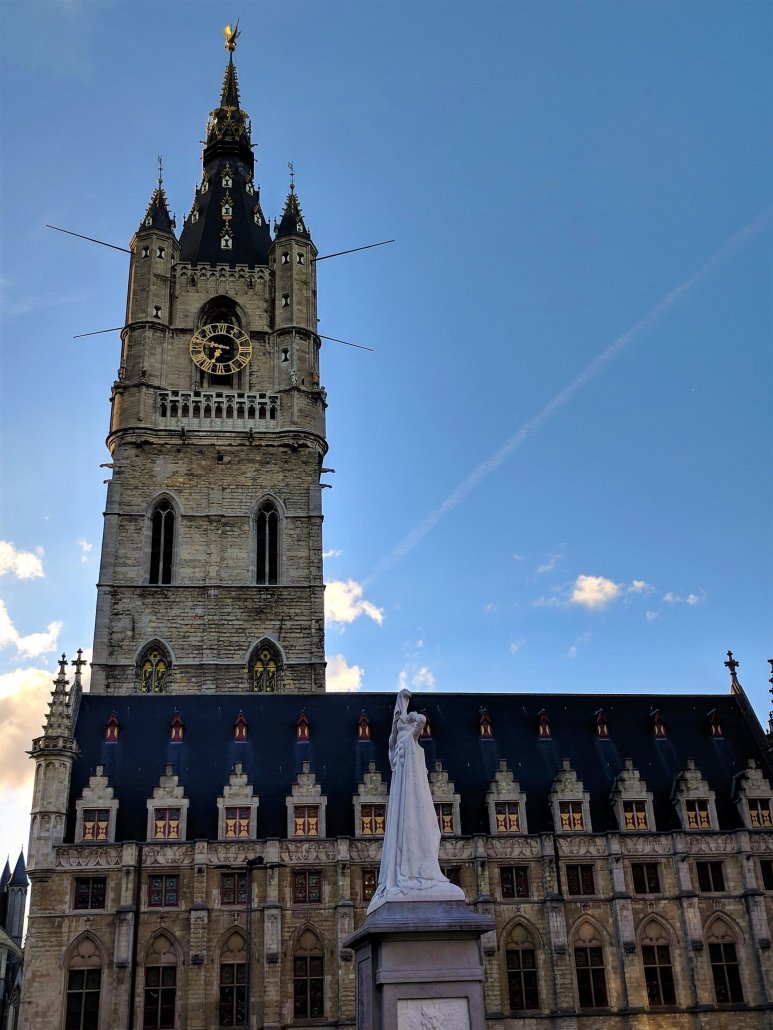 Belfry and Cloth Hall (Belfort en Lakenhalle) – The Ghent Belfry symbolises the city's prosperity and independence. The Cloth Hall, built onto the Belfry, was completed in 1907. The flamboyant Brabant Gothic style of the Cloth Hall is an ode to the industry to which Ghent owes so much. On the corner of the Cloth Hall is an old jailer's house. The Ghent Belfry, a recognised UNESCO World Heritage, is well worth a visit. In 1402, it was the place where city privileges were kept: in a chest, locked up in the Belfry safe. You can ascend the tower and there is a lift from the first floor, up to the stunning view over Ghent.
Address: Emile Braunplein, Ghent 9000, Belgium
---
Where to Eat: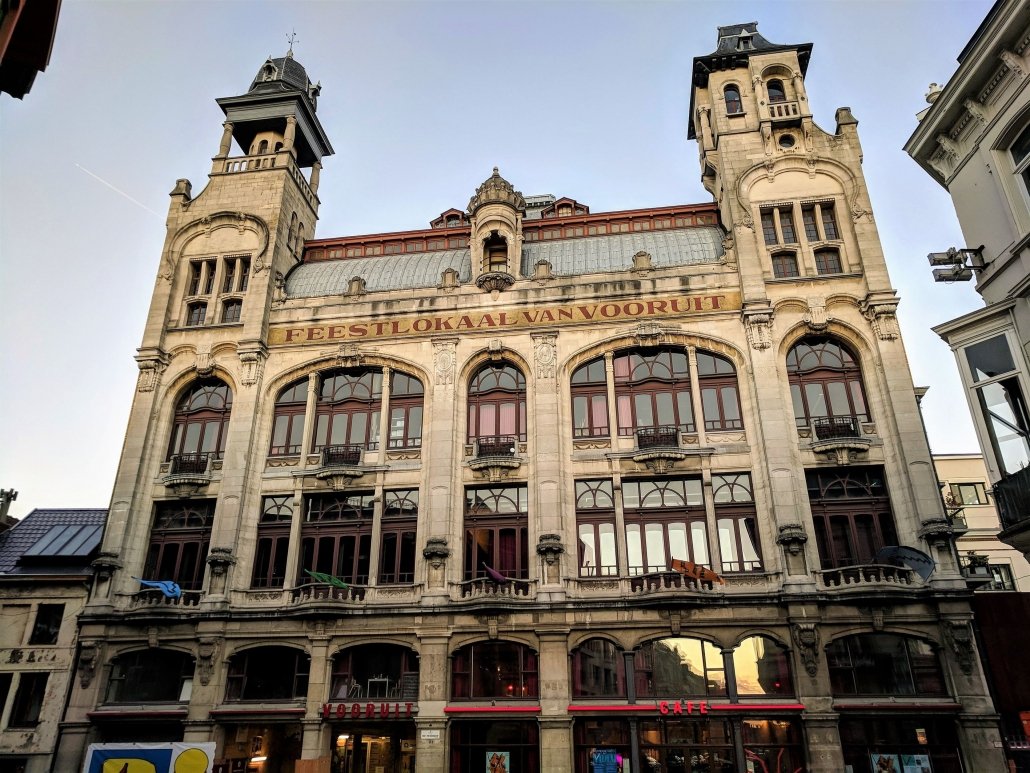 Vooruit Arts Centre – The Vooruit Arts Centre is housed in an impressive 100-year-old building. The café is a spacious room with eye-catching Art Deco styling. A contemporary menu is available and there is a great bar. The café was once the heart of Ghent's socialist movement, and the centre also offers a variety of cultural events, including theatre, dance, performance, festivals, lectures and concerts.
Address: Sint-Pietersnieuwstraat 23, Ghent 9000, Belgium
---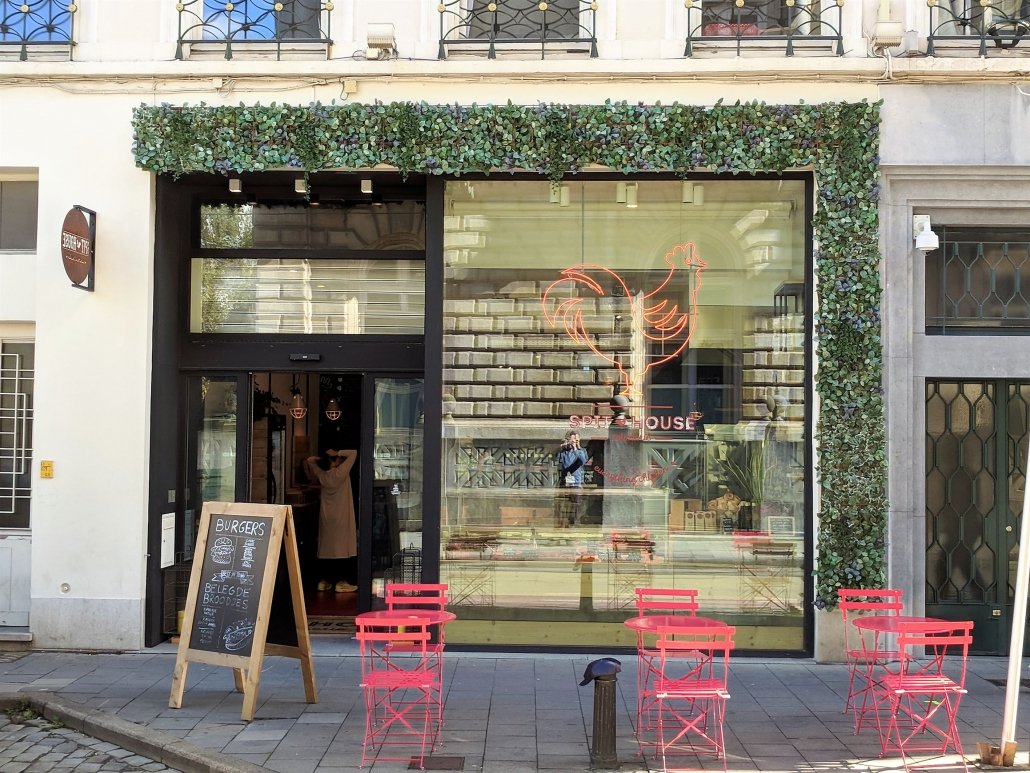 Spithouse Rotisserie – Café and takeaway specialising in chicken dishes.
Address: Koophandelsplein 17, 9000 Gent, Belgium
---
Du Progres – Popular brasserie right in the heart of the Korenmarkt.
Address: Korenmarkt 10, 9000 Gent, Belgium
---
Roots – A short walk north of Gravensteen Castle, this hip diner specialises in vegetarian dishes.
Address: Vrouwebroersstraat 5, 9000 Gent, Belgium
---
Where to Stay:
The Cover Hostel – Budget Price – Laid back hostel in an ideal central location.
Address: Vrijdagmarkt 26, 9000 Gent, Belgium
---
Holiday Inn Express Gent – Moderate Price – Large hotel, with all the amenities that you need. Southern location, near well connected to the centre by bus or light rail.
Address: Akkerhage 2, 9000 Gent, Belgium
---
Ghent Marriott Hotel – Luxury – Modern hotel housed within a charming brick building, overlooking the very heart of medieval Ghent.
Address: Korenlei 10, 9000 Gent, Belgium
---
Hints, Tips and Useful Information:
Respect: Avoid speaking Dutch in Wallonia and French in Flanders. Sometimes it can cause offence. Speaking English is often the safest bet for travelers. It is customary to kiss three times on alternate cheeks amongst friends.
Electricity: Power plugs and sockets are of type E (round two pin). The standard voltage is 230 V and the standard frequency is 50 Hz. This socket also works with plug C and with plug F if it has an additional pinhole.
Currency: Euro in denominations of €500, 200, 100, 50, 20, 10 and 5. Coins are in denominations of €2, 1 and 50, 20, 10, 5, 2 and 1 cents.
Banks and ATMs: American Express, Mastercard, Visa, Cirrus, and Maestro are widely accepted at major restaurants, stores and hotels. However, it is best to carry a certain amount of cash to smaller shops as there are some that do not accept cards. ATMs are usually free to use.
Language: Belgium has three official languages: Dutch, French and German. Dutch is spoken Flanders, the northern half of the country, and French is spoken in the southern Wallonia region. Brussels is officially bilingual, being both Dutch and French. German is spoken in an eastern enclave. English is widely spoken in Flanders, but less so in Wallonia.
Basic words:
Thank you – Danke je (Dutch) / Merci (French)
Please – Alsjeblieft / S'il vous plaît
Good morning – Goedemorgen / Bonjour
Good afternoon – Goedenmiddag / Bonne après-midi
Good evening – Goedenavond / Bonsoir
Yes – Ja / Oui
No – Nee / Non
Religion of the country: Christianity is the main religion in Belgium. Just over half the population are Roman Catholic.
Telephone dialing code: +32
Emergency numbers: Dial 112 for Ambulance and the fire department and 101 for urgent police assistance.
Internet: Free Internet access via Wi-Fi is possible in many busy tourist spots.
Transport – Taxis: Taxis cannot be hailed on the street. Instead, go to a designated taxi rank, or phone a reputable company.
Transport – Driving: Belgians drive on the right-hand side and seat belts must always be worn in the front and back. A child less than 1.35 metres in height travelling in a car, van or lorry, must be seated in a child seat or child restraint.
Visitors driving in Belgium are required by law to carry the following items: reflective jackets, a warning triangle, headlamp beam deflectors, a first aid kit & fire extinguisher.
Motorcyclists: Motorcyclists riding in Belgium must wear protective clothing, i.e.: gloves, jacket with long sleeves, trousers with long legs or overall, and boots protecting the ankles.
Climate: Spring (March to May) and Autumn (September to November) tend to be mild, with warm Summers (June to August) and cold Winters (December to February). It can rain during any season.
Water: Tap water is drinkable, but most prefer bottled water.
Shopping: What to buy in Brussels:
Chocolates
Comic books (especially Tintin)
Lace
Beer from a Trappist Monastery
Beer glasses
Eggwhite soap
Cuisine: What to try in Brussels:
Mussels with fries
Fries by themselves!
Chicons au gratin – chicory wrapped in ham and then covered in a creamy bechamel sauce and topped with cheese
Flemish stew – beef cooked slowly in beer
Waffles
Eel in the green – eels in a herb sauce
Rabbit with prunes
Jenever – a juniper flavoured liqueur
Smoking: Smoking is banned in bars, restaurants and casinos.
Alcohol Consumption: It is illegal to "sell, serve, or offer" any form of distilled alcohol to those under the age of 18 or any alcoholic drink to those under 16. So fermented drinks like beer or wine are permitted above 16.
Tipping: Tipping is not very common in Belgium. Service workers are generally well paid and so you won't be expected to leave a gratuity.
Safety: Overall, Belgium is a safe country, with a small risk of pickpockets in tourist areas.
Related Links