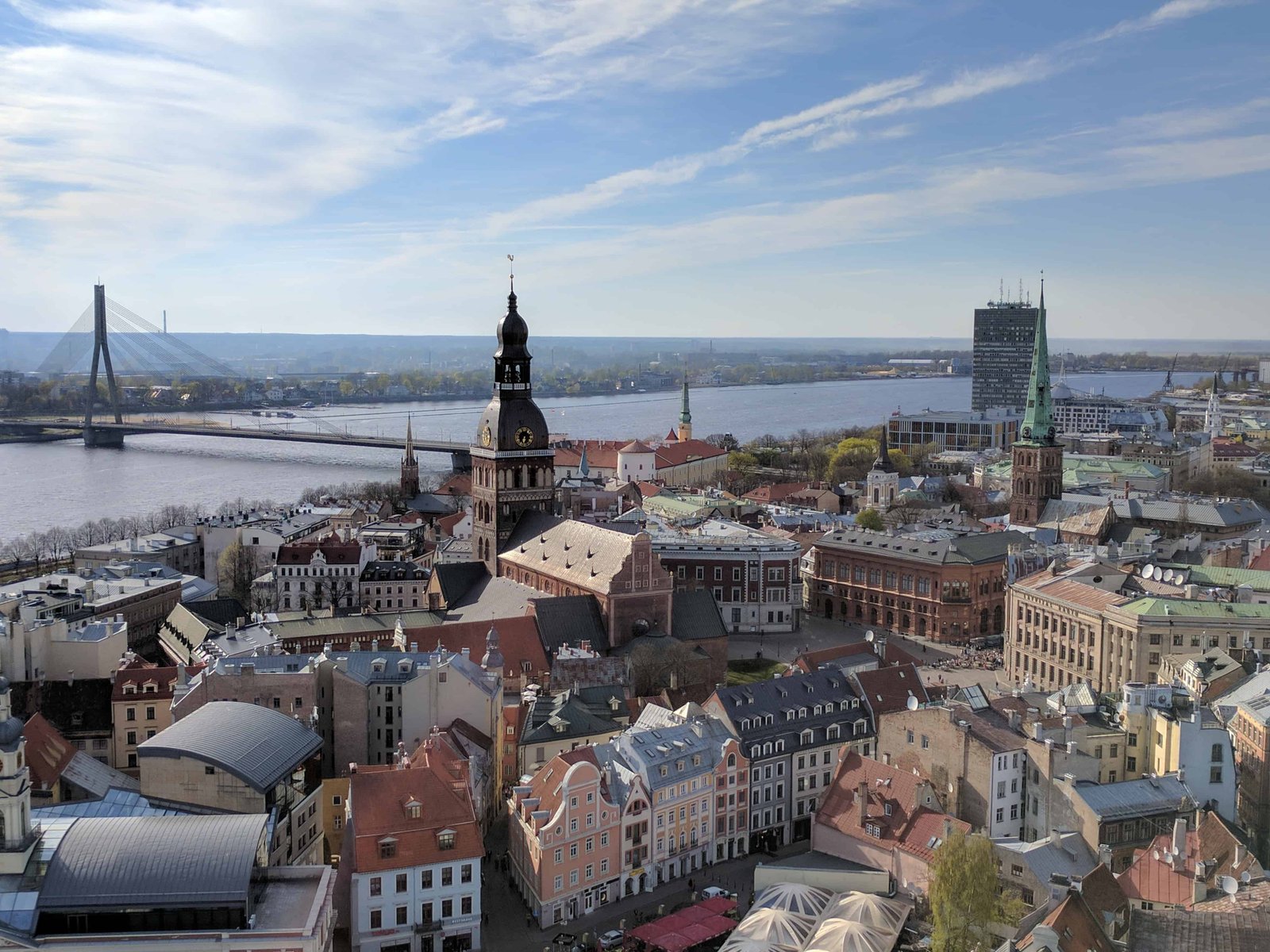 14 Mar

Riga, Latvia – Travel Guide
Riga Guide
To be honest, if it was not for the budget airfares of Baltic Air, Riga would not have been on our list of must-see European cities. But how wrong we were! We spent a week based in Riga, seeing the city and the Latvian countryside. We left totally enchanted by this beautiful city and are now convinced that Riga and Latvia need to be on everyone's bucket list.
We found Riga and Latvia very friendly and our budget stretched very far. There are many faces of Riga, from its Teutonic origins, its outstanding Art Nouveau period, the depravities of the Nazi occupation and Communist rule, through to its bright new future as this proud city grasps its new opportunities.
5 Unmissable Attractions:
Albert Street (Alberta Iela) – Albert Street must be seen to be believed. Even those with only a passing interest in architecture can't help but be impressed with the beautiful and provoking Art Nouveau buildings that line this street. The street is only around 260 metres long, but it literally took us half an hour to walk it. You can't help but stop at each building for a photograph and to study the intricate details of these Art Nouveau architectural masterpieces. The architects Mikhail Eisenstein, Konstantīns Pēkšēns and Eižens Laube can be thanked for designing most of these buildings on the street that was named after Bishop Albert who founded Riga in 1201.
Address: Alberta iela, Central District, Riga, LV-1010, Latvia
Riga Town Hall Square (Rātslaukums) – Be prepared for a colour explosion when you visit the square. The brightly painted House of the Blackheads sits resplendent on the square and steals the limelight from the rest of the buildings there. This building had to be reconstructed following the Second World War, but it is now a selfie-lovers dream!
Address: Kalku iela, Riga, Latvia
Nativity of Christ Cathedral (Rīgas Kristus Piedzimšanas pareizticīgo katedrāle) – The shimmering gold domes of the Nativity of Christ Cathedral mesmerised us as we approached through the surrounding park. The cathedral, which was opened in 1884, has had a tough time, having been turned into a planetarium by the Communists and only reverting back to be a place of worship in 1990. We are glad to say that the cathedral has been beautifully restored.
Address: Brivibas bulvaris 23, Riga 1050, Latvia
KGB Corner House – We had a harrowing, but very necessary visit to the KGB Corner House. During our travels around Eastern Europe we have always been struck with how tasteful and emotive the museums are when dealing with half a century of Communist oppression. The KGB Corner House was no different. The building had been taken over by the Cheka (which was to become known as the KGB) in 1940, when the Soviet tanks had rolled in near the start of World War 2. The building witnessed the interrogation, torture and murder of thousands of Latvians. Make sure that you book your tickets, as you can only visit this museum by guided tour.
Address: Brivibas iela 61, Riga 1010, Latvia
St. Mary's Dome Cathedral – We were lucky enough to be staying in an Airbnb just around the corner from this imposing cathedral, so it was our pleasure to walk past this building every day during our stay. With it being so close, this Romanesque style cathedral, which was established in 1211, was our first stop during our exploration of Riga, and this beautiful religious site set the bar high as we continued with the rest of our tour.
Address: Doma laukums 1, Riga 1050, Latvia
10 Hidden Gems:
Latvian Ethnographic Open Air Museum – Make sure you plan half a day at this museum, as it sprawls over an expanse of land along the shore of Lake Jugla, which is in the north eastern suburbs of Riga. This Skansen-style museum is one of Europe's oldest and largest outdoor museums having been opened 1924. The museum has 118 historical buildings from all over Latvia, most of which you can access. We really felt like Hansel and Gretel walking through the woods into a time warp and we wouldn't have been surprised had we stumbled upon a gingerbread house!
Address: Brivibas gatve 440, Riga 1024, Latvia
Central Market (Centraltirgus) – A walk through the Central Market is a great way to see and meet the locals in a non-touristy setting. The market is huge, having been opened in 1930 in disused zeppelin hangers. The market also spreads into an outside market and there are said to be over 3,000 trade stands!
Address: Negu iela 7, Riga 1050, Latvia
Riga Art Nouveau Museum (Rīgas Jūgendstila muzejs) – When visiting Albert Street, you must set aside an hour to visit the Riga Art Nouveau Museum, as it is an indispensable companion for you when you explore the street outside. The Latvian architect Konstantīns Pēkšēns, who had a hand in designing many of the buildings on Albert Street, designed his own house in 1903 and it is here that the museum is based. The interiors are exquisite and the story of the architect and of the Art Nouveau movement in Riga are well described. Pay careful attention to the staircase – arguably the most effective Art Nouveau example in Europe.
Address: Alberta iela 12, Riga 1010, Latvia
Latvian Academy of Sciences – Panorama Deck – The imposing building of the Latvian Academy of Sciences is a little off the tourist track, but it could easily be combined with a trip to the Central Market. Today, this monolith seems to be mainly filled with offices, but the 17th-floor observation deck gives one of the best views of Riga's Old Town and the Daugava River.
Address: Akademijas laukums 1, Riga 1050, Latvia
St. Peter's Church – Another great view of the Old Town can be gained from St. Peter's Church. The church's viewing platform is an impressive 72 meters high and is situated in the middle of Riga. Back down in the main hall of the church, we spent some time viewing the artistic exhibition that was being held, and there are regular exhibitions held here throughout the year.
Address: Skarnu iela 19, Riga 1050, Latvia
Riga Motor Museum (Rīgas motormuzejs) – Out in the same direction of the Ethnographic Museum is the Riga Motor Museum. We were pleasantly surprised at this modern and impressive museum and we found it to be one of the best of its kind. The collection includes vintage Rolls Royces, BMWs and Mercedes' to Soviet mechanical wonders, and don't miss the Benz Patent Motorwagen – the oldest automobile in the world. Even the entrance was worth a selfie, as it looks like the grill of a vintage car!
Address: Sergeja Eizenshteina iela 6, Riga 1079, Latvia
Riga Ghetto and Latvian Holocaust Museum – We found that the Riga Ghetto and Latvian Holocaust Museum wasn't really publicised well and a little hidden, even though it is just outside the Old Town. It is worth persevering, however, to find the museum in the former ghetto. More than 70,000 Jews from Riga and Latvia were exterminated by the Nazis and this small, but informative museum tells their story.
Address: Maskavas 14a, Riga, Latvia
Swedish Gate (Zviedru Varti) – The Swedish Gate can be found in a relatively quiet part of the Old Town, and it is worth seeking out this historical portal which was erected in 1698 as a part of the Riga Wall to provide access to barracks outside the city wall.
Address: Atgriežu iela, Centra rajons, Rīga, LV-1050, Latvia
Cat House (Kaku Nams) – As with many of the Art Nouveau buildings throughout Riga, you need to be looking up as you walk by. The Cat House is aptly named for the two black felines perched on the points of its towers and is sure to bring a smile to your face.
Address: Meistaru iela 19, Riga LV-1050, Latvia
Aldaris Beer Museum – Being from Scotland, we were not familiar with the Aldaris brand of beer, but we soon learned just how big this brewery, which was established in 1865, was in Eastern Europe. The partly-guided tour took us through the museum which is housed in one of the brewery's original brick buildings. There is also an opportunity to catch a glimpse of the modern day brewing process as you go around. The highlight, however, must be the beer tasting at the end of the tour!
Address: Tvaika iela 44, Riga 1005, Latvia
Where to Eat:
Folkklubs Ala Pagrabs – Folkklubs Ala Pagrabs is an authentic Latvian tavern, housed in a large, atmospheric cellar. The food and beer there were great, and they have a regular schedule of cultural and musical performances.
Address: Peldu iela 19, Centra rajons, Rīga, LV-1050, Latvia
Peter's Brewhouse – This popular tavern, selling great hearty local dishes gave us the impression of a German Beerkeller. Try the pork knuckle if you are hungry!
Address: Skārņu iela 9, Centra rajons, Rīga, LV-1050, Latvia
Where to Stay:
Airbnb – Old Town Riga – Budget Price – You won't find anything more economical or jaw dropping in the centre of Riga. Don't expect a modern apartment but be amazed at the fantastic art work throughout. Within minutes of most of Old Town attractions, with the added bonus of having a garage for your rental car.
Address: Bīskapa gāte 8, Rīga, LV-1050
Sherlock Art Hotel – Moderate Price – Set in a 19th-century, Victorian-style building, this elegant boutique hotel is a 3-minute walk from medieval St. Peter's Church.
Address: Mazā Monētu iela 3, Centra rajons, Rīga, LV-1050, Latvia
Grand Hotel Kempinski Riga – Luxury – The elegant deluxe hotel housed in a beauty 19th Century building is situated next to the Opera House
Address: Aspazijas bulvāris 22, Centra rajons, Rīga, LV-1050, Latvia
Hints, Tips and Useful Information:
Respect: Handshaking is customary when meeting someone for the first time. Latvians can be reserved and formal, but nevertheless very hospitable. Latvians are proud of their culture, and visitors should respect this strong sense of national identity.
Electricity: 220 volts AC, 50 Hz. Round two-pin plugs are in use.
Currency: The Euro. Latvia joined the eurozone in January 2014, so no complicated conversions into lats (the previous national currency) are necessary any longer. However, you will find some odd prices quoted as they have been strictly converted from the old lats price. Banks are mainly open from Monday to Friday from 9 am to 5 pm, and it is advisable to exchange foreign currency in advance of visiting many areas of the countryside, as some places will not accept any bank cards. There are cash machines in all the major cities and towns of Latvia. Most of them accept Eurocard, Mastercard, Visa, JCB, Diner's Club, and American Express credit cards.
Language: Latvian is the official language. Russian, English and German are also widely spoken.
Basic words:
Thank you – paldies
Please – lūdzu
Good morning – labrīt
Good afternoon -labdien
Good evening – labvakar
Yes – jā
No – nē
Religion: Latvia is mainly Christian, with Lutheran, Roman Catholic and Russian Orthodox the most popular confessions.
Telephone dialing code: +371. To call from Latvia, dial 00 then the country's code that you are wanting to dial to.
Emergency numbers: 112 (police and fire), 113 (ambulance).
Payphones: phonecards required, which can be purchased at kiosks, post offices and in some shops.
Mobile Telephones: Good coverage with roaming agreements with many international phone companies.
Internet: Can be accessed in several internet cafes in Riga, and in some other towns.
Transport – Buses: Buses, trams and trolley buses are used in Riga. Plastic smart cards (long-term use) and cardboard tickets are available (www.rigassatiksme.lv).
Transport – Taxis: The price of the taxi service will be shown on the outside of the taxi. Taxis are available directly on the street, from a taxi rank, or by ordering one by phone. Most taxis only accept cash.
Transport – Driving: In most cities and towns in Latvia, on working days from 8:00 am to 8:00 pm, you have to pay for parking in the city centre. The cost for car parking is required in advance, using special parking ticket machines or by sms.
Other points to note:
Drive on the right-hand side of the road.
A valid driver's license is required
Speed limits are usually 50 kph in cities and 90 kph on highways.
Blood alcohol limit is 0.2-0.5 promiles.
Headlights must be on and used at all times, day and night.
Seatbelts are obligatory for drivers and passengers.
Water: Tap water is safe to drink, however, most locals prefer to boil it before drinking.
Shopping: Latvia is known for its amber, smoked (black) ceramics, silver jewellery, mittens, black (rye) bread, Riga Black Balsam herbal liqueur (Melnais Balzams) and Laima chocolates.
Cuisine: Latvian food has Nordic, Russian and German influences. It tends to be rather fat and rich, with main courses often consisting of potatoes, porridges, pancakes, and soups. Smoked bacon, sausage, other pork products are also favourites, as well as smoked and raw fish.
Try the following:
Maize Zupa(sweet soup made from rye bread)
BiesuZupa (red beetroot soup)
Kotletes(meatballs served with potatoes)
Piragi(bacon and onion wrapped in a thin yeast dough)
Siļķear biezpienu (herring served with cottage cheese)
Commorgan-wieders(braised chuck, ground with celery, onions and wrapped in a crepe and resauteed)
Griki(buckwheat)
Skabetikaposti (sauerkraut)
BiezpienaSierins (curd snack made from milk)
LaimaChocolate
Alcohol Consumption: Alcohol can be purchased from age 18 and over. Note, it is prohibited to be drink form an open bottle in the street.
Smoking: Prohibited in most public buildings and also in parks, squares and beached, except if the places are specially designated for smoking.
Tipping: 10% is acceptable in restaurants and cafes, unless the service has already been included in the bill. Tipping is often given, but is not obligatory, to hotel service staff, taxi cab drivers, and hairdressers.