07 Dec

The Maldives – Travel Guide

[av_one_full first min_height=" vertical_alignment=" space=" custom_margin=" margin='0px' padding='0px' border=" border_color=" radius='0px' background_color=" src=" background_position='top left' background_repeat='no-repeat' animation=" mobile_breaking=" mobile_display=" av_uid='av-dw6px4′]
[av_image src='https://www.dreampursuits.travel/wp-content/uploads/2017/06/Maldives_a.jpg' attachment='1531′ attachment_size='full' align='center' styling=" hover=" link=" target=" caption=" font_size=" appearance=" overlay_opacity='0.4′ overlay_color='#000000′ overlay_text_color='#ffffff' animation='no-animation' admin_preview_bg=" av_uid='av-ciqvug'][/av_image]
[/av_one_full]

[av_one_fifth first min_height=" vertical_alignment=" space=" custom_margin=" margin='0px' link=" linktarget=" link_hover=" padding='0px' border=" border_color=" radius='0px' background='bg_color' background_color=" background_gradient_color1=" background_gradient_color2=" background_gradient_direction='vertical' src=" background_position='top left' background_repeat='no-repeat' animation=" mobile_breaking=" mobile_display=" av_uid='av-2dq0uw'][/av_one_fifth]

[av_four_fifth min_height=" vertical_alignment=" space=" custom_margin=" margin='0px' padding='0px' border=" border_color=" radius='0px' background_color=" src=" background_position='top left' background_repeat='no-repeat' animation=" mobile_breaking=" mobile_display=" av_uid='av-63n9o8′]
[av_textblock size=" font_color=" color=" av-medium-font-size=" av-small-font-size=" av-mini-font-size=" admin_preview_bg=" av_uid='av-472k7s'][/av_textblock]

[av_textblock size=" font_color=" color=" av-medium-font-size=" av-small-font-size=" av-mini-font-size=" admin_preview_bg=" av_uid='av-2q79p4′]
The Maldives
Calm beaches, long white stretches of sand, sunny days, a million shades of blue, rich underwater life, paradise… this is what comes to mind for most of us when we think of The Maldives (well, for those who have heard about it. You'd be surprised how many people have said to me "Maldives? Where is that?"). All these ideas and more cannot be any truer when it comes to these majestic islands in the middle of nowhere. Actually, to be honest, it was even better than I had hoped it would be. Sadly, because of global warming and rising sea levels, The Maldives is considered one of the most dangerous places to live. At a maximum elevation of only 2 meters (6 feet) above sea level, you can deduct for yourself what may one day happen to these paradisiac islands. I sure hope I'm not around to witness it, but The Maldives is still vulnerable to rising sea levels, tsunamis, erosion, and isolation.
I am very fortunate and grateful to have had the privilege to check off one of my bucket list destinations and set off to "the sunny side of life", as quoted by their official board of tourism. And indeed it is! I am lucky enough to have met a lovely friend in India some years ago, who is from Male', the capital, and after 3+ years, I finally got to visit her in her home country, meet her family, and be hosted for my first two nights in their lovely home. I consider myself very lucky to have met and hung out with some locals, be told many stories about life in The Maldives, both past and present, and get an insight into the political, religious, and every day life for Maldivians.
Before going, there are definitely some ground rules one must be aware of, and some definite pertinent information about this lovely place. Below you'll find my whole experience along with some helpful "first-timers" info that can help you along if ever you're looking into going. It is a bit on the lengthy side, but I hope you enjoy and find some useful tips that will incite you to go, because it is a beauty unlike any other!
* The opinions and experiences expressed in this article are mine and mine alone unless otherwise stated. This is written from my experience in The Maldives and my point of view.
A Little Bit About The Republic of Maldives

1 – Good To Know Before You Go…
Resort or Local Island?
In the late 1970's, resorts started popping up in The Maldives. More and more uninhabited islands were bought out privately over the next 30 or so years, and resorts would be built. Foreigners were not allowed to stay on local islands; guesthouses and hotels were virtually non-existent, and this was all controlled by the government. The only way to enjoy the beautiful beaches and stunning waters was to stay at expensive fancy resorts. This obviously was mainly limited to the rich and famous (or people who had some money to spend!). All that changed around 2011-2012 when the government opened up local islands to the outside world and allowed Maldivians to build guesthouses to welcome visitors (my belief is that they saw the possibility of tourism expanding throughout the islands as a good thing for the economy and create jobs, as the main stream of economic income in the Maldives is from the tourism industry). This also started a new trend of budget-travel possibilities for many and put The Maldives on the map. In the last 6 years or so, many guesthouses have popped up all around The Maldives in the various islands and Atolls, including a local ferry system to go along with this, to allow locals and tourists/backpackers alike to be able to move from one island to the next at a very reasonable price (more info on transfers later).
So the question for many is "Should I stay on local islands or stay in a resort?"
And the answer is quite simple: It depends what experience you want and what you're looking for as a holiday.
Here are some things to consider for both…
Local Islands
If you're looking for a more authentic cultural Maldivian experience and to see the way the locals live day by day, then visiting and staying on a local island would be a great idea. I did 3 different local islands: Male' (the capitol), Thinadhoo (Vavuu Atoll), and Thulusdhoo (Kaafu Atoll). Scroll to the "My Itinerary" section further down for my full write-up and suggestions on that subject. However, it's important to know the local customs and respect them if you decide to stay on local islands. Here are the main ones:
Culture and Religion:
The Maldives is an Islamic nation.
Prayer times happen 5 times daily. The times are determined by the mosque and are based on the sun and geography (according to my understanding anyway!). On the more populated islands, you hear the call to prayer on speakers throughout the city/town. It is very important to know that the Islamic religion is very present in The Maldives, and a few things need to be kept in mind when traveling there:
Fridays for Muslims are like Sundays to Christians. It is basically considered a "holy" or "rest/prayer" day, therefore many schedules are altered, diminished and some services non-existent altogether (as ours would be on Sundays). Typical weekends for Maldivians are Friday-Saturdays, as opposed to Saturday-Sundays for us Westerners.
Many places will close during prayer times, so it's good to plan shopping and outings accordingly. It is a government regulation that shops close down during prayer times for a minimum of 15 minutes (some combine this with lunch/tea time and close for over an hour), and apparently can be fined if government inspectors come by. How much this is actually enforced is beyond my knowledge, but it's definitely an interesting concept and one to keep in mind. I was wondering why places were all closed mid-day, until I asked my friend who explained this to me. I did however find it interesting that it didn't apply to restaurants/cafes. Apparently, it's supposed to, but again, it was unclear as to why some public areas were closed and some weren't.
ALCOHOL IS PROHIBITED. Yes, you read that correctly, It is strictly prohibited to bring alcohol into the country (as well as pork products and pornography! They even announce it on the plane before arrival and scan bags after immigration before baggage claim!), and it cannot be found anywhere on local islands. No exceptions for this except for resorts (read about that a bit later). So if you absolutely expect alcoholic beverages while staying in a guesthouse, think again! It will not be available. Many tour operators and resorts have caught on to this desire and have teamed up together, offering "all inclusive resort day trips" to tourists staying on a budget in local guesthouses but want the satisfaction of having drinks on the beach for a fraction of the price. It is basically a day trip to a resort where bikinis and alcohol are allowed. I did not participate in this, but I know they are widely offered on the more popular local islands such as Maafushi (which is tourist central for those seeking a "cheaper" Maldivian holiday. It's like the Cancun of Mexico, only on a much smaller scale). I steered clear of Maafushi as I heard everyone goes there. I despise crowds, so I opted out. But for many, it is the place to go. You can look into it if you want, but I have no info on it other than what I just wrote.
WOMEN, LISTEN UP! This is very important! The Maldives is an Islamic country as stated above. This means women need to dress according to Islamic standards. No, it doesn't mean you need to be veiled (well, unless you want to), but it does however mean that you need to dress modestly. Thighs, shoulders and chest need to be covered with loose clothing, nothing revealing. This also means that any swimming done at public beaches on local islands, you CANNOT swim in a bathing suit or bikini. Yes, this means you need to swim clothed (even if you don't see anyone around): board shorts and t-shirt are usually fine. Seriously, if you can't deal with this, don't go! Or go, but steer clear of local islands and stick to resorts. This is a government regulation, and there are signs everywhere saying it is prohibited to swim in bikinis, EXCEPT FOR DESIGNATED "BIKINI BEACHES" and hired boat excursions. Most local islands have their "bikini beach" where local inhabitants don't go and tourists can prance around in their chosen attire. Nude sunbathing is strictly prohibited everywhere in The Maldives, even on resort islands. Of course, there are always some foreigners who don't adhere to these regulations and do what they want… however this is VERY disrespectful to the locals and their culture, and perhaps can entail some form of government intervention, I'm not sure. Either way, in my opinion, if someone cannot respect the local customs, they should stay home!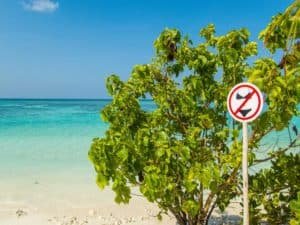 Guesthouses are very recent as previously stated, so most of them are new and well kept. I obviously cannot speak for each one as I have only stayed at 2, but I have heard many great things. Most of them range between 60$-100$/night depending if you choose meals or not, however most of them include breakfast. Many of them will even offer activities, such as a picnic island, sand bank island hopping, sunrise dolphin trip, and snorkel excursions, etc. The list goes on, and many activities are fairly affordable from what I've seen and worth the extra money. Being out on the turquoise ocean is enough to sell itself! And a huge benefit added to that: women can be in bikinis while out on excursions… just don't forget to cover up once you step foot on land again (even if it's just walking to and from your room to the boat!).
Resorts
The Maldivian resorts are those picturesque images we have in mind when we think of what The Maldives is like: overwater bungalows, pristine clear waters with white sand beaches, infinity pools and lush vegetation. Many of the government regulations don't apply when you stay at resorts: you can wear what you want, swim in bikinis (still no nude sunbathing though!), drink alcohol to your hearts content, and even eat pork. Since they are privately owned by whoever built the resort, they are somehow exempt from these government regulations. There are no towns, no locals (other than the workers at the resort who typically live on-site)… solely the resort in question is on this island; a secluded little paradise for most.
I had the privilege of having both experiences, having stayed at 3 local islands and one resort. See below for my itinerary.
So it all comes down to what you are seeking and what your preferences are as a traveler. Resorts used to be out of reach to many as they were very expensive, however, with the recent economic crisis, many resorts have slashed their prices down to attract more guests. What used to be a 2000$/night overwater bungalow can now sometimes be found for 500$-700$/night, still steep for many, but more attainable than previous years. Of course, there are always other options than staying in an overwater bungalow, and I've seen some resorts have lovely beach villas for 150$-200$/night, breakfast included.
2 – Getting Around
I have to say that getting around in The Maldives is quite a pain. Not because their system is inefficient, on the contrary, their ferry system is quite extensive. It is a pain because the whole nation is made up of islands, and getting from one place to the next means coordinating ferry schedules, and pretty much always having to return to Male' or the airport as these are the two main pick up points and ferry departure points. Some ferries only run once a day, others only 2-3 times a week… so coordinating it all can be a headache. You also need time if you're planning on island hopping. The Maldives looks small on the world map, but logistically speaking, getting from point A to point B can sometimes mean crossing 100km on a traditional public ferry boat (dhoni boats), and take 4-6 hours, and those are close(ish) destinations too. They do have public speedboats for a little more of a cost, which can be worth it if it saves times and sea-sickness (guilty!). There is also the other option of flying, but unless you're going to be staying on the island where the airport is, chances that you'll need to take a boat to reach your chosen island is highly probable, and unless you have the money to hire a private speedboat ($$), you may be stranded on that island until the next ferry to where you're going is, which sometimes can be the next day or even two.
Most guesthouses will arrange your transfers for you according to the public timetable for the ferries, and some even offer their own private speedboat transfer with set times from the airport harbor. Obviously, that is the more expensive option, like flying, and the further the island is from Male' or the airport, the more the price increases. One example: A speedboat transfer for a guesthouse on Thinadhoo in Vaavu Atoll, which take roughly 75 minutes, is approximately 100$-130$ return. For the same transfer, the fee on a public ferryboat would be about 5$ and take 4-5 hours, or about 20$ for the public speedboat for 75 minutes, those prices are one way. Seats, however, are on a first-come-first-serve basis for both options, and as stated earlier, many ferries only operate once daily. If you can coordinate your schedule to those of the ferries, then great. Especially that the guesthouses usually will be able to reserve your tickets for you and arrange the transfer, all you need to do it show up at the right place at the right time.
Resorts, on the other hand, always have their mandatory transfers provided. Some can be speedboats, others seaplanes. Some give you the options and others don't. But it's something crucial to keep in mind when trying to figure out your budget, as you always have to tack on the transfer fee. The resort will always include it in the final price and arrange everything according to your incoming/outgoing flight details, but its rarely included in the nightly price, so keep this in mind and always look at what the transfer fee is.
The airport isn't on the same island as Male'. It is on an adjacent island called Hulhumale. There is a 20 minute shuttle ferry between the two. It leaves roughly every 15 minutes or so and costs 1$ per way. I did it a couple of time and it was fairly pleasant. There are also different harbors for transfers and ferries: the airport one which is mainly used by resorts and private speedboat transfers, and as for the inter-island public ferries, you need to make your way to one of the harbors on Male' itself, which involves the airport ferry to Male', and usually a 4$ taxi ride from the arrival harbor to the north harbor where most ferries leave from (to my understanding). If you can swing it and have enough time, awesome!
I personally was lucky enough to have my transfers provided and arranged wherever I was staying, although I would have liked to have a public ferry experience. Time wasn't on my side however, so maybe next time!
3 – Visiting Male': The Capitol
**There has been some violence due to extreme Islamism and some political and civil unrest going on mainly in the capitol, so I definitely would advise to be cautious if you find yourself in the city. I never once felt in danger, but I was also accompanied by two very knowledgeable friends who are from there and know where to go and where not to. Please use common sense and be respectful of their conservative nature.
I spent two days with my friends who live in Male' city center, and just as they had warned me before my arrival, 2 days was more than enough, as there is not much to do. There is no beach on Male', even though it is an island. Google "Male' City" and you'll see some images to understand.
Male' is an island like the rest of the Maldives, and it is only about 5.8 sq.km with over 100,000 people living on it. You can just imagine how crowded it is! There are more motorbikes than one can handle in such a small space, and you have to be very vigilant, because they will run you over if you're not careful. The streets are very narrow, almost like ally ways that zigzag their way through the small city. The sidewalks are barely existent, so forget walking side by side with someone, and you're constantly moving out of the way for oncoming people walking in the opposite direction.
There is however a few lovely landmarks that can be visited through a short walking tour. One is The Islamic Center and Grand Friday Mosque, displaying beautiful architecture and which is situated on lovely shaded grounds with large trees and enough room to roam around without being scared that you'll get run over. I have to say, this was my favorite place in Male'. Right by it, there is a beautiful monument dedicated to those who died in the terrorist attack that happened in 1988. The Muleeaage is the official residence of the President of the country, and within close proximity of the Grand Mosque. There are also some very old cemeteries within the city that are quite unique to see. All this can be done within a few hours. For the rest of Male', there are a bunch of restaurants and cafes, many with air conditioning to get away from the smoldering heat that encompasses the city. The food in the restaurants I did eat at was very good, ranging from traditional Maldivian meals, to Sri Lankan, Indian, and of course fresh catch of the day!
There is a hospital, but it is still limited in services. For complicated cases and surgeries, people need to travel to Sri Lanka or India for proper care and more extensive treatments options.
All in all, I didn't particularly enjoy Male', but I don't really enjoy any crowded city for more than a day no matter where I am. It's just not my thing. It was however nice to see and experience, but would I go back to visit? Probably not unless it was to visit my friends of course!
4 – My Itinerary
Aside from Male', I was fortunate enough to be able to visit two other local islands and stay at lovely establishments in both places. My experiences were just lovely and I loved every single minute of it – minus the awful sunburn! Here's my itinerary for my 2 week trip!
1- Thinadhoo and Plumeria Maldives
The first island I went to was Thinadhoo in Vaavu Atoll, about 75 minutes away from the airport by speedboat. Thinadhoo is a local island with only 30 inhabitants. Yes, 30! It's not a typo. It's a tiny little island with a few guesthouses, and I stayed at Plumeria Maldives for 3 nights.
They picked me up at the airport harbor with their own lovely speedboat, where they handed me a cold bottle of water and a cold towel scented with (you guessed it!) Plumeria fragrance. I thought it was a nice touch! As most places do, my arrival was greeted with a nice welcome drink (non-alcoholic). It is so hot in The Maldives that anything cold is refreshing!
I stayed in a super deluxe seaview room, which had nice views of the ocean and the sunset, a very comfortable king size bed, and good A/C and hot water rain shower. The wifi was actually surprisingly good (strong enough to make a facebook voice call).
The hotel itself is beautiful. Nice and quiet, with a restaurant on site (with absolutely delicious food, and their own baked goods!), great staff who are always so willing to help with any requests, and a very nice outdoor pool, which is closed off and private (and yes, you can wear a bikini there!). They offer free usage of bicycles to roam around and explore the tiny island, which is great! They have a complete dive center on site, offering dives at reasonable prices. They also offer activities and excursions, which I participated in. The prices ranged from 30$-75$ a person. I did the night fishing, the morning snorkel, and a full day picnic lunch on an uninhabited island (where I got the massive sunburn while snorkeling!). All trips were absolutely lovely. They have their own staff who run the excursions, and they were very lovely, organized and safe. The last night I was there, they had a very awesome beach BBQ for dinner with a wide range of dishes to please everyone!
The beach in front of the property is lovely. You can walk around and eventually (within 5 minutes or so) get to "bikini beach". Even though the hotel is located on a beach, it's still considered a public beach, so bikinis cannot be worn of course, with signs indicated so. There is a beautiful house reef that stretches the whole length of the beach until bikini beach. Just walking the beach I was able to spot some baby black tipped reef sharks, and some baby sting rays, amongst other types of fish.
All in all, I would definitely go back to this little paradise, and I highly recommend it to anyone wanting a nice getaway with some fun activities and some solitude! You can get in touch with them directly or visit their website.
Local island mosque
Arriving at the island harbor
2- Thulusdhoo and Season Paradise
My next destination for 3 nights was another local island called Thulusdhoo in Kaafu Atoll, roughly 20 minutes away by speedboat from the airport. It is one of the bigger islands, and also the capitol of Kaafu Atoll. There are approximately 1200 people living on the it, although it didn't seem like it! I walked around the village a few times and barely saw anybody.
I stayed at Season Paradise, a newly opened waterfront hotel, close to the "bikini beach" of the island, and the only hotel on the island with a pool. I have to say, their infinity pool was my absolute favorite part of the whole place! It's situated on the 5th floor, which is the rooftop, with amazing views of nearby uninhabited "chicken island", the endless ocean, and the sunrise on one end and sunset on the other. I even saw a pod of dolphins that would come by morning and evening. Just lovely.
It's a place where foreigners and locals alike go to vacation, so on the weekends there were definitely more people and families.
They provide their own speedboat transfer twice daily from Male' airport. The rooms are very nice, offering 3 different types: deluxe, seaview, and executive suite! I stayed in a seaview room with lovely views of the ocean and the adjacent waterfront park. The wifi was mainly functional in the lobby area. I did get the signal in my room, but it was very spotty and sometimes didn't work at all. I was told that they were looking into expanding it to the entire property. They have an onsite restaurant, with both buffet and a la carte menus. The food was good, fairly basic but with a decent variety and a lot of fruits. On my last night, they had a great beach BBQ, with fresh catch of the day which was delicious, various dishes and a live local band!
They also offer daily excursions, including chicken island visit, snorkeling, deep sea fishing, and surf trips out to the major surfing points on Thulusdhoo. This island is known for surfing, so many people who visit here are coming for just that. I'm not a surfer, but it is apparently a great place to surf according to the people I spoke with. I unfortunately didn't have the chance to participate in any of the outings (that's when my sunburn was at its worse!), but they did seem well organized and pleasant.
They also have a spa onsite and a conference room for business meetings and banquets. For a place that has just opened in November 2016, it seems quite established and organized, with very lovely staff members.
And added plus is that if you work in the tourism/airline industry, they do offer special rates! So for those of you that this applies to, do get in touch with them and ask what they can offer! They are very lovely and welcoming!
3- Baa Atoll and Reethi Beach Resort
My last 6 nights were spent on a resort called Reethi Beach Resort in Baa Atoll. I wanted to have both experiences, and this one also offered a nice tourism staff discount (Do get in touch with them here if this applies to you once again), so it was hard to say no to staying in an overwater villa! It was a bucket list item for sure and I'm very happy I was able to check it off!
Getting there involved taking either a seaplane direct to the resort, or a domestic flight and a 15 minute speedboat ride from Dharavandhoo island where the airport is located. The seaplane was more expensive, so I opted to take the domestic flight, but I do however regret not having the seaplane experience. When I go back (and yes, I'll be going back for sure!), the seaplane it'll be!
Staying in an overwater villa was absolutely stunning. I would sit there and stare at the ocean for so long, and it was just so beautiful! I went snorkeling right off the back of my balcony where I had direct access to the lagoon, and woke up every morning greeted by the sun rising in front of my bed. Just breathtaking! Everything at the resort was exactly as I wanted and was looking for (in terms of a resort experience): secluded, quiet, lovely beaches, house reef, amazing food, lovely staff… need I say more? Check them out for yourself here at their website and indulge in the photos below!
Just a few more things I found useful to know…
Monetary Currency
The official currency is the Maldivian Rufiyaa, however USD is widely accepted and sometimes even preffered. Many guesthouses and resorts will charge in USD, and most also accept Visa/Mastercard. It is always good to have cash on hand to pay for smaller purchases like food, ferry tickets, etc.
Wifi Connectivity/SIM cards
Wifi in The Maldives isn't the best. If you're looking for a fast and reliable network, it's difficult to come by. I'm not saying it's impossible, but it's definitely not fast upload/download quality, so digital nomads beware!
I opted to get a SIM card from the airport upon arrival. I suggest you do the same if your phone allows it (it needs to be unlocked first) if you like to be connected while away. I had no problem and within 5 minutes it was up and working.
There are two cellular providers at the airport: Ooredoo and Dhiraagu. They are both located on the right at the international arrivals exit. They offer SIM card packages specifically for foreigners, and last between 7-14 days. You get to choose what you want based on your needs. I went with Ooredoo. Their prices are slightly lower than their competitor. I was satisfied the whole time I was there with their 3G and 4G network coverage. It is quite extensive for an island nation, and I even had full service while I was on a ferry in between Atolls. I don't even get that great of coverage in Canada, so I was quite pleased! The package I had bought was a 14 day one, 5GB for 22$. I took the data-only package, as I knew I wouldn't need to be making any calls (and with facebook messenger, whatsapp, skype and all, it's so easy to make calls using data!). If you're someone who needs more data, they had plans to match.
The Mighty Sun
I've been to many islands, and I've had my share of sun-skin related incidents. HOWEVER, never have I gotten so burned by the sun as I did on this trip! DO NOT underestimate the power of the sun in The Maldives. I got one of the worse sunburns of my life in about 1 hour's time snorkeling, and yes that includes having water resistant sun lotion on. Wear a shirt in the water and save yourself the pain of a bad sunburn. I literally could not go in the sun for over 3 days – even with my back covered, the sheer heat would hurt. Buy yourself one of those surf shirts that have SPF50+ and save yourself the misery.
Drinking Water:
It is advisable not to drink tap water in The Maldives. To my understanding, there is no fresh water source in the country, so all water must be desalinated through a process called reverse-osmosis and lacks all the essential minerals. Most hotels/guesthouses and resorts all offer complimentary bottled water (usually 1L per person per day, some more). I never had to buy any bottled water aside from sparkling water, so I really don't know the price of it.
Marine Life, Coral Bleaching and Seashell Collecting:
It came to my attention that collecting seashells, coral and any marine life is against government regulation, so seashell collectors; sorry to be the messenger of bad news if you're looking to fetch a nice souvenir from the ocean. I personally don't think it's a bad thing: imagine if everyone kept taking sea shells that hermit crabs use as their homes, or corals that wash up on shore… with erosion and rising sea levels threatening the livelihood of this country and the fragility that it presents, it's only normal that they put these practices forward. How much it is enforced and controlled is beyond me, but I wasn't willing to find out. I like to respect nature and take nothing but pictures!
The coral reefs in The Maldives have taken a serious hit due to global warming and increasing water temperatures. There was a massive coral bleaching due to El-Nino in 1998, and the effects can still be seen today. Even though there is an abundance of marine life and water clarity, being respectful and aware of it's fragility is key to allowing it to (hopefully!) regenerate and thrive. Please be cautious when snorkeling or diving. Do not touch coral or marine life, no matter how pretty it is. Be the observers and enjoy the moment. Be extra careful when snorkeling with fins on as to not kick the coral bed beneath you. Once it's broken, it's broken.
Final Thoughts…
The Maldives is an incredible destination to visit, in my opinion. I loved every second of my time there, and I seriously cannot wait to go back! With its endless shades of blues, greens and turquoises, it is a beautiful place whether you're on your honeymoon or want to do a solo travel/backpacking trip. The beaches, people, scenery, marine life, and all that comes with it are exquisite, lush and admirable… and I hope it stays like that for a long, long time to come!
Please feel free to comment below, or email me if you need any guidance or have any questions!
[/av_textblock]
[/av_four_fifth]