07 Dec

Tokyo – Travel Guide

[av_one_full first min_height=" vertical_alignment=" space=" custom_margin=" margin='0px' padding='0px' border=" border_color=" radius='0px' background_color=" src=" background_position='top left' background_repeat='no-repeat' animation=" mobile_breaking=" mobile_display=" av_uid='av-cy7iee']
[av_image src='https://www.dreampursuits.travel/wp-content/uploads/2017/05/Toyko-at-Night-by-toppiMS.jpg' attachment='1495′ attachment_size='full' align='center' styling=" hover=" link=" target=" caption=" font_size=" appearance=" overlay_opacity='0.4′ overlay_color='#000000′ overlay_text_color='#ffffff' animation='no-animation' admin_preview_bg=" av_uid='av-ahrcrq'][/av_image]
[/av_one_full]

[av_one_fifth first min_height=" vertical_alignment=" space=" custom_margin=" margin='0px' link=" linktarget=" link_hover=" padding='0px' border=" border_color=" radius='0px' background='bg_color' background_color=" background_gradient_color1=" background_gradient_color2=" background_gradient_direction='vertical' src=" background_position='top left' background_repeat='no-repeat' animation=" mobile_breaking=" mobile_display=" av_uid='av-223n3q'][/av_one_fifth]

[av_four_fifth min_height=" vertical_alignment=" space=" custom_margin=" margin='0px' padding='0px' border=" border_color=" radius='0px' background_color=" src=" background_position='top left' background_repeat='no-repeat' animation=" mobile_breaking=" mobile_display=" av_uid='av-4jiqg6′]
[av_textblock size=" font_color=" color=" av-medium-font-size=" av-small-font-size=" av-mini-font-size=" admin_preview_bg=" av_uid='av-2gxjs6′]
A Trip Guide for Tokyo

You have 2-3 days to see one of the most amazing cities in the world. How do you even begin to divvy up your time? There's so much to see and do in Tokyo, Japan, that most Japanese go their entire lives without seeing everything the metropolis offers! Luckily for you, the key attractions can be discovered in a short amount of time, if you use these tips and tricks from someone living in Tokyo.
Budgeting Tips
The first thing I always tell visitors to Tokyo is how to save money. Tokyo is undoubtedly expensive, but taking some hints from the locals reduces how much you really need to spend. That way, you can spend your cash on what really matters—food, drink, and souvenirs!
Rail Passes
When in Tokyo, travel like a Tokyoite. In other words, use the train-subway system, and use it well. To get the most rides for your money, Japan has discounted passes with various timeframes to choose from. Some of the best are as follows:
100 & 300 Yen Stores
In the list of most frequently asked tourist questions in Tokyo is where to buy quality but wallet-friendly souvenirs for everyone at home. My answer: 100 Yen Stores. Basically the equivalent of a dollar store but with much, much more and at infinitely better quality. Some places like Daiso, Can*Do, Seria and 3 Coins offer Japan-made merchandise for anywhere from 100-500 yen (tax not included). That means you can get plates, cups, stationary, snacks, and other quintessentially Japanese knick-knacks without breaking the bank.
Grutt Pass
If you love going to museums and not having to pay an admissions fee, then the Grutt Pass is for you. It is a book of vouchers that deeply discounts ticket prices and special exhibition prices at most of Tokyo's awesome museums and galleries—79 and counting! The Grutt Pass costs only 2000 yen, which is sometimes the price of just one admission ticket. Here's some of the places covered:
Ueno Park Zoo
Edo-Tokyo Museum
Miraikan
Maritime Museum Odaiba
Tokyo Sea Life Park
Tamarokuto Science Center
Yebisu Beer Museum
Website: http://www.rekibun.or.jp/grutto/english.html
Where to Stay
There are a slew of options of places to stay in Tokyo. Ultimately, the experience you get depends on the type of establishment you stay in. If you want the most budget friendly option, go with a hostel or an Airbnb room. For a well-rounded but typically Westernized stay, go with a business hotel. However, if you want 100% Japanese hospitality and yukata, you need to stay at a ryokan.
Here are some of the best places: [ ( ) denotes the type of accommodation.]
Ryokan Asakusa Shigetsu (Ryokan)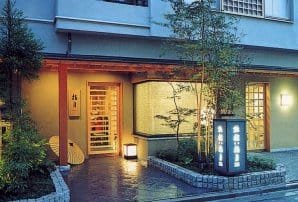 Website: http://www.shigetsu.com/
Nothing compares to staying in one of Tokyo's few surviving ryokan that sits on the doorstep of Senso-ji Temple in Asakusa, Taito-ku. Ryokan are traditional in every sense of the word. Most have rules and regulations you need to abide by, as well as shared baths, customary Japanese dinners, and futon instead of mattresses. Ryokan Asakusa Shigetsu is a favorite because it has been in operation for decades and has legendary hospitality.
Khaosan World Asakusa (Hostel and Ryokan)
Website: http://khaosan-tokyo.com/ja/world/
Now, if you are looking for a more contemporary experience still along the lines of staying in a ryokan, Khaosan is a chain with multiple locations throughout Tokyo. This one in Asakusa is actually a fusion between shared hostel rooms and private traditional rooms. Each room has a unique flair. There is also a cafeteria/restaurant/bar on site. Naturally, it's quite popular with the younger generations.
Villa Fontaine [Multiple Locations] (Business Hotel)
Website: https://www.hvf.jp/eng/
Every time I have stayed at a Villa Fontaine Hotel, I've had some of the best experiences of my life. For most, the draw is the free breakfast in the morning (which a lot of hotels in Japan do not offer). The staff is friendly, speaks your language (for the most part), and the amenities are immense. For a business hotel, it's a great deal. The best part is that you get new toiletries, robes, slippers, and other goodies daily too. Most locations are close to major rail or subway systems, making Villa Fontaine hotels very convenient.
Sunshine Prince Hotel (Luxury Hotel)
Website: http://www.princehotels.co.jp/sunshine/
Want to go all the way in terms of location, luxury, and amenities? Then there's no place like the Sunshine Prince Hotel, built inside the world renowned Sunshine City in Ikebukuro. Not only are you resting upon the hub of Ikebukuro transportation, you are on Sunshine City, which is full of stores, restaurants, an aquarium, observation deck, and Namja Town. Sunshine City is also seconds away from Animate Headquarters, butler cafes, and other attractions.
When looking for some place on Airbnb, I recommend the following locations for cheaper apartments and live-like-a-local experiences: Nerima-ku, Suginami-ku, Nakano-ku and Setagaya-ku. Though slightly outside the urban heart of Tokyo, these wards are not only cheaper, they are more residential, meaning you get to see another side of Tokyo most tourists forget exists. I personally don't recommend staying in capsule hotels unless you are traveling alone. Also note that most capsule hotels are gender-specific.
What to See
Here's a mix of famous sites with lesser known hidden gems for you to discover:
Kabukicho – The famous red-light district of Shinjuku is more than meets the eye. Hidden amongst the host clubs and bars are some really interesting discoveries. Take the Robot Restaurant, for instance. Or the multi-ethic restaurants scattered about. If you look hard enough, you can even find the Kabukicho Ninja Trick House.
Trick House Website: http://ninja-trick-house.com/
Samurai Museum – Also located in Kabukicho, this awesome establishment has one of the most in-depth looks into the samurai era in the region. Interactive, engaging, thorough…my favorite is when they have live demonstrations. You can even dress up in old courtier attire and have your picture taken. Plus, the staff is bilingual, and not just in English. Some know Chinese and Korean.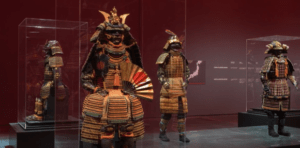 Website: http://www.samuraimuseum.jp/
Tokyo Metropolitan Government Building – Straight from Shinjuku station's west exit, you can enter for free and enjoy the observation deck from the 45th floor. It is a panoramic view, so you can see most of Tokyo day or night. There's also a café that serves delicious coffee and cake on the same floor. Since the building is open late, be sure to stop by for the nighttime scenery.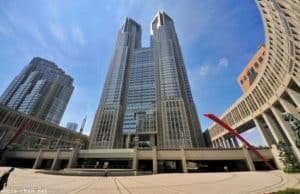 Website: http://www.yokoso.metro.tokyo.jp/page/tenbou.htm
Ueno Park – Since its establishment in 1873, this park has been a hub for activity and culture. In the spring, the park is covered with cherry blossoms. Decorating the park are various plants from all over, museums and educational institutions (Tokyo Metropolitan Museum, Bunka Kaikan, etc.), and the Zoological Gardens. There's also Shinobazu Pond to the south, Kiyomizu Kannon Temple, the Ueno Toshogu, pieces of a Daibutsu, and the Bentendo Lute statue.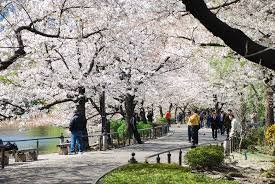 Kaminarimon, Nakamise-dori, and Sensoji Temple – These 3 attractions have been bunched together, because you can't experience one without the other. Part of the reason for that is due to their proximity. You literally walk beneath the Kaminari-mon (Thunder Gate) to get to Nakamise-dori, which leads to the entrance of the temple grounds. Nakamise-dori has over 90 stalls of souvenirs and traditional Japanese craft. On the side streets, you'll find a bunny café, theaters, Hanayashiki, and people dressed up as samurai. Sensoji is the perfect temple to see amazing architecture mixed with Japanese culture. Plus, the nighttime illuminations of the grounds are simply stunning. Don't forget to try freshly baked taiyaki (a bean-paste-stuffed pastry shaped like a fish). It's a favorite in Asakusa.
Ryogoku – One stop away from Akihabara. Check out the Ryogoku Kokugikan and the Kokonoe Sumo Stable to watch wrestlers train. Then visit Yokomicho Park and Kyuyasuda Gardens for a tiny museum and memorial dedicated to the victims of the 1923 Great Kanto Earthquake.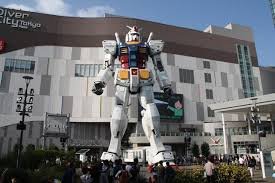 Odaiba – Tokyo's entertainment island is jam-packed with amusements. Head over for the Miraikan Museum, Aqua City shopping, Decks Odaiba stores, SEGA Joypolis, a life-sized Gundam that moves, Rainbow Bridge, Venus Forts, Palette Town and Leisureland, and a humongous Ferris wheel from which you can see Mt. Fuji.
Meiji Jingu and Yoyogi Park – Apart from everything else you'll probably want to see in Shibuya, Meiji Jingu and Yoyogi Park are always worth a trip. Not only are they close to Takeshita-dori and Omotesando-dori (shopper's heaven), they are conveniently located off Harajuku station (JR Yamanote Line). Yoyogi is where you can see Tokyo counterculture meet the traditions surrounding one of the city's most famous Shinto shrines.

Nezu Shrine – Famous for the Azalea Festival as well as infinite aisles of torii gates and kitsune statues. Nezu Shrine is located in Bunkyo-ku. It is a quiet escape from the constant rush of downtown Tokyo, and not many tourists go here.
The Musashi Ninja Jidai Academy [Experience] – Want to learn about the ninja for an actual ninja clan with roots back since the 1600s? The Musashi Ninja clan offers in-depth ninja training experiences that are fun for all ages. You can also do a samurai course if throwing shuriken isn't your thing.
Website: https://musashi.ninja/
Shibuya Mario Kart (MariCAR) [Experience] – Dress up like the cast of the super famous Mario Kart games and see Tokyo for yourself from behind the wheel of a real go-kart. The staff is knowledgeable, friendly, and speaks your language. Plus, you can see almost all of Tokyo, any time of day, for amazingly great group rates. People cannot get enough of the experience.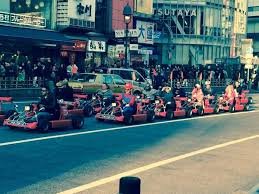 Website: http://maricar.com/
Where to Eat
Because Tokyo has some kind of restaurant or café always within reach, I'm going to forego the usual hotspots for more experiential locations.
Sore-no-Ito – Have someone who needs gluten free noodles or animal-protein free ramen broth? Award-winning Sora-no-Ito in Hirakawacho, Chiyoda-ku is where those with dietary restrictions can enjoy a hearty bowl of ramen without worry. For those who aren't vegetarian, Sora-no-Ito has traditional variations too. Also great for those watching their waistlines!
Website: http://soranoiro-vege.com/
The Lock-Up Dungeon Café – Calling all fans of horror. Open the giant door and be welcomed by a bloodcurdling cry for help. Then you can dine on body parts and drink chemical concoctions brewed by a mad scientist. Just one of Tokyo's many crazy cafes and restaurants. Multiple locations.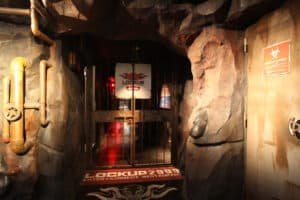 Website: http://www.lock-up.jp/
Ninja Akasaka – Ninjas and beer? What could be better? How about getting the dinner and the show in a real life ninja house? That's Ninja Akasaka, a premier location that wraps fun, good food and spirits all into one. The bonus is that it's kid-friendly.
Website: http://www.ninjaakasaka.com/
Pillar Café, Shibuya – Want good food and a chance at renting a bicycle for free? Then check out this cool place in Shibuya. If you spend 500 yen on a drink or meal at the café, you get a free hour on a rental bike. The more your eat and drink, the more time you get on your free bike. The café also has showers, which might come in handy after all the biking you might wind up doing.
Website: http://pillar-cafe.net/
[/av_textblock]
[/av_four_fifth]