07 Dec

Cambodia – Travel Guide

[av_one_full first min_height=" vertical_alignment=" space=" custom_margin=" margin='0px' padding='0px' border=" border_color=" radius='0px' background_color=" src=" background_position='top left' background_repeat='no-repeat' animation=" mobile_breaking=" mobile_display=" av_uid='av-1mixv0′]
[av_image src='https://www.dreampursuits.travel/wp-content/uploads/2017/05/DebSmith_Biking_Singapore_a.jpg' attachment='1445′ attachment_size='full' align='center' styling=" hover=" link=" target=" caption=" font_size=" appearance=" overlay_opacity='0.4′ overlay_color='#000000′ overlay_text_color='#ffffff' animation='no-animation' admin_preview_bg=" av_uid='av-1cmi2k'][/av_image]
[/av_one_full]

[av_one_fifth first min_height=" vertical_alignment=" space=" custom_margin=" margin='0px' link=" linktarget=" link_hover=" padding='0px' border=" border_color=" radius='0px' background='bg_color' background_color=" background_gradient_color1=" background_gradient_color2=" background_gradient_direction='vertical' src=" background_position='top left' background_repeat='no-repeat' animation=" mobile_breaking=" mobile_display=" av_uid='av-1y3lv0′][/av_one_fifth]

[av_four_fifth min_height=" vertical_alignment=" space=" custom_margin=" margin='0px' padding='0px' border=" border_color=" radius='0px' background_color=" src=" background_position='top left' background_repeat='no-repeat' animation=" mobile_breaking=" mobile_display=" av_uid='av-7wksto']
[av_textblock size=" font_color=" color=" av-medium-font-size=" av-small-font-size=" av-mini-font-size=" admin_preview_bg=" av_uid='av-5z50jg']
Cambodia is a country with great spirited people.  It is dirt cheap and lots to do and is boiling hot.

Getting there just using United was interesting as Marey and I were traveling with Lisa ?????  who is a united enrolled friend so no delta benefits or zeds.  The route from the US that we took was DEN to SFO and SFO to NRT.  We did this because of the open first class tickets and space available.  We think it was half empty because the  plane to NRT is older and more people were taking the DEN to NRT direct on the dreamliner.  First class on united was around $??? and worth it as always.  There were 120 seats open and Marey paid $?? to go coach with her own row.

In NRT we visited the United Club to figure out the next phase of the trip. Free showers, nice sushi and snacks and free beer, wine and other. You can go to the ANA lounge which our seat partner said had better food with your United club pass and a ticket but you can only take one person.

We saw that getting to Singapore was wide open and Marey got us a big discount at a fancy fancy Westin in Singapore.  So why not… we caught a 7 hour flight from NRT to SIN (a little further south than we needed to go) and arrived at midnight.  

Singapore I am embarrassed to say that we didn't know is a country and a city all in one. It's the second smallest country in the world – 22 miles from end to end.  It's absolutely beautiful, clean organized and as described by our seat people is all unicorns and rainbows – called the jewel of southeast Asia. It was not cheap but not outrageous.  If you want a $350/night hotel we recommend the Westin. (didn't pay that) otherwise check Hotels.com For the day in Singapore we decided on a bike ride ( you can arrange a tour but we went on our own)  We were recommended to use the Bike Hut on High Street.  Great bikes and people.  Cost $40 Sin dollars ($30 us about)  We saw the city…. if you made time to go all day you could even see more.Taxi to and from the airport was about $25 Singapore $ and the best way to go.  Don't embarrass yourself by saying you want to go to the international terminal… because that's all there is :)
Next we booked a $100 ticket for the night flight from SIN to PHN, Phenom Phen – capital of Cambodia – on Jet Star… this carrier and others in asia fly only certain days of the week.  There was no extra charge for carry on bags as you sometimes see.  You do need a visa in Cambodia but you can get that right at the airport.  It helps if you have a passport size photo but if do not they take one there for a few $$.  Think the visa cost $10 and didn't take long.
Arrival in Phnom Phen airport was a culture shock from being in Singapore.  We did book for $47 for 3 people a  nice hotel in the city on Hotels.com.  Don't be afraid to take a tuctuc – we took a taxi for $12 and was fine but all transport here after that was by tuctuc. We stayed at the Kolab Sor Phnom Phem which had a really cool rooftop bar and amazing breakfast included.  The would have picked us up from the airport but we couldn't figure out how to do that.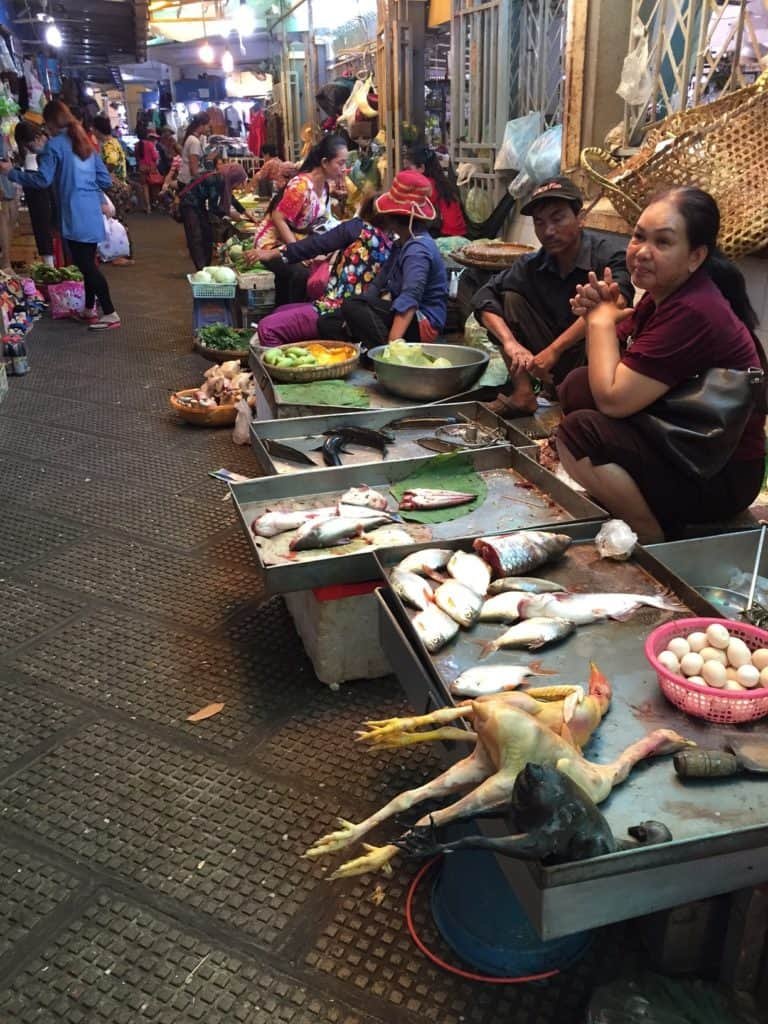 Tuctuc transport everywhere was huge part of the adventure in phnom phen and siem reap about $3 to go anywhere. Interesting that to pay in US $ was a better way to go than to use their currency.   Almost everyone took US $. We hired a tuctuc driver for the day …. ended up being $25 who took us to see the city and waited outside every place we wanted to stop.
The Royal Palace – really interesting where the king lived… go there and hire a guide – you will get more out of it.  $10 for admission and guide with 3 people
The central market for sure… a true cultural experience… save at least a few hours for this.
And the sunset river cruise – we lucked into a great team of young Cambodian entrepreneurs who had their own small boat.  they served water, beer, nuts and fruit for $15 with the two hour tour all included. The owner said that when he first started working he made $30 a month in a factory.  Now he has his own boat tour company… definitely a must do.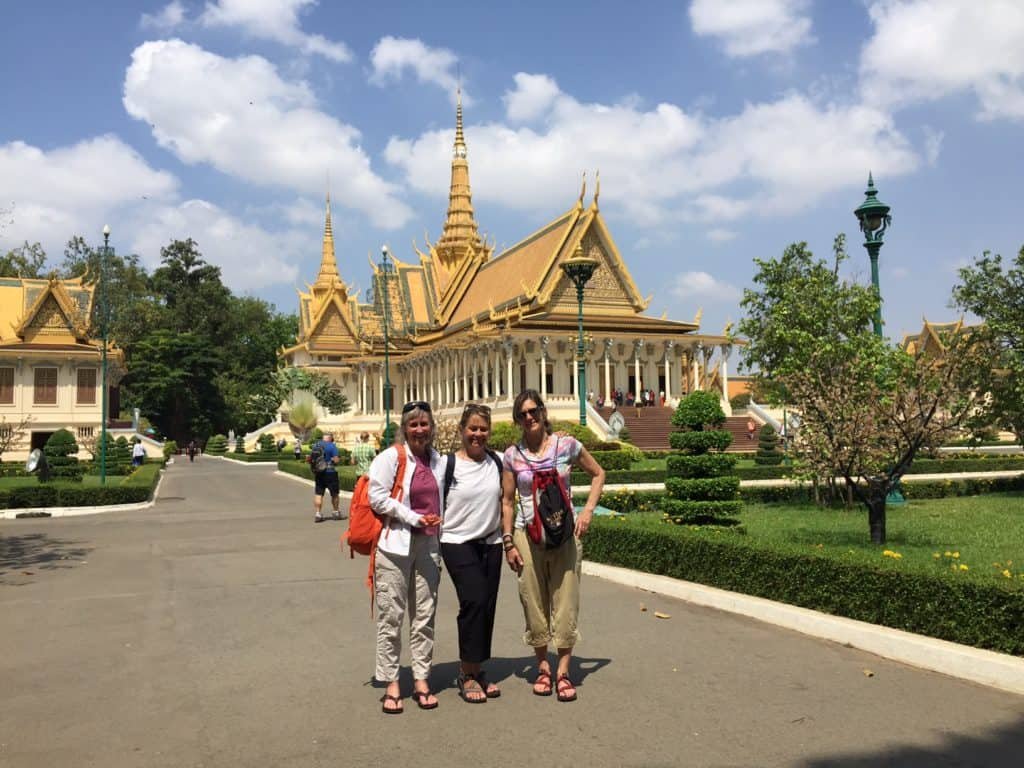 Dinner by the river in a beautiful restaurant with dancer and live music was $27 with wine for 3 of us.  It was a great birthday treat…  the whole day.
For our 3rd day we were off on the Mekong Express Limo Bus direct to Siem Rep from Phenom Phem… its a 6 hour trip.  The road isn't bad. In the rainy season Dec to March you can take a boat up the Mekong river to Siem Reap.  That sounded fun but they weren't going in April.  At most hotels they can sell you and arrange for transport to the places you want to go.  The bus with hotel pick up, water, snack and the ride was $15 each.  Be ready for HOT this time of year… 99F at least…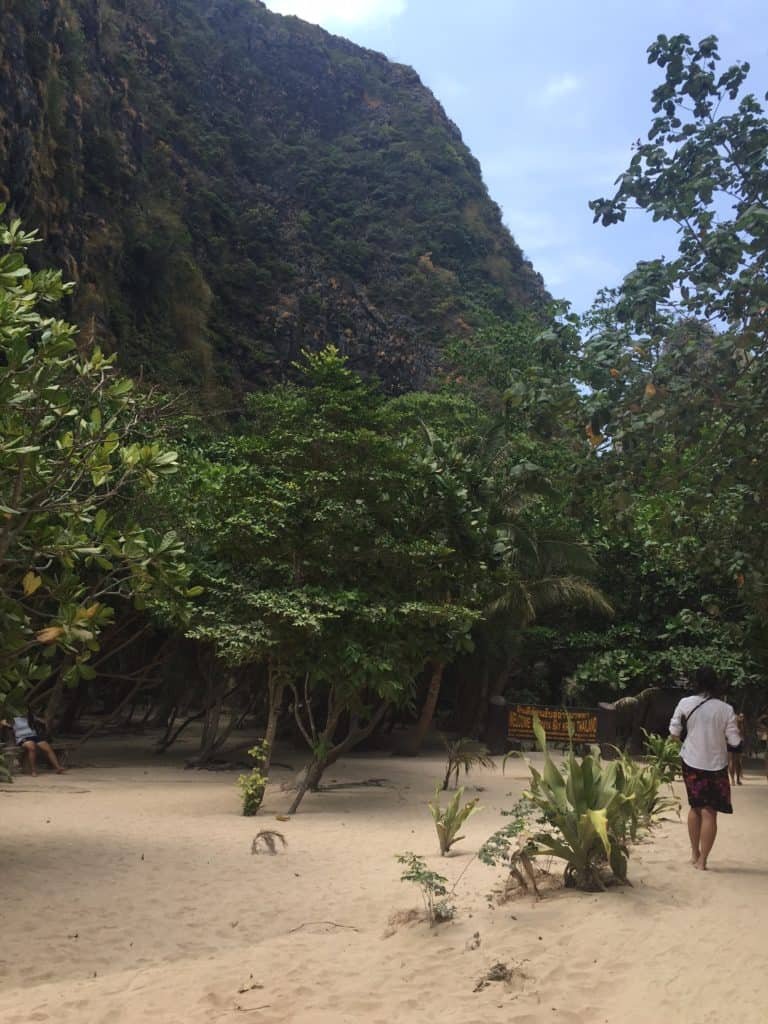 We'd reserved by email the recommended Guest House of John Ward, 7 Candles Guest House. They have a website.  Right in town in the middle of everything.  Usually they will pick you up at no charge from the airport or bus but we didn't work that out.  Here it was $3 to go anywhere in a tuctuc.  Everyone had a massage for $12 and explored around the town.  There are many NGO's doing good work in the area for children and women especially.  For our first full day we hired a guide (arranged by 7 candles) to start at sunrise at Angor What…. Really helpful to have the guide.  would have missed a lot.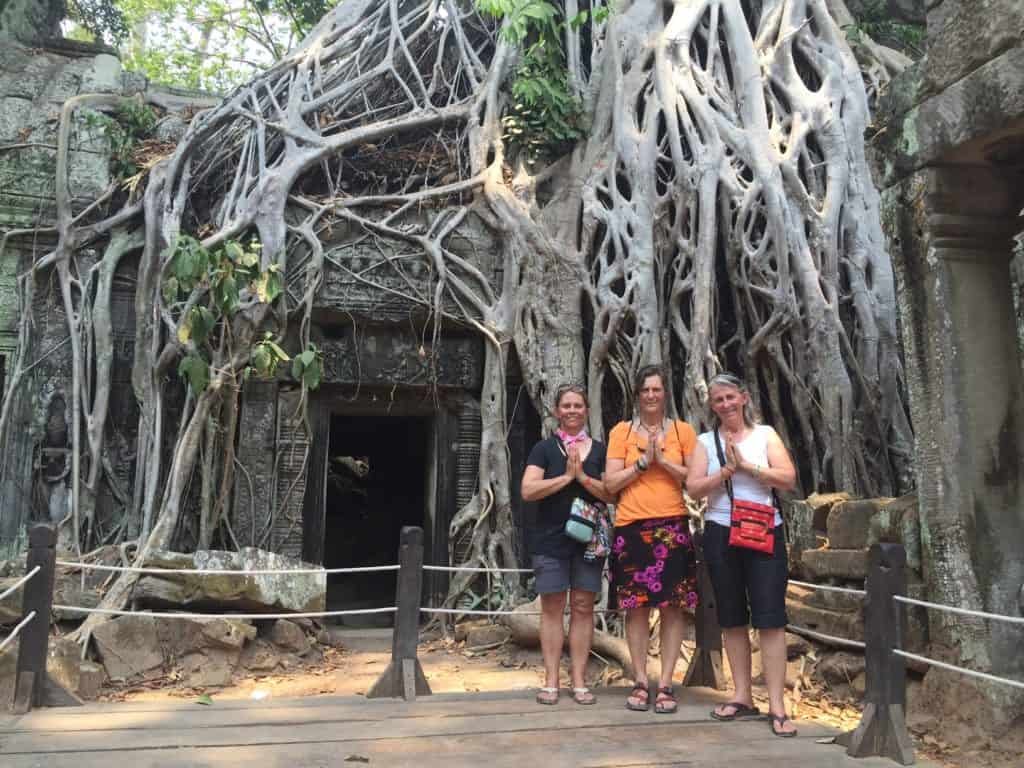 Also splurged on an air conditioned van for the day.  Started out at 5 AM and went til 3… amazing temples one of the world heritage sites.  A must see.  The next day we decided to move on and planned to spend the day just exploring the city – taking in the market and heading to the airport by around 4PM.  The heat and more the smoke were getting to us… and we had had a great taste of the area.  Everything here priced in US Dollars and so inexpensive.  Food was great!  and we loved Anghor beer the best.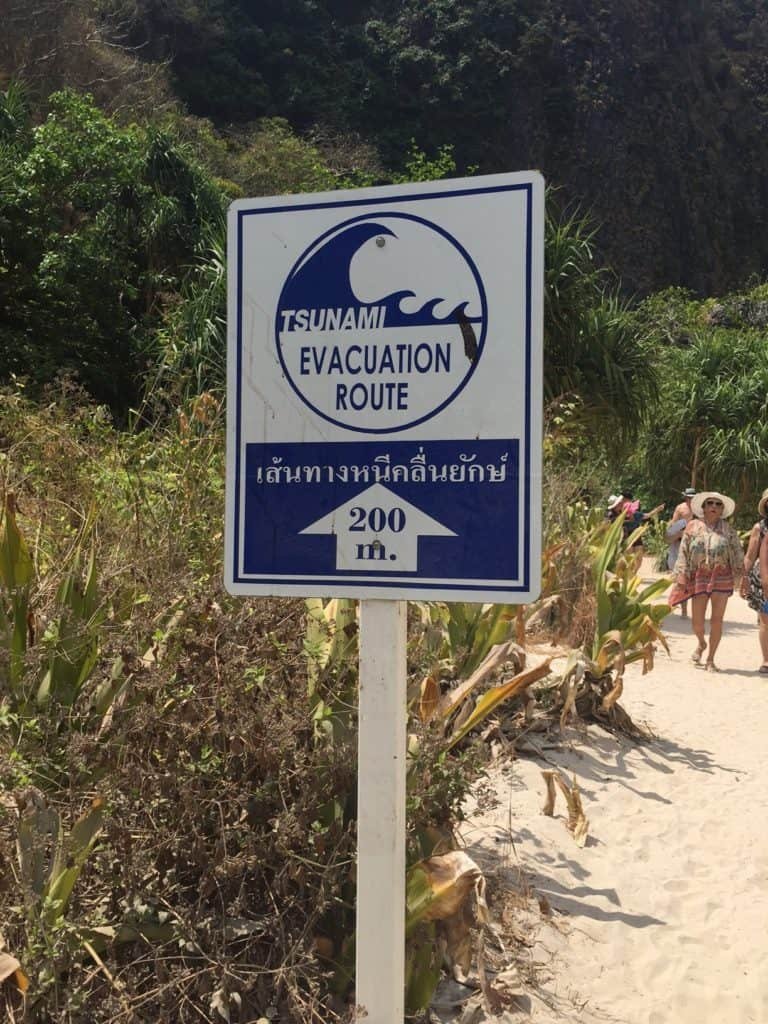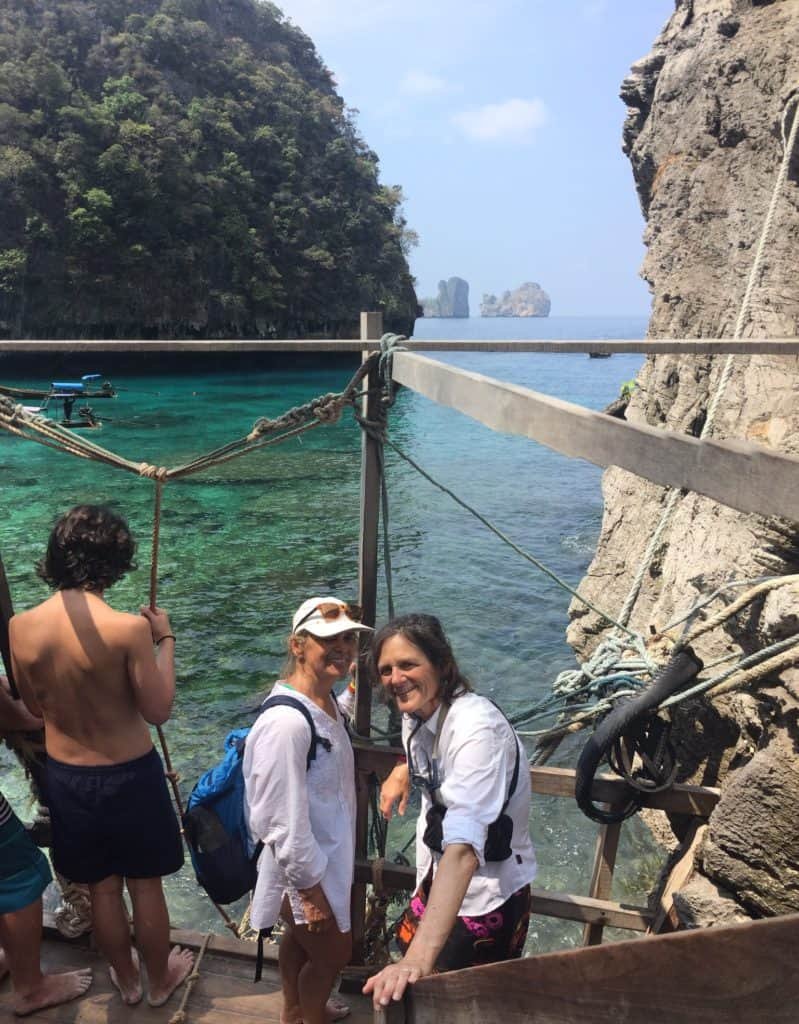 On the way to the airport – a modern clean very nice airport we took an extra hour to tour the countryside and other parts of town with our Tuk Tuk driver.  There are no rules of the road.  Average was 3 to a small motorcycle and if you want to turn left you just do it…..crazy we never saw one crash
At the airport – eat and shop before you go there…. gets really expensive and not as good as the markets…we caught a JetStar flight to Singapore and planned to go on to Tokyo for a few days.  Even tho this ZED had a red frowny face there were lots of seats.    On the flight Marey and I noticed that 1 hr and 15 min after landing there was a flight to Phuket Thailand…. when we got off the plane we informed our travel partner LIssa that the plan had changed… running through the airport in Singapore – picked up checked bags (never do that) and rushed to buy the Jetstar ticket.  Back through security to the gate and boarded last out of breath to Thailand.
Phuket is a really resort and big party island.  Not where you want to go if you want to see the real Thailand.  Phuket and Phi Phi Island was where the Tsunami hit in 2004 and many NGO's have helped them put things back together.  Land of $12 Thai massage and body care.  Try to get out to a remote island if you can do more research than we did.  Beautiful!!!! and reasonable for the most part.  Two days and fun all day boat tour that was incredibly touristy.  If you want to get away look harder…. was still fun and lovely. They take only Thi money unlike Cambodia who gave you a better deal if you had US $.  If you want to go to Vietnam  you need to have a visa in advance and be sure you get one that you can reenter the country in case you need to.
Lots of options to get home including Guam, Bangkok, Hong Kong and Tokyo.  We thought traveling with a united enrolled friend would be best to get to Tokyo with more options – 7 hours from Singapore..Little did we know it was Golden week in Tokyo.  Don't go during golden week unless you love the excitement of not getting on flight after flight. Finally after being told there was no way we would get on the flight to ORD we all three landed the last 3 seats.  The entire gate crew clapped as they shut the door behind us. This is when the middle seat on the last row looks great!  
We only scratched the surface in all areas… and we'll be back
[/av_textblock]
[/av_four_fifth]
[av_two_third first min_height=" vertical_alignment=" space=" custom_margin=" margin='0px' padding='0px' border=" border_color=" radius='0px' background_color=" src=" background_position='top left' background_repeat='no-repeat' animation=" mobile_breaking=" mobile_display=" av_uid='av-3ib530′]
[av_textblock size=" font_color=" color=" av-medium-font-size=" av-small-font-size=" av-mini-font-size=" admin_preview_bg=" av_uid='av-37mmho'][/av_textblock]
[/av_two_third]