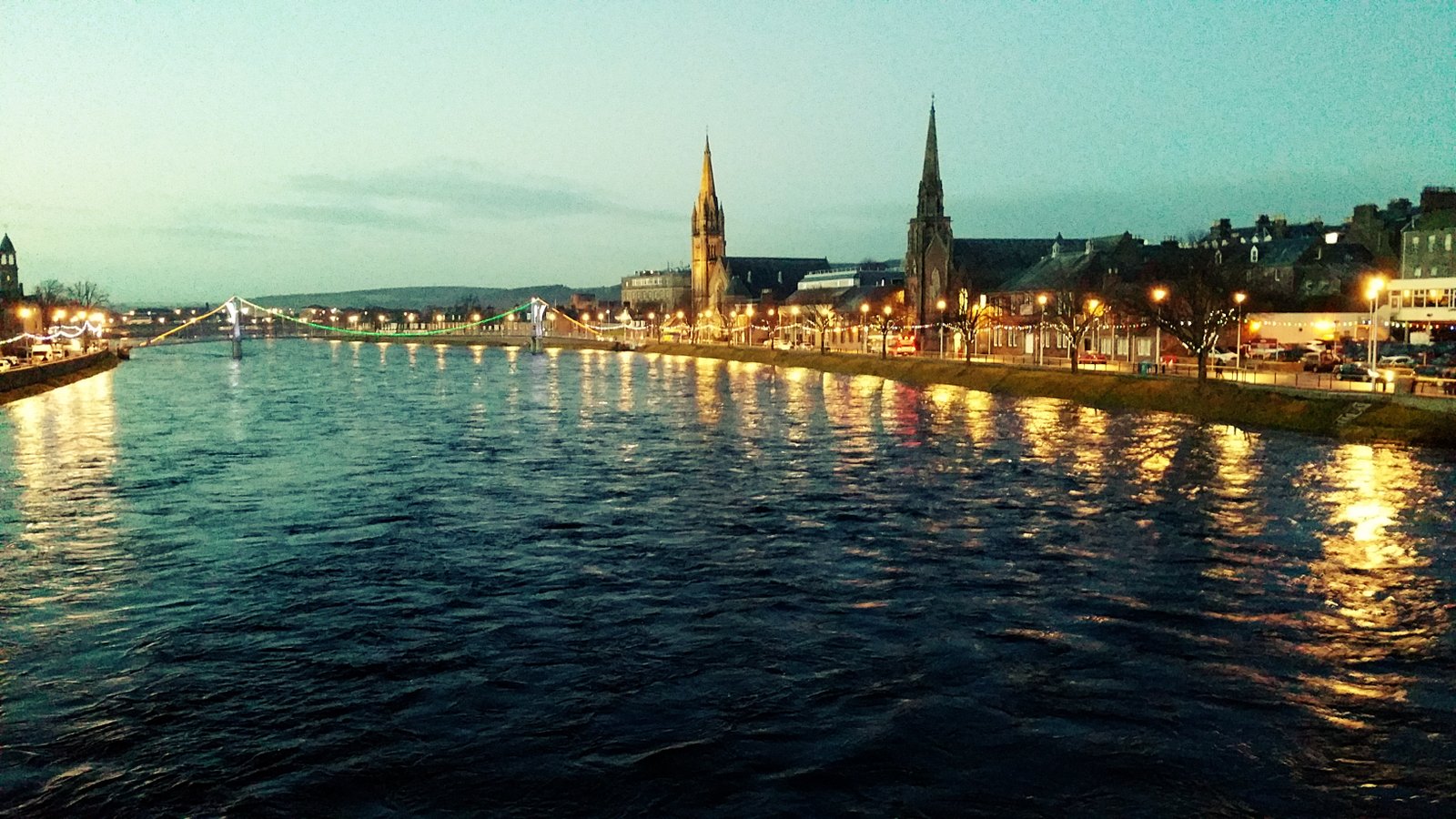 19 Jul

Inverness & Region, Scotland – Travel Guide

Inverness is known as the capital of the Highlands and is the northernmost city in Scotland. Inverness itself is a very pleasant, small city and we found that there were several interesting things to see here, but most visitors find that it is an excellent base for exploring the region. We would advise having the use of a car when visiting the vicinity, since public transport would be a slow and inefficient way of getting about.
5 Unmissable Attractions:
Inverness Castle and the River Ness – Our first stop while familiarising ourselves with Inverness was to walk along the River Ness, which cuts straight through the city. The most eye-catching building on the river bank is Inverness Castle. Made of red sandstone, the castle that can be seen today was built in 1836 by architect William Burn. It is constructed on the site of an 11th-century defensive structure which is said to have been built by Malcolm III. Today, it houses Inverness Sheriff Court, but is not currently open to the public. In April 2017 the north tower of the castle was opened to the public as a view point which offers fabulous 360-degree views of the Highland Capital and the surrounding scenery. The River Ness is only about 6 miles long and is the origin of the name of Inverness which is from the Scottish Gaelic: Inbhir Nis, meaning "Mouth of the Ness". Common seals and grey seals are often seen in the river, as are a number of rare birds, bats and sometimes European otters. We were interested to find out that it was here on the river where the first sighting of the Loch Ness Monster was made. In AD 565 Saint Columba is said to have crossed the river, when one of his party was attacked by a water monster, but the saint invoked the protection of God and repelled the beast. With this in mind, we made sure to use the safety of one of the many beautiful bridges that spans the river!
Address: Castle Road, Inverness IV2 3EG
---
Culloden Battlefield – Perhaps the most famous battlefield in Britain can be found at Culloden, which saw the Jacobite Rising came to a tragic end in 1746. It turned out to be the last battle fought in Britain and is an atmospheric and evocative moor. Culloden is only a twenty-minute drive from the centre of the city and the site is served by an excellent visitor centre, which boasts a 360-degree battle immersion theatre. The story of the Jacobite Rising and the Battle of Culloden is quite a complicated affair, and not simply a story of Scotland versus England, so we found that the centre explained the intricacies and nuances of this conflict very well.
Address: Culloden Visitor Centre, Culloden Moor, Inverness, IV2 5EU
---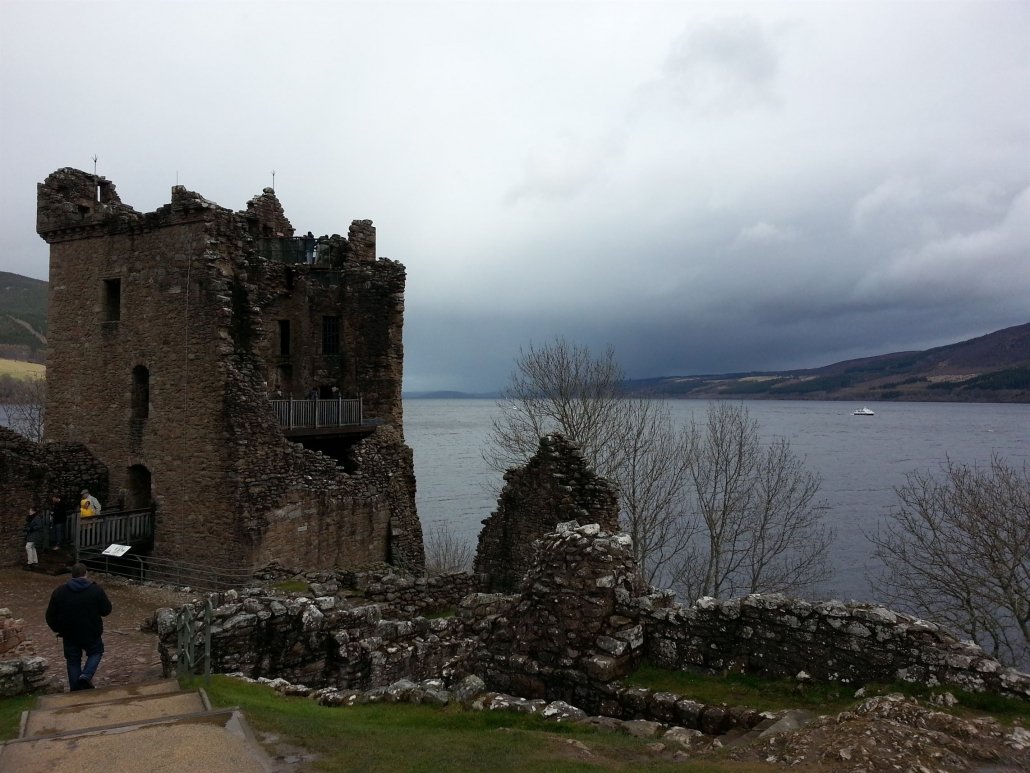 Urquhart Castle & Loch Ness – One of the iconic castles of Scotland, Urquhart is also one of the country's largest. Having seen over 500 years of conflict up until the Jacobite Rising, when the government forces blew the castle up, the fortress had been passed back and forth between the Scots and English. We enjoyed the visitor's centre, especially the introductory film that we received. There is an unexpected surprise at the end of the film – but we will not spoil the surprise and tell you what it was! As well as being an interesting castle to explore, Urquhart can also boast of fantastic views over Loch Ness. The lock contains more water than all the lakes of England and Wales combined and is world-famous for its dramatic scenery. The loch's most celebrated resident is of course Nessie. It was first photographed in 1933 and there have been over a thousand sightings since then. It is said that Nessie makes its home amongst the underwater caves below Urquhart Castle, so keep your camera handy!
Address: Drumnadrochit, Inverness IV63 6XJ
---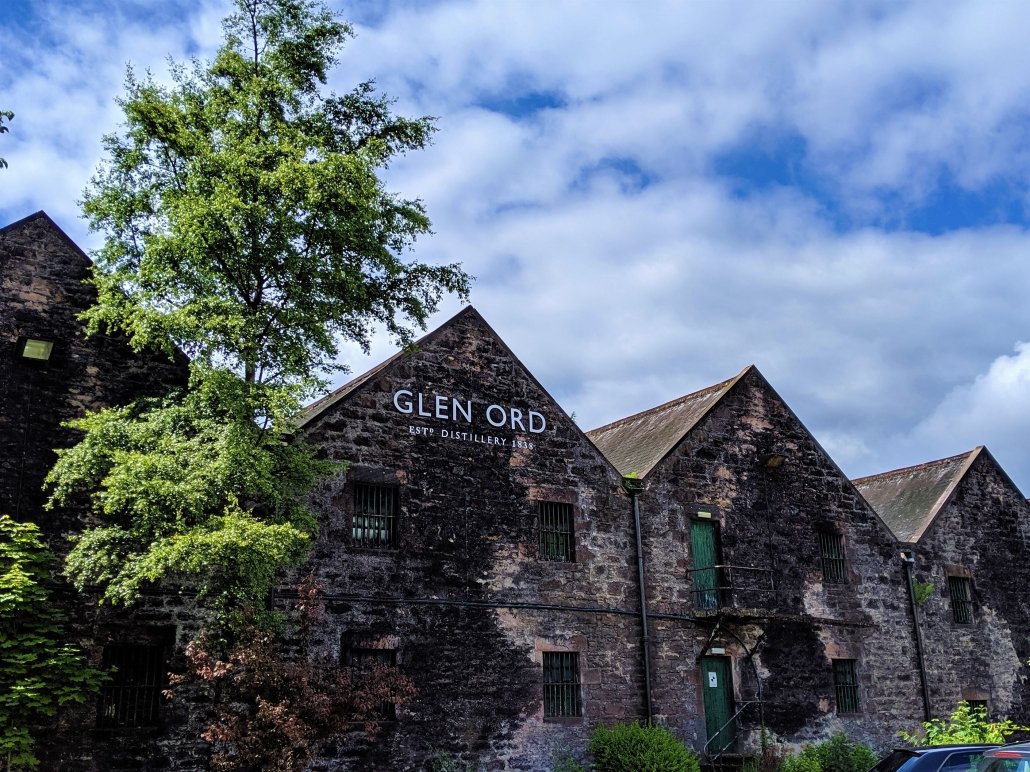 Glen Ord Distillery – A trip to Scotland would not be complete without a visit to a distillery. Only a 30-minute drive from the centre of Inverness, Glen Ord is an excellent example of a distillery and offers public tours throughout the year with hours on a seasonal schedule. There is also a small exhibition that can be visited separate from the tour. As well as being quite a picturesque distillery, it has an added bonus for the budding whisky connoisseur – the 12, 15 and 18 year old single malt is only available for export to South East Asia, but here at the distillery, you can get a chance to taste their product. After our little tasting session, we were so impressed that it did cross our mind that maybe an Asian vacation was due, if for no other reason than to get our hands on some more of Glen Ord's whisky!
Address: A832, Muir of Ord IV6 7UJ
---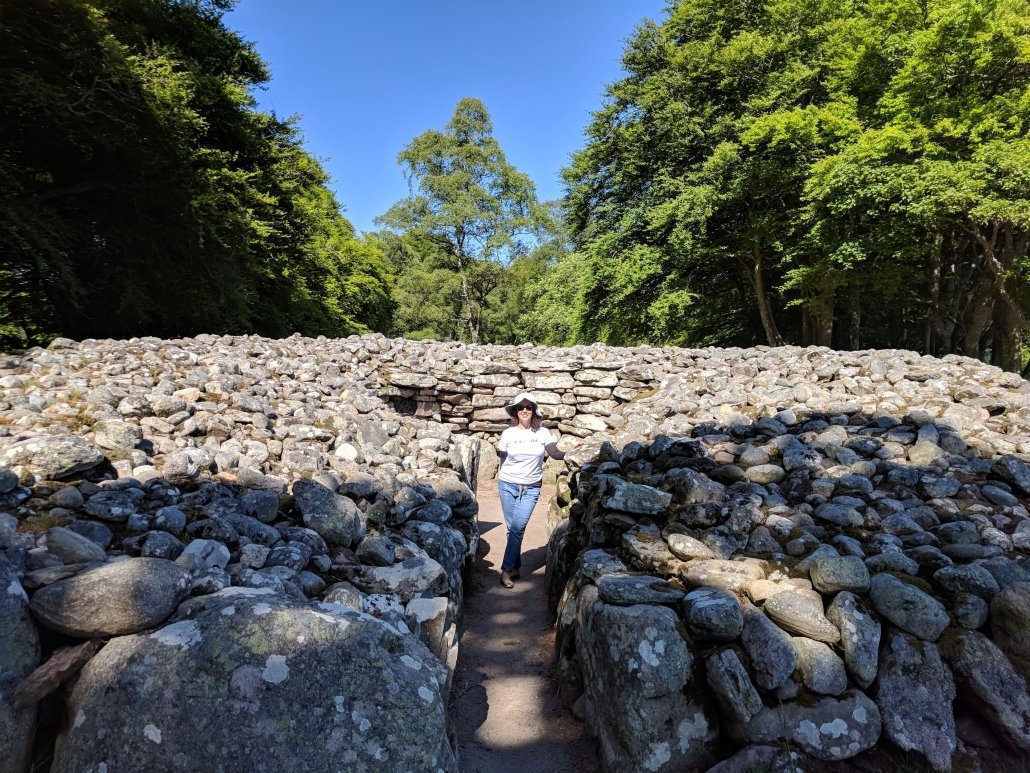 Clava Cairns – Scotland has a rich Celtic history and one of the most prominent evidence for this is in the many standing stones and circles that dot the countryside. Clava Cairns is a great example, with the site displaying not only standing stones, but large stone cairns (a mound of rough stones built up into a memorial) as well. Handily, this site is just minutes away from Culloden. The Clava Cairns are about 4,000 years old and were built to house the dead. Clava Cairns had the added attraction for us that it was one of the inspirations for Diana Gabaldon's fictional stone circle at Craigh na Dun in the worldwide TV hit Outlander. Thankfully we were not transported back in time when we touched the stones!
Address: Culloden, Inverness IV2 5EU
---
10 Hidden Gems: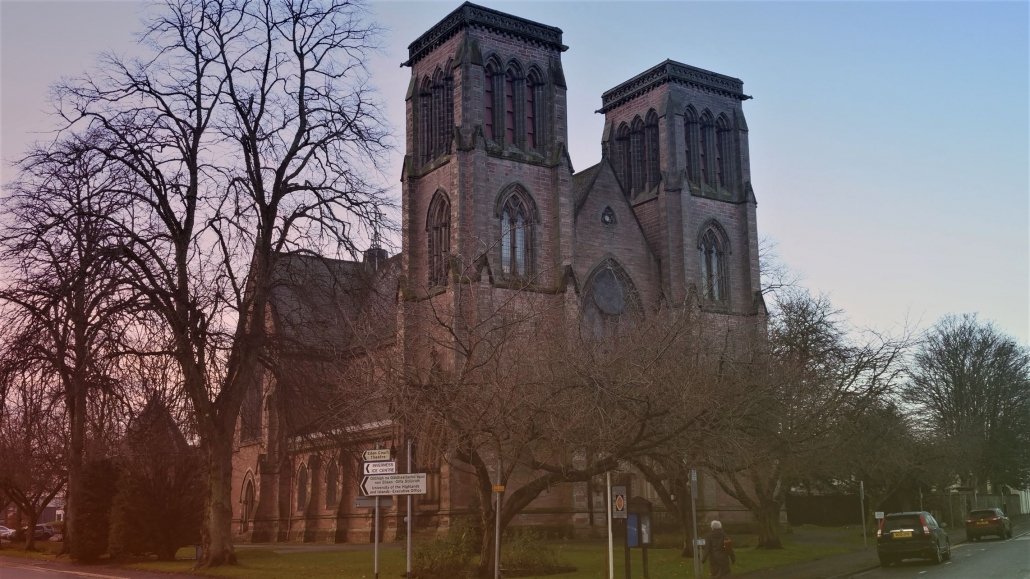 St. Andrew's Cathedral – You can find the beautiful St. Andrews Cathedral on the west bank of the River Ness. It is a Scottish Episcopal Church and is the seat of the Bishop of Moray, Ross and Caithness. The cathedral is the northernmost cathedral in mainland Britain (Dornoch Cathedral is not actually a cathedral) and was the first new Protestant cathedral to be completed in Great Britain since the Reformation. Furthermore, this Cathedral, which was completed in 1869 contains a ring of ten bells, which are noted as being the most northerly peal of change-ringing bells in the world.
Address: Ardross St, Inverness IV3 5NN
---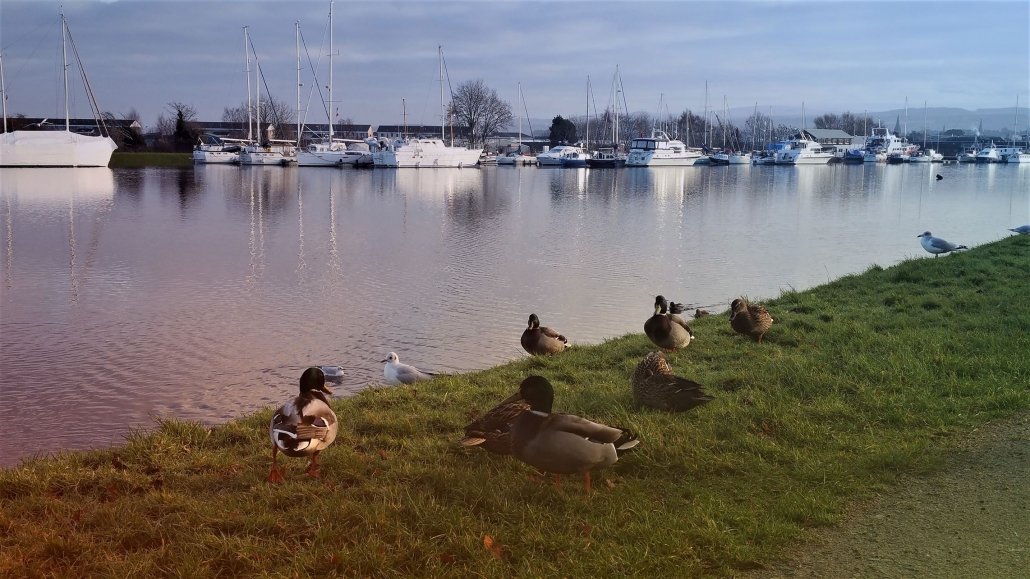 Caledonian Canal & Seaport Marina – The River Ness is not the only watercourse that cuts through Inverness. The Caledonian Canal runs roughly parallel to the river, and we found that it provided us a really nice, scenic walk, especially when the canal opens up into the marina. The Caledonian Canal has an interesting history, having been constructed in the early nineteenth century by Scottish engineer Thomas Telford. The canal runs for 60 miles, connecting Inverness with the west coast of Scotland near Fort William, but most of the canal is formed by some of the natural lochs that are located in the Great Glen, including Loch Ness. There are 29 locks on the canal, with five being visible from the Telford Street bridge in Inverness and a further four at the start of the canal at the mouth of the Beauly Firth.
Address: Seaport Marina, Telford St, Inverness IV3 5LS
---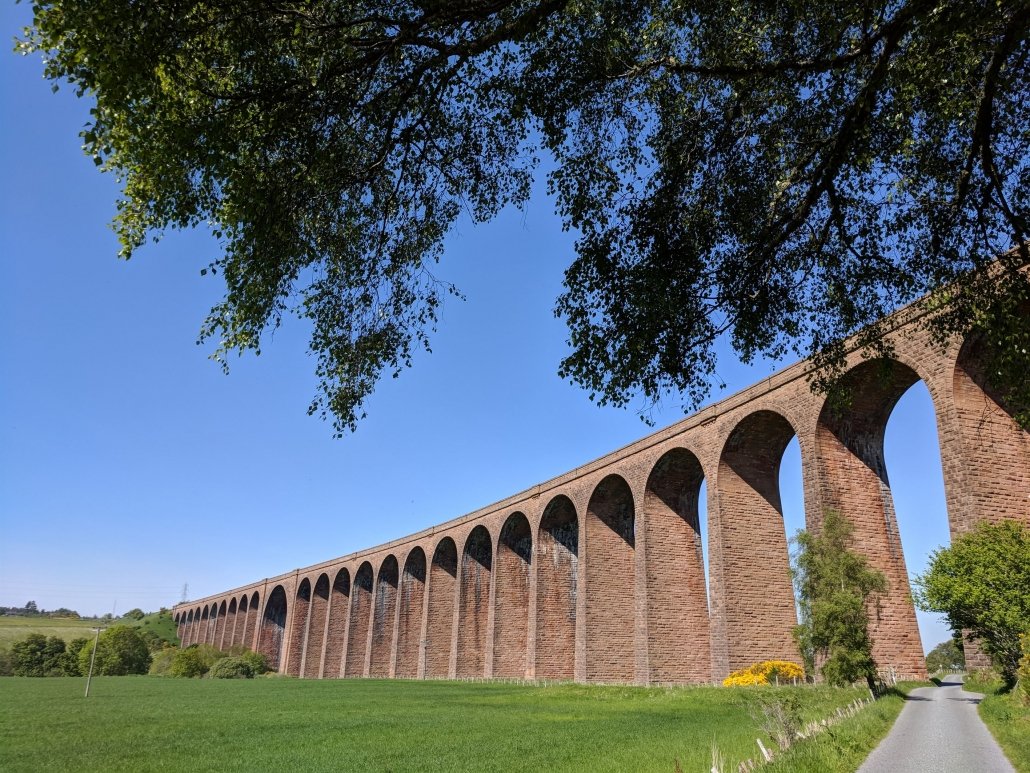 Culloden Viaduct – When heading to the Clava Cairns, our attention was caught by the magnificent Culloden Viaduct (also known as the Nairn Viaduct), and we found that a little detour to photograph this railway viaduct was very rewarding. The viaduct was opened in 1898 as part of the Inverness and Aviemore Direct Railway, has 29 spans crossing the wide valley of the River Nairn, and at 1800 ft (549 m) in length, it is the longest masonry viaduct in Scotland. Pretty impressive!
Address: Culloden, Inverness IV2 5EJ
---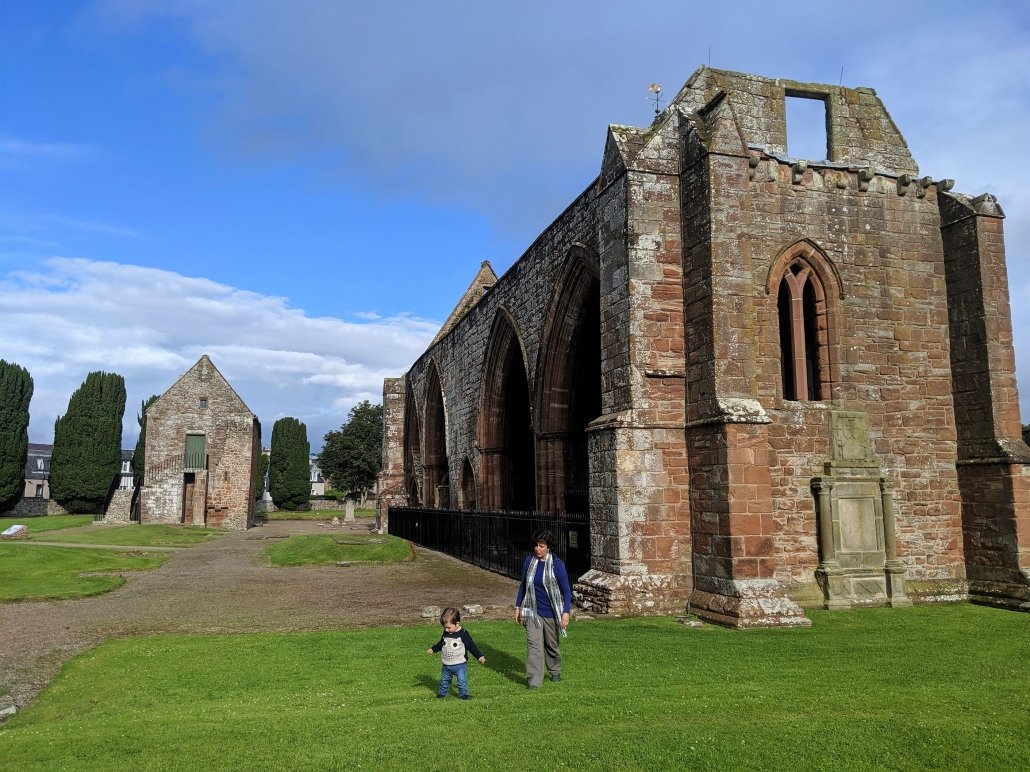 Fortrose Cathedral – When we visited the small, quaint town of Fortrose, we were surprised to find that centuries ago it had been a very important religious centre of Scotland. The only evidence of this importance is the now ruined Fortrose Cathedral, which was the seat of the bishops of Ross. What is left of this beautiful red sandstone cathedral only hints at the size of this cathedral. A very handy visual aid in the cathedral grounds shows how big and imposing Fortrose Cathedral would have been when it was constructed around the 1300s.
Address: 7 Cathedral Square, Fortrose IV10 8TB
---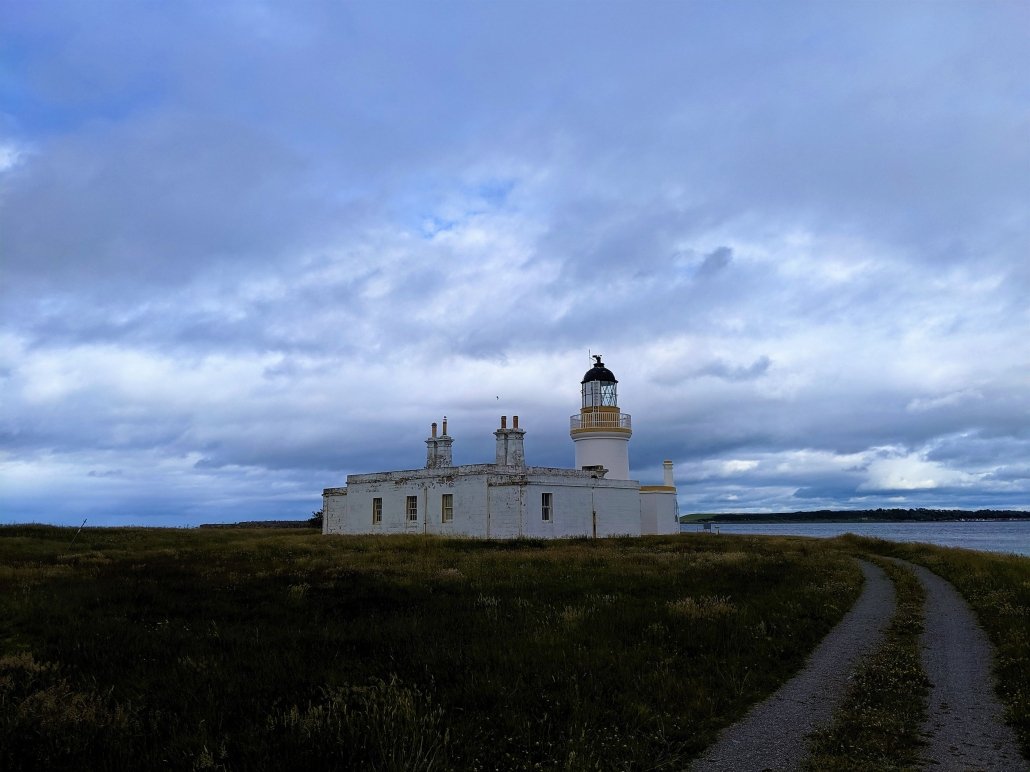 Chanonry Point – A five-minute drive from Fortrose Cathedral, along a mile-long thin spit of land took us to Chanonry Point. From the picturesque lighthouse at the end of the point, there are superb coastal scenes, with views across the Moray Firth. The Moray Firth is home to around 200 dolphins, which can often be seen at very close quarters here as they fish and play in the turbulent waters off the point. The best time to see dolphins is from around one hour after low tide, although on the day we visited, there was only one solitary seal to be seen. A more obscure reason for visiting Chanonry Point is that around 1675 this was where the Brahan Seer, Scotland's answer to Nostradamus, was executed, being burned to death in a barrel of tar!
Address: Fortrose IV10 8SD
---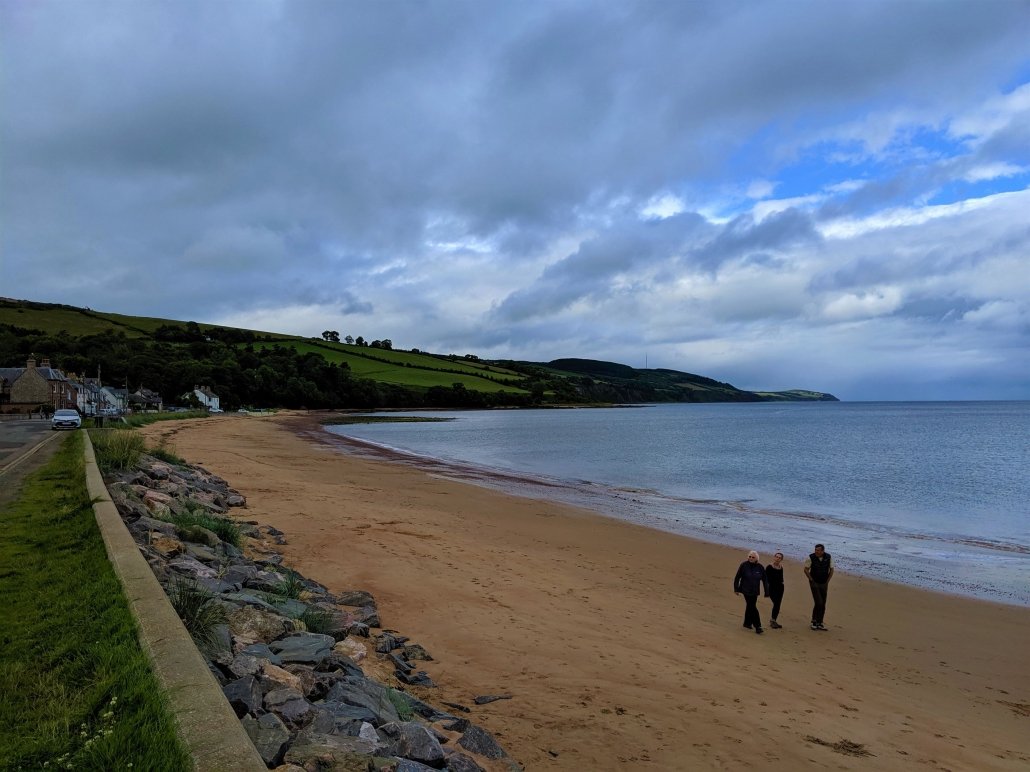 Rosemarkie Beach – Rosemarkie Beach stretches north from the tip of Chanonry Point and fronts on a wide, picturesque bay, with views of Fort George and the Moray coastline across the Moray Firth. The beach is excellent for family outings or for long scenic walks.
Address: Kincurdy Dr, Fortrose IV10 8UW
---
Cromarty Courthouse – The Black Isle is actually a large peninsula, just north of Inverness, and at the tip of this peninsula is the charming town of Cromarty. Among Cromarty's attractive narrow streets is the elegant Cromarty Courthouse building, which was built in 1773. The building now houses fascinating exhibitions about this historic town, and we could even dress up in period clothing when visiting the courtroom.
Address: Church St, Cromarty IV11 8XA
---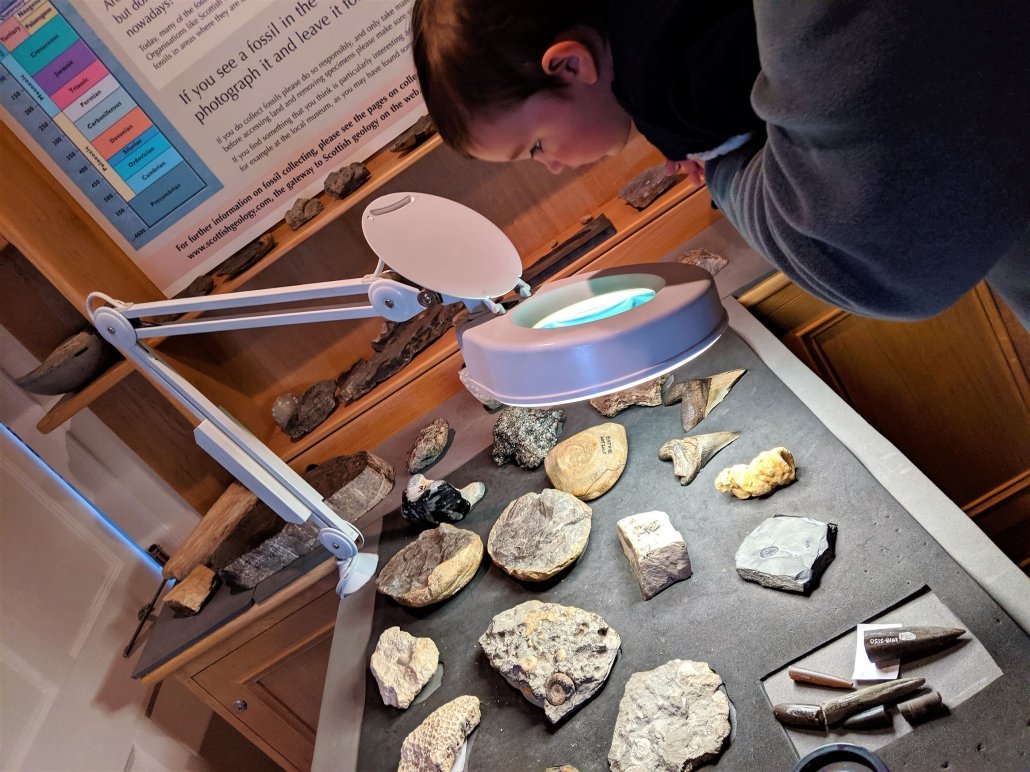 Hugh Miller's Cottage – Next door to the courthouse in Cromarty, we visited the house of Hugh Miller, which is now a National Trust for Scotland museum. Hugh was a true Renaissance Man, being a fossil hunter, folklorist, man of faith, stonemason, geologist, editor, writer and social justice campaigner in the 19th century. We were surprised to find that there were actually two buildings, side by side. The thatched cottage where Hugh was born in 1802 was built by Hugh's great grandfather – a pirate! Then next door, the handsome Georgian villa was built by Hugh's father and it was in this building that we got to examine some of Hugh's fossil collection. We also enjoyed the gardens at the back of both properties.
Address: Church St, Cromarty IV11 8XA
---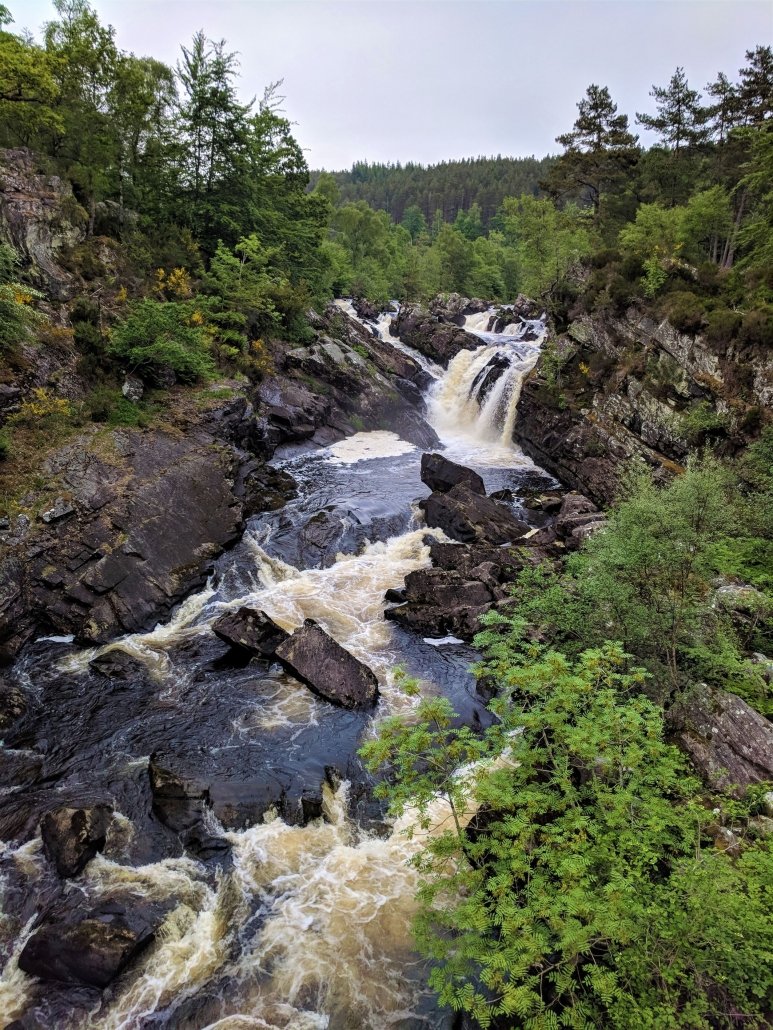 Rogie Falls – This beautiful waterfall can be found just off the main road to Ullapool, just before the small village of Contin. We found a beautiful woodland walk from the carpark down to the banks of the Black Water. Make sure you try and time your visit to occur during August and September and you may be able to see the wild salmon leaping upstream.
Address: A835, Strathpeffer IV14 9EQ
---
Strathpeffer Pump Room – Strathpeffer is an attractive Victorian-era village in the hills below the foreboding Ben Wyvis mountain. The settlement sprung up around sulphurous springs in the 18th century and became a popular spa resort. We had a lovely afternoon wandering through Strathpeffer and we made sure that we visited the Pump Room, which gave a great overview of the spa's history. The Strathpeffer Pump Room, with its Victorian architecture and decor, is the original building where visitors took the medicinal spring waters and houses a captivating exhibition.
Address: Strathpeffer, Ross-shire, IV14 9DY
---
Where to Eat: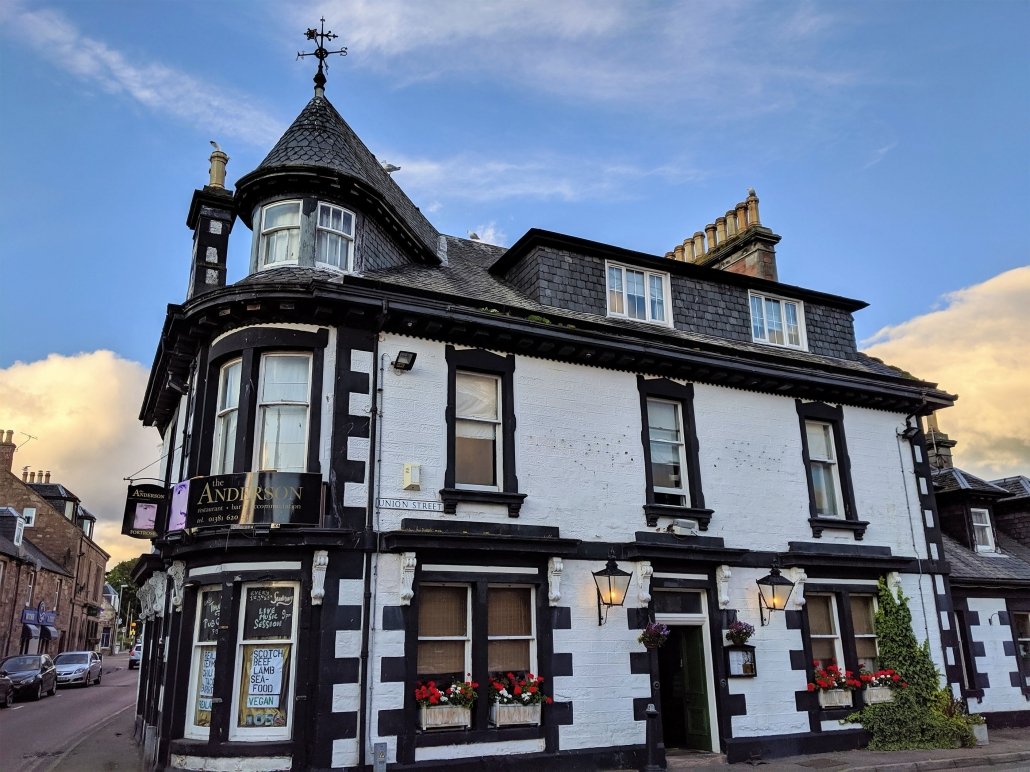 The Anderson – A traditional Inn dating from 1840, with restaurant, bar and accommodation
Address: Union St, Fortrose IV10 8TD
Fig & Thistle – Casual bistro in the heart of Inverness.
Address: 4-, 6 Stephen's Brae, Inverness IV2 3JN
Urquhart's Restaurant – Home cooked Scottish and eclectic cuisine.
Address: 2 Young St, Inverness IV3 5BL
---
Where to Stay:
Park Hill Guest House – Budget Price – a traditional B&B in a Victorian townhouse in the centre of Inverness.
Address: 17 Ardconnel St, Inverness IV2 3EU
Best Western Inverness Palace Hotel & Spa – Moderate Price – a stately 1890s Victorian mansion overlooking the River Ness, less than ten-minutes' walk from the city centre.
Address: 8 Ness Walk, Inverness IV3 5NG
Rocpool Reserve Hotel – Luxury – boutique hotel, bar and restaurant offering 5-star luxury in the heart of Inverness.
Address: Culduthel Rd, Inverness IV2 4AG
---
Hints, Tips and Useful Information:
Electricity: The power plugs and sockets are of type G – square three-pin plugs. The standard voltage is 230 volts AC, 50Hz.
Currency: Pound (GBP; symbol £) = 100 pence. Notes are in denominations of £50, 20, 10 and 5. Additional bank notes are issued by Scottish banks and are usually accepted in all parts of the UK. Coins are in denominations of £2 and 1, and 50, 20, 10, 5, 2 and 1 pence.
Banks and ATMs: ATMs are freely available in the city centre. You can cash travellers cheques at banks and bureaux de change. There is usually no charge for cashing sterling travellers cheques.
Telephone dialing code: +44
Emergency numbers: Dial 999 for police, fire, or ambulance. Be prepared to give the telephone number you're calling from.
Internet: There are internet cafés in the city centre. Most other cafés, restaurants and hotels public areas also offer Wi-Fi.
Transport – Driving: Drive on the left-hand side of the road. If you're coming from a European Union country – as long as you have a valid licence, you can drive in Scotland. If you're coming from outside the EU – as long as you have a valid licence from your own country, you can drive in the UK for up to 12 months.
Driving under the influence of alcohol is taken very seriously in Scotland and the UK and there can be heavy penalties for those found to be above the legal blood/alcohol limit. The legal limit is 50 mg of alcohol in 100 ml of blood.
Roundabouts are commonly used – give way to vehicles from your right and turn left on entering the roundabout. Bus lanes are used in some cities – they can only be used by buses and taxis when in operation at certain times of the day. Seatbelts are compulsory for all drivers and passengers in the vehicle. Children under 12 who are under 135 cm (4 ft 5 in) tall should use a child seat appropriate for their weight. It is illegal to use a hand-held mobile phone while driving. You must also have proper control while using hands-free.
Climate: January and February are generally the coldest months in Edinburgh, with the daytime maximum temperatures averaging around 5 °C (41 °F) to 7 °C (45 °F). July and August are normally the warmest months, with temperatures at an average 19 °C (66 °F).
Fog and heavy precipitation are very common during the Autumn and Winter months, however, always come prepared for four seasons in one day whichever month you visit Edinburgh.
Scotland's high latitude means that although winter days are short, in summer there are very long daylight hours and often an extended twilight.
Water: Tap water is safe to drink and bottled water is widely available.
Shopping: What to buy in Scotland:
'Oor Wullie' or 'The Broons' – Scottish comic book character, written in Scots
Malt Scottish Whisky
Quaich – a shared drinking bowl, more often used for whisky
Sgian Dubh – ceremonial dagger, used as part of the full highland dress
Kilt – traditional Scottish clothing
Tartan scarf (or anything else made in tartan)
Sporran – traditional 'pocket' worn with a kilt
Cuisine: What to try in Scotland:
Scotland's national dish is Haggis (the 'Great chieftain o the puddin'-race' – as Robert Burns once called it). It is a celebration dish, but don't ask what it is made of or how it is made, until you have tried it!
Other foods that you should try:
Scottish smoked salmon
Black pudding (especially Stornaway Black Pudding) – type of blood sausage
Stovies – potatoes, onions and meat
Bridies – meat pastry
Scotch pies – double crust meat pie
Fish and chips – fried battered fish and hot chips
Scotch broth – a soup of barley, root vegetables, pulses and sometimes with meat
Lorne sausage – a square sausage made from ground meat, rusk and spices
Cock a leekie soup – a soup of leeks and peppered chicken stock
Cranachan – a dessert of whipped cream, whisky, honey and raspberries
Clootie dumpling – a dessert made from flour, breadcrumbs, dried fruit, suet, sugar and spice
Shortbread – a biscuit
Irn Bru – soft drink
Tablet – a sugary confection
Alcohol Consumption: Alcohol can be purchased from age 18 and over.
Tipping: It is common to tip in restaurants or taxis when you receive good service. 10 percent is a good rule of thumb though most people will be delighted with any amount of tip.
Safety: Scotland is a safe country. Violent crime is low, and most tourists will never be bothered by safety concerns other that petty crime. The UK, of which Scotland is part of, is ranked 33th on the ranking of world's safest countries. Traffic and crossing lanes can be an issue since people drive on the left side of the road, and every year tourists get run over because they forgot to look before crossing the road. Pickpockets can be an issue in urban areas or at crowded events. Begging is not uncommon, but you will rarely experience aggressive beggars.