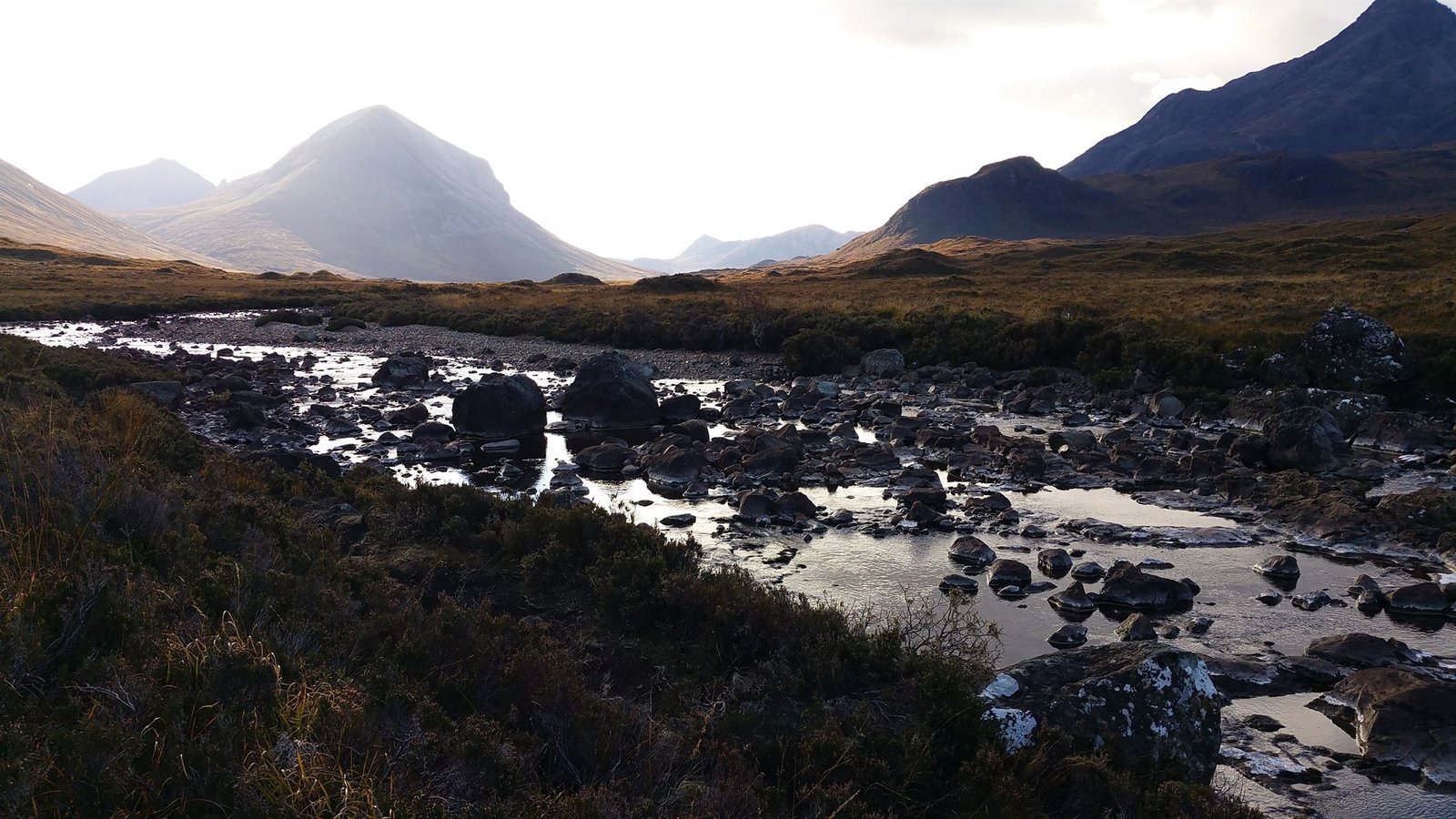 26 Jan

Isle of Skye, Scotland – Travel Guide

The Isle of Skye is one of the most popular visitor destinations in Scotland, and is probably its most visited island, especially since a bridge connecting the island to the mainland was opened in 1995. Easier access to Skye has led to its own problems, causing a strain on the infrastructure, especially with regards to accommodation, which books out fast during the summer months. Getting around this relatively small island is fairly easy if you have access to a car or if you are on a coach tour, but don't expect to see its major attractions if you want to visit using public transport.

Despite the challenges this popular island faces, don't let that put you off from visiting. Just make sure you organise your trip well in advance and you will be rewarded by some of the best natural beauty that Scotland has to offer. Indeed, in some ways, all the best things about Scotland have been encapsulated in the Isle of Skye – epic mountains, geological oddities, glorious wildlife, imposing castles, whisky distilleries, local gourmet food and exciting history.

5 Unmissable Attractions:
The Fairy Pools – Much about the Isle of Skye is magical, so it makes sense that several of its attractions have mystical names! The Fairy Pools are a natural waterfall phenomenon in Glen Brittle, right in the middle of the island. The vivid blues and greens of the pools suggest an unnatural origin and are even more spectacular after a period of rain (which, unfortunately, can be a regular occurrence in Skye!). The pools are also a popular place for wild swimmers, although we were only daring enough to take our socks and shoes off and dip our feet into the water. We can attest to the fact that even towards the end of Summer, the pools were freezing! The Fairy Pools are very popular, so we would suggest getting to them before the tourist coaches arrive, since this rugged, isolated little area can fill up very quickly.
Address: Glenn Brittle, Isle of Skye
---
Dunvegan Castle and Gardens – Claimed to be Scotland's oldest continuously inhabited castle, Dunvegan has been the seat of the MacLeod of MacLeod, chief of the Clan MacLeod for more than 800 years. Originally the site of a Norse fort, the castle dominates Loch Dunvegan. As well as the castle, make time to explore the gardens. Despite being located in such a wild area of Scotland, the gardens are full and colourful.
Address: MacLeod Estate, Dunvegan House, Dunvegan, Isle of Skye IV55 8WF
---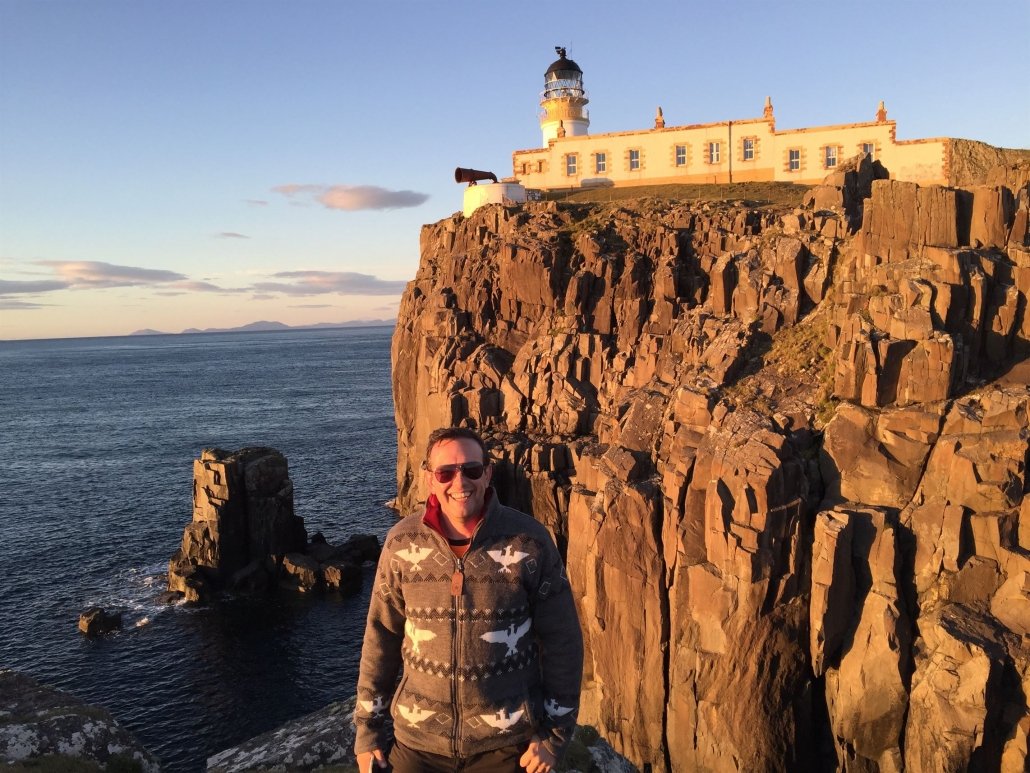 Neist Point Lighthouse – Neist Point is a viewpoint on the most westerly point of Skye. Crowning this scenic little peninsula is Neist Point Lighthouse, which was constructed in 1909. This finger of basalt rock has a steep path down from the road to the lighthouse and requires a little bit of care while traversing. Parking is limited, so, like many attractions on this island, we would recommend getting their before or after the tourist coaches. We arrived a little before sunset and were rewarded with one of the best views we have ever experienced, with the sun setting romantically over The Minch (the stretch of water between Skye and the Outer Hebrides). The area is well known for its wildlife, although we did not manage to see any of the whales, dolphins, porpoises and basking shark which can often be seen from the point.
Address: Neist Point, Isle of Skye, IV55 8WU
---
Quiraing – The interestingly named Quiraing is a landslip on the eastern face of Meall na Suiramach, the northernmost summit of the Trotternish. The view of the Quiraing is impressive when you approach from the road from Portree, however, the full enormity and beauty of this geological feature can't be experienced properly unless you actually walk along the ridge. You could probably spend a full day walking from one side of the Quiraing to the other, but due to limited time, we parked our car at a makeshift car park on the side of the minor road which bisects the Quiraing, joining Uig and Staffin together (i.e. not the main A855 road). From the car it took us fifteen minutes or so to walk up the rough paths and ascend one of the ridge peaks. It truly is an amazing view. In case you are wondering the name Quiraing comes from Old Norse 'Kvi Rand', which means "Round Fold".
Address: Portree IV51 9JY
---
Old Man of Storr – You may remember The Old Man of Storr, a massive pinnacle of rock, from the opening scenes in Ridley Scott's 2012 feature film Prometheus, or perhaps from the multitude of images that seem to pop up on every traveller's Instagram feed. For all the images buzzing round the internet, this finger of rock pointing skywards was remarkably devoid of the crowds that normally frequent Skye's famous attractions. Maybe we were lucky, or perhaps it is the two hours round trip up the steep, but good condition path that puts off the tourist mass. Once you ascend the path up to and beyond The Old Man of Storr, you are treated not only to a great shot of the rock, but also beautiful views over to the isle of Raasay and the mainland at Applecross.
Address: Portree IV51 9HX
---
---
10 Hidden Gems: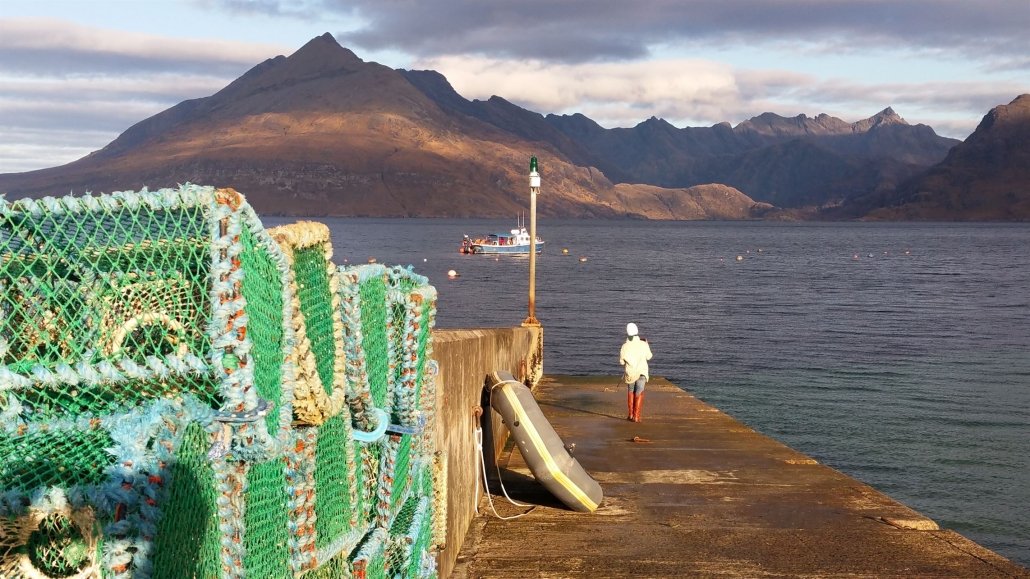 Elgol – Elgol is a village on the shores of Loch Scavaig towards the end of the Strathaird peninsula in the Isle of Skye. It is a long and winding road from Broadford, but it is worth doing for the views from this quaint harbour village over to the Cuillin mountains. Although we didn't have time to do it, Elgol is also the jumping off point for trips to the mysterious Loch Coruisk. A small ferry will take you across the short stretch of sea to below the loch, then it is a swift hike up to one of the most celebrated views in Scotland. Interestingly, Elgol was used as a hideaway for Bonnie Prince Charlie in 1746 after the Battle of Culloden. The cave where he is said to have waited for a boat to the mainland ("Prince Charlie's cave", or "Uamh Phrionnsa") can still be visited today, a short walk to the south of the village.
Address: Elgol, Isle of Skye
---
Sligachan Old Bridge – Sligachan lies at the head of Glen Sligachan and is passed by every visitor travelling north to Portree. It is well worth stopping here to see the old stone bridge which runs parallel to the modern road. The views of the bridge with the savage profile of Sgurr nan Gillean in the background are extremely picturesque. Over the years Sligachan has become a jumping off point for mountain climbers looking to tackle the Black Cuillin, but for us it was a lovely scenic stop with the added bonus a drink at Seamus' Bar nearby!
Address: Sligachan, Isle of Skye IV47 8SW
---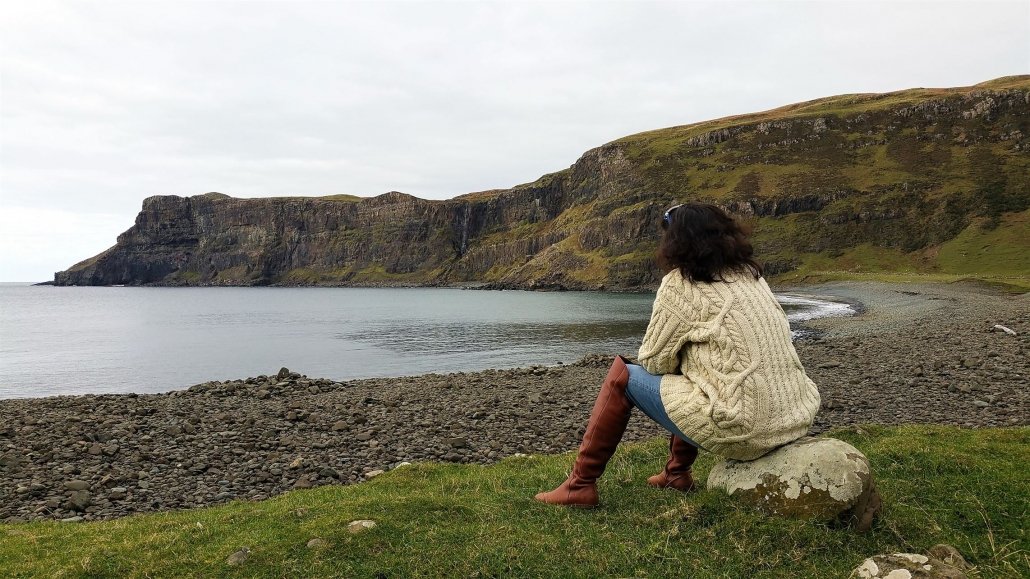 Talisker Bay Beach – Talisker Bay is a beautiful beach of stones and sand, best visited at low tide. The bay can be reached by road from Carbost, followed by a fifteen minute walk. There isn't a proper carpark, so take care when parking on the verge. Strangely, the shores of Talisker Bay contain both black and white sand on the beach. It's a reminder that this area was volcanic, creating the Cuillin mountains. Another beautiful feature of the bay is the impressive waterfall on the northern side.
Address: Talisker, Isle of Skye
---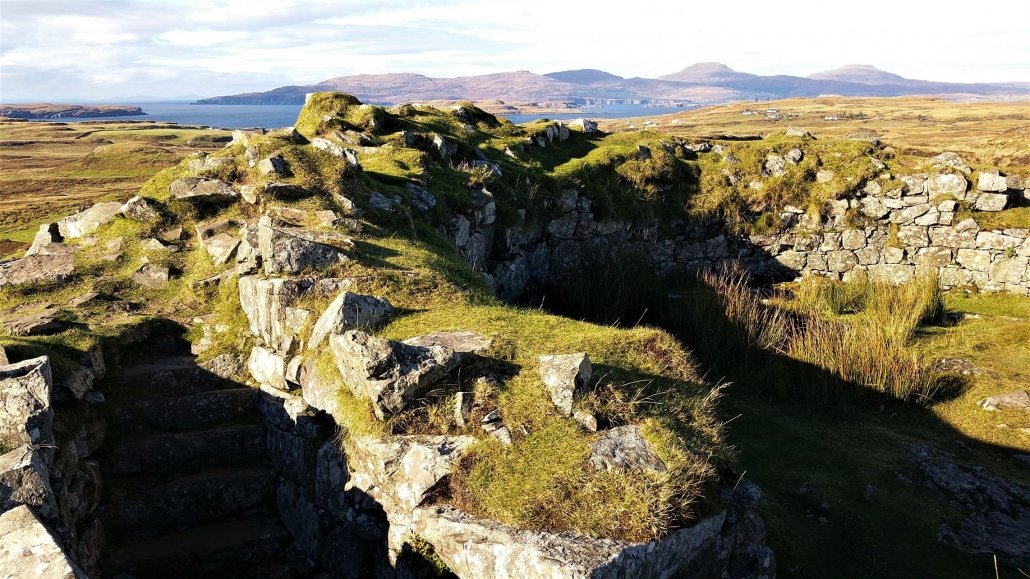 Dun Beag Broch – On the way north to Dunvegan Castle, it would be easy to miss the ancient Dun Beag broch on a hill overlooking the road. Thankfully, it is signposted and there is a well maintained carpark on the opposite side of the road. Brochs were built in the last centuries BC and the first centuries AD, but archaeologists and historians are still arguing over what these stone structures were actually used for. There are around five hundred to be found across mainly the north and west of Scotland, but were they defensive towers, homes or symbols of power? By the time we had climbed up the hill and surveyed the picturesque view and walked the ruins, our guess was that Dun Beag Brock would have made a great little defensive tower. It is thought that Dun Beag would have been at least 10m taller than it is today. The residents would have lived at first floor level and above, while the ground floor would have been used for keeping livestock.
Address: A863, Isle of Skye, IV56 8FG
---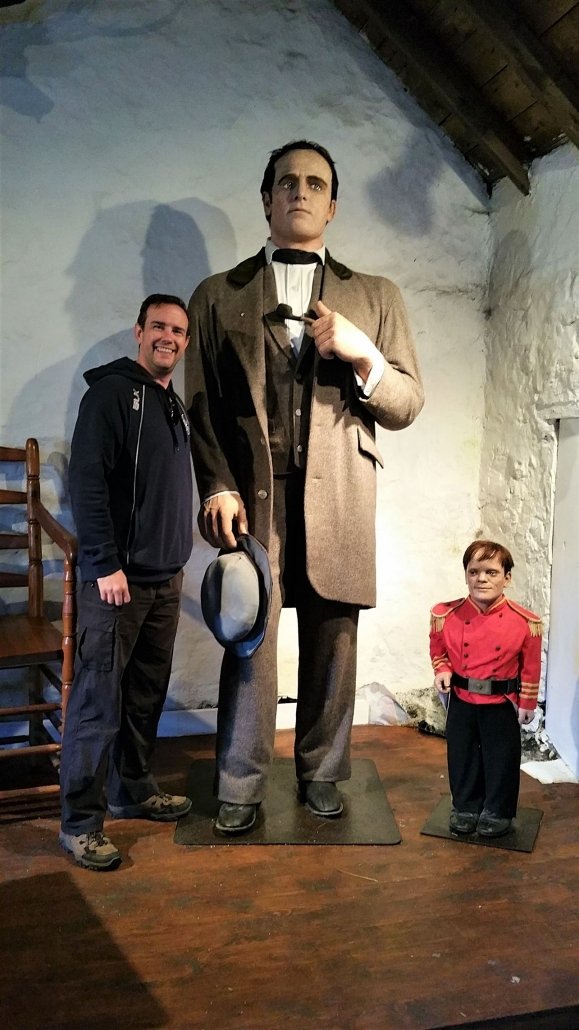 Giant Angus MacAskill Museum – Giant Angus MacAskill Museum celebrates the life of Angus MacAskill, who stood 7ft8in (2.36m) tall, weighed 425lb and lived from 1825 to 1863. It is thought that he was the tallest Scotsman ever to have lived, and the tallest recorded true giant, meaning that he did not have gigantism. It is also thought that he had the largest chest measurements of any non-obese man, having a diameter of 80in (200cm). Surprisingly, Angus' parents were of average size, as were his nine siblings. Even more amazingly was that as a baby, Angus was so small he was not expected to survive. We can only guess that he ate a lot of porridge when growing up! Angus was 6 when his family were caught up in the Highland Clearances and they were forced to emigrate to St Ann's, Cape Breton. Angus added most of his size during his teenage years, and by his early 20s has become renowned for feats of strength, becoming known as Gille Mor, the Cape Breton Giant, or Giant MacAskill. Eventually he was recruited to take part in a travelling show, where he put on performances across North America and Europe, working alongside General Tom Thumb, the shortest fully grown man of the time. He retired back to St Ann's a wealthy man. In contrast to the man himself, the museum is only small, but it is well worth taking in on the way to Dunvegan Castle. You can even be like me and take your picture beside Angus and Tom Thumb – I'm the 6ft tall one in the middle by-the-way!
Address: Kilmuir Dunvegan, Dunvegan, Isle of Skye IV55 8GU
---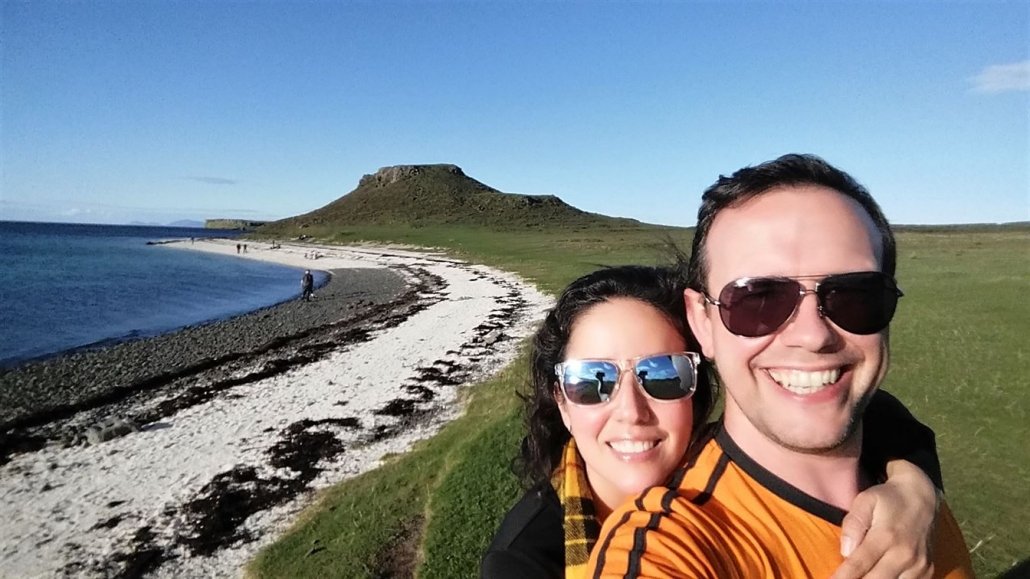 Claigan Coral Beach – If you carry on north from Dunvegan Castle, you will eventually come to a dead end at the Claigan car. Then take the path for about twenty minutes up to the Claigan Coral Beach. It is a spectacular sweeping bay, but it is not the views that make this beach special. Rather it is its 'sand', which is actually made of crushed coral!
Address: Claigan Coral Beach, Isle of Skye
---
The Fairy Bridge – The Fairy Flag, which resides in Dunvegan Castle, is treasured by the MacLeod clan, and has been used as a talisman during many of their battles. The legend behind the flag tells of how one of the chiefs of Clan MacLeod married a fairy; however, after twenty years she is forced to leave him and return to fairyland, but gave him the flag, promising that if it was waved in times of danger and distress, help would be given on three occasions. It was at the Fairy Bridge on the road to Stein (just after you leave the A850 road), where the legend states that she bade farewell to the chief. There were no fairies visible on the day that we stopped off at the bridge, but it was a beautiful little bridge to check out, especially having visited Dunvegan Castle earlier in the day.
Address: Stein, junction with A850, Isle of Skye IV55 8GD
---
Duntulm Castle – Duntulm Castle sits on a commanding position at the northly tip of Skye and was first fortified in the Iron Age. This defensive structure was added to by the Vikings, then fell into the hands of the MacLeods of Skye, then the MacDonalds. The castle was eventually abandoned around 1730 when it was said that a nursemaid had accidentally dropped the baby son of clan chief from a castle window above the cliffs. The ghost of the nursemaid, killed in retribution, is still said to wander the ruins.
Address: Duntulm, Isle of Skye, IV51
---
Lealt Falls – The Lealt Gorge and Falls are often overlooked by visitors as they hurry up to see the nearby Kilt Rock waterfalls, but Lealt is a hidden pleasure of Skye and deserves to be an attraction in its own right. It is easy to drive right by the gorge, tucked as it is below the A855 road, but there is a decently sized car park for any visitors willing to stop. From the carpark, there is a narrow, but good path to a viewpoint where you can look back into the depths of the gorge and see the waterfalls which tumble down a steep slope to the floor of the gorge far below.
Address: Lealt, Isle of Skye
---
Talisker Distillery – Talisker is the only distillery on the Isle of Skye (although a new one has recently opened on the neighbouring island of Raasay). The tasting notes for this single malt scotch whisky highlight the peppery taste with a hint of the sea and is moderately peaty. It is with good reason that it has been referred to as "the lava of the Cuillins". Not quite to our taste, but the tour is interesting and informative, and there can't be many better experiences than sitting looking out over Loch Harport with a wee dram by your side.
Address: Carbost, Isle of Skye IV47 8SR
---
Where to Eat:
The Oyster Shed – This farm shop come seafood takeaway is a great stop if you are visiting the Talisker Distillery, with both being in the small village of Carbost. We sampled the fresh oysters in the shop and were impressed, we then treated ourselves to the seafood platter from the takeaway and were blown away by the local delicacies.
Address: Carbost Beag, Isle of Skye IV47 8SE
---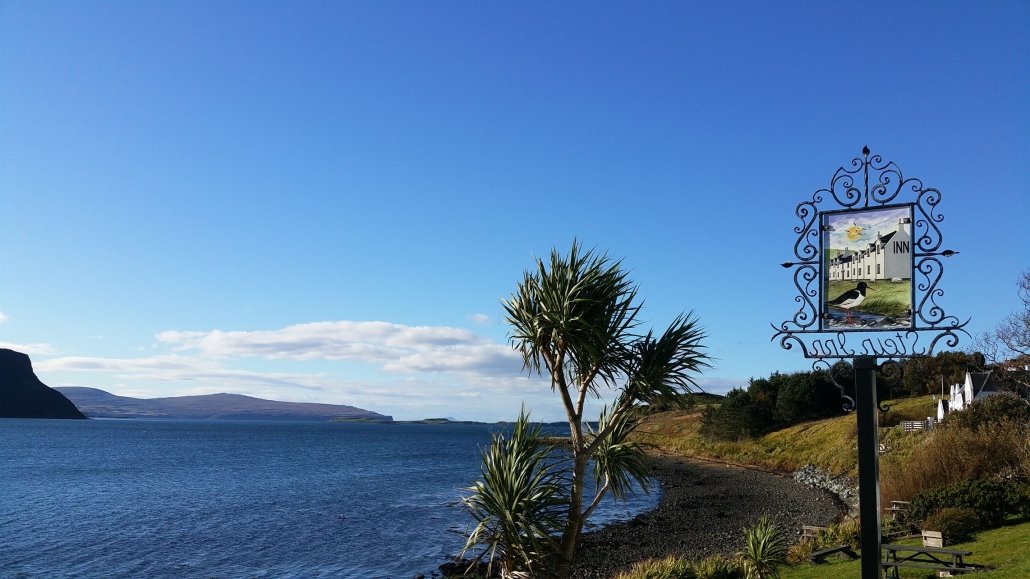 Stein Inn – With stunning views over Loch Bay, the Stein Inn is Skye's oldest inn dating back to the late 18th century. Oh, and the food is great!
Address: Macleods Terrace, Stein IV55 8GA
---
Seumas' Bar – Great atmosphere, hearty food and one of the biggest whisky bars you are likely to see while visiting Scotland.
Address: Sligachan Hotel, Sligachan, Isle of Skye IV47 8SW
---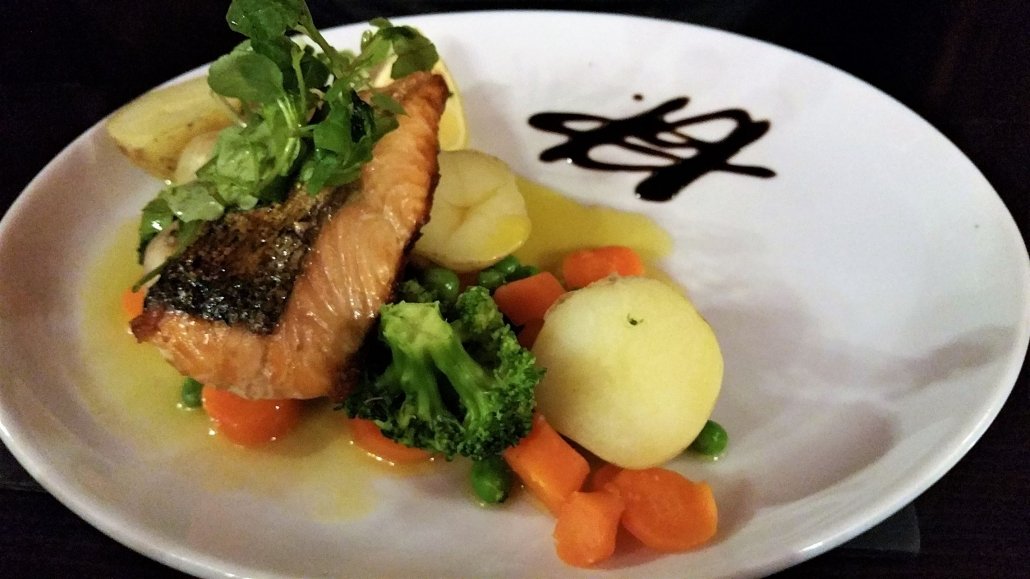 The Isles Inn, Portree – Traditional pub serving wholesome food in the centre of Portree.
Address: Somerled Square, Portree IV51 9EH
---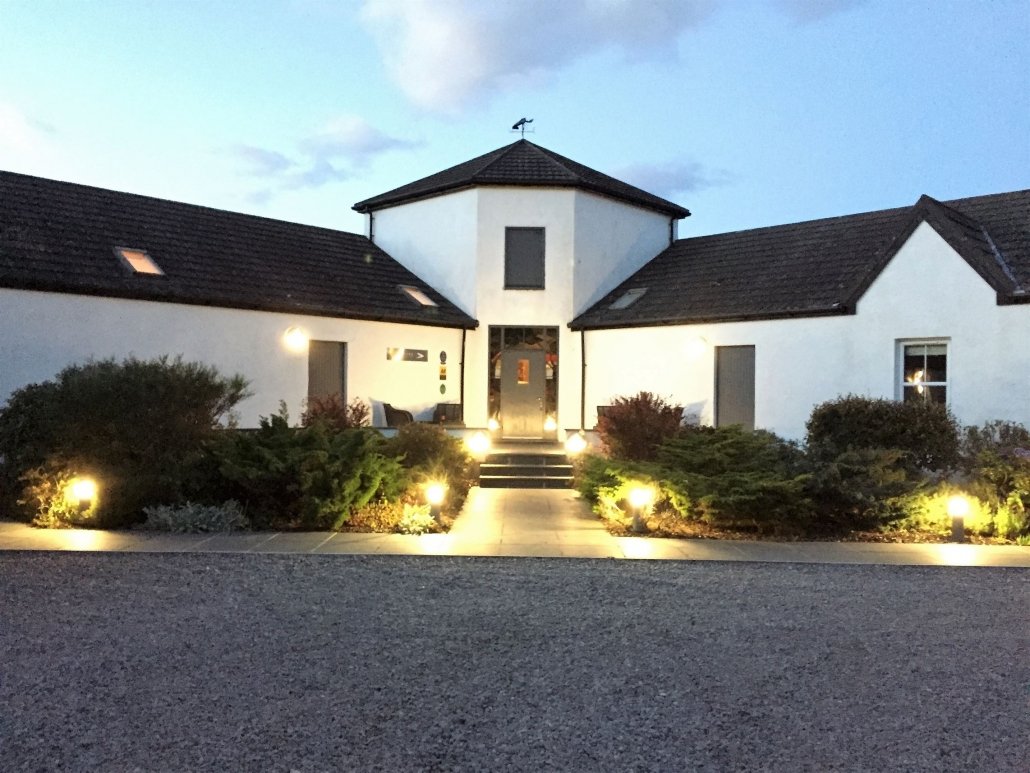 Three Chimneys – Regularly noted in the top ten best restaurants in Britain, you can't go wrong when choosing from the a la carte menu or the Skye Showcase menu.
Address: Colbost, Dunvegan, Isle of Skye IV55 8ZT
---
Where to Stay:
Glenarroch B&B – Budget Price – Located on the Skye side of the bridge, this B&B is a no frills option, giving great access to the southern half of Skye and beyond
Address: Kyleakin IV41 8PL
---
Sligachan Hotel – Moderate Price – This former 1830's mountaineers lodge is ideally located in the centre of the island and also offers great access to some of Skye's most iconic mountain climbs.
Address: Sligachan, Isle of Skye IV47 8SW
---
Skeabost Hotel – Luxury – Upscale hotel with a nine-hole golf course, with scenic views over Loch Snizort Beag.
Address: Skeabost Bridge, Isle of Skye IV51 9NP
---
Hints, Tips and Useful Information:
Electricity: The power plugs and sockets are of type G – square three-pin plugs. The standard voltage is 230 volts AC, 50Hz.
Currency: Pound (GBP; symbol £) = 100 pence. Notes are in denominations of £50, 20, 10 and 5. Additional bank notes are issued by Scottish banks and are usually accepted in all parts of the UK. Coins are in denominations of £2 and 1, and 50, 20, 10, 5, 2 and 1 pence.
Banks and ATMs: ATMs are rare, so if you do not wish to use your credit card, make sure you bring cash when visiting the Isle of Skye.
Telephone dialing code: +44
Emergency numbers: Dial 999 for police, fire, or ambulance. Be prepared to give the telephone number you're calling from.
Internet: Many cafés, restaurants and hotels public areas also offer Wi-Fi.
Transport – Driving: Drive on the left-hand side of the road. If you're coming from a European Union country – as long as you have a valid licence, you can drive in Scotland. If you're coming from outside the EU – as long as you have a valid licence from your own country, you can drive in the UK for up to 12 months.
Driving under the influence of alcohol is taken very seriously in Scotland and the UK and there can be heavy penalties for those found to be above the legal blood/alcohol limit. The legal limit is 50 mg of alcohol in 100 ml of blood.  
Seatbelts are compulsory for all drivers and passengers in the vehicle. Children under 12 who are under 135 cm (4 ft 5 in) tall should use a child seat appropriate for their weight. It is illegal to use a hand-held mobile phone while driving. You must also have proper control while using hands-free. 
Climate: January and February are generally the coldest months, with the daytime maximum temperatures averaging around 5 °C (41 °F) to 7 °C (45 °F). July and August are normally the warmest months, with temperatures at an average 19 °C (66 °F).
Fog and heavy precipitation are very common during the Autumn and Winter months, however, always come prepared for four seasons in one day whichever month you visit.
Scotland's high latitude means that although winter days are short, in summer there are very long daylight hours and often an extended twilight.
Water: Tap water is safe to drink and bottled water is widely available.
Shopping: What to buy in Scotland:
'OorWullie' or 'The Broons' – Scottish comic book character, written in Scots
Malt Scottish Whisky
Quaich – a shared drinking bowl, more often used for whisky
SgianDubh – ceremonial dagger, used as part of the full highland dress
Kilt – traditional Scottish clothing
Tartan scarf (or anything else made in tartan)
Sporran – traditional 'pocket' worn with a kilt
Cuisine: What to try in Scotland:
Scotland's national dish is Haggis (the 'Great chieftain o the puddin'-race' – as Robert Burns once called it). It is a celebration dish, but don't ask what it is made of or how it is made, until you have tried it!
Other foods that you should try:
Scottish smoked salmon
Black pudding (especially StornawayBlack Pudding) – type of blood sausage
Stovies– potatoes, onions and meat
Bridies – meat pastry
Scotch pies – double crust meat pie
Fish and chips – fried battered fish and hot chips
Scotch broth – a soup of barley, root vegetables, pulses and sometimes with meat
Lorne sausage – a square sausage made from ground meat, rusk and spices
Cock a leekiesoup – a soup of leeks and peppered chicken stock
Cranachan – a dessert of whipped cream, whisky, honey and raspberries
Clootie dumpling – a dessert made from flour, breadcrumbs, dried fruit, suet, sugar and spice
Shortbread – a biscuit
IrnBru – soft drink
Tablet – a sugary confection
Smoking: Smoking is banned in all enclosed public places, including stations, pubs and restaurants, throughout the UK.
Alcohol Consumption: Alcohol can be purchased from age 18 and over.
Tipping: It is common to tip in restaurants or taxis when you receive good service. 10 percent is a good rule of thumb though most people will be delighted with any amount of tip. 
Safety: Scotland is a safe country. Violent crime is low, and most tourists will never be bothered by safety concerns other that petty crime. The UK, of which Scotland is part of, is ranked 33rd on the ranking of world's safest countries.