12 Feb

Long Beach to Palos Verdes, Los Angeles, Guide

The stretch of coast going from Long Beach in the east, round to Palos Verdes in the west, may seem a long way from the bright lights and razzamatazz of Hollywood or Downtown LA, but we found it a varied and interesting part of Los Angeles to explore just the same.

Long Beach and San Pedro have a number of attractions ideal for old and young alike, while the rugged coastal beauty of Point Fermin and Palos Verdes easily appeal to nature lovers. We would advise setting aside at least two days to explore this area of LA.

5 Unmissable Attractions:
Glass Church / Wayfarers Chapel – Wayfarers Chapel, also known as "The Glass Church", is noted for its unique modern architecture and location on cliffs above the Pacific Ocean. It is part of the Swedenborgian Church of North America and serves as a memorial to its founder, Emanuel Swedenborg. We found the small exhibition on this church in the visitors centre very interesting and we learned a great deal about a religious group that we hadn't heard of before. This was a nice introduction to this small church campus, but it is the church itself, which was designed by Lloyd Wright (son of Frank Lloyd Wright) in the late 1940s and was built between 1949 and 1951, that is the star of the show. Much of the walls and ceiling of this church are made from glass, so you get a surreal experience of being 'outside' in nature while inside a sacred space. It had to be the most peaceful church that we have ever visited.
Address: 5755 Palos Verdes Dr S, Rancho Palos Verdes, CA 90275
---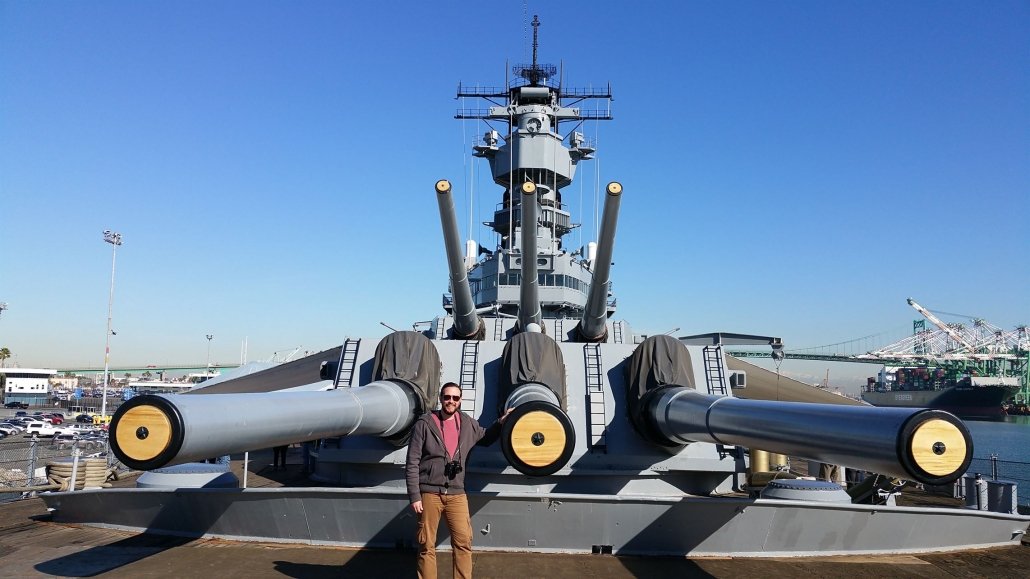 Battleship USS Iowa BB-61 – Known as the Battleship of Presidents, USS Iowa is located at the LA Waterfront, former home to the US Navy pacific fleet and an area rich in maritime history. The size of the battleship is what immediately caught our attention, and then, when exploring the deck of the ship, the size of its main guns is truly impressive. The highlight of our visit, however, was the chance to speak to several of the volunteer docents who had served on this ship many years ago. These ex-navy men really brought the ship to life and were very knowledgeable. While exploring the cabins of the ship, make sure that you visit the bedroom where Franklin D. Roosevelt, wartime President of the USA, spent many days at sea.
Address: 250 S Harbor Blvd, Los Angeles, CA 90731, United States
---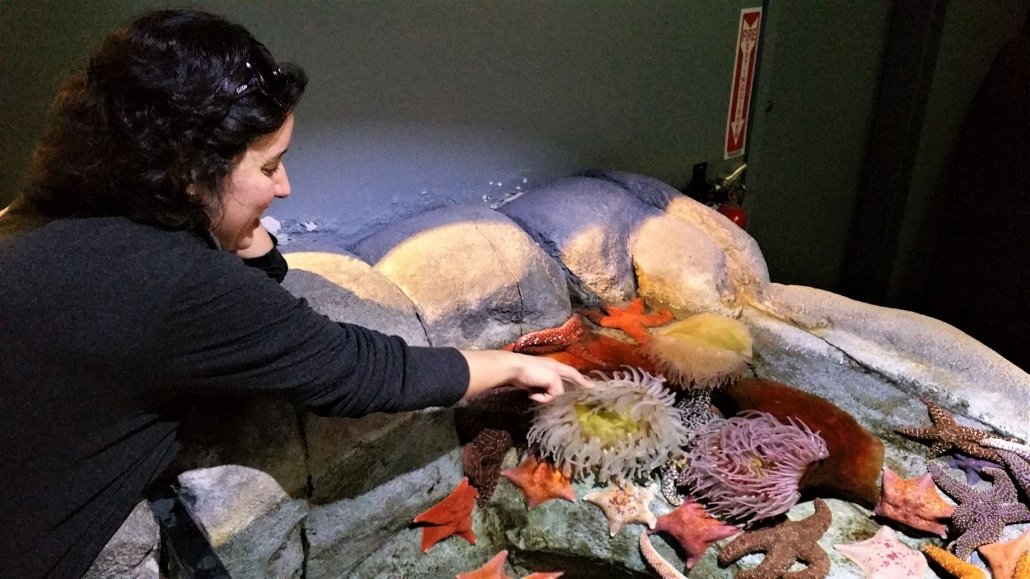 Aquarium of the Pacific – The Aquarium of the Pacific (formerly the Long Beach Aquarium of the Pacific) is spread over a massive 5-acre (20,000 m2) site. Part of a wider entertainment and conference zone in Long Beach, the Aquarium features a collection of over 11,000 animals representing over 500 different species in exhibits ranging in size and capacity from about 5,000 to 350,000 gallons. All the family favourites are there, with penguins, seals and sharks. Our personal favourites being the tanks where you could actually touch and interact with the sea life, such as Moon Jellies, Starfish and Horseshoe Crabs. There was even a Lorikeet enclosure where you could have the birds descend on you while you fed them. It was an ideal way for kids or indeed big kids to spend a few hours learning about the sea.
Address: 100 Aquarium Way, Long Beach, CA 90802, United States
---
The Queen Mary – The Queen Mary is a retired ocean liner that sailed primarily on the North Atlantic Ocean from 1936 to 1967 for the Cunard Line. Built by John Brown & Company in Clydebank, Scotland, the Queen Mary captured several speed records, but, with the outbreak of World War II, she was converted into a troopship and ferried Allied soldiers for the duration of the war. After declining profits, Queen Mary was officially retired from service in 1967 and sailed to the port of Long Beach, California, United States, where she remains permanently moored. The ship serves as a tourist attraction featuring restaurants, a museum, and a hotel. A visit to the Queen Mary is a great way to experience the halcyon days of Atlantic crossings. The impressive engineering, as well as many of the luxurious rooms of the ship are open to visitors, from the engine room to the top decks.
Address: 1126 Queens Hwy, Long Beach, CA 90802, United States
---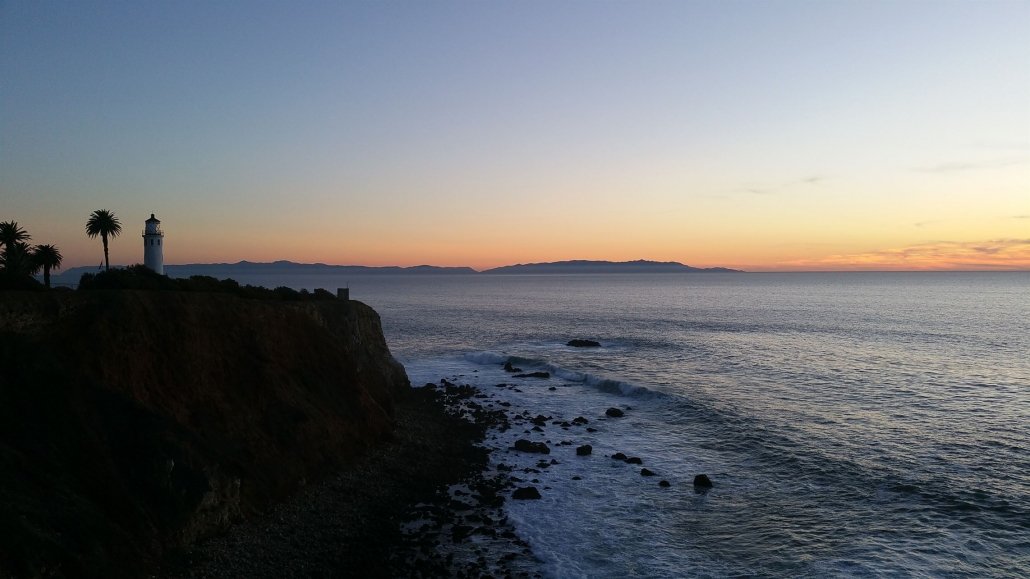 Point Vicente Lighthouse – The Point Vicente Lighthouse was constructed in 1926 and there are not many lighthouses built on such as picturesque location. The lighthouse is open to visitors only occasionally, so always make sure to check the website. However, the main reason for visiting is to see the sun setting behind the lighthouse, so make sure you time your visit accordingly. For attraction such as this, we always research sunset times etc using https://www.timeanddate.com/sun/usa/los-angeles
Address: 31550 Palos Verdes Dr W, Palos Verdes Peninsula, CA 90
---
7 Hidden Gems: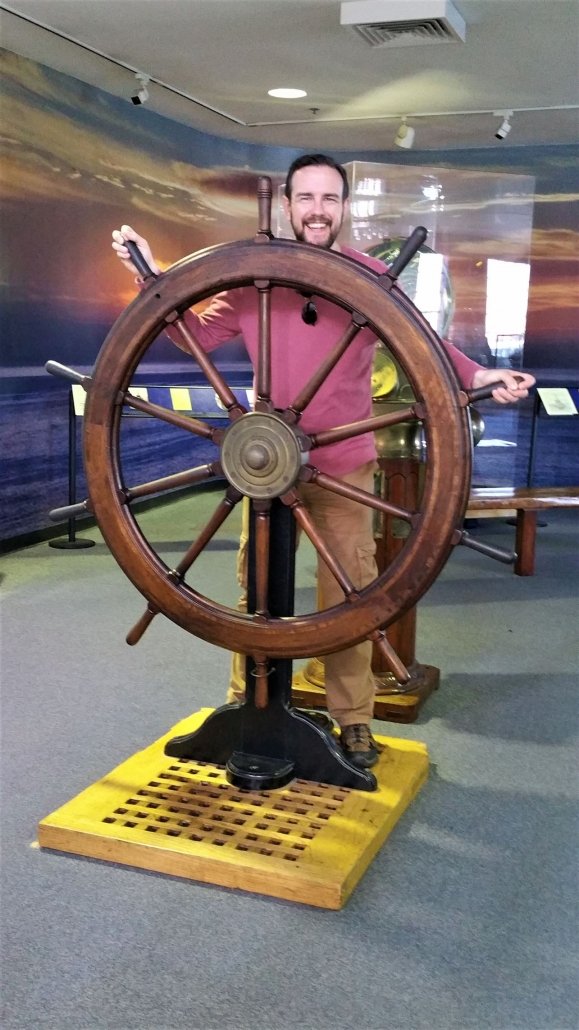 Los Angeles Maritime Museum – When visiting San Pedro or the Battleship Iowa, the Los Angeles Maritime Museum, which was opened in 1980, is a really interesting addition to your itinerary. The museum gave us a great understanding of the rich maritime history of this LA suburb, with exhibits including a history of commercial diving in Los Angeles Harbor, a Navy Hall that features large ship models such as the U.S. Navy cruiser Los Angeles, the Poseidon miniature from the 1972 disaster film, and an exhibit that chronicles the once thriving San Pedro fishing industry. Depending on how much information you like to read when visiting museums, the Maritime Museum could take you anywhere from half an hour to a couple of hours to visit
Address: 84 E 6th Street, San Pedro, CA 90731, United States
---
Abalone Cove Shoreline Park – The Abalone Cove Ecological Reserve features two beaches (Abalone Cove and Sacred Cove), tide pools, beautiful bluff-top viewing areas, and dramatic crisscrossing trails. This park is immediately below the Wayfarers Church, across Palos Verdes Drive, so the two attractions are ideally suited to visit together.
Address: 5970 Palos Verdes Dr S, Rancho Palos Verdes, CA 90275
---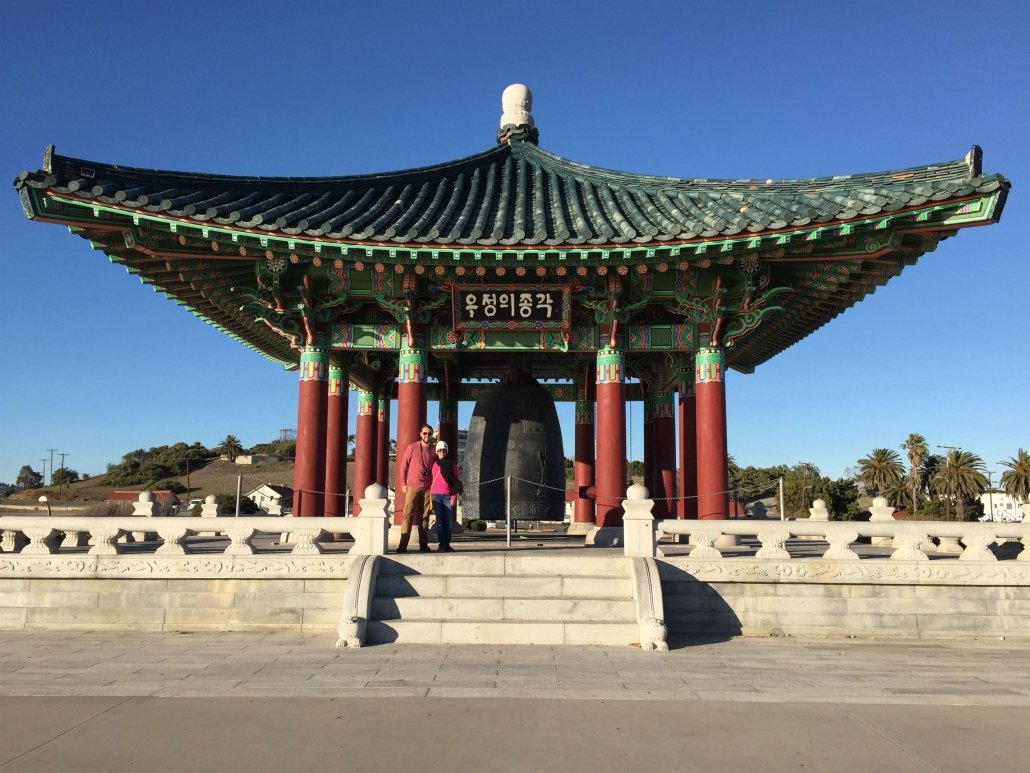 Korean Bell of Friendship – The Korean Bell of Friendship is a massive bronze bell housed in a colourful stone pavilion in Angel's Gate Park. The bell was presented to the American people in 1976 by the Republic of Korea to the American people to celebrate the bicentennial of the United States and to symbolize friendship between the two nations.
Address: 3601 S Gaffey St, San Pedro, CA 90731, United States
---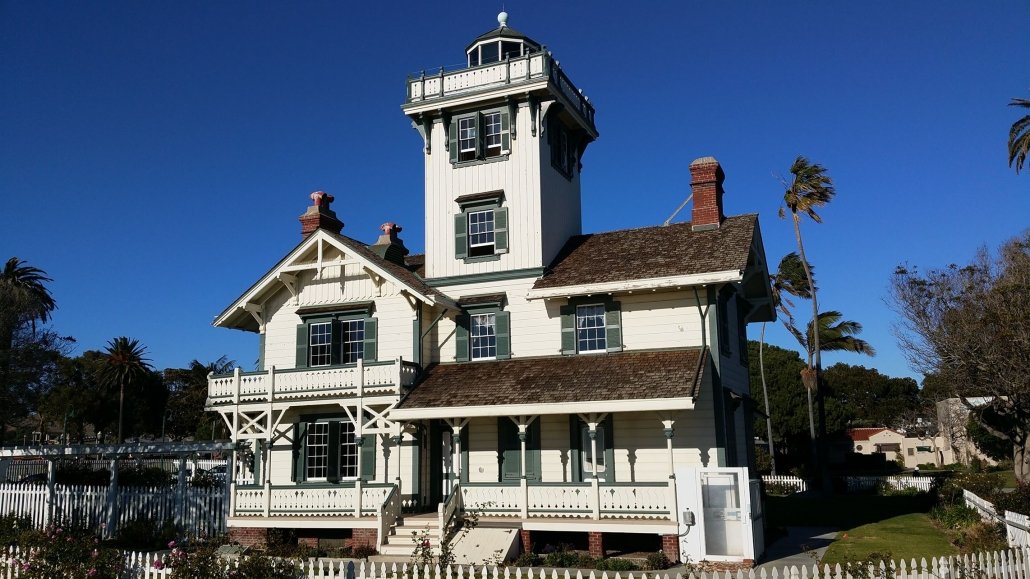 Point Fermin Lighthouse – Built in 1874 to light the entrance to the growing Los Angeles Harbor, the Point Fermin Lighthouse stood as a beacon for 67 years before its light was extinguished and removed during World War II. The lighthouse was also home to the lighthouse keepers, and this can be toured daily (except for Mondays). Admittance and tours are limited to a few hours during the afternoon, so always check the website before planning a trip.
Address: 807 W Paseo Del Mar, San Pedro, CA 90731, United States
---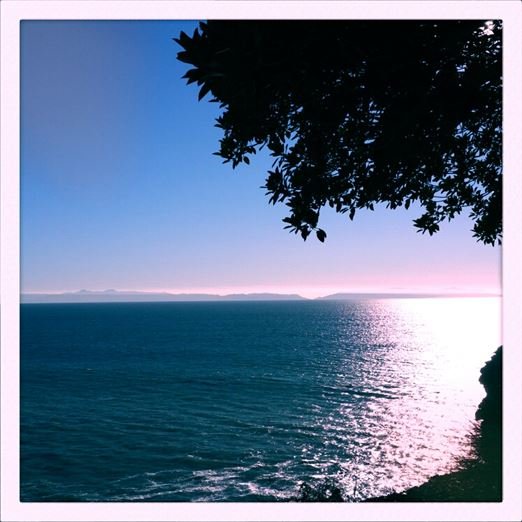 Point Fermin Park – Overlooking the ocean, Point Fermin Park is a scenic and peaceful area and a nice change of pace from much of the rest of Los Angeles. The park also leads to Angels Gate Park and Wilders Addition Park giving an extended leisurely area.
Address: 807 W Paseo Del Mar, San Pedro, CA 90731, United States
---
Cabrillo Beach – Small and compact, Cabrillo Beach is a little bit of a surprise, surrounded as it is by the port of LA. The pier next to the beach gives a great view of the busy harbour, but our favourite area was actually the rocky area on the sea side of Cabrillo
Address: Cabrillo Beach, Los Angeles, CA 90731, USA
---
Museum of Latin American Art (MOLAA) – The Museum of Latin American Art (MOLAA) was founded in 1996. MOLAA is the only museum in the United States dedicated to modern and contemporary Latin American art.
Address: 628 Alamitos Ave, Long Beach, CA 90802, United States
---
Where to Eat:
San Pedro Fish Market – The seafood at this market and restaurants are so fresh they almost leap off the plate. While at the market, try looking for their spin on the Claw Grabbing machine, but instead of winning toys, you can actually get yourself a lobster!
Address: 1190 Nagoya Way, San Pedro, CA 90731, United States
---
Walkers Café – Don't let the outside appearance of Walkers Café put you off! Biker friendly, with a welcoming atmosphere, down to earth plates of wholesome food and good strong coffee.
Address: 700 W Paseo Del Mar, San Pedro, CA 90731, United States
---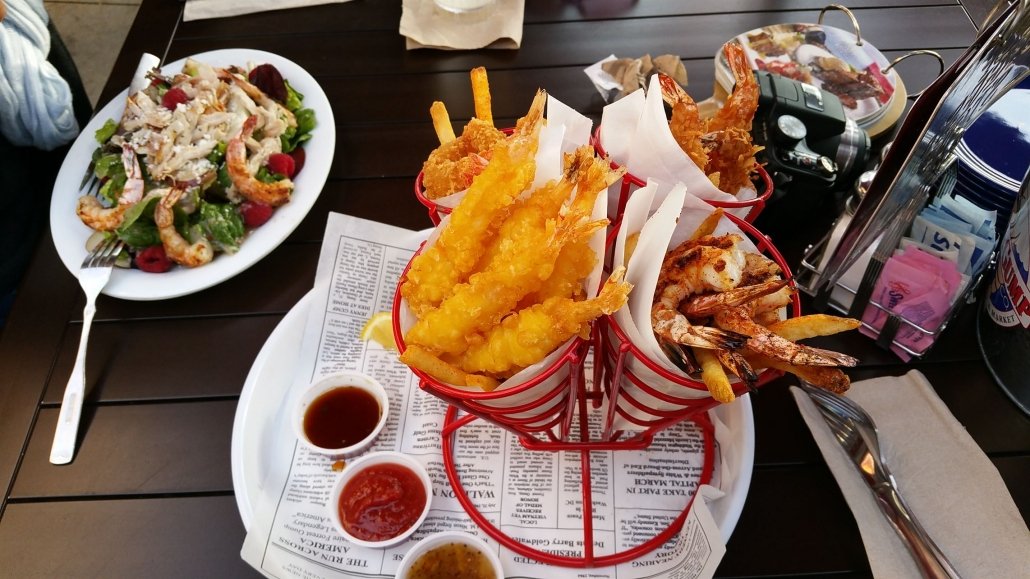 Bubba Gump Shrimp Co – What better way to finish of a tour of the Aquarium of the Pacific, then by eating a plateful of shrimp and seafood at Bubba Gump's?
Address: 87 Aquarium Way, Long Beach, CA 90802, United States
---
Where to Stay:
Super 8 by Wyndham Long Beach – Budget Price – Just a ten-minute drive from most of the attractions in Long Beach and around 30 minutes from San Pedro. The hotel can also boast of an outdoor pool, a spa tub and a sauna.
Address: 4201 Pacific Coast Hwy, Long Beach, CA 90804, United States
---
DoubleTree by Hilton San Pedro – Port of Los Angeles – Moderate Price – Minutes from all the attractions in San Pedro.
Address: 2800 Via Cabrillo-Marina, San Pedro, CA 90731, United States
---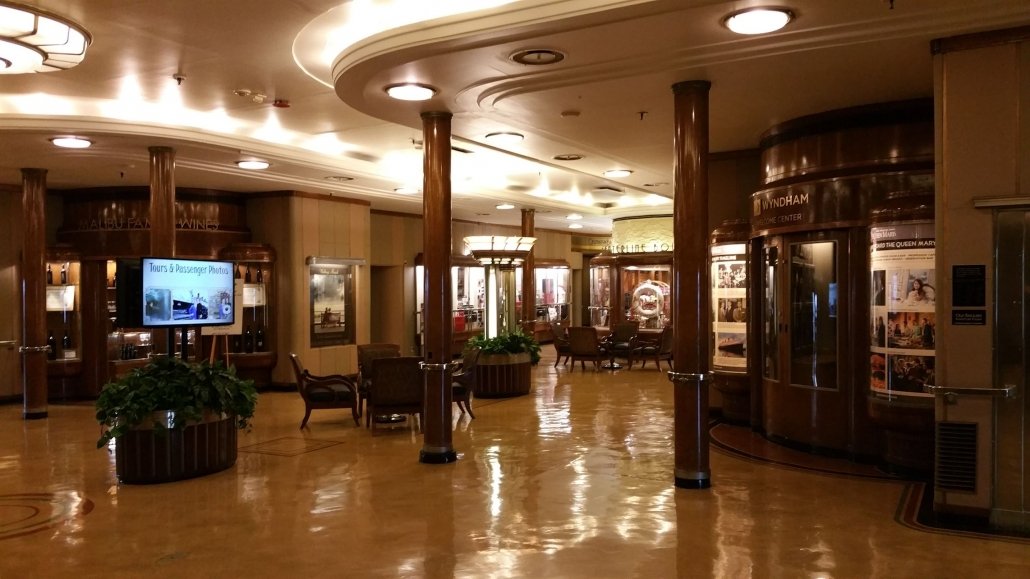 The Queen Mary Hotel – Luxury – Relive the halcyon days of North Atlantic cruising by staying on the world-famous Queen Mary.
Address: 1126 Queens Hwy, Long Beach, CA 90802, United States
---
Hints, Tips and Useful Information:
Respect: Shaking hands is the usual form of greeting in formal situations and in business meetings. A relaxed and informal atmosphere is usually the norm. As a rule, dress is casual. High-end restaurants, hotels and clubs may require more formal attire.
Electricity: 120 volts AC, 60Hz. Plugs have two flat pins with or without a third round grounding pin.
Currency: US Dollar (USD; symbol $) = 100 cents. Notes are in denominations of $100, 50, 20, 10, 5, 2 and 1, though the $2 bill is rare and is not in high circulation. Coins are in denominations of $1, and 50, 25, 10, 5 and 1 cents.
Language: Los Angeles is one of the most ethnically diverse cities in the United States. 224 languages are spoken in Los Angeles. Less than 50 percent of Los Angeles's population speaks English as their first language. Spanish is also a widely spoken first language in Los Angeles. Other languages that are commonly found are Korean, Filipino, Armenian, Chinese, and Persian.
Religion: Around 53% of the Los Angeles population affiliate with a religion. The majority of those are Christian, with Roman Catholics making up around 37% of the population.
Telephone dialling code: +1
Emergency numbers: For emergency police, fire or medical services in major cities, dial 911.
Internet: There are internet cafes in most urban areas, and an increasing number of Wi-Fi hotspots. Many coffee shops offer free Wi-Fi.
Public Transport: Los Angeles is home to one of the country's best public transportation networks, including subways, light-rail, buses and shuttles to nearly every corner of the Greater Los Angeles area. For more details, visit https://www.discoverlosangeles.com/travel/los-angeles-public-transit
Transport – Taxis: Because of LA's size and its traffic, getting around by can be expensive. Taxis are best booked over the phone, although some will be available outside airports, train stations, bus stations and major hotels. Fares are metered and vary by the company, although Uber, UberX and Lyft taxis can work out cheaper.
Transport – Driving: The minimum driving age in California is 16, and drivers must possess a valid U.S. or international driver's license. Speed limits and traffic rules are strictly enforced. If there are no posted signs, the maximum speed is 25 miles per hour on city streets and 65 miles per hour on freeways. California state law requires the use of seat belts in all private vehicles. A right turn on a red light after stopping is permitted unless otherwise indicated. Pedestrians have the right of way. Strict drunken driving laws are enforced in California. Anyone found driving under the influence of alcohol will be arrested.
Vehicles parked in violation of posted regulations are ticketed and towed very quickly. Before you park, be sure to carefully read all signs that state the days and times when parking restrictions are in effect. A red curb means no parking, a green curb indicates parking for a limited time only, and a white or yellow curb indicates passenger loading and unloading. Parking is often available in garages or parking lots for a fee. Many restaurants offer valet parking for a fee as well.
Climate: Los Angeles enjoys a mild Mediterranean climate — moderate temperatures with low humidity year-round. Midday readings average 80 degrees from June to October and 70 degrees between November and May. The rainy season is between November and March, when a few rainy days are typically followed by many days of brilliant sunshine and clear bright skies. Summer's warmth is often tempered by pleasant sea breezes, especially near the ocean. Evenings are cool, even in summer.
Water: Tap water is considered safe to drink in the US and is often offered in restaurants before bottled water. Bottled water is available throughout the country.
Shopping: Many stores are phasing out plastic bags, so it is a good idea to bring a reusable shopping bag. You may be charged 10 cents per plastic bag.
Smoking: Smoking is prohibited in most buildings in Los Angeles. In restaurants within Los Angeles County, smoking is allowed in outdoor dining sections only.
Alcohol Consumption: The minimum age for purchasing alcohol is 21. Proof of age and identification may be required. Liquor may not be served, purchased or consumed in public establishments from 2 a.m. to 6 a.m.
Tipping: Los Angeles is like most major American cities and tipping is customary. A tip should be given to taxi drivers, hotel workers, waiters and bartenders. Tips between 10% and 20% are customary. Luggage handlers are usually tipped $1 to $2 per bag. A $1 to $2 tip is customary for parking lot attendants and valets. When tipping for maid service, $1 to $2 per day or $5 to $10 per week is a good guideline.
Health & Vaccinations: The US is generally considered a safe destination for world visitors. Occasional outbreaks of disease, such as West Nile Virus (a mosquito-borne illness) and H1N1 have occurred in recent years, however.
North America
United States