09 Sep

Lower Manhattan – Travel Guide

Lower Manhattan Guide

Manhattan is a relatively small island, but is absolutely packed with interesting attractions and sites. So how does the traveler tackle this sightseeing Mecca? We found the best way is to split the island geographically and concentrate on each area in turn.

The southern tip of the island, Lower Manhattan, is a great place to start exploring New York. This area, which for the purpose of this guide is the area south of Madison Square Park, including neighbourhoods such as Greenwich Village and East Village, was the first area to be significantly populated by the Europeans. As such, this district has the Big Apple's oldest buildings and is packed with history.
---
5 Unmissable Attractions:
The Statue of Liberty – Although closer to New Jersey than New York, the majority of the sightseeing ferries going to Liberty Island depart from Battery Park in Lower Manhattan. Liberty Enlightening the World, to give the statue its full name, is a must visit attraction. The approach on the ferry is a highlight in itself and we would advise aiming to get on one of the first ferries, before the island gets too busy. Liberty Island is quite small and fills up with tourists very quickly. Study the ferry timetable before visiting the city, unless you want to queue for up to an hour to get on and off the island. Also, be aware that if you want to book a tour up to the crown, you need to do this several months in advance to avoid disappointment. So, with a little bit of preparation, we thoroughly enjoyed our visit to this massive copper statue, designed by Frédéric Auguste Bartholdi and built by Gustave Eiffel. It is worth noting that you also get some of the best views of the southern tip of Manhattan from Liberty Island.
Address: Liberty Island, United States.
---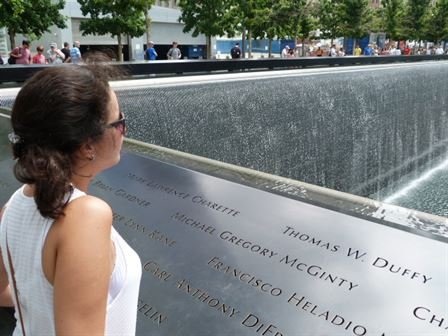 The National September 11 Memorial – The National September 11 Memorial is located at the World Trade Center site, the former location of the Twin Towers. The memorial is a calm and fitting tribute to those who lost their lives in the 9/11 attack, having been dedicated on the tenth anniversary of the tragedy.
Address: 180 Greenwich St, New York, NY 10007, United States
---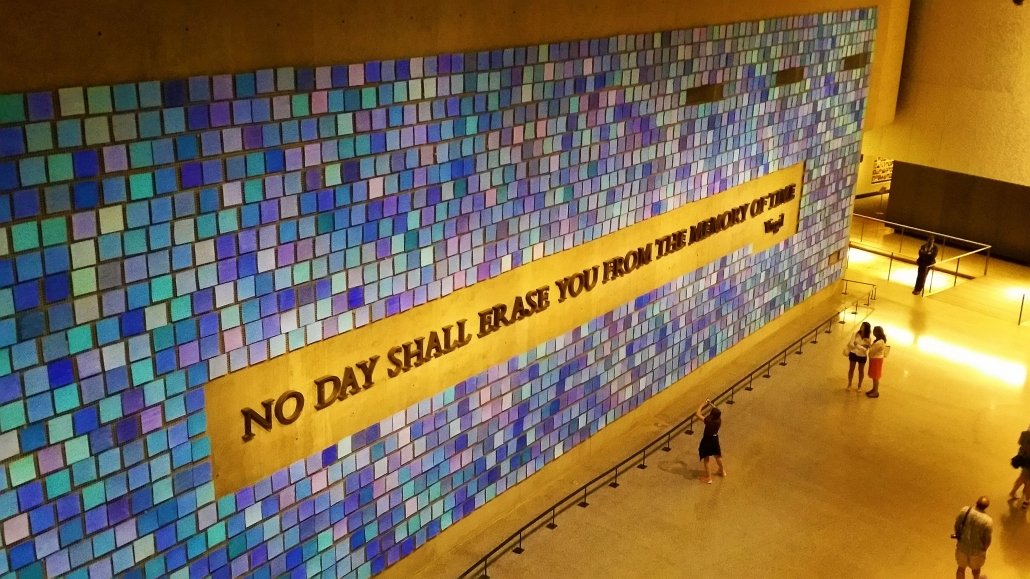 The National September 11 Museum – The National September 11 Museum is next to the memorial and is divided into three parts: the Day of 9/11, Before 9/11 and After 9/11. The museum tells the story of what happened on 9/11, including the events at the World Trade Center and the Pentagon and the story of Flight 93. We found that the museum presented events of the attacks in a very accessible and understandable way. The museum is very moving and there are some parts which are potentially upsetting for children. Although access to these areas is sympathetically screened, children should still be kept close.
Address: 180 Greenwich St, New York, NY 10007, United States
---
Brooklyn Bridge – The Brooklyn Bridge must be one of the most famous bridges in the world and is fully accessible to walkers. The bridge was completed in 1883, and connects the boroughs of Manhattan and Brooklyn by spanning the East River. The bridge itself is an Instagrammers dream and the views of Manhattan, Brooklyn and the parallel Manhattan Bridge are equally impressive.
Address: Brooklyn Bridge, New York, NY, United States
---
One World Observatory – When it was built, the One World Trade Center was the tallest skyscraper in the Western Hemisphere, and the fourth-tallest in the world. The 104-story supertall structure shares a numeric name with the North Tower of the original World Trade Center, which was destroyed in the terrorist attacks of September 11, 2001. We were lucky enough to visit the tower's three-story observation deck, located on floors 100–102, within weeks of its opening and found that the views are jaw dropping. Of all the observation decks we visited in New York, we'd have to say that this one arguably gave the best views, looking out over Lower Manhattan, Brooklyn, Jersey City and out along the Upper Bay. It is an enclosed view, but awesome nonetheless. Take note when going up in the elevator, as there is an electronic display showing the development of New York that progresses the higher you go up the tower.
Address: 285 Fulton St, New York, NY 10006, United States
---
10 Hidden Gems: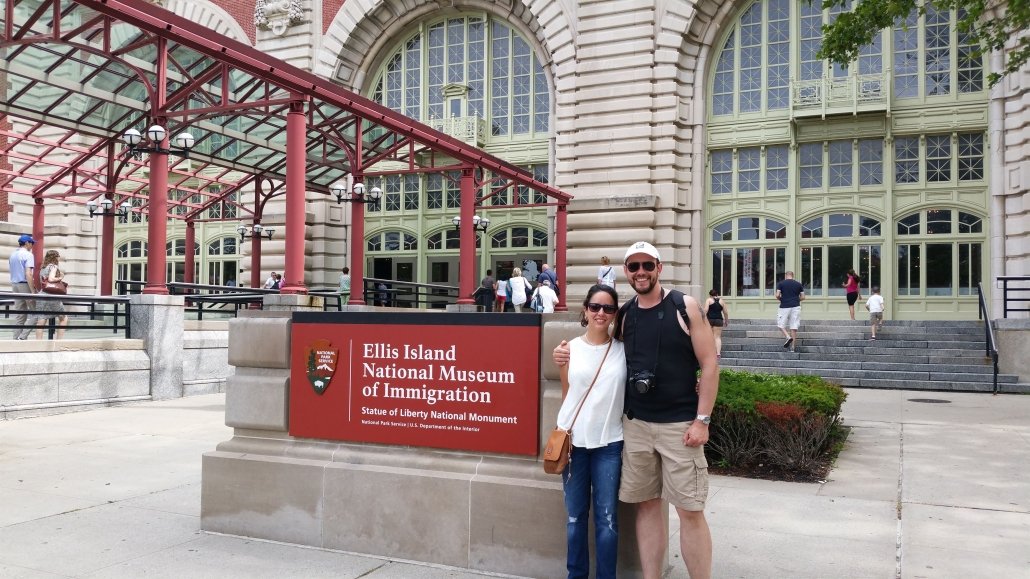 Ellis Island Immigration Museum – When visiting the Statue of Liberty, you should also take the opportunity to disembark on Ellis Island, which is about one kilometre from Liberty Island. The Immigration Museum is now housed in the main building of this historic immigration station. The station was only open from 1892 to 1954, but managed to welcome around twelve million immigrants into the United States. The museum, opened in 1990, tells the story of many of these immigrants through different types of media. The building itself is also an attraction – built in 1900, it actually received a gold medal at the Paris Exposition for its design.
Address: Ellis Island, Jersey City, NY 07305, United States
---
St. Paul's Chapel – St. Paul's Chapel is an Episcopal chapel and is the oldest surviving church building in Manhattan. In a city of imposing skyscrapers, it is funny to think that when this church was built, in 1766, it was the tallest building in New York City! The church also has an important place in recent history, as during the 9/11 attacks it served as a place of rest and refuge. Miraculously, the church remained undamaged, despite the collapse of the twin towers nearby. We found the chapel to be very welcoming and was a quiet oasis within the hussle and bussle of Manhattan.
Address: 209 Broadway, New York, NY 10007, United States
---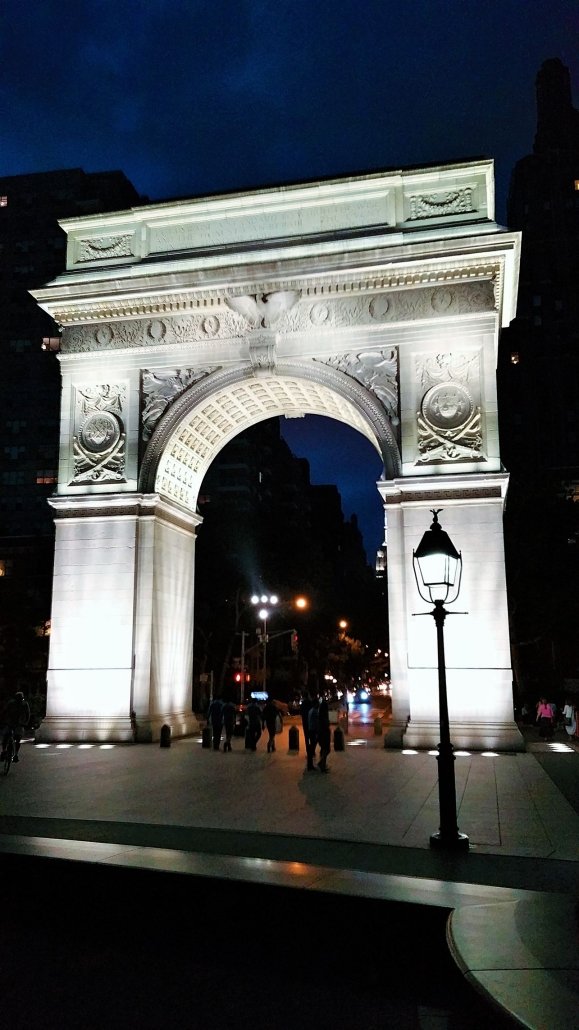 Washington Square Park – Washington Square Park is dominated by its Memorial Arch, which was erected in 1892. Made from Tuckahoe marble, the arch was modelled on the Arc de Triomphe. However, the main attraction for us was the 'people watching'! The park has a reputation for attracting all manner of people and we spent almost an hour spectating on the street dancers, jugglers and colourful characters.
Address: Fifth Avenue, New York, NY, United States
---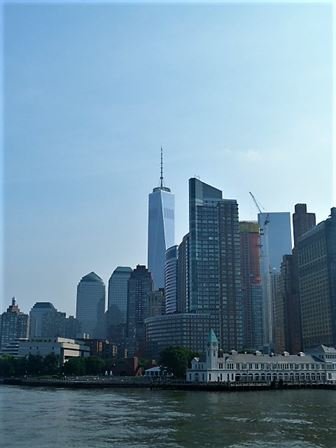 Battery Park – Battery Park is on the southern tip of Manhattan, where the Hudson and East Rivers meet. It is from here that many of the sightseeing ferries going to the Statue of Liberty set off from, but we found that it is worth looking around this park while you are there. The Dutch settled here in 1623, and the first "battery" of cannons was erected to defend the young city of New Amsterdam. Today, the visitor can enjoy checking out the surreal SeaGlass Carousel or paying respects at the East Coast Memorial, which honours the servicemen who died during the Battle of the Atlantic.
Address: Battery Park, New York, NY, United States
---
Wall Street – Wall Street is a 0.7-mile-long (1.1 km) street running eight blocks and is an interesting area for the traveller to visit. The Museum of American Finance can be found here, as can the Federal Hall, which is now a museum and where Washington was sworn in as President and the Bill of Rights written. Also, just off Wall Street, on Broad Street, the New York Stock Exchange can be found.
Address: Wall Street, New York, United States
---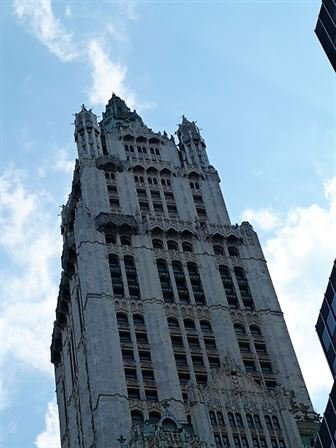 Woolworth Building – One of the most beautiful buildings in the Big Apple, both inside and out, is the Woolworth Building. It was the tallest building in the world for 17 years and was dubbed "the Cathedral of Commerce". Today, you can book tours of the interior of the building and you can delight in the magnificent lobby, which was designed by the renowned architect Cass Gilbert, as well as many other rooms in this iconic building.
Address: 233 Broadway, New York, NY 10007, United States
---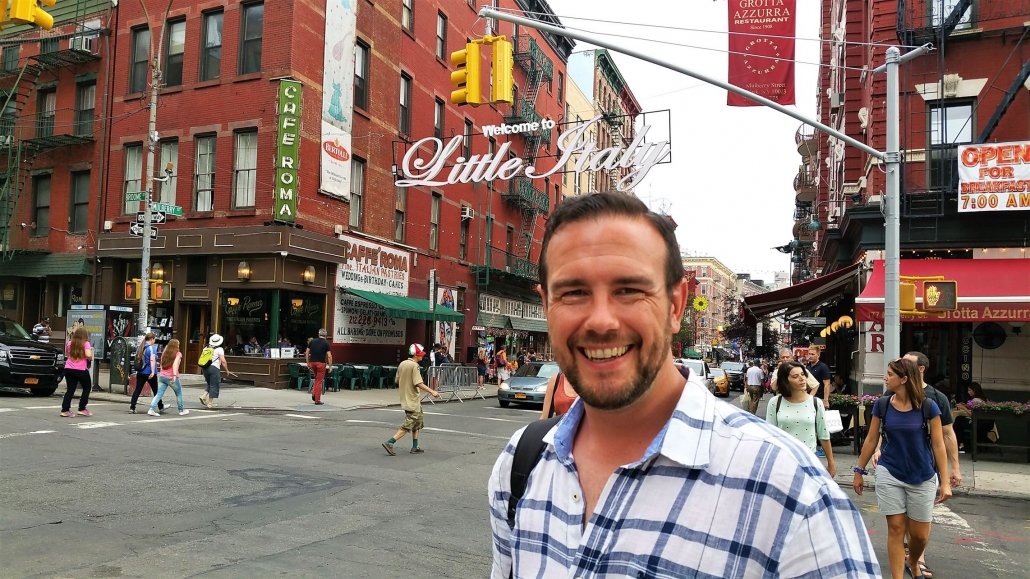 Little Italy – Little Italy is an interesting neighbourhood to explore and is based around Mulberry Street. Back in 1910, when there was an estimated 10,000 Italians living in this area, Little Italy was a lot bigger than the three blocks or so it is now. Still a great place to find an Italian restaurant, the neighbourhood is now populated more by those of Chinese descent, than Italian.
Address: Little Italy, New York, United States
---
Chinatown – Adjacent to Little Italy is the equally fascinating neighbourhood of Chinatown. It is said to house the largest enclave of Chinese people in the Western Hemisphere. An estimated population of 90,000 to 100,000 people. As you can imagine, we were spoilt for choice when choosing a Chinese restaurant to sample!
Address: Chinatown, New York, United States
---
Fraunces Tavern Museum – Fraunces Tavern was built in 1719 and has a strong connection to George Washington, who frequented this building regularly. The upstairs rooms of the building have been turned into a museum, recreating how the rooms would have looked during the years around the Revolutionary War. Once we finished learning about the war and colonial times, we headed to the ground floor and found that there was also a great bar and restaurant. Frances Tavern is such a great package!
Address: 54 Pearl St, New York, NY 10004, United States
---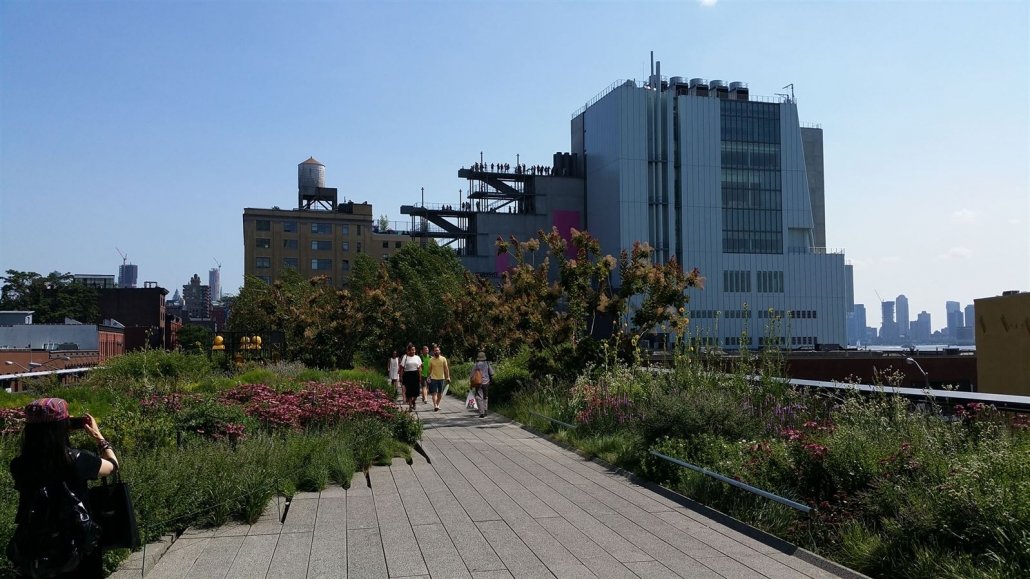 Whitney Museum – The Whitney Museum of American Art — or simply known as "The Whitney" to locals — is an art museum with a focus on 20th- and 21st-century American art. It moved into this purpose built facility, designed by Renzo Piano, in 2015 and we found that the building showed off the artwork perfectly. If the artwork gets too much (or confusing!), make sure that you go outside on to the terrace for some great views of Greenwich Village. The Whitney also marks the southern end of the beautiful High Line walk, so a trip to this museum combines brilliantly with this.
Address: 99 Gansevoort St, New York, NY 10014, United States
---
Where to Eat: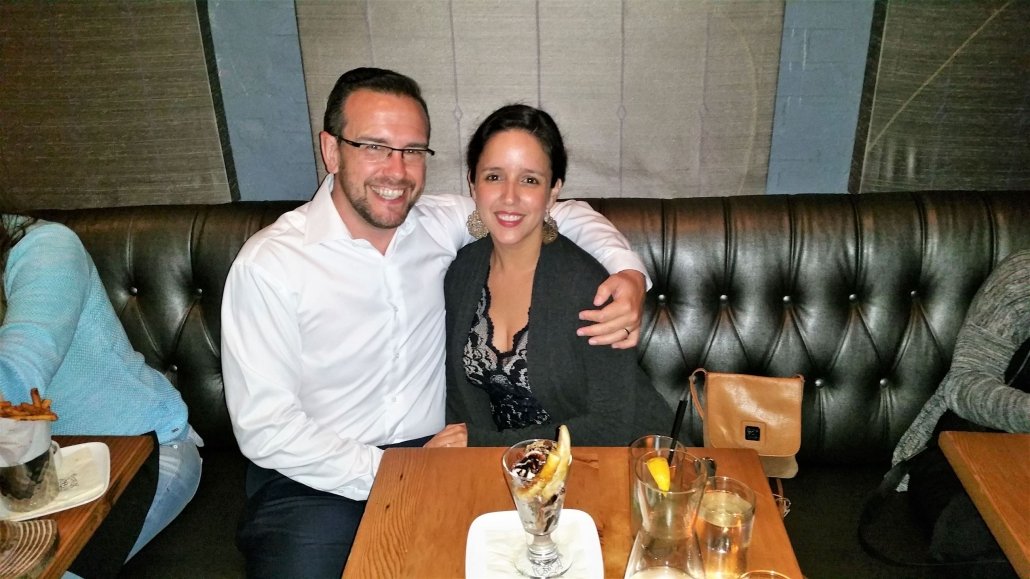 Beauty & Essex – The entrance to this restaurant must be the most wonderful and surprising ever on our travels – you have to walk through a pawn shop to get to a 'hidden' door at the back! Once inside the restaurant, we found that Beauty & Essex was in no way dependent on this gimmick, and the modern, creative cuisine was excellent.
Address: 146 Essex St, New York, NY 10002
---
The Meatball Shop – This small chain of restaurants has six locations in New York, with the one we visited being in the West Village district. As the name suggests, meatballs are the speciality and quite rightly so, as they were very yummy. As well as the tasty, filling dishes, we also found that the prices were afordable as well.
Address: 64 Greenwich Ave, New York, NY 10011, USA
---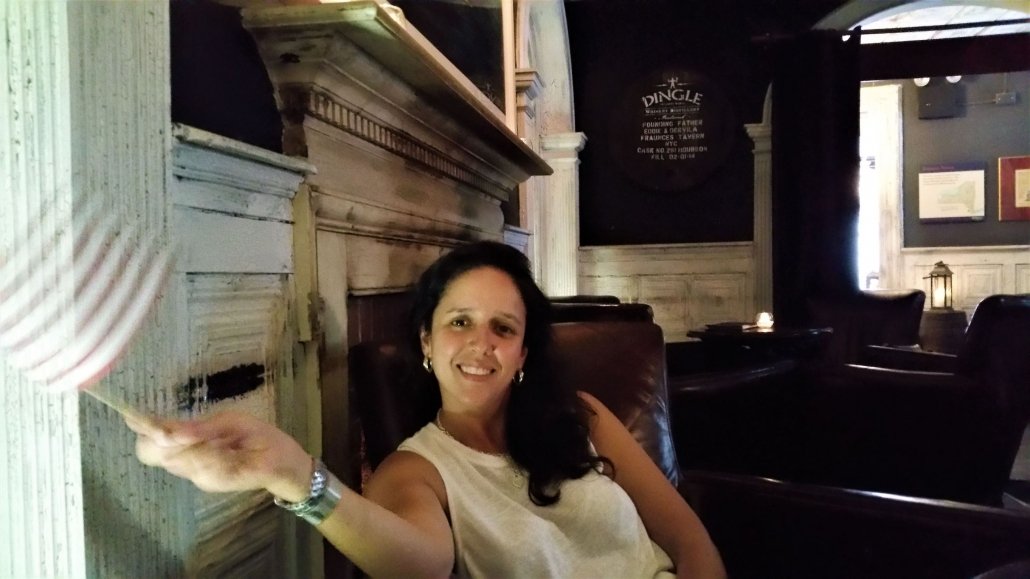 The Dingle Whiskey Bar at Fraunces Tavern – As noted earlier in this guide, a trip to the Fraunces Tavern Museum should be combined with drink or food at their bar or restaurant. We chose a bar meal in the Dingle Whiskey Bar, which we found to be quieter than the main establishment.
Address: 54 Pearl St, New York, NY 10004
---
456 Shanghai Cuisine – After a tip from our family, we decided to visit the 456 in Chinatown. The restaurant may not look very fancy, but what it lacks in looks, the restaurant more than makes up for it with excellent food.
Address: 69 Mott St A, New York, NY 10013
---
Where to Stay:
Blue Mood Boutique Hotel – Budget Price – If you don't mind sharing with other travellers in a dormitory room, then this hotel would be the most economical way of staying in Lower Manhattan.
Address: 100 Orchard St, New York, NY 10002, USA
Holiday Inn Express New York City- Wall Street – Moderate Price – Located in the heart of the financial district, this hotel is ideally placed for exploring Lower Manhattan.
Address: 126 Water St, New York, NY 10005, USA
The Beekman, A Thompson Hotel – Luxury – Stylish, modern hotel, minutes from City Hall.
Address: 123 Nassau St, New York, NY 10038, USA
---
Hints, Tips and Useful Information:
Respect: Shaking hands is the usual form of greeting in formal situations and in business meetings. A relaxed and informal atmosphere is usually the norm. As a rule, dress is casual. High-end restaurants, hotels and clubs may require more formal attire.
Electricity: 120 volts AC, 60Hz. Plugs have two flat pins with or without a third round grounding pin.
Currency: US Dollar (USD; symbol $) = 100 cents. Notes are in denominations of $100, 50, 20, 10, 5, 2 and 1, though the $2 bill is rare and is not in high circulation. Coins are in denominations of $1, and 50, 25, 10, 5 and 1 cents.
Language: Around seven out of ten resident New Yorkers speak English as their primary language, while around 15% speak Spanish.
Religion: New York is religiously diverse, with around one-third of the population identifying as Catholic, with slightly less than this identifying as Protestant. Around 5% of the population are Jewish.
Telephone dialling code: +1
Emergency numbers: For emergency police, fire or medical services in major cities, dial 911.
Internet: Free Internet access via Wi-Fi is possible in many busy tourist spots.
Public Transport: New York's extensive subway system is the largest in the world and is run by the city under the auspices of the MTA, which also takes care of the excellent bus system. Tickets can be purchased from stations and news agents, with rechargeable MetroCards the best bet for getting around. The subway runs 24 hours a day, although services become sparse in the small hours.
Transport – Taxis: New York's famous yellow cabs are always available on Manhattan's main streets. Don't be timid and stay on the sidewalk when hailing one. Tipping is essential.
Transport – Driving: Once in the city, there is little need to drive a car, since the subway tends to be a much more efficient mode of transport. The cost of parking is also very expensive.
If driving is a necessity, be aware that unlike in other US cities, you cannot make a right turn on a red light, except in the rare instances where there is a sign indicating that you can. There are also many major avenues where you can't make a left turn during certain hours.
Climate: The best times to see New York are in spring and autumn. From April to June, New York blooms, with the sun bringing life out onto its busy streets. In autumn, the cool temperatures make rushing around New York more bearable. Summers can be excruciatingly hot, soaring temperatures combining with city concrete to make it feel like a true urban jungle. And if you don't like it cold, it's best to avoid town in January and February too.
Water: Tap water is considered safe to drink in the US and is often offered in restaurants before bottled water. Bottled water is available throughout the country.
Shopping: Fifth Avenue is home to global brands and luxury goods, while further downtown Broadway is full of major high-street names. SoHo is the place to go for fancy boutiques, while across the East River, Williamsburg and Greenpoint are great for music, books and vintage clothing. There malls in New York, such as the Manhattan Mall, The Shops at Columbus Circle and Limelight Shops, but New York is more about classic department stores than modern-day malls.
Smoking: Smoking is increasingly unpopular in the US; it is essential to ask permission before lighting up. Smoking is not allowed on city transport and restricted or forbidden in public buildings in most states. There will be a posted notice where no smoking is requested. An increasing number of states (including California and New York) have banned smoking altogether in bars, restaurants and many public places.
Alcohol Consumption: The minimum age for purchasing alcohol is 21. Proof of age and identification may be required.
Tipping: New York is like most major American cities and tipping is customary. A tip should be given to taxi drivers, hotel workers, waiters and bartenders. Tips between 10% and 20% are customary. Luggage handlers are usually tipped $2 per bag. A $1 to $2 tip is customary for parking lot attendants and valets. When tipping for maid service, $2 per day is a good guideline.
Health & Vaccinations: The US is generally considered a safe destination for world visitors. Occasional outbreaks of disease, such as West Nile Virus (a mosquito-borne illness) and H1N1 have occurred in recent years, however.
North America
United States