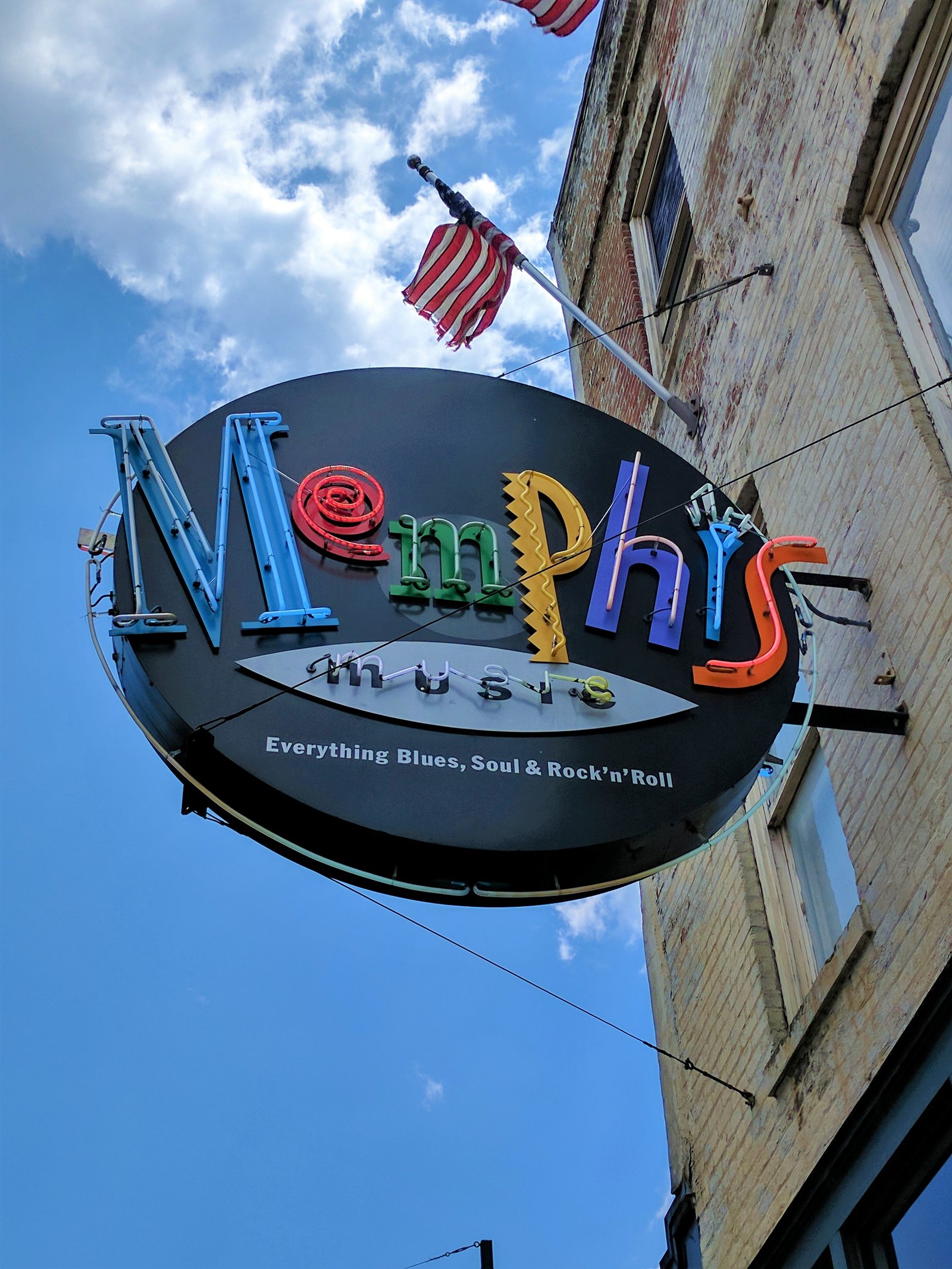 25 Nov

Memphis, USA – Travel Guide

Memphis is synonymous with Elvis, Rock 'n' Roll, The Blues, BBQ and Southern hospitality and the city certainly lived up to its reputation. The visit to Graceland was the focus of our trip, as indeed it is for many visitors to Memphis, but we found that this city has so much more to offer. Granted, there are many attractions in Memphis connected with Elvis Pressley, but The King was by no means the only musical star connected with the city. Musicians such as B.B. King, Jerry Lee Lewis, W.C. Handy, Johnny Cash, Isaac Hayes and… Justin Timberlake(!) have left their imprint on the city that can boast of being the 'Home of the Blues' and the 'Birthplace of Rock 'n' Roll'.

We also found that perhaps the greatest influence on the development of Memphis was not its music, but the mighty Mississippi River that flows past, connecting the once profitable cotton fields of the region with the world market. Memphis has a rich history that started after its founding in 1819 and at certain periods of its development the city was extremely prosperous, which we found reflected in its many stunning ante-bellum houses.
---
5 Unmissable Attractions:
Graceland – Graceland was by no means the only Memphis home that Elvis lived in, but it is certainly the house that everyone has heard of. It has become a Mecca to all Elvis fans and has developed into a massive visitor experience. Not only can you visit the house and outbuildings of Graceland, but you can also pay respects at his garden grave, as well as visit the newly opened museum and visitor centre.
The house was bought in 1957 for $102,000 and remained Elvis' home till he died on August 16, 1977, when he was found dead on a bathroom floor inside Graceland. Today, Graceland is one of the most visited homes in the United States, second only to the White House. We took the Graceland Mansion tour using the multimedia iPad, and found this really informative, with just the right amount of detail. The tour includes the famous Jungle Room, the Trophy Room, the Raquetball Building, the Meditation Garden (where Elvis and members of his family have been laid to rest), the Graceland Archives Experience, the Elvis Presley Automobile Museum (including his Pink Cadillac), Elvis' Custom Jets (a 1958 Convair 880 bought in April 1975 and named Lisa Marie after his daughter, and a smaller Lockheed Jet Star), as well as other exhibitions on Elvis' life.
We chose to pay for the Elvis Entourage VIP ticket, which gave access to all of the major offerings at Graceland. Crucially, it gives Front-of-the-line Mansion access, and with the Graceland house being so popular, we found that it was well worth paying a bit extra for this type of ticket. Plan to stay half a day at Graceland, but don't be surprised if you take longer, as there is so much to see.
Address: Elvis Presley Blvd, Memphis, TN 38116
---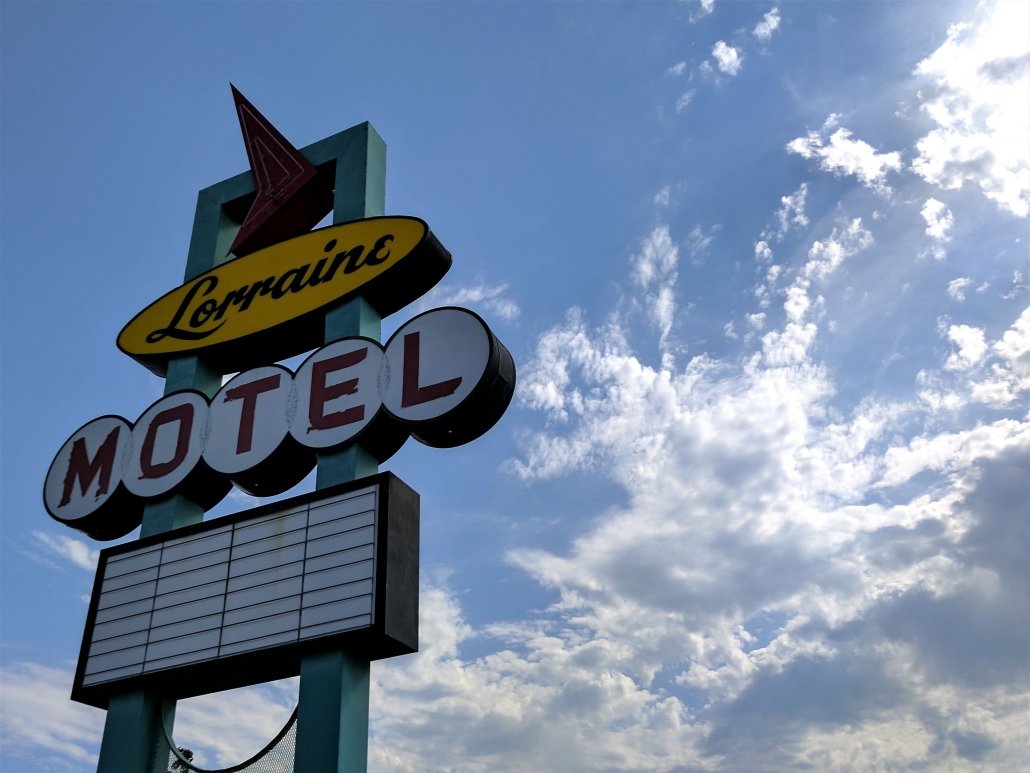 National Civil Rights Museum – Lorraine Motel– Martin Luther King, Jr. was assassinated on April 4, 1968, at the Lorraine Motel in Memphis, while standing on the balcony of his room. That same motel has now been turned into the National Civil Rights Museum examining five centuries of history, from the beginning of the resistance during slavery, through the Civil War and Reconstruction, the rise of Jim Crow, and the seminal events of the late 20th century with particular emphasis on the assassination. We found that there was a lot to see at the museum, and our attention was well held by the mixture of films, artefacts and interactive media. On a lighter note, it was fascinating to know that the hotel that we were now walking through, although much changed now that it was a museum, had hosted many of the star musicians working at Stax Records during the 1960's, artists such as Ray Charles, Lionel Hampton, Aretha Franklin, Ethel Waters, Otis Redding, the Staple Singers and Wilson Pickett.
Address: 450 Mulberry St, Memphis, TN 38103
---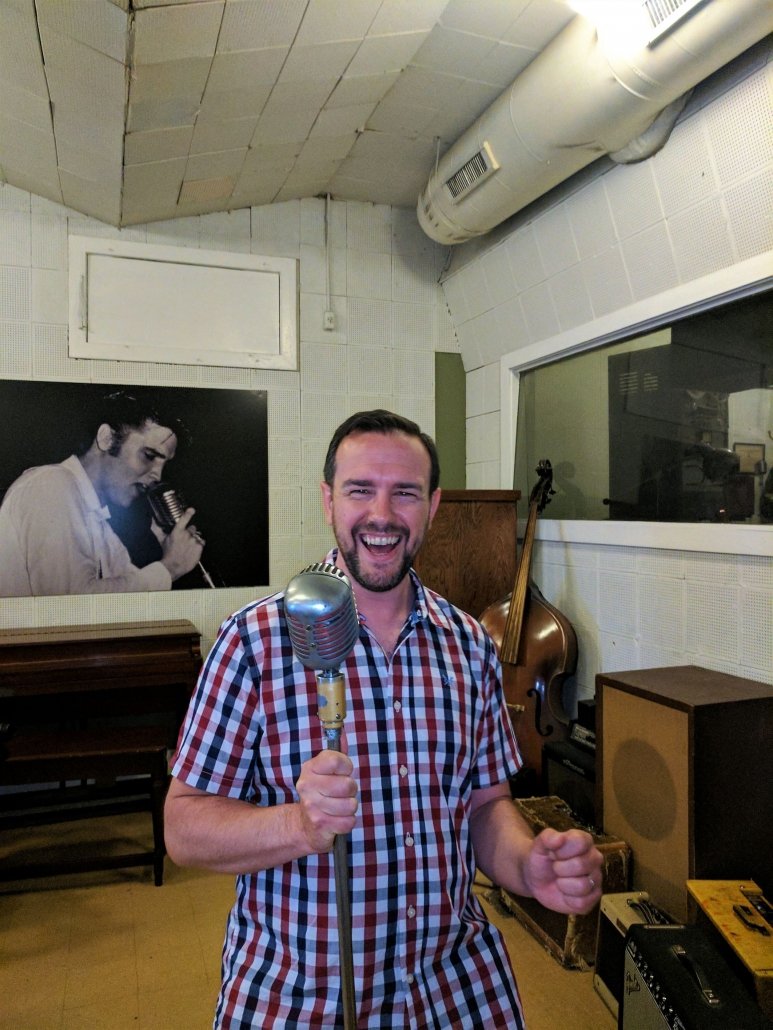 Sun Studio – Sun Studio is a recording studio opened by rock-and-roll pioneer Sam Phillips at 706 Union Avenue, on January 3, 1950. It is now a fascinating museum and we were so impressed to learn that is was here in 1951 that the first rock and roll single, Jackie Brenston and his Delta Cats' "Rocket 88" was recorded. Since then, the studio quite rightly claims the status as the birthplace of rock & roll. A pantheon of Blues and R&B artists like Howlin' Wolf, Junior Parker, Little Milton, B.B. King, James Cotton, Rufus Thomas, and Rosco Gordon recorded there in the early 1950s. Rock and roll, country music, and rockabilly artists, including Johnny Cash, Carl Perkins, Roy Orbison, Charlie Feathers, Ray Harris, Warren Smith, Charlie Rich, and Jerry Lee Lewis, recorded there throughout the mid-to-late 1950s. Of course, our main reason for visiting Sun Studio was to see where the career of an 18 year old Elvis Presley had been launched back in 1954. Elvis had sung a song here the previous year, but had not impressed, but he persevered. The next time, Elvis was backed by a band made up of Scotty Moore and Bill Black. After hours in the studio the small group had yet to record anything of any value. Just for fun, Elvis began playing around with an old blues song, "That's Alright, Mama." His rendition impressed Phillips and garnered him a recording contract and he was then on the road to stardom.
Address: 706 Union Ave, Memphis, TN 38103
---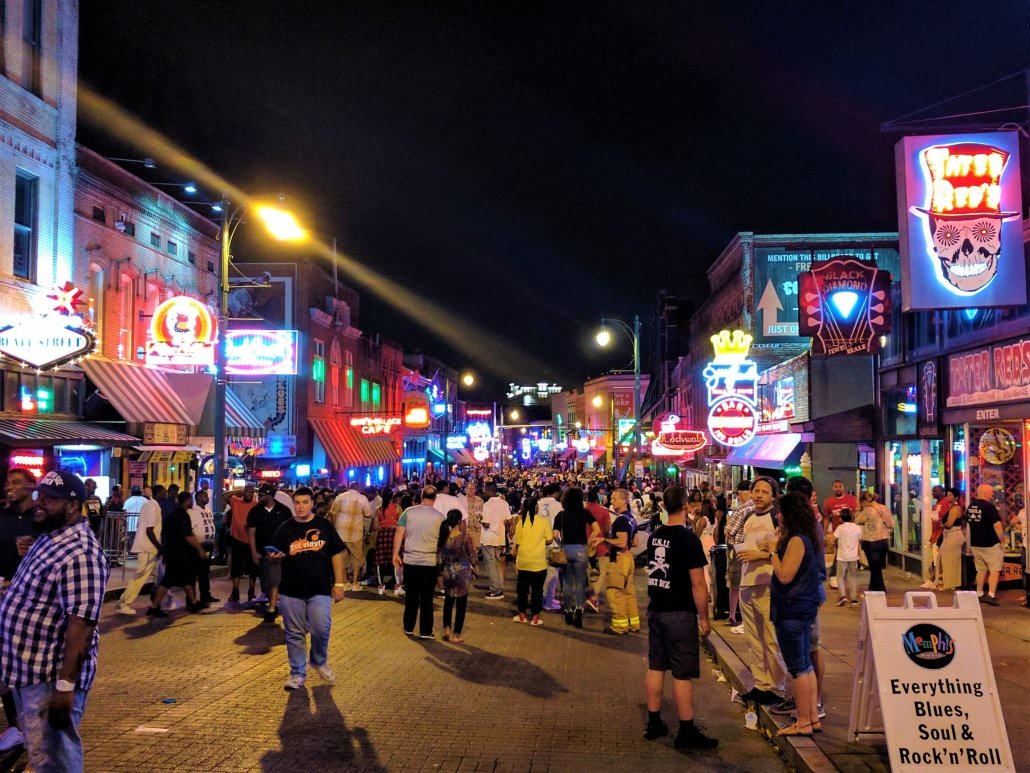 Beale Street Entertainment District – During the day Beale Street is the vibrant heart of Memphis, with interesting shops and equally interesting characters. At night, however, Beale Street really comes into its own – colourful, loud and brash. A fun and safe area in which to party in. The area's heyday was in the 1920s to the 1940s, with Beale Street becoming synonymous with the Blues but by the 1960s, Beale had fallen on hard times and many businesses closed, even though the section of the street from Main to 4th was declared a National Historic Landmark on May 23, 1966. We can happily report, however, since those dark days, there have been many years of positive redevelopment, turning it back into a vibrant street boasting joints such as B. B. King's Blues Club, Hard Rock Cafe, Blues City Cafe & the Band Box and the Rum Boogie Café.
Address: Beale St, Memphis, TN 38103
---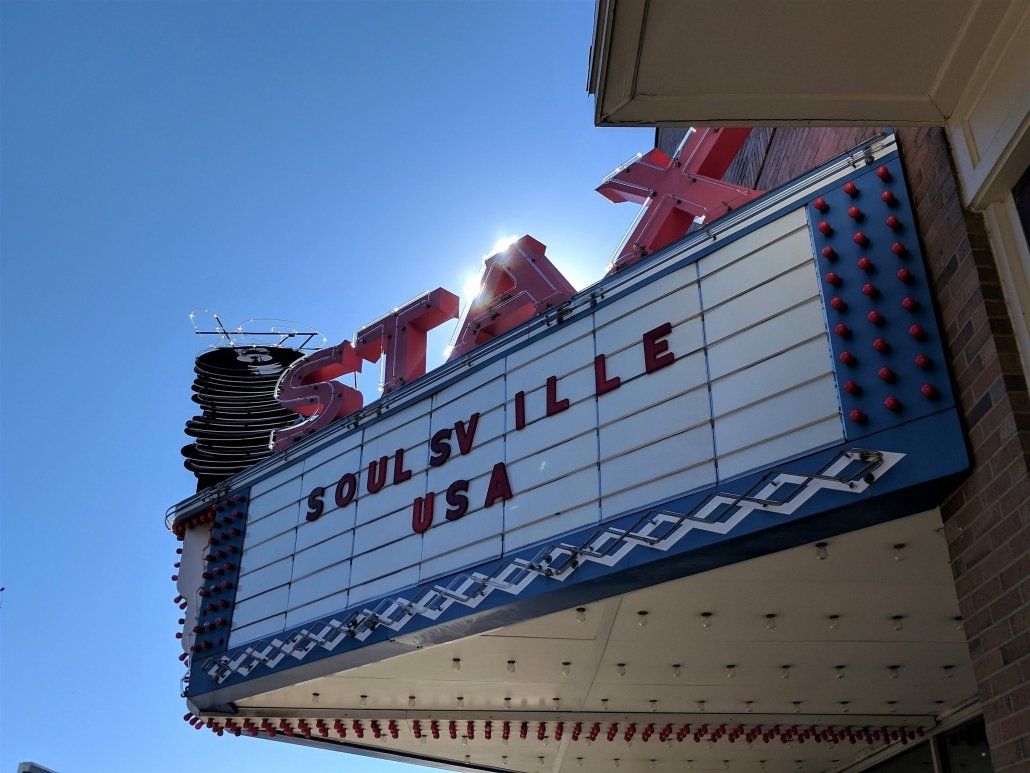 Stax Museum of American Soul Music – The Stax Museum is dedicated to soul museum and celebrates the legacy of Stax Records. The building is actually a replica of the original Stax recording studio, and the museum has even included the famous the sloping floor of studio A which was said to have added to the acoustics. Unfortunately, we only had an hour to explore this museum and we only scratched the surface of its 2,000 videos, films, photographs, original instruments used to record Stax hits, stage costumes, interactive exhibits, and other items of memorabilia. We found that the museum also boasts an authentic 101-year-old Mississippi Delta church, which demonstrated the gospel roots of soul music. There was even the Soul Train dance floor on show, but I have a feeling that our dancing efforts were not quite up to scratch! Isaac Hayes was perhaps the most successful of Stax's artists and we had great fun checking out his restored 1972 gold-trimmed, peacock-blue Cadillac El Dorado! Word of warning to all visitors – you will end your visit singing and dancing to a hundred different soul records and immediately buying a large selection of CDs to enjoy at home, so make sure you bring your credit card! To cap a great visit, we also managed to satisfy our Elvis fix here too, since, perhaps surprisingly, The King produced three of his albums here at Stax: Good Times, Raised on Rock and Promised Land.
Address: 926 E McLemore Ave, Memphis, TN 38126
---
10 Hidden Gems: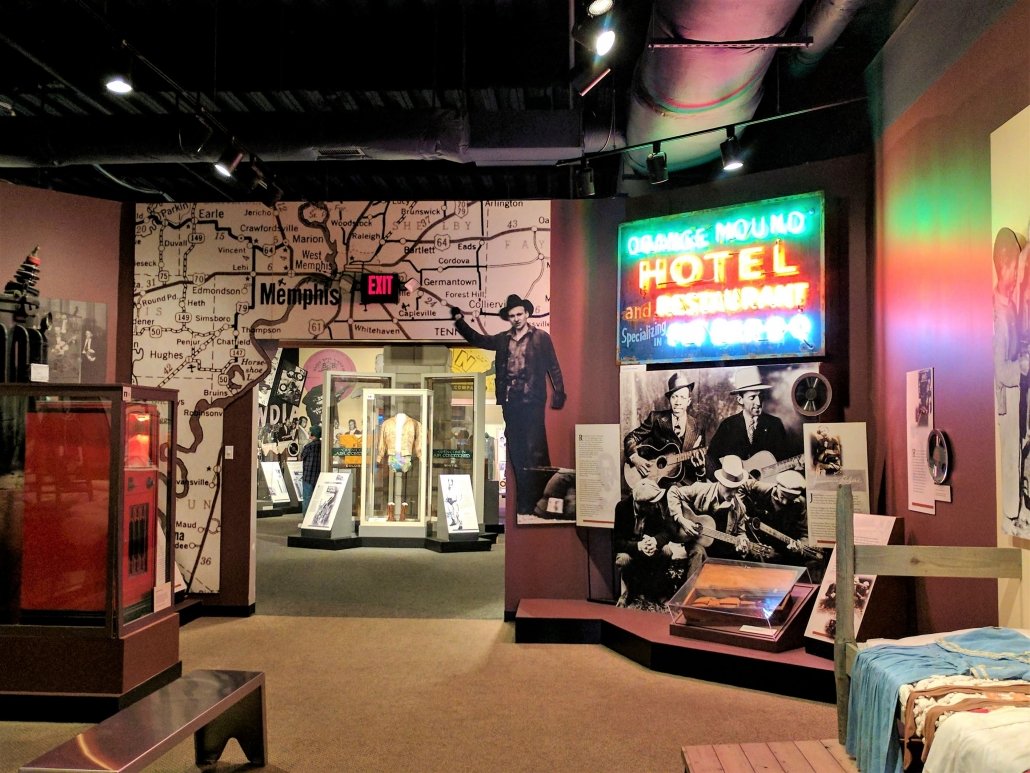 Memphis Rock 'n' Soul Museum– Situated just off Beale Street, the Memphis Rock 'n' Soul Museum tells the complete story of Memphis music history, as researched by the Smithsonian Institution from the rural field hollers and sharecroppers of the 1930s, through the explosion of Sun, Stax and Hi Records and Memphis' musical heyday in the 70s, to its global musical influence. Naturally, the museum has a section on Elvis and his influence, so it is an insightful stop for Elvis aficionados.
Address: 191 Beale St, Memphis, TN 38103
---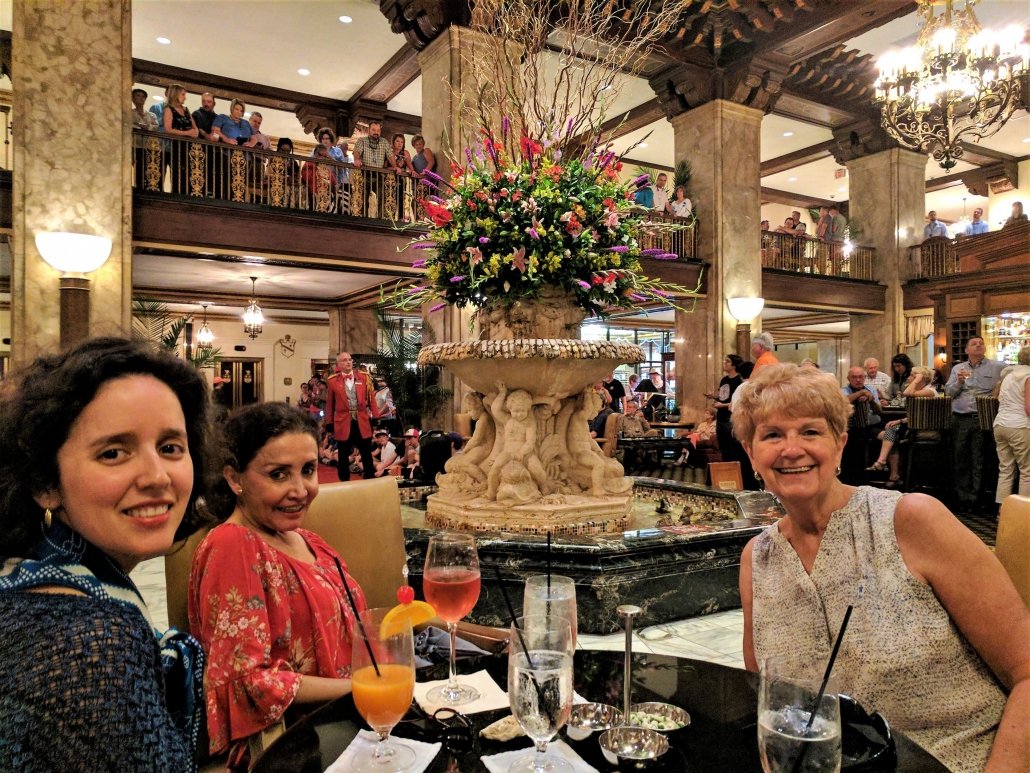 The Peabody Ducks– The Peabody hotel has been made world-famous for its five resident Mallard ducks, who march daily through the Grand Lobby at 11 am and 5 pm. The tradition of the ducks in The Peabody fountain began back in the 1930's, but it was 1940 when Bellman Edward Pembroke, a former circus animal trainer, offered to help with delivering the ducks to the fountain each day and taught them the now-famous Peabody Duck March. The march became a firm favourite, attracting crowds every day and was even featured on television for a while. Today, the spectacle is still as popular, and the lobby fills up with hundreds of eager visitors. To get a table in the lobby and avoid standing shoulder to shoulder, we found that we had to arrive by 4pm in order to see the afternoon performance. Children are allowed to line the passageway that runs from the fountain to the elevator (yes, the ducks are herded into the elevator!). Other good vantage points seemed to be along some parts of the first floor balcony.
Address: 149 Union Ave, Memphis, TN 38103
---
Bass Pro Shops at the Pyramid– On the face of it, the idea of a shop selling outdoor gear being a highlight of a visit to Memphis seems ridiculous but trust us – you must visit this place. The massive Pyramid shaped building is 535,000-square-foot and features something for everyone. As well as being a store, the Pyramid includes a wilderness hotel called Big Cypress Lodge, nearly 600,000 gallons of water features, a cypress swamp with 100-foot-tall trees, an 84,000-gallon alligator habitat, and underwater ecosystems including aquariums teeming with more than 1,800 fish, the interactive Ducks Unlimited Waterfowling Heritage Center, Uncle Buck's Fishbowl and Grill (in which we had a very nice meal), a nautical-themed restaurant and bar with a saltwater aquarium and a 13-lane ocean-themed bowling alley, Beretta Fine Gun Center, the nation's tallest 28-Story Freestanding Glass Elevator and The Lookout, a breathtaking glass-floored cantilevering observation deck at the top of the 32-story steel Pyramid which gives a great view over Memphis and the Mississippi. Entrance to the store is free, but please note that a ride up the elevator to the observation deck cost us $10 (kids can ride for $5 until 4 p.m.), but it was definitely worth it.
Address: 1 Bass Pro Dr, Memphis, TN 38105
---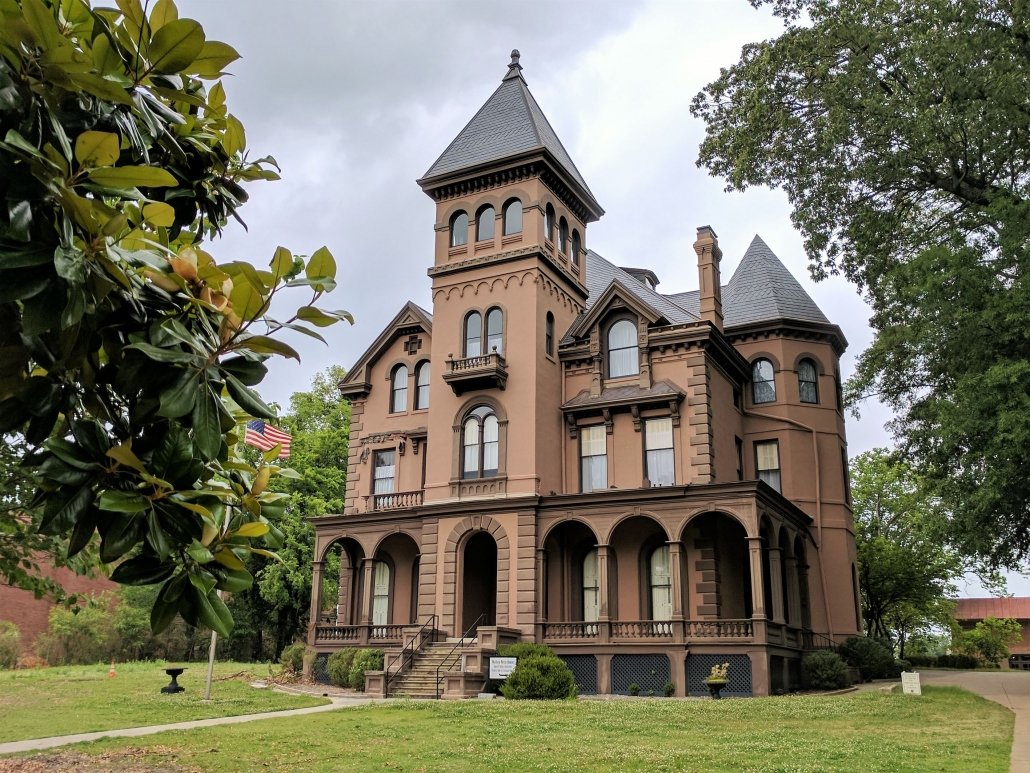 Mallory-Neely House– The Mallory-Neely House is one of Memphis' treasured historic sites, having been built in 1852. Inside, the house is magnificent, with the décor and furnishings dating to circa 1890 and include pieces that were bought at the World's Columbian Exposition in Chicago in 1893 and later from the St. Louis World's Fair in 1904.
Address: 652 Adams Ave, Memphis, TN 38105
---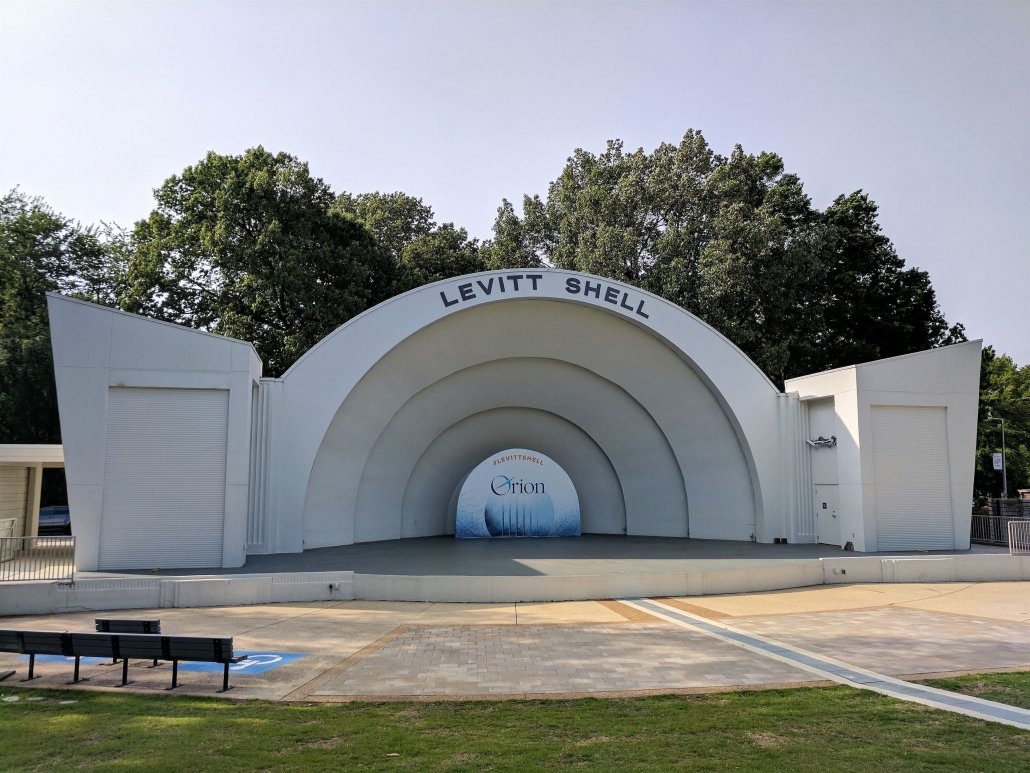 Levitt Shell– The Levitt Shell (formerly Overton Park Shell and Shell Theater) is an open-air amphitheatre located in Overton Park. The Levitt Shell was built in 1936, but its claim to fame is that Elvis Presley gave his first paid concert there on July 30, 1954, when he opened for headliner Slim Whitman, and performed what music historians call the first-ever rock and roll show. The amphitheatre is open to the public and you can even get up on to the stage, gyrate your hips and pretend to be Elvis – not that we did that, obviously!
Address: 1928 Poplar Ave, Memphis, TN 38104
---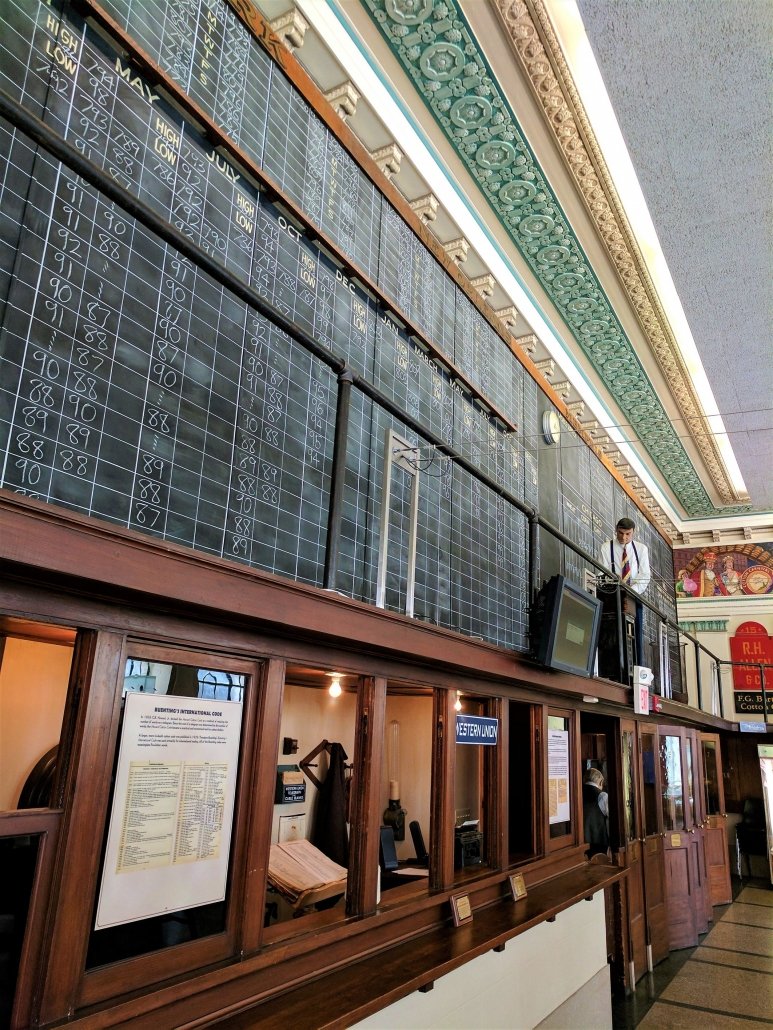 The Cotton Museum at the Memphis Cotton Exchange– The Cotton Museum tells the story of how Memphis came to be. Just five minutes' walk from Beale Street, we found that this small museum was a great place to learn about Memphis' cotton history. The main exhibit is located on the Historic trade floor of the Memphis Cotton Exchange- where cotton traders once stood at the center of the global cotton economy. Highlights include original films, detailing specific aspects of the cotton industry, and oral histories from individuals involved.
Address: 65 Union Ave, Memphis, TN 38103
---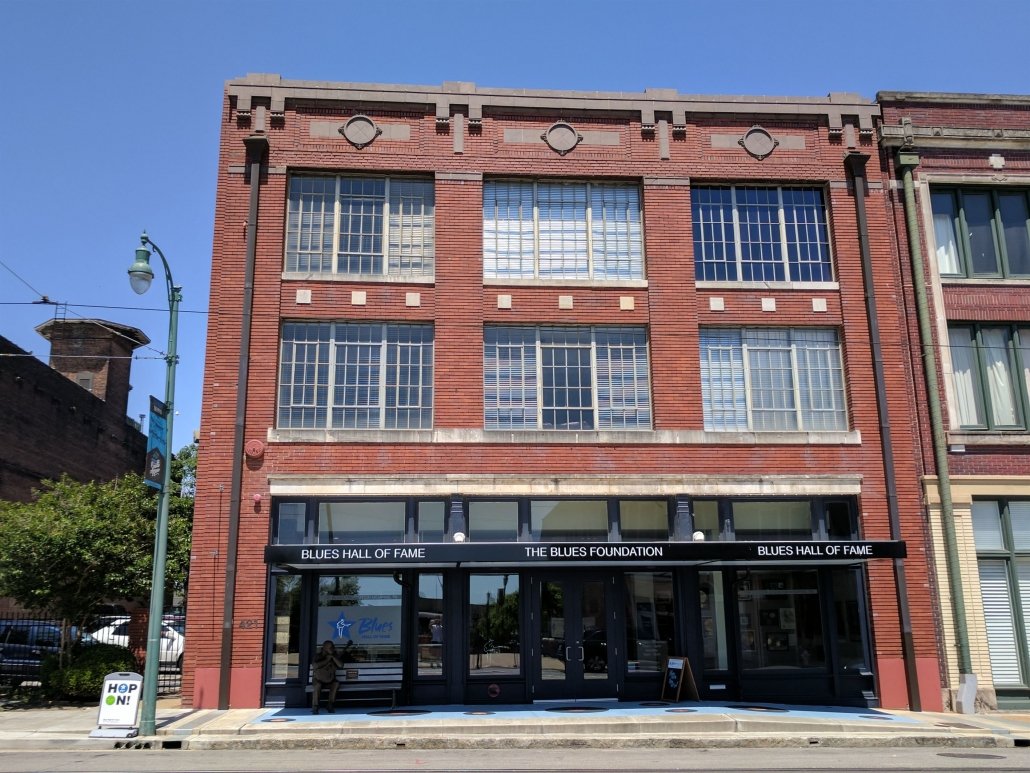 Blues Hall of Fame– Just across the road from the National Civil Rights Museum, The Blues Hall of Fame honours the great singers and music industry notables who have made the Blues so successful. Since 1980, The Blues Foundation has inducted over 350 people. We found that it only took us around half an hour to see this museum, but if you are a big fan of the Blues, there is certainly enough here to spend an hour or two.
Address: 421 S Main St, Memphis, TN 38103
---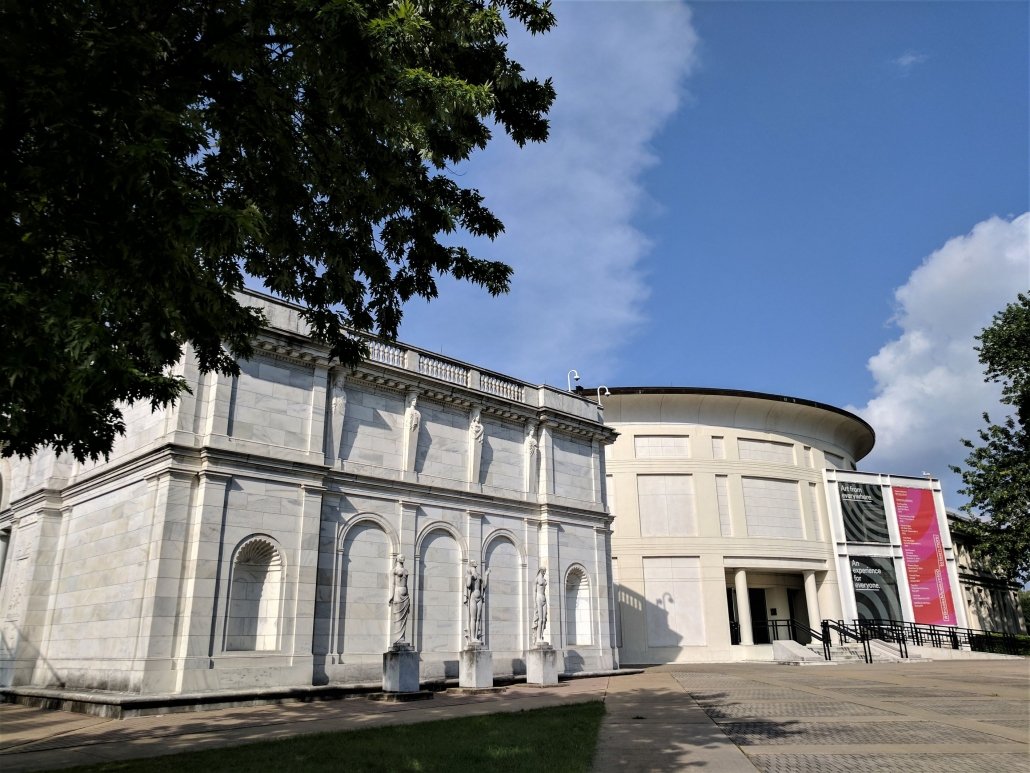 Memphis Brooks Museum of Art– Memphis Brooks Museum of Art is an art museum, which was founded in 1916, and is the oldest and largest art museum in the state of Tennessee. The museum is located beside the Levitt Shell, so the two destinations are ideally placed to visit together. The museum boasts of over seven thousand works of art, including paintings, sculptures, drawings, prints, photographs, and examples of the decorative arts. The building itself is a work of art, having been built in the Beaux-Arts style by James Gamble Rogers.
Address: 1934 Poplar Ave, Memphis, TN 38104
---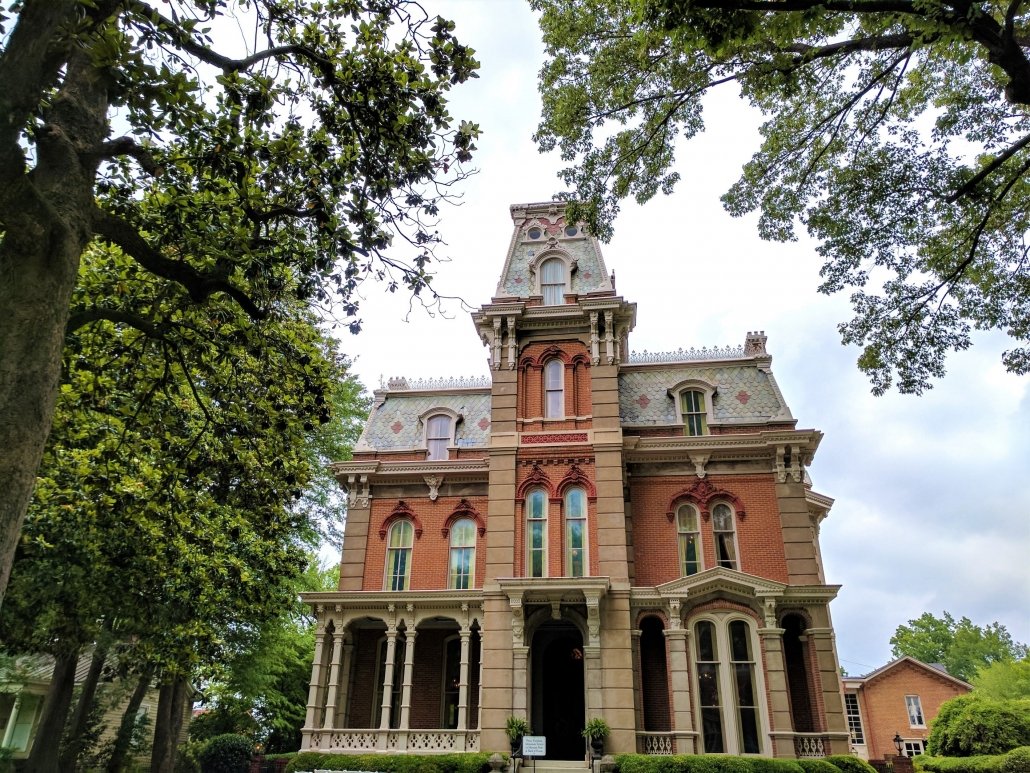 Woodruff-Fontaine House– The Woodruff-Fontaine House was built by Amos Woodruff in 1871 and is just a couple of doors down from the Mallory-Neely House, so it makes an ideal partner to visit at the same time. As well as the stunning architecture and beautiful interiors, the Woodruff-Fontaine House lays claim to one of the most extensive Victorian era fashions to 1920's textile collections in the South. They have over 4,100 pieces in their collection from wedding gowns to undergarments and everything in between. Only a small part of the collection is visible to visitors at any one time, but it is still a fascinating time capsule.
Address: 680 Adams Ave, Memphis, TN 38105
---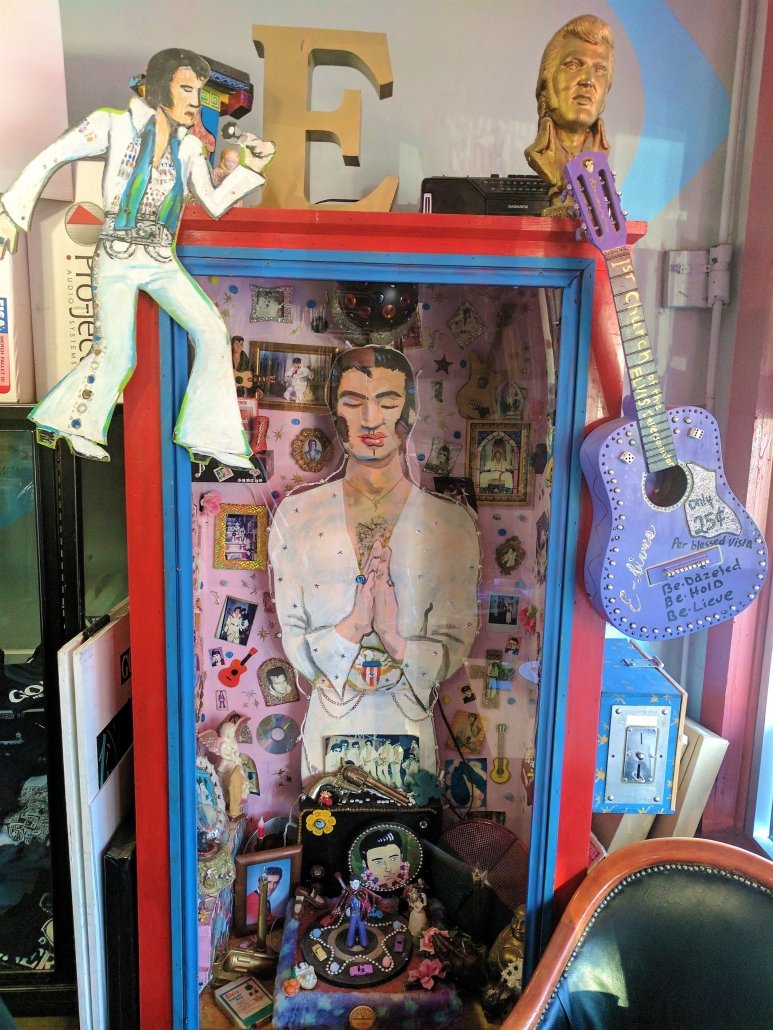 Cooper-Young Historic District – Cooper-Young is a neighbourhood and historic district in Midtown and can be found around the intersection of Cooper Street and Young Avenue. We enjoyed our walk through the district and found it to have a fun and eclectic vibe. It was easy to see why, in 2012, Cooper-Young was listed on the American Planning Association's 10 Great Neighbourhoods in the U.S list. There are many cool, creative and funky shops, bars and restaurants. Our favourite had to be Goner Records. This store is an Aladdin's cave of music in a variety of formats including LP, CD, 45 and 78, but the highlight is definitely its "Elvis Impersonator Shrine."
Address: Young Ave, Memphis, TN 38104
---
Where to Eat: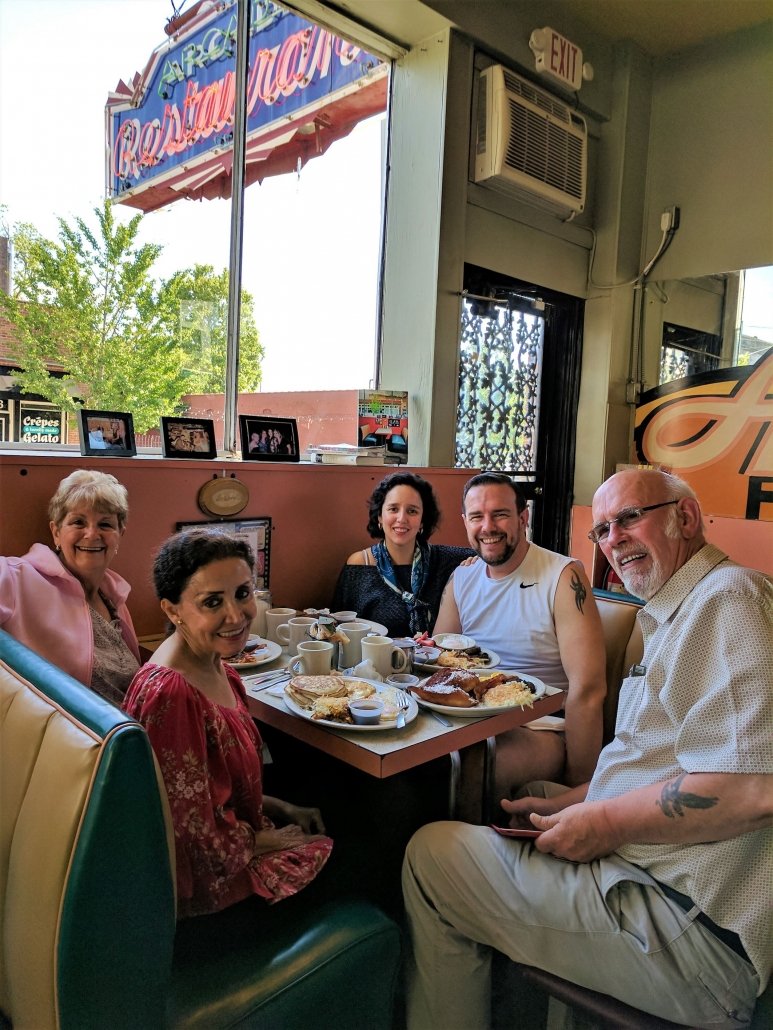 Arcade Restaurant – The Arcade is the oldest cafe in Memphis and the classic retro decor hasn't changed in years. The café, which was established in 1919, has a great reputation for food and is still family owned to this day. What really brought us to the Arcade, however, is its connection to Elvis. He would often frequent the Arcade and had a favourite booth towards the back of the café. We booked the booth (you can book up to three months in advance) to ensure we sat in the historic seats and ordered classic southern breakfast treats such as sweet potato pancakes. A breakfast at the Arcade really sets you up for a great day of Memphis sightseeing. As well as its connections to the King, we were also interested to learn that scenes from Mystery Train, Great Balls of Fire, The Client, The Firm, 21 Grams, Elizabethtown, Walk the Line, and My Blueberry Nights, just to name a few, have all been filmed in the restaurant. However, other than ours, there were no cameras at the restaurant on the morning that we visited!
Address: 540 S Main St, Memphis, TN 38103
---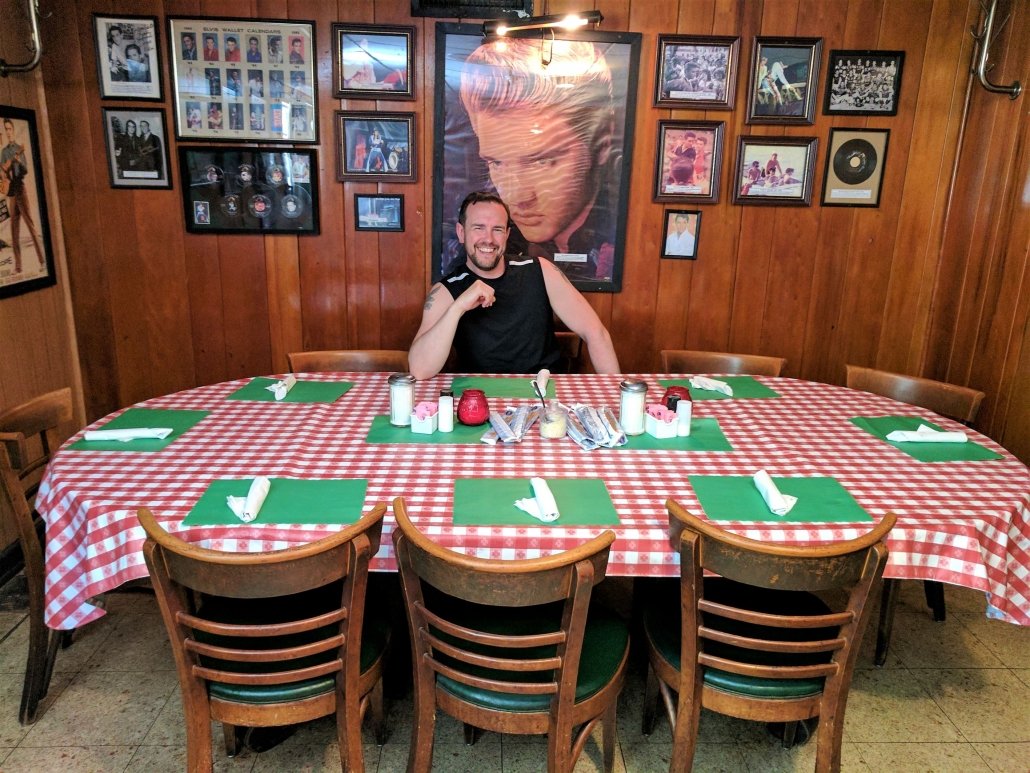 Coletta's Restaurant – Another Memphis eatery with strong ties to Elvis is Coletta's Restaurant. This Italian bistro is a Memphis institution that first opened its doors in 1923 and it is claimed to be the originator of the barbecue pizza. By many accounts, it was this very pizza that was Elvis' favourite even though the King was said not to be fond of barbecue, itself. Of course, we had to order the barbecue pizza, and can report back that it was fantastic – however, beware the portion size, as it is remarkably filling!
Address: 1063 South Parkway East, Memphis, TN 38106
---
Beauty Shop – Located in the hip Cooper-Young Historic District, The Beauty Shop is a whimsical New American eatery & bar in a former '60s beauty parlour complete with hair-dryer chairs.
Address: 966 Cooper St, Memphis, TN 38104, USA
---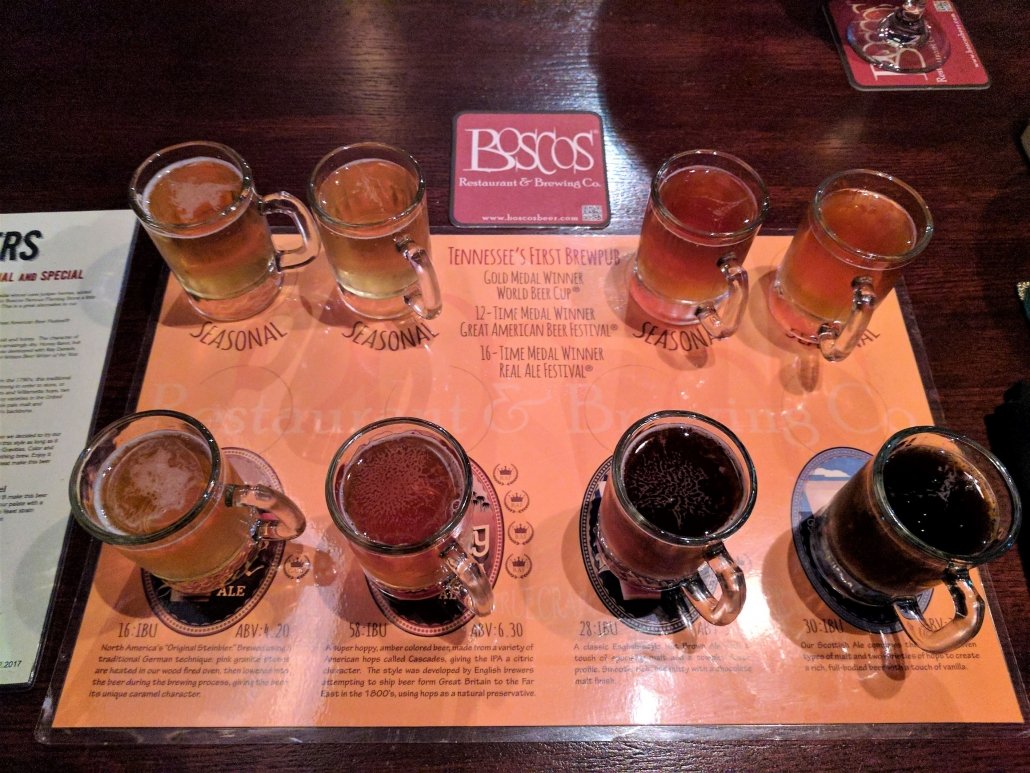 Boscos – The Overton Square area of Memphis is a great place to go dine. We found that the pick of the restaurants here was Boscos. Not only did we taste our first alligator stew here, Boscos also offers great locally brewed craft beers, cask ales & wood-fired pizzas.
Address: Overton Square, 2120 Madison Ave, Memphis, TN 38104, USA
---
A Schwab, soda fountain – While walking down Beale Street, make sure you visit A Schwab's and step back in time at this great old fashioned Soda Fountain. They offer gelato in freshly made waffle cones, milkshakes, malts, phosphate sodas with homemade syrups. In 1876, Jewish immigrant Abraham Schwab opened a store on Beale Street. Over its 138-year history, A. Schwab has become a Memphis institution. A. Schwab is the only original business remaining on Beale Street.
Address: 163 Beale St, Memphis, TN 38103
---
B.B. Kings Blues Club – Also on Beale Street, where the great B.B. King made his name as a young musician, is the original B.B. King's Blues Club. We went for a meal and enjoyed a variety of filling Southern favourites and were also entertained by a number of great live bands. It's a popular place, so be sure to make a reservation to avoid disappointment.
Address: 143 Beale St, Memphis, TN 38103
---
Where to Stay:
Super 7 Inn Memphis-Graceland Hotel – Budget Price – Ideally situated for a trip to Graceland, being only a two-minute drive away.
Address: 1117 E Brooks Rd, Memphis, TN 38116, United States
---
Best Western Plus Gen X Inn – Moderate Price – Located in a lively nightlife area with music venues & long-running theaters, plus Memphis Zoo in Overton Park is close too.
Address: 1177 Madison Ave, Memphis, TN 38104, United States
---
The Peabody – Luxury – The Peabody is legendary for its charm, elegance, and gracious Southern hospitality. The luxurious downtown hotel opened in 1869 and is on the National Register of Historic Places and continues to carry the distinction as the "South's Grand Hotel."
Address: 149 Union Ave, Memphis, TN 38103
---
Hints, Tips and Useful Information:
Respect: Shaking hands is the usual form of greeting in formal situations and in business meetings. A relaxed and informal atmosphere is usually the norm. As a rule, dress is casual. High-end restaurants, hotels and clubs may require more formal attire.
Electricity: 120 volts AC, 60Hz. Plugs have two flat pins with or without a third round grounding pin.
Currency: US Dollar (USD; symbol $) = 100 cents. Notes are in denominations of $100, 50, 20, 10, 5, 2 and 1, though the $2 bill is rare and is not in high circulation. Coins are in denominations of $1, and 50, 25, 10, 5 and 1 cents.
Language: Over 90% of Memphis residents speak only English. The largest non-English language spoken is Spanish, which is spoken by around 6% of the population.
Religion: Around 65% of Memphis inhabitants are practice religion, with most of those following the Christian faith.
Telephone dialling code: +1
Emergency numbers: For emergency police, fire or medical services in major cities, dial 911.
Internet: There are internet cafes in most urban areas, and an increasing number of Wi-Fi hotspots. Many coffee shops offer free Wi-Fi.
Public Transport: The Memphis Area Transit Authority's (MATA) green buses cover three main routes in the downtown area. A one-way ticket on the trolley is only $1 and $3.50 for an all-day pass. 3-day passes are available for $9. The MATA citywide bus system can get you nearly anywhere in the city of Memphis. Covering over 300 square miles, the MATA bus has 33 routes and thousands of bus-stops throughout town.
Transport – Taxis: Zip Cars, Uber and Lyft are operated within Memphis. Aside from at the airport or on Beale Street, there are rarely regular taxis sitting around waiting for fares, so it is best to call for one.
Transport – Driving: Strictly enforced speed limits are signposted and vary from 15mph in school zones to 35mph in built up areas, and 55mph or 70mph on open roads. Driving while under the influence of alcohol is a major offence. If visiting from abroad, a full valid UK or EU license is all that is required to drive in Tennessee. An International Driving Permit on its own is not acceptable. Drive and front-seat passengers must wear seat belts and children under 4 years of age must be restrained in a suitable car seat.
Motorbikes crash helmets are required to be used on public roads and highways.
Climate: The weather is hot and sunny from May to August, though temperatures can remain high into October. Winters (November through February) tend to be cool and wet.
Water: Tap water is considered safe to drink in the US and is often offered in restaurants before bottled water. Bottled water is available throughout the country.
Smoking: All restaurants and bars must be smoke free, unless they deny access to minors. At least 75% of hotel and motel rooms must be nonsmoking.
Alcohol Consumption: In Tennessee it is against the law for minors (anyone under 21) to buy, attempt to buy, or possess alcoholic beverages. Within the Beale Street historic district, patrons can carry an open container on public streets and between bars. No special license is needed – the bar or restaurant just needs to be located in the historic district.
The special Beale Street law also authorizes the sale of alcohol after the typical 3 am last call. State law allows Memphis to set last call on Beale Street, but currently, Beale Street closes at 3 am.
Tipping: Memphis is like most major American cities and tipping is customary. A tip should be given to taxi drivers, hotel workers, waiters and bartenders. Tips between 10% and 20% are customary. Luggage handlers are usually tipped $1 to $2 per bag. A $1 to $2 tip is customary for parking lot attendants and valets. When tipping for maid service, $1 to $2 per day or $5 to $10 per week is a good guideline.
Health & Vaccinations: The US is generally considered a safe destination for world visitors. Occasional outbreaks of disease, such as West Nile Virus (a mosquito-borne illness) and H1N1 have occurred in recent years, however.
North America
United States