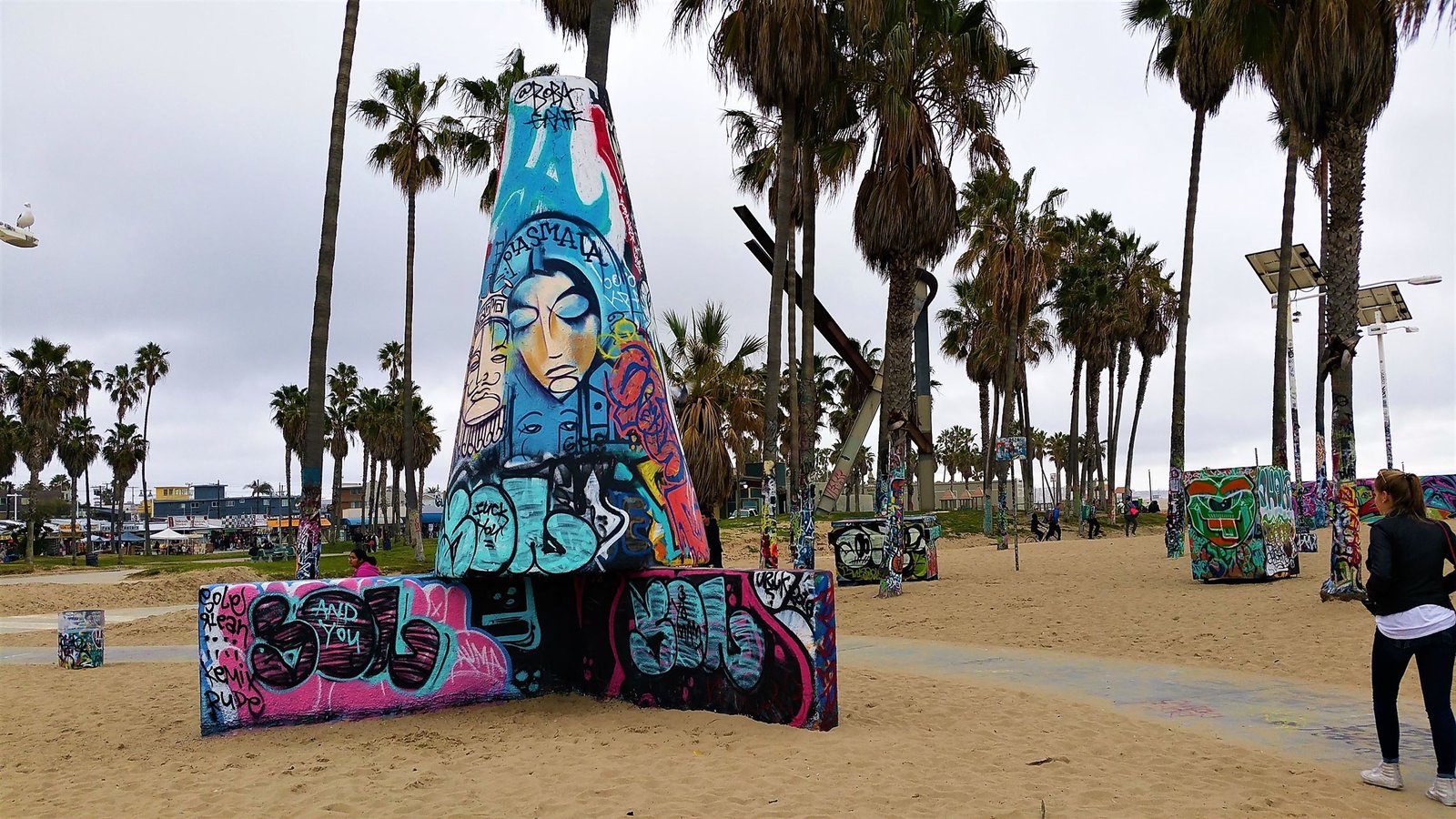 09 Aug

Santa Monica and Venice Beach, California – Travel Guide

When visiting Los Angeles, we knew while planning our itinerary that we would have to make a trip to the famous beachside resorts of Santa Monica and Venice, as well as a quick foray into the Pacific Palisade's neighbourhood to the north.

This west coast area has many attractions for the visitor, but it also had a special draw for us, because this was where the iconic rock group The Doors formed and developed. The Los Angeles area is a great place for music tourism, and, as we found out, it is great to have a theme for your itinerary, while you take in all that an area has to offer.

Santa Monica is actually a city in itself, being bordered by the city of Los Angeles, and is a walkable 8.3 square miles. The city is handily only 8 miles from LAX airport and 16 miles from Downtown LA and a good base for exploring the region. Santa Monica had long been inhabited, first by the indigenous Tongva people then the Spanish / Mexicans, but it was not until the railroad, connected Santa Monica with Los Angeles in the 1870s that the town really developed. Soon the town was attracting many visitors to its beaches and its pier, which was constructed in 1909.

Venice had a similar story and was founded in 1905 as a seaside resort town. It was an independent city until 1926, when it merged with Los Angeles. Today, Venice is known for its canals, beaches, and the circus-like Ocean Front Walk.

5 Unmissable Attractions: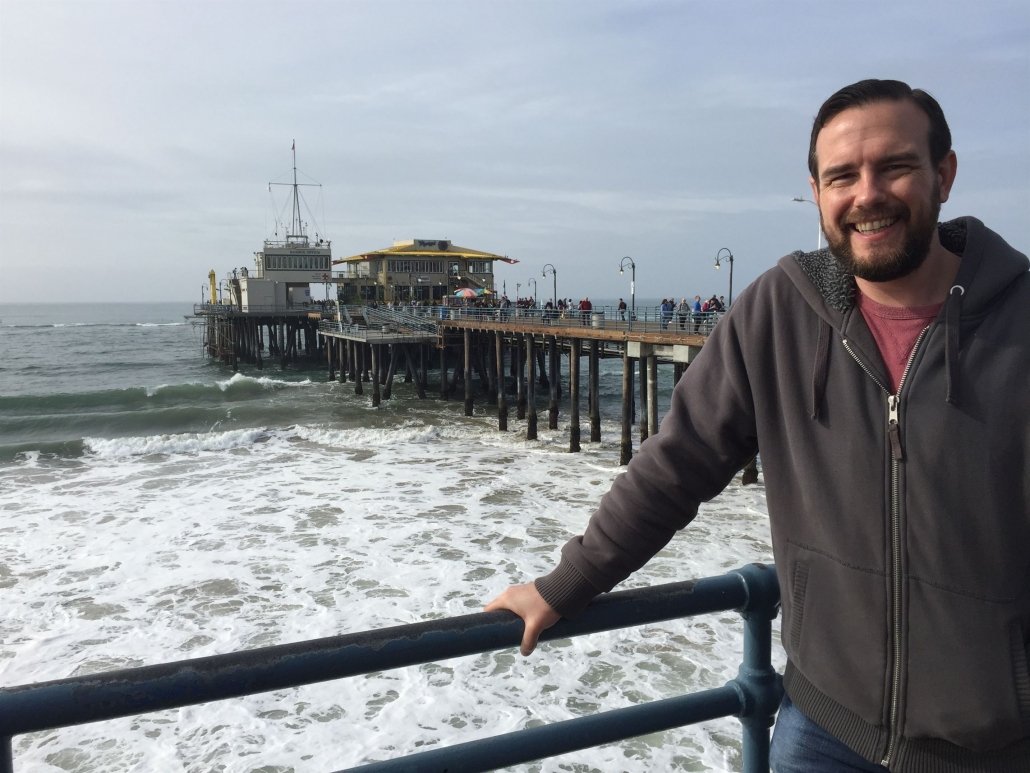 Santa Monica Pier & Pacific Park – The most renowned landmark in Santa Monica is undoubtedly its pier and the amusement part that sits atop it. Along with many tourists, we made a beeline for this jetty and found that there was plenty to do and see along the wooden planks. Over 100 years old, the pier has many shops, entertainers, arcades, pubs and restaurants. The extremity of the pier is a little quieter and very popular with anglers. We even saw several seals bobbing up and down playfully for the onlookers. The amusement area, Pacific Park, has a total of thirteen rides, including the world's only solar powered Ferris wheel that provides a view of the Pacific Ocean and a roller coaster that circles the majority of the park. For fans of The Doors, check out the area beneath the pier, and see the area where Jim Morrison wrote some of his poetry!
Address: 200 Santa Monica Pier, Santa Monica, CA 90401, United States
---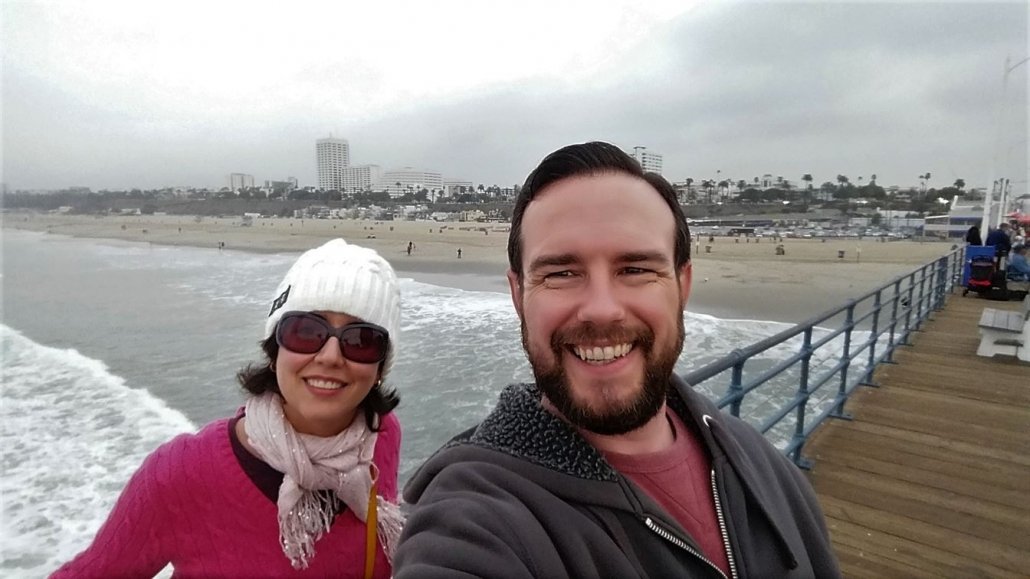 Santa Monica State Beach – Having visited Santa Monica State Beach in January, we found that it wasn't really sun-bathing weather, but it is still a beautiful, wide beach, over 3.5 miles long. The beach is well serviced and ideal for the family, with there being many parks, picnic areas, playgrounds, restrooms, as well as manned lifeguard stations along the length of the sandy shore. At the time of year we visited, the most popular activity seemed to be renting a bike and riding along the coast, down to Venice.
Address: Santa Monica, CA 90403, United States
---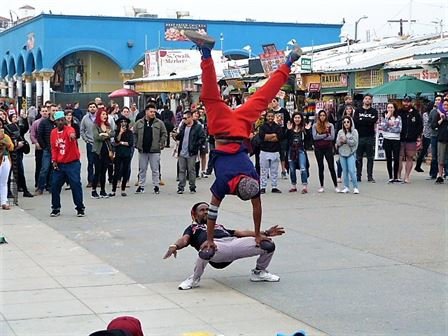 Venice Beach Boardwalk – Santa Monica's beach heads south, merging seamlessly with Venice Beach and the Boardwalk that runs parallel to it. The Boardwalk is about one a half mile long, with the west side of the "walk" being home to hundreds of street vendors and performers. As the Venice tourist board says, "You can see everything from break-dancing to broken glass walking. Mimes to musicians, jugglers to jesters and everything in between make up the human landscape. You can have your fortune read, get a temporary tattoo or have your name written on a grain of rice." We found that there was so much to see and do here that you could have easily spent all day checking out the performers and little craft shops.
Address: Ocean Front Walk, Los Angeles, CA 90292, United States
---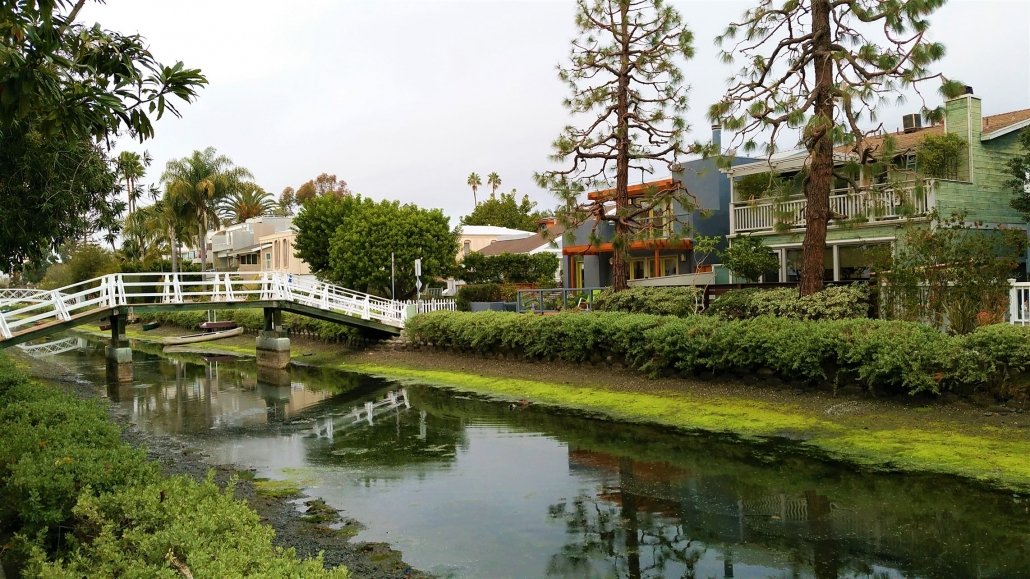 Venice Canals Walkway – When visiting this area, it is easy to see why Venice was named as such. The canals are lined by a mix of contemporary and classic homes, with paths either side and quaint bridges spanning the waters. We found that the Venice Canals was a lovely area to walk round. Unfortunately, Los Angeles was in the middle of a drought when we visited, leading to the waters being very low, but it was still a memorable place to us. We were fascinated to learn that the entrepreneur Abbot Kinney came up with the idea of developing the original wetlands into man-made canals back in 1904, on land which he had won in a coin toss!
Address: Venice, Los Angeles, CA 90292, United States
---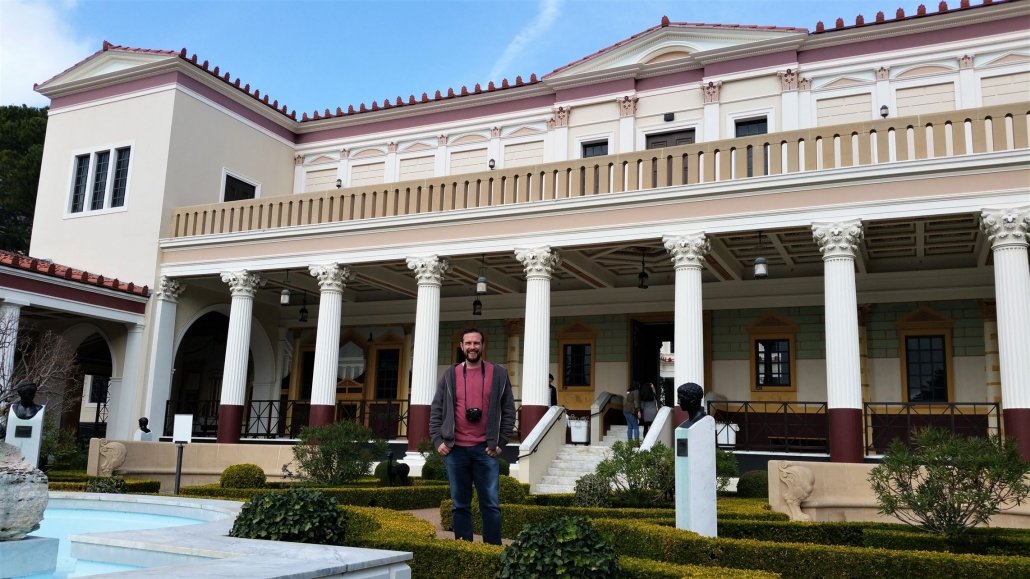 The Getty Villa – To the north of Santa Monica lays the neighbourhood of Pacific Palisades, an area which boast the palatial villa of J. Paul Getty. Now a museum, the villa is dedicated to the study of the arts and cultures of ancient Greece, Rome, and Etruria. Plan to have half a day here, not only because the collection holds some 44,000 antiquities dating from 6,500 BC to 400 AD, but in order to enjoy and relax around this spectacular property.
Address: 17985 Pacific Coast Hwy, Pacific Palisades, CA 90272, United States
10 Hidden Gems:
---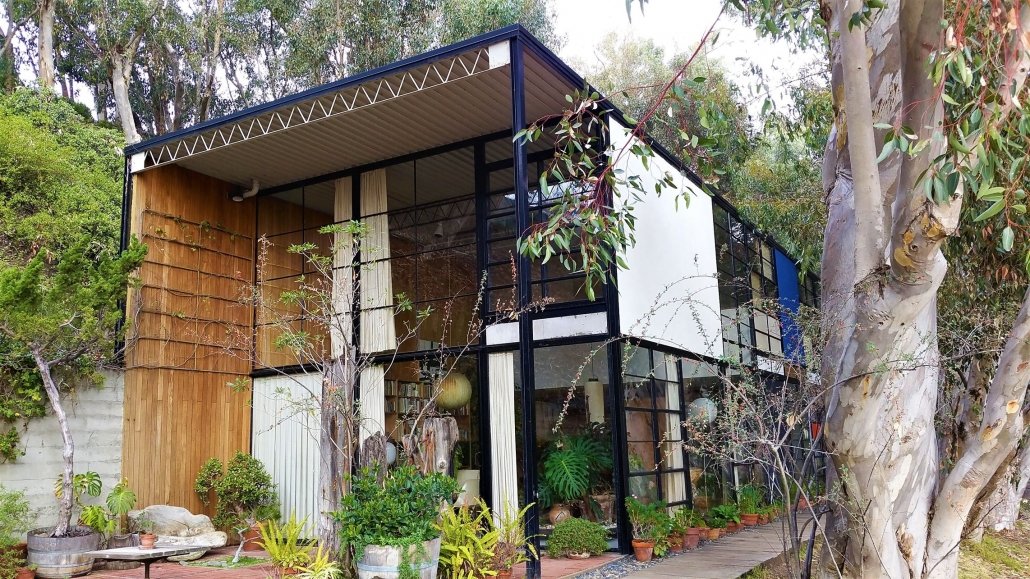 Eames Foundation – Los Angeles has many amazing, ground-breaking architectural homes from the 20th century, created by such celebrated architects as Frank Lloyd Wright and Pierre Koenig. Pacific Palisade's can boast one of these masterpieces, created by husband-and-wife design pioneers Charles and Ray Eames. The Eames House (also known as Case Study House No. 8) was constructed in an avant-garde style in 1949, and, perhaps unusually for such a building, was used for many years as a family home. Just minutes from Santa Monica, and an easy stop on the way to the Getty Villa, we spent a good hour marvelling at this architectural gem.
Address: 203 Chautauqua Blvd, Los Angeles, CA 90272, United States
---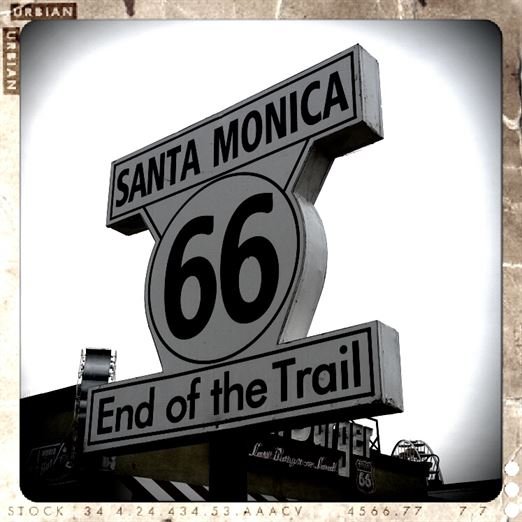 The End of Route 66 – It was a surprise to us when we visited Santa Monica Pier to find out that this was the end (or beginning) of Route 66. There is an Instagram pleasing Route 66 sign on the pier, as well as several souvenir stalls and information boards. This wasn't always the end of Route 66, as the road was not extended from Los Angeles to Santa Monica until 1936. Starting in 1956 the Interstate highway system was built, drawing traffic away from Route 66. This led to its decommissioning in 1964 as a U.S. Highway in this area.
Address: 330 Santa Monica Pier, Santa Monica, CA 90401, USA
---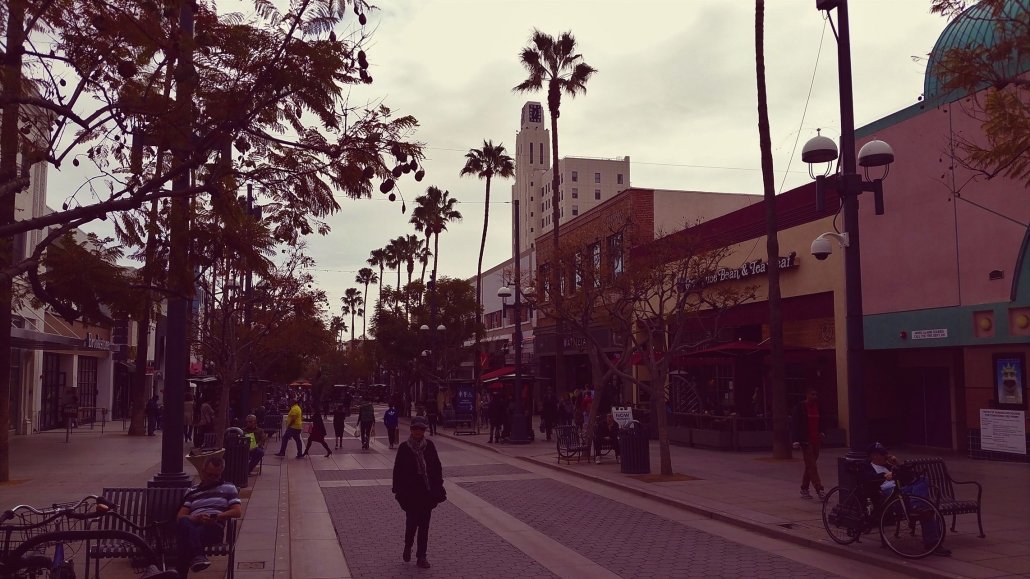 Third Street Promenade – Santa Monica has a very pleasant upscale shopping street called the Third Street Promenade, which also includes many dining and entertainment options. The Promenade's roots date back to the 1960s when three blocks of Third Street were converted into a pedestrian mall. A new enclosed shopping center, Santa Monica Place (1980–2007), designed by Frank Gehry was added at the Promenade's southern end.
Address: 1351 3rd Street Promenade #201, Santa Monica, CA 90401
---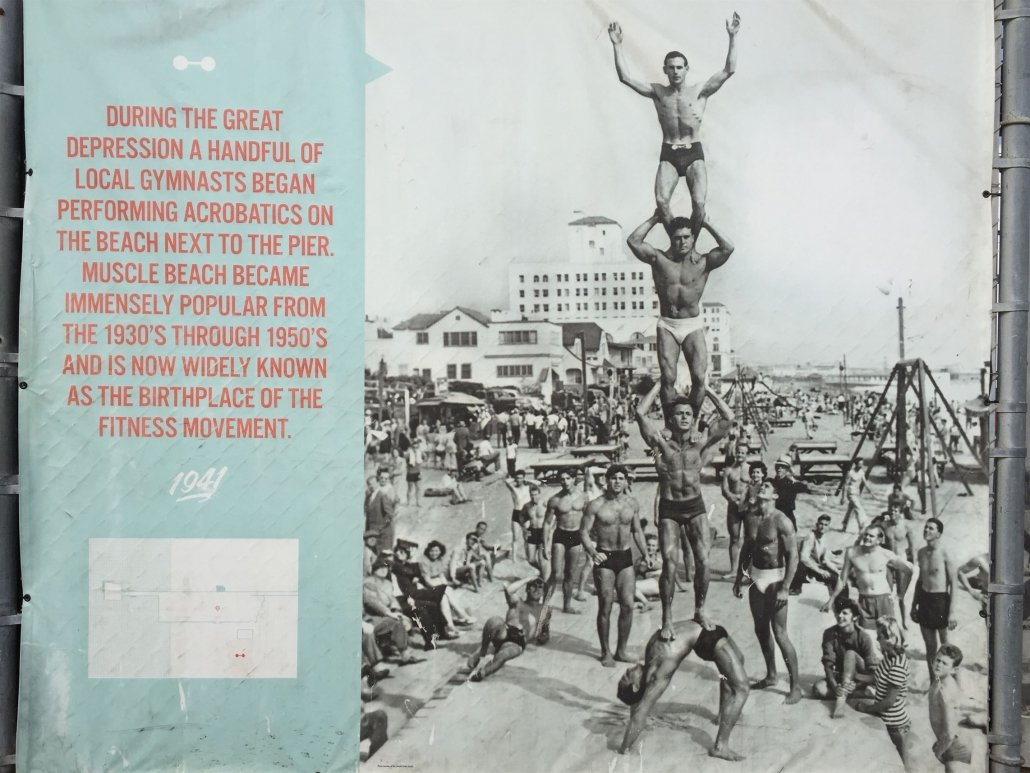 The Original Muscle Beach Venice Muscle Beach – We had heard of Venice's Muscle Beach, but we didn't realise that the original site for this iconic outdoor gym, dating back to the 1930's, was just south of the Santa Monica Pier. Today, the area contains many gymnastic bars for people wanting to have a workout. We were amazed to find out that just a week after we had visited, Conor McGregor, the MMA fighter, had one of his training days here! Conor joined and impressive list of athletes who had trained at the Original Muscle Beach, including bodybuilders such as Vic Tanny, Jack LaLanne and Joe Gold.
Address: Ocean Front Walk, Santa Monica, CA 90401
---
Abbot Kinney Boulevard – The main shopping and entertainment street in Venice, Abbot Kinney Boulevar, is named after the founder of the settlement. The boulevard has some of the finest restaurants, unique art galleries, prestigious wine shops and exciting nightlife.
Address: Abbot Kinney Blvd, Venice, CA 90291, USA
---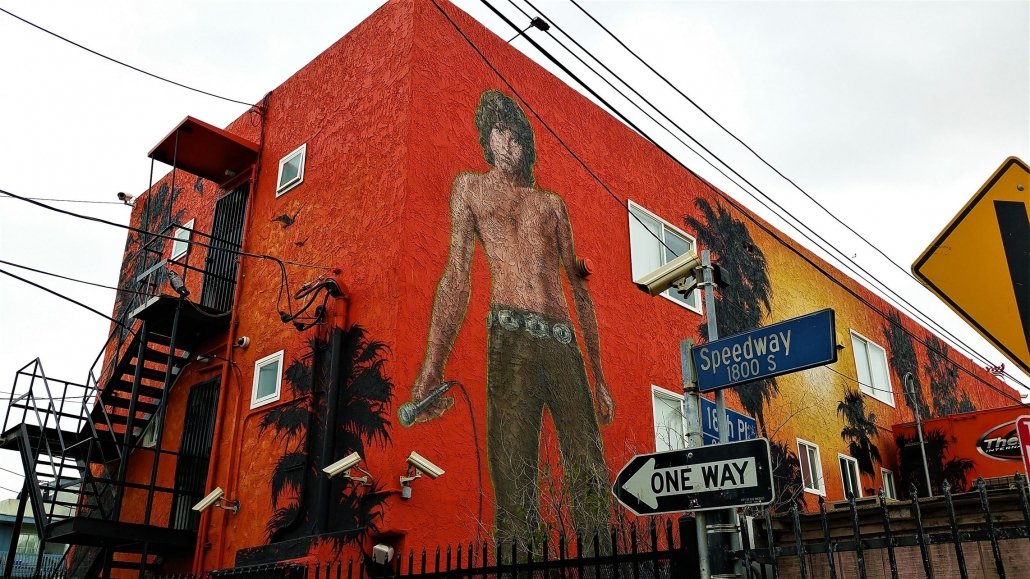 Venice Street Art – While wandering the Venice Beach Boardwalk and the streets parallel, we couldn't help but see the fantastic street art murals. Always one of our favourite things to check out wherever we travel, we found many great artworks here. Our favourite, unsurprisingly, just had to be the one of Jim Morrison!
Address: Various
---
The Venice Sign – The Venice Sign spans Windward Avenue at Pacific. The sign is a modern day replica of the one originally installed in 1905 by Venice's founder Abbot Kinney. It has become a defining symbol of Venice, past and present. In 2007, the Venice Sign Restoration Project recreated and installed the contemporary version of this historic sign.
Address: Pacific Ave & Windward Ave, Venice, CA 90291, USA
---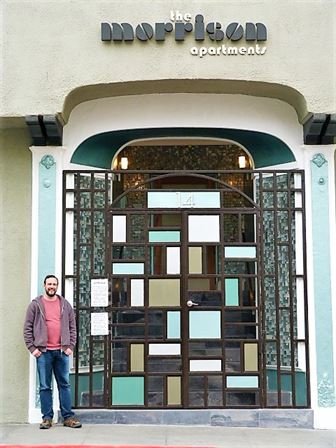 The Morrison Apartments – The Morrison Apartments are so called because during the summer of 1965, The Doors singer, Jim Morrison, stayed here at his friend's apartment and would sleep on the rooftop at night, finding inspiration and writing poems. The Morrison Apartments were not the only Doors inspired location that we visited. On the border between Santa Monica and Venice, we visited the ZJ Boarding House, which was the site of Olivia's restaurant, the inspiration for The Doors song Soul Kitchen. Then just around the corner from here was 147 Fraser Avenue, which was Ray and Dorothy Manzarek's first apartment, where Jim Morrison also lived for a time.
Address: 14 Westminster Ave, Venice, CA 90291, USA
---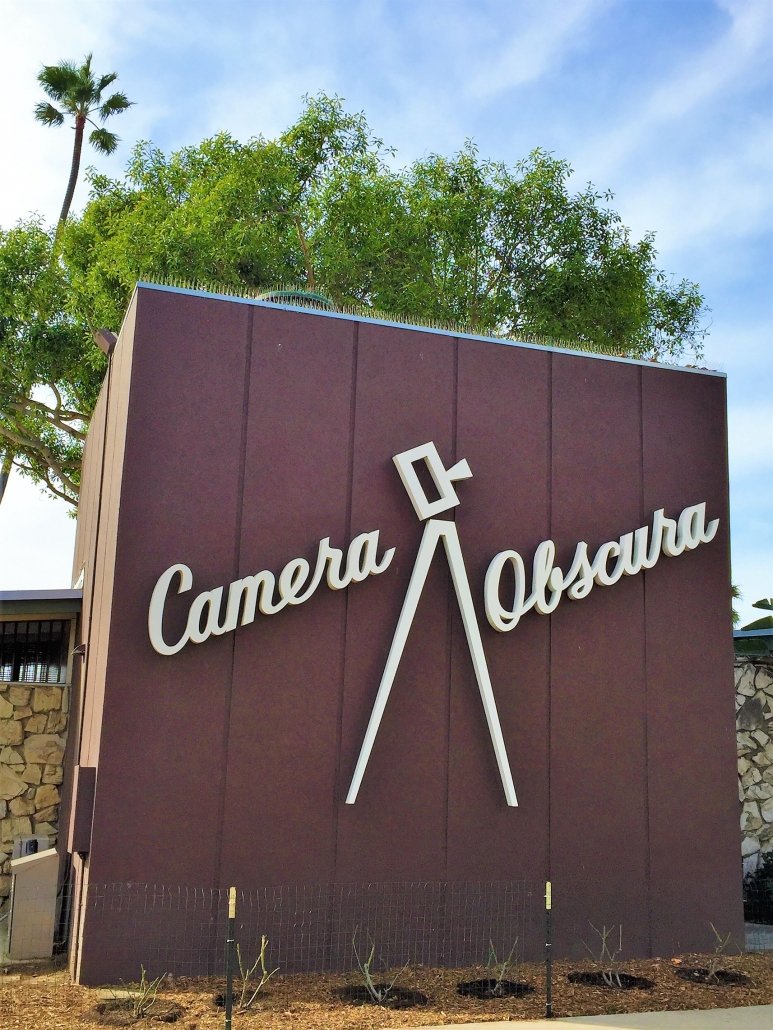 Camera Obscura – The Camera Obscura was built in 1898 by Mayor Robert F. Jones and is just a five minute walk from the Santa Monica pier. It was built to attract tourists and visitors, and the mechanism was moved to its current home in 1955. As well as visiting the Camera Obscura, the building hosts an arts community.
Address: 1450 Ocean Ave, Santa Monica, CA 90401, USA
---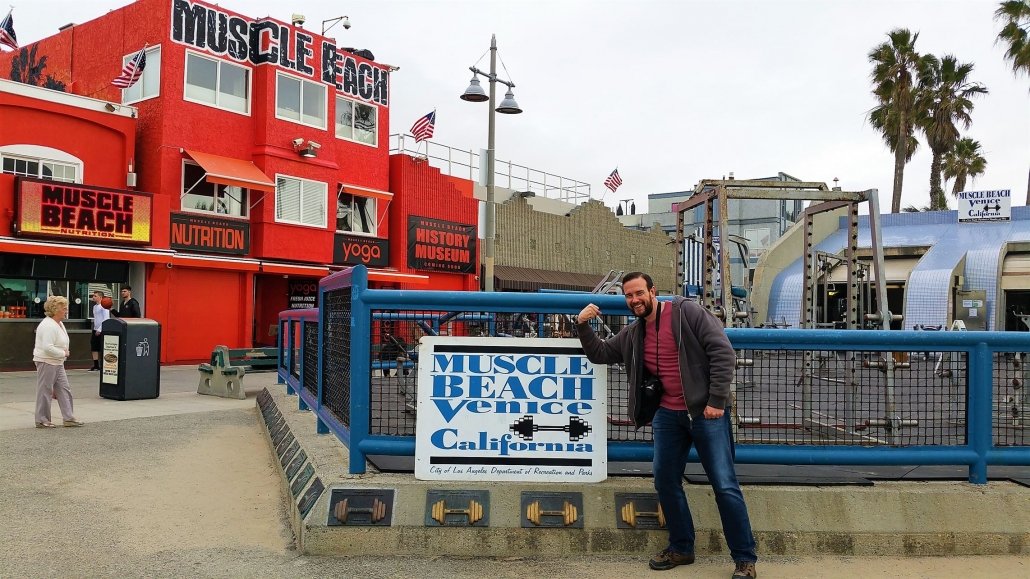 Venice Muscle Beach – Having visited the Original Muscle Beach, we of course had to visit the more famous Venice Muscle Beach. The weight area here was established in 1952 and was developed further a few years later. It wasn't until the weight platform was removed from its sister site in Santa Monica in 1959 that the bodybuilders moved south to Venice. It soon became the home of famous bodybuilders such as Arnold Schwarzenegger, Dave Draper, Larry Scott, and Danny Trejo.
Address: 1800 Ocean Front Walk, Venice, CA 90291, USA
---
Where to Eat:
Ye Olde King's Head – The Ye Olde King's Head has been one of the most recognizable British Pubs in the World since it opened in 1974 and is a great place for a beer or bar meal. However, our visit had a more historical reason. Before 1974, the bar was a live music venue known as Turkey Joint West, with its claim to fame being that it hosted Jim Morrison's first gig, when he sang with Ray Manzarek and his brothers in a band called Rick and the Ravens.
Address: 116 Santa Monica Blvd, Santa Monica, CA 90401, United States
---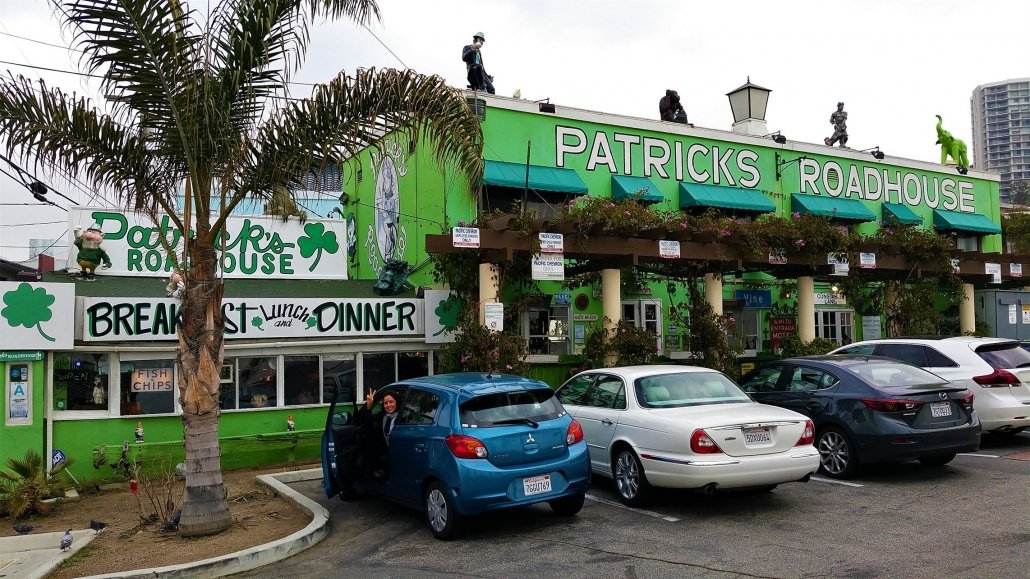 Patrick's Roadhouse – To be found just within Pacific Pallisades, Patrick's Roadhouse is a retro American diner with antiques hanging from the ceiling, serving hearty grub at a great price and large portion size. Established in 1973, Patrick's Roadhouse has a very unique and wonderful history. One of its most famous patrons was and still is Arnold Schwarzenegger. Indeed, you can order a "Governator" which is a large German breakfast first cooked by Arnold's mum for her son in the Roadhouse's kitchen. You can also sit in Arnold's iron chair, which he had made for the restaurant after one of the Roadhouse's chairs had collapsed under him!
Address: 106 Entrada Dr, Santa Monica, CA 90402, United States
---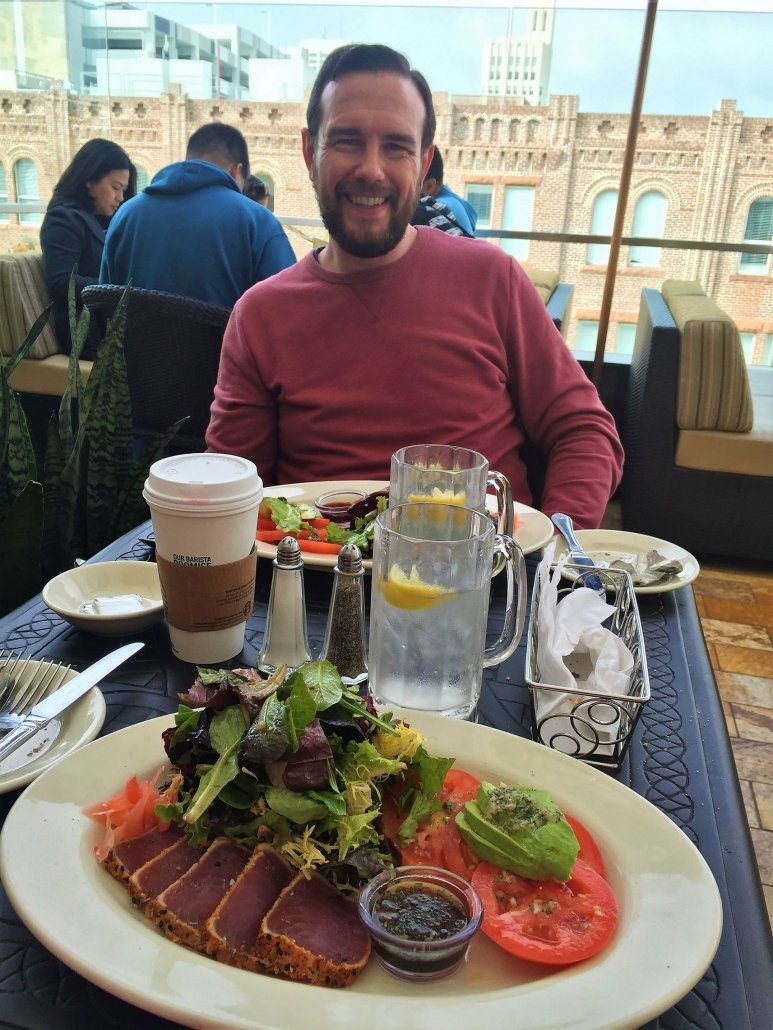 The Cheesecake Factory – The Cheesecake Factory is a large American chain of restaurants, but don't let that put you off. You can have a very healthy main course, then spoil it all by having a slice of amazing cheesecake!
Address: Located in Santa Monica Place, 395 Santa Monica Pier, Santa Monica, CA 90401, USA
---
Where to Stay:
Ocean Park Hotel – Budget Price – Basic hotel, just over three miles from the Santa Monica Pier, serviced by a Blue Bus stop just outside.
Address: 2680 32nd St, Santa Monica, CA 90405, USA
AIR Venice – Moderate Price – Overlooking Venice Beach, offering contemporary studios.
Address: 5 Rose Ave, Venice, CA 90291, USA
Shutters on the Beach – Luxury – Elegant hotel is a 9-minute walk from Santa Monica Pier.
Address: 1 Pico Blvd, Santa Monica, CA 90405, USA
---
Hints, Tips and Useful Information:
Respect: Shaking hands is the usual form of greeting in formal situations and in business meetings. A relaxed and informal atmosphere is usually the norm. As a rule, dress is casual. High-end restaurants, hotels and clubs may require more formal attire.
Electricity: 120 volts AC, 60Hz. Plugs have two flat pins with or without a third round grounding pin.
Currency: US Dollar (USD; symbol $) = 100 cents. Notes are in denominations of $100, 50, 20, 10, 5, 2 and 1, though the $2 bill is rare and is not in high circulation. Coins are in denominations of $1, and 50, 25, 10, 5 and 1 cents.
Language: Los Angeles is one of the most ethnically diverse cities in the United States. 224 languages are spoken in Los Angeles. Less than 50 percent of Los Angeles's population speaks English as their first language. Spanish is also a widely spoken first language in Los Angeles. Other languages that are commonly found are Korean, Filipino, Armenian, Chinese, and Persian.
Religion: Around 53% of the Los Angeles population affiliate with a religion. The majority of those are Christian, with Roman Catholics making up around 37% of the population.
Telephone dialling code: +1
Emergency numbers: For emergency police, fire or medical services in major cities, dial 911.
Internet: There are internet cafes in most urban areas, and an increasing number of Wi-Fi hotspots. Many coffee shops offer free Wi-Fi.
Public Transport: Los Angeles is home to one of the country's best public transportation networks, including subways, light-rail, buses and shuttles to nearly every corner of the Greater Los Angeles area. For more details, visit https://www.discoverlosangeles.com/travel/los-angeles-public-transit
Transport – Taxis: Because of LA's size and its traffic, getting around by can be expensive. Taxis are best booked over the phone, although some will be available outside airports, train stations, bus stations and major hotels. Fares are metered and vary by the company, although Uber, UberX and Lyft taxis can work out cheaper.
Transport – Driving: The minimum driving age in California is 16, and drivers must possess a valid U.S. or international driver's license. Speed limits and traffic rules are strictly enforced. If there are no posted signs, the maximum speed is 25 miles per hour on city streets and 65 miles per hour on freeways. California state law requires the use of seat belts in all private vehicles. A right turn on a red light after stopping is permitted unless otherwise indicated. Pedestrians have the right of way. Strict drunken driving laws are enforced in California. Anyone found driving under the influence of alcohol will be arrested.
Vehicles parked in violation of posted regulations are ticketed and towed very quickly. Before you park, be sure to carefully read all signs that state the days and times when parking restrictions are in effect. A red curb means no parking, a green curb indicates parking for a limited time only, and a white or yellow curb indicates passenger loading and unloading. Parking is often available in garages or parking lots for a fee. Many restaurants offer valet parking for a fee as well.
Climate: Los Angeles enjoys a mild Mediterranean climate — moderate temperatures with low humidity year-round. Midday readings average 80 degrees from June to October and 70 degrees between November and May. The rainy season is between November and March, when a few rainy days are typically followed by many days of brilliant sunshine and clear bright skies. Summer's warmth is often tempered by pleasant sea breezes, especially near the ocean. Evenings are cool, even in summer.
Water: Tap water is considered safe to drink in the US and is often offered in restaurants before bottled water. Bottled water is available throughout the country.
Shopping: Many stores are phasing out plastic bags, so it is a good idea to bring a reusable shopping bag. You may be charged 10 cents per plastic bag.
Smoking: Smoking is prohibited in most buildings in Los Angeles. In restaurants within Los Angeles County, smoking is allowed in outdoor dining sections only.
Alcohol Consumption: The minimum age for purchasing alcohol is 21. Proof of age and identification may be required. Liquor may not be served, purchased or consumed in public establishments from 2 a.m. to 6 a.m.
Tipping: Los Angeles is like most major American cities and tipping is customary. A tip should be given to taxi drivers, hotel workers, waiters and bartenders. Tips between 10% and 20% are customary. Luggage handlers are usually tipped $1 to $2 per bag. A $1 to $2 tip is customary for parking lot attendants and valets. When tipping for maid service, $1 to $2 per day or $5 to $10 per week is a good guideline.
Health & Vaccinations: The US is generally considered a safe destination for world visitors. Occasional outbreaks of disease, such as West Nile Virus (a mosquito-borne illness) and H1N1 have occurred in recent years, however.
North America
United States