07 Feb

Steamboat Springs, CO – Travel Guide
Steamboat Springs, Colorado USA
---
Steamboat Springs Colorado is located in Northwest Colorado roughly 50 miles from Wyoming and 130 from Utah.
Western heritage has deep roots in Steamboat Springs. Cowboy hats, cowboy boots, and pickup trucks are tools of a ranching community that goes back generations.
Skiing came in the 1960s and brought with it a new dynamic and group of adventurous people. Winter recreation brought notoriety to the valley, and tourism, which had always drawn visitors, began to grow steadily until the 80s when it started to roar.
Currently, the Steamboat ski area gets over one million skier visits a year but ask anyone that has spent more than four seasons in the Yampa Valley, and they will tell you that people come for the winters, but stay for the summers.
Following is a brief guide of what to do, what not to miss, and why you should visit Steamboat Springs in the Yampa Valley.
** For clarification – Steamboat Springs is a town and a community. Steamboat is a ski area.
Winter
On average, the Yampa Valley receives over 12 feet of snowfall each year. Although each fall and spring are different, the snowpack at Steamboat Springs can top ten inches as early as October and as latCe as April.
Skiing is not the only activity but possibly the best known. There are two ski areas in Steamboat Springs.
Steamboat Ski Resort – Home of Champagne Powder
Click here to download the Steamboat trail, base, and grooming map.
Elevation
Base: 6,900 feet (2,100 m)
Summit: 10,568 feet (3,221 m)
Vertical Rise: 3,668 feet (1,118 m)
Trails
Area: 2,965 acres (12.00 km2; 4.633 sq mi)
Trails: 169 in total (14% beginner, 42% intermediate, 44% advanced)
Longest Run: "Why Not" ~ 3 miles (4.8 km)
Terrain Parks: 6 (including Mavericks Superpipe)
Average Annual Snowfall: 400 inches (1,000 cm)


For more information including trail dates, stats, cams, ticket sales, visit https://www.steamboat.com.
Howelsen Hill – North America's Oldest Operating Ski Area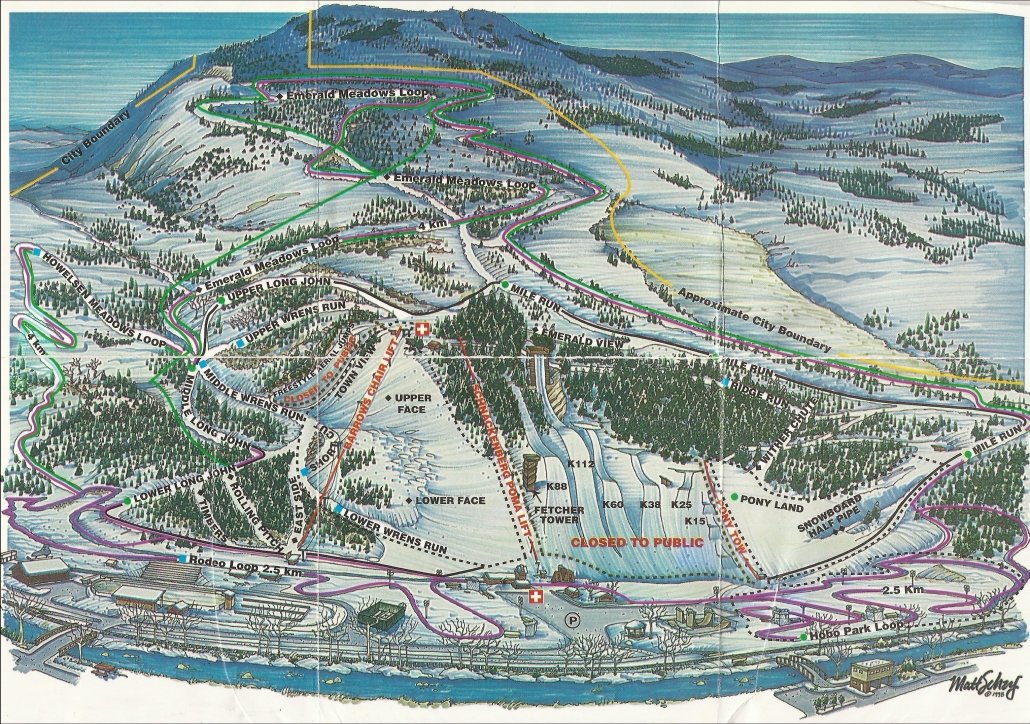 Howelsen Hill Ski Area is a small ski area located downtown Steamboat Springs. It is not a typical alpine ski area, as it includes Olympic quality ski jumps, the largest being 114 meters (374 ft), as well as 21 kilometers (13 miles) of Nordic trail.
The ski area has produced 89 Olympians in both alpine and Nordic events. With a vertical drop of 134 meters (440 ft), it has one chairlift, two carpets, and one Poma lift.
Howelsen Hill offers FREE SKIING EVERY SUNDAY.
For more information, open times, and ticket sales, visit Howelsen-Hill-Ski-Area.
Backcountry
There are various activities to enjoy in the Routt County backcountry:
Backcountry skiing/snowshoeing:

Many areas are accessible for backcountry. The most popular are Rabbit Ears and Buffalo Pass. However, there is a tremendous amount of terrain accessible in North Routt, primarily in the Seedhouse Road, Sand Mountain, Hahns Peak, and Zirkel Wilderness areas. For all these areas, it is advised that you are prepared with maps, avalanche equipment, and current avalanche conditions.
Snowmobiling:
The deep light snow for which Routt County is famous is a dream for riding. Along with great skiing, Steamboat Springs is known for its excellent snowmobiling conditions and offers a large selection of tour companies from which to choose. Discover the magic of snowmobiling Colorado's Continental Divide on Rabbit Ears Pass. The extensive trail system is a snowmobiler's dream.
Snow Biking:
Snow biking has been around for many years and is fully embraced in the Yampa Valley. It is a means of transportation for many residents of the valley on city roads, although many choose to commute via the Core Trail (map). As well as commuting, there are numerous groomed trails such as:
*links provided by Routt County Riders
Spring
As the snow begins to melt and the flowers start to appear, so do the crossover activities. On any day in the Yampa Valley, you need to be prepared for all types of weather when you leave the house, but maybe more so during this time of year as it is possible to experience every season in one day.
Some of the activities that begin to spring up are:
Gravel Riding – West of Steamboat Springs, the gravel roads are the first to show signs of spring. Whether you ride a mountain bike or a specialty cross bike, you will find hundreds of miles of gravel. It is best to check with the local bike shops for suggestions on where to ride.
River running/Kayaking – When the snow melts the river rises. The Yampa River is no exception and has world-class kayaking with man improved sections that offer thrilling opportunities to test your skills. Check with the local float shops on specifics as well as check with the City Page on volume and restrictions.
Summer
Where to start … wooo! How about starting with days in the 80s to 90s, while most nights you need a light jacket or sweater because it cools down. During the summer months, Steamboat Springs is a Mecca for outdoor enthusiasts with more sunny days than not.
In no way is this a complete list of what to do during the summer but consider it a start.
Biking – There is a long history of biking in the valley. The birth of mountain biking started here with Kent Eriksen adapting his road bike to enable him to ride to his treehouse in the forest. Since then, more than 40 years ago, we have seen the biking community grow exponentially. Regardless of your discipline, you can ride it here – hundreds of miles of trails, downhill courses, gravel riding, road biking, even great unicycling. For updates on everything pedal power-related, refer to Routt County Riders.
Tubing – When the Yampa River settles down, the weather warms, and you are ready for an adventure tubing is a great way to spend a few hours.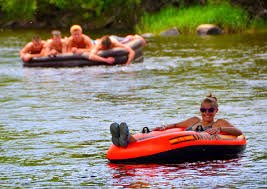 Hiking – Walking the Core Trail along the Yampa is great when you want a short hike, but if you want more, there are multiple hikes starting right from town such as Emerald Mountain, Fish Creek Falls, Mad Creek, and Steamboat Ski area.
Horseback Riding – It is difficult to list all activities that can be enjoyed at Howelsen Hill, luckily horseback riding is one. Located behind the rodeo grounds and past the volleyball courts you can leave from the base and meanders up Emerald Mountain. For times and booking, visit Sombrero Stables.
Rodeo – Western heritage predates skiing in the valley, and the Rodeo Series is a great glimpse into this lifestyle. From the Opening Ceremonies to Bull Riding, Bareback, Saddle Bronc, Team Roping, Steer Wrestling, this family-friendly event will be something you talk about for a lifetime. Information can be found at Steamboat Springs Pro Rodeo.
Golf – There are multiple courses in the valley that can challenge all skill levels. Here is a partial list.
Fall
The forest that surrounds Steamboat Springs explodes with color in the fall. It could be argued that this is THE magical time to visit. Generally, the town is less busy, so the activities that are left over from the summer are less crowded. Yes, the days are shorter and the evenings crisper, but enjoying being outside while surrounded by color is something special that must be experienced.
Year-Round
Oh Yeah – HOT SPRINGS
The Yamparika or Yapudttka Utes Indians were the first known settlers. It is thought they began visiting the Yampa Valley over 1000 years ago and were drawn to the Yampa Valley because of the many natural springs. A lot has changed in the Yampa Valley since the first humans walked into the valley, but not the love of the wonderful Hot Springs.
There are two developed hot springs in the Yampa Valley, and both offer great soaking as well as other great amenities.
Strawberry Hot Springs – Just a few miles from Old Town, this facility offers a natural setting to soak in 104-degree mineral springs, as well as offer amenities such as lodging and massage. Visit Strawberry Hot Springs.
Old Town Hot Springs – Located on the east end of town, this developed Hot Springs offers a variety of pools of varying temperatures as well as a naturally heated lap pool. Here you will also find fitness classes, tube slide, massage, and weight/fitness room.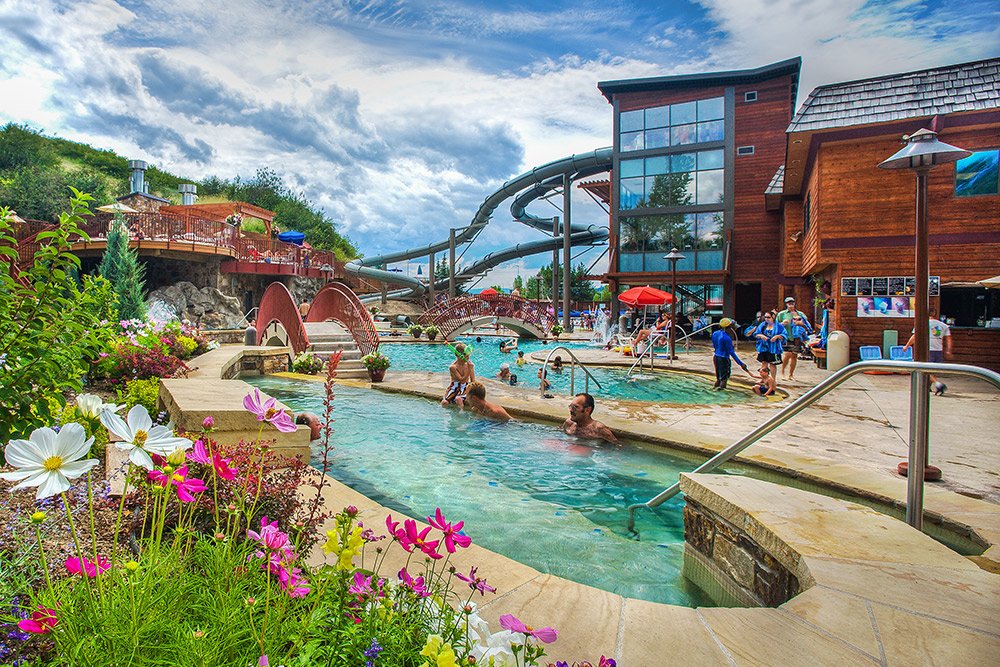 Fishing – Within the City Limits, there is a variety of opportunities for fishing year-round. There are seasonal restrictions that must be observed, and it is advised that you check with the local shops for advisement.
Where to Eat
There is a plethora of great restaurants and bars to choose from that can suit most budgets and tastes. Possible the best way to find what suits your needs is to check out Steamboat Springs Dining Guide.
Where to Stay
From camping to 5 Star accommodations, Steamboat Springs can provide you with a place to stay. There are numerous resorts, hotels, and condos to be rented for your visit. It is probably best to research as availability and pricing vary greatly.
Airbnb and Vrbo are also throughout the valley, so check the apps.
Where to Shop
Great shopping opportunities await you, with the majority being in Old Town. Within walking distance between shops, you can find everything from authentic western stores to tourist tee-shirt shops. Also check out the multiple specialty shops that offer everything you need to bike, ski, fish, hike, and anything outdoors.
Five Stores to not miss
F.M.Light & Sons
If you drove in to Steamboat Springs then you probable saw the yellow and black signs, they are hard to miss. Founded in 1905 this is an authentic western store that still outfits the local ranchers with Hats, Boots, Western Wear Apparel, Coats, Gloves… you get the picture. It is worth the stop in to see the old hardwood floors and feel like you have stepped back in the old west.
Lyons Drugs
A true full service drug store as well as gift shop, but the true gem is the old fashion soda fountain where you can get hand make malts, shakes and Sundays. The real treat here is the hand scoped ice cream which is a favorite of kids of all ages.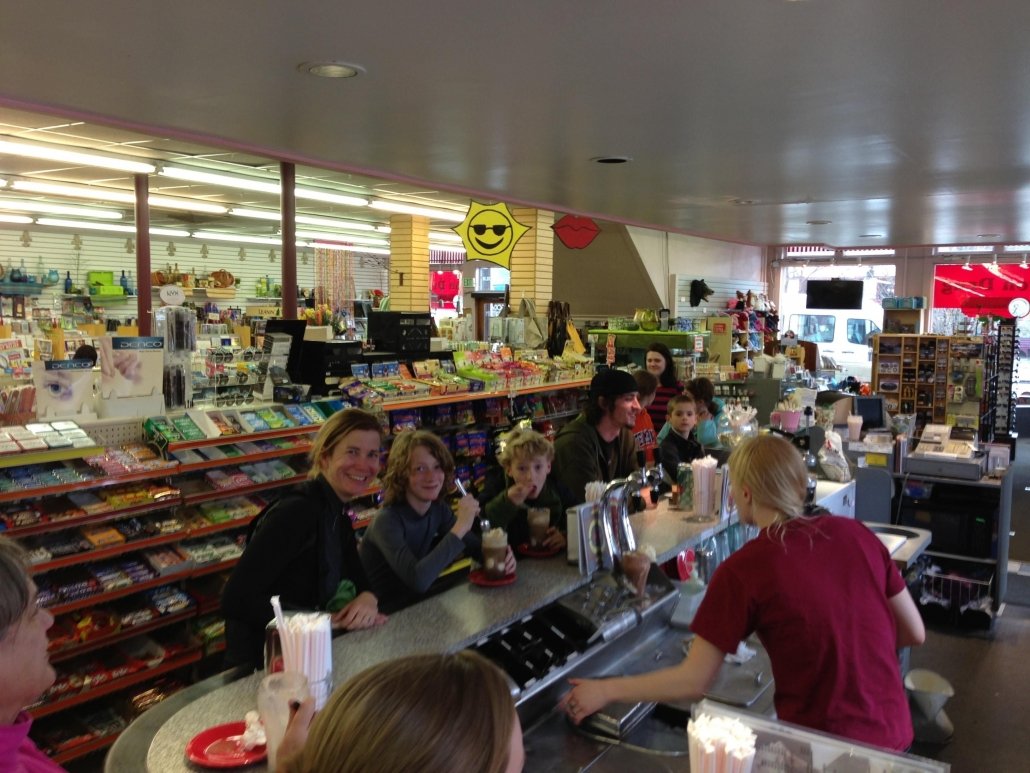 Backdoor Sports
The full name is Backdoor Backcountry Sports and the name says it all. Most days you will find Peter, the founder and owner, hanging out with great insights into where the best skiing, rafting, climbing are in the valley. For summer it is the best place to rent tubes as it is right on the river downtown with free shuttles to the put-in.
Checkout the Backdoor Selfie/Photo Contest!
Homesteader
"We're the best-smelling store in town," says Steve Kennedy about his kitchenware and gourmet food shop, The Homesteader. And he might not be wrong — the store smells of sweet homemade chocolates, jams, other sweet treats and fresh-baked breads.
Orange Peel Bike Shop
A stopping place for all your bike needs including sales, service and repair. It is worth the trip just to see the converted cone-shaped saw dust incinerator that was created by Kent Eriksen (founder of MOOTS and Eriksen Bikes) from a local lumber yard and repurposed ski lift tower.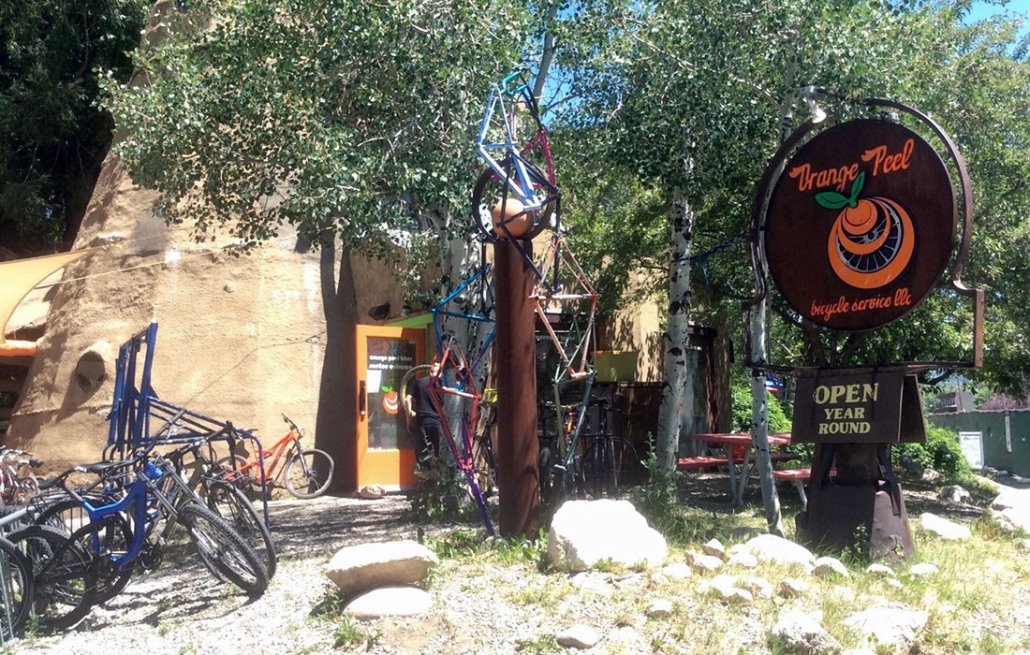 Transportation
The Steamboat Springs Transit (SST) is a free bus system that serves most of the city limits with multiple lines running year-round, although the frequency and routes can change seasonally.
Click here for a complete schedule and route map SST
Although fairly new to the valley, Lyft and Uber do have a presence. Check the app for current availability.
Taxi and shuttle service is provided by Go Alpine and Storm Mountain Express with daily runs to the Yampa Valley Regional Airport as well as Denver.
Most of the major resorts run shuttle service. Check with the specific resort for availability, times, and service.
---
Selfie/Photo Video Contests

---
[cm_ad_changer campaign_id="3″ target_blank=1]
---