24 Aug

Sutherland, Scotland – Travel Guide

Sutherland is the most North Westerly area of Scotland and this sparsely populated historic county has arguably the most dramatic and awe-inspiring landscape in the whole of Europe. This area, once settled by the Vikings, is difficult for the visitor to traverse, with few roads, of which are often single lane at times. However, over the years, we have persevered and travelled throughout this stunning region of the Highlands and we have been well rewarded.
---
5 Unmissable Attractions:
Dunrobin Castle and Gardens – One of the most stunning castles in Scotland, Dunrobin Castle is the most northerly of Scotland's great houses and the largest in the Northern Highlands. The castle is also one of Britain's oldest continuously inhabited houses, dating back to the early 1300s. The castle was completely remodelled in 1845 and the architecture can be best appreciated from the lower gardens. You can examine many of the castle's 189 rooms, but make sure you time your visit to coincide with the birds of prey flying demonstrations, which usually occur twice a day during the summer months on the castle lawn. The shows feature golden eagles and peregrine falcons, both resident birds in the Scottish Highlands. Additional attractions include more exotic species such as the European Eagle owl. Also worth checking out is the museum hidden in the northern border of the garden, which displays many interesting ancient Pictish carvings which are over 1,500 years old.
Address: Dunrobin Castle, Golspie, Sutherland, Scotland, KW10 6SF
---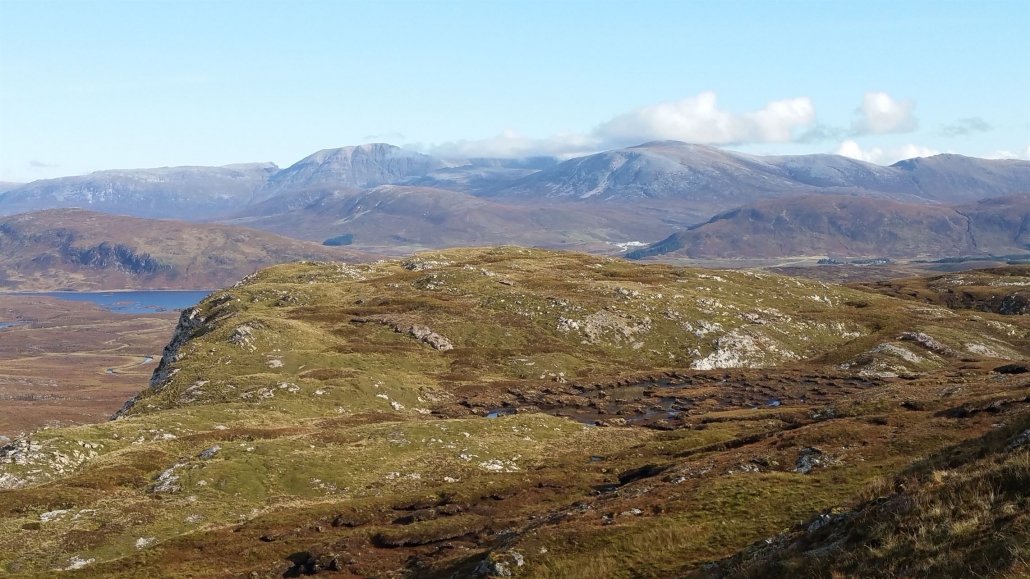 Assynt-Coigach National Scenic Area – The western region of Sutherland, just north of Ullapool, has been designated the Assynt-Coigach National Scenic Area and is one of 40 such areas in Scotland. We found that this must be the most spectacular drive in Britain, with many distinctively shaped mountains, including Quinag, Canisp, Suilven and Ben More Assynt, that rise steeply from the surrounding "cnoc and lochan" scenery. There is a tradition that the name Assynt comes from a fight between the two brothers Unt and Ass-Unt, (meaning Man of Peace and Man of Discord). We can attest to the fact the it must have been a mighty tussle, judging by the dramatic scenery, with Ass-Unt having been declared the winner.
Address: Assynt, Ullapool, Scotland
---
Smoo Cave – We just had to visit this cave, if only because of its name! It turns out that "Smoo" is a name thought to derive from the Old Norse Smuga which means "hiding place". What a hiding place it is, as this spectacular sea cave boasts a 50 ft high entrance. Within Smoo Cave, there are three chambers, with the first and biggest having been carved out by the sea and the second and third chambers having been created by the action of the freshwater Allt Smoo stream, which runs through a sink hole down into the cave. It is here that you can find the 60ft waterfall caused by the river dropping into its sinkhole. The first chamber and part of the second are accessible by foot and are free to visitors. If you wish to go further into the cave, there are regular boat tours during the summer months.
Address: Durness, Lairg IV27 4QA, Scotland
---
Ardvreck Castle – There is little left of Ardvreck Castle, but what there is proves to be a magnet for travellers to Sutherland. All that is left is a finger of stone, perched on a small nub of land, almost cut off in Loch Assynt. The castle dates back to about 1490 when the lands were owned by the Macleods of Assynt and has had a bloody history, especially during the conflicts with the Mackenzies. It is best to visit the castle either early in the morning or later in the evening, as the castle can get busy with tourists, and it is worthwhile doing so in order to get unobstructed views. While there, check out the small waterfall at the other side of the road and take note of the derelict Calda House, just to the south, which superseded the castle in 1726, and took many of the castle's stones for building material.
Address: A837, north of Inchnadamph, IV27 4HN
---
Auchmelvich Beach – Auchmelvich Beach is one of Britain's most beautiful beaches, as well as being one of the most difficult to reach by road. About five miles north of Lochinver, along a single-track road, Achmelvich Beach is a stunning collection of small, white sandy beaches, punctuated by rocky bays and headlands.
Address: Achmelvich, Lochinver, IV27 4JB
---
10 Hidden Gems: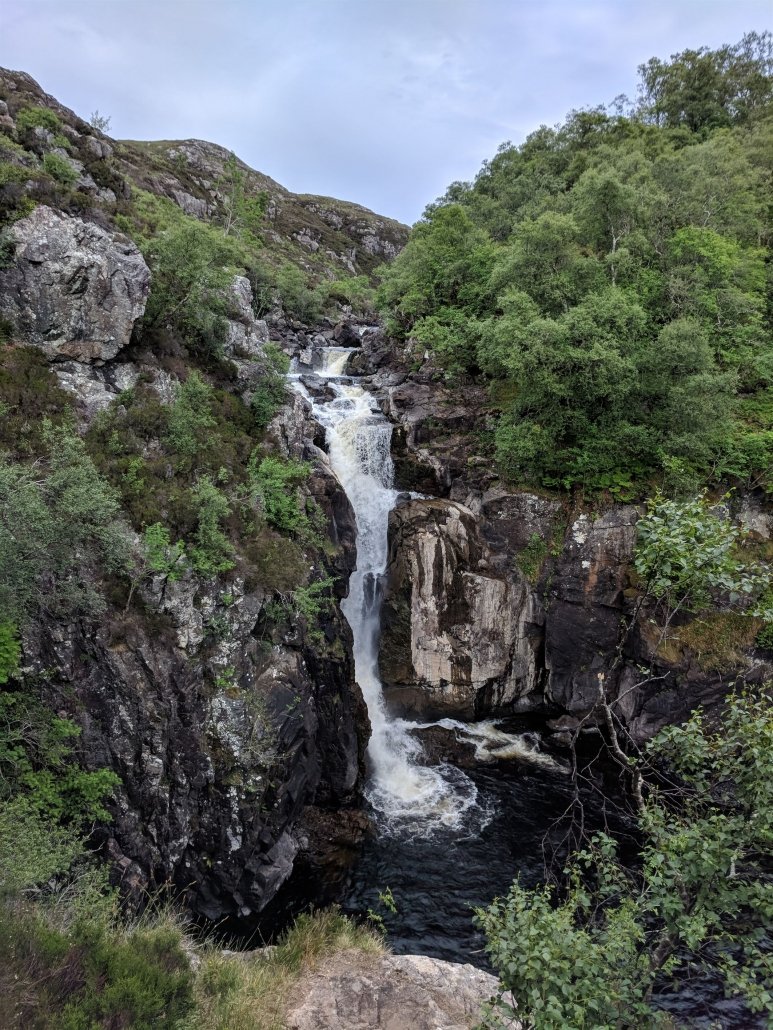 Falls of Kirkaig – Just south of Lochinver, is the small hamlet of Inverkirkaig at the end of which is a car park at Achins Bookshop. This is was our starting point for a return journey of just over 4 miles along the River Kirkaig, up to the Falls of Kirkaig, which is on the ascent to Suilven mountain. Despite the short distance, the walk will take the casual hiker around three hours to complete, and the final descent to the falls is quite tricky and not for the faint hearted, but the reward is a beautiful waterfall and a chance to have a little dip into the river below.
Address: Lochinver, Inverkirkaig, Lairg IV27 4LR, UK
---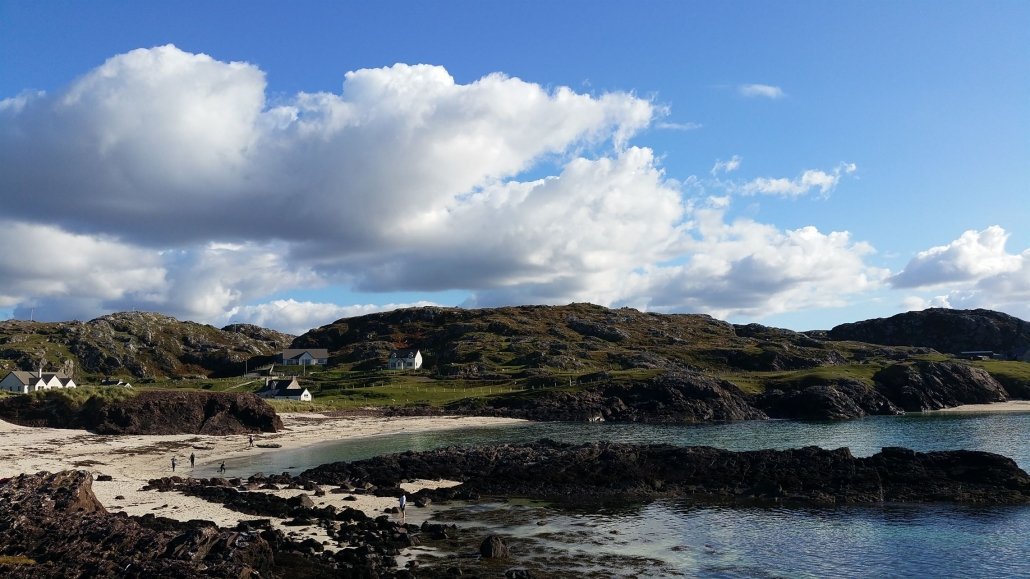 Clachtol Beach – Just north of Auchmelvich Beach is the equally glorious white sands of Clachtol Beach. If you time your visit in August, you may also be able to participate in the sand sculpture competition as well. Don't forget your bucket and spade!
Address: Clachtoll, Lochinver IV27 4JD
---
Stoer Lighthouse – It's amazing to think that this lighthouse, built in 1870, could be constructed in such a remote spot. The lighthouse overlooks The Minch, which is one of Britain's most dangerous stretches of water, and it has prevented the deaths of countless seafarers. The lighthouse was built, but its location means that the light is actually 54m above sea level. If you are lucky like us, you may catch a glimpse of a pod of minkie whales – whales and dolphins are regular visitors to this stretch of water.
Address: Stoer, Lochinver, IV27 4JB
---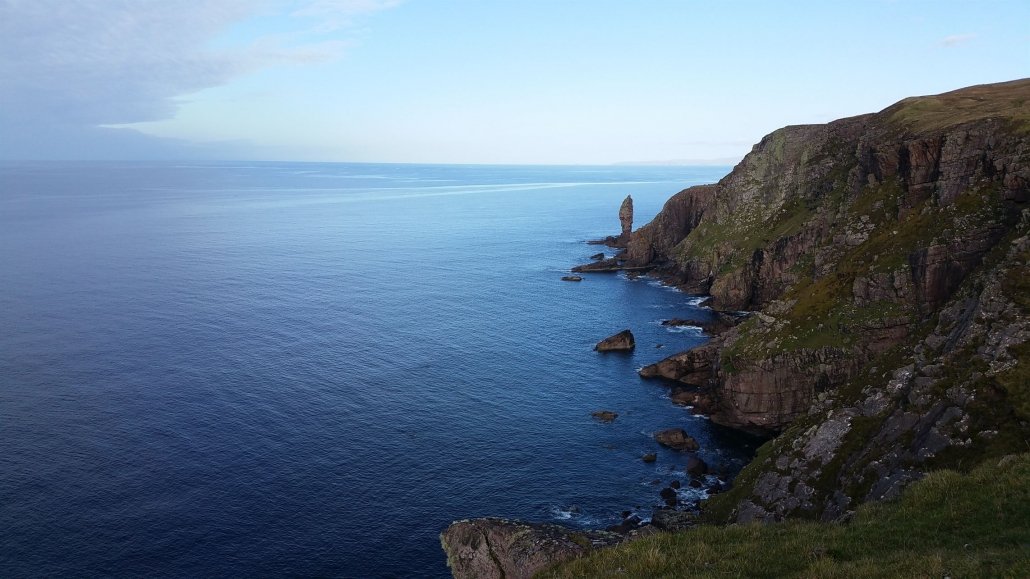 Old Man of Stoer – About two miles north of the lighthouse, across open countryside, which is often a little boggy in parts, is the Old Man of Stoer (not to be confused with the more famous Old Man of Storr on the Isle of Skye!). The Old Man of Stoer is a 60 metres (200 ft) high sea stack of Torridonian sandstone.
Address: Stoer, Lochinver, IV27 4JB
---
Balnakiel Beach – Sutherland is blessed with many beautiful beaches, and perhaps if the weather was warmer, this area of Scotland would rival the beach resorts of Spain. Balnakeil is one such beach. This wide, white beach with large dunes, and is known for its spectacular sunsets. When you visit the beach, you will immediately notice the large building at the entrance to the beach. Balnakeil House was built between 1720 and 1744, on top of the remains of the earlier summer palace of the Bishops of Caithness. On the other side of the road is a gate leading to the churchyard and remains of Balnakeil Church. The church itself was built in 1619, on the site of a much older church. The church went out of use in 1814 and is now roofless and ivy-clad, but we found that it was a great location to get shots of the beach.
Address: Balnakeil, Durness, Lairg IV27 4PT, Scotland
---
Sango Bay – Further along the coast from Balnakeil is the beautifully formed cove of Sango Bay. With golden sands, rocky formations and plenty of sheltered outcrops, Sango Bay offers visitors the best of everything. If you don't mind the cold, the beach offers good surfing!
Address: Sango Sands, 2010 A838, Lairg IV27 4QA
---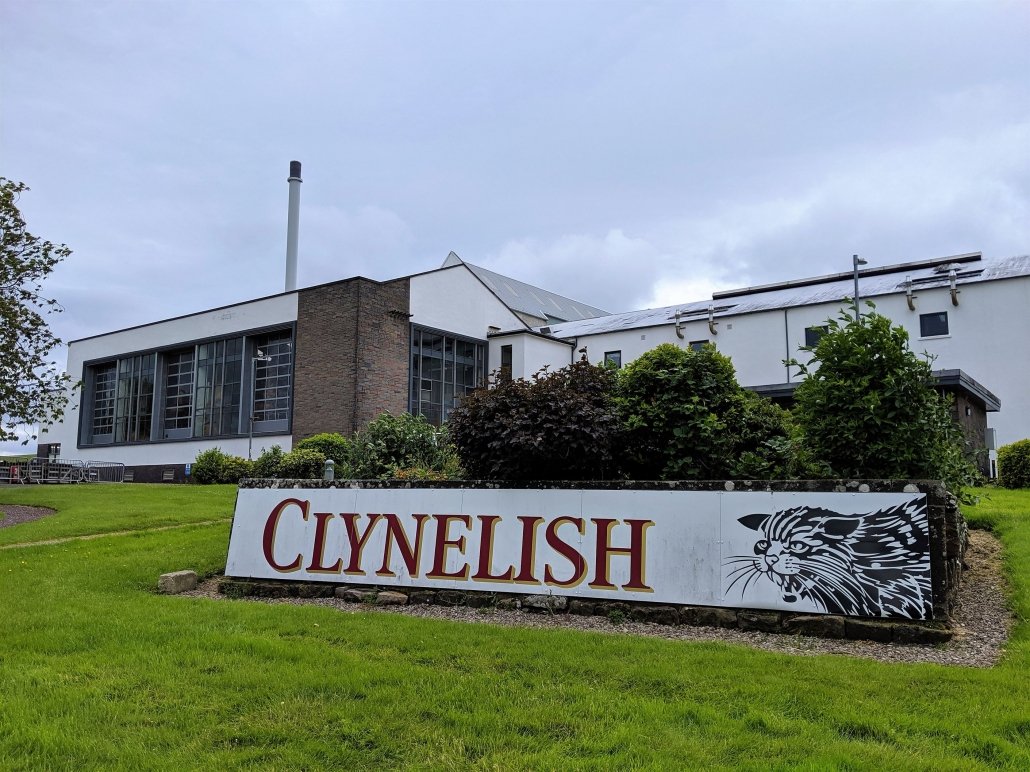 Clynelish Distillery – Any trip to Scotland should include a visit to a whisky distillery, and perhaps surprisingly, Sutherland only has two distilleries – Clynelish and Dornoch, with Clynelish being the only one of the two that you can visit. The Clynelish Distillery has beautiful views of the North Sea as well as the hills to the north. It is from these hills where the Clynemilton burn runs over seams of gold in the rock. The original distillery on this site, the Brora Distillery, closed in the early 1980s, but due to popular demand, this distillery will soon be reopening, so will be able to visit two distilleries on the same trip!
Address: On the A9, Brora KW9 6LR, Scotland
---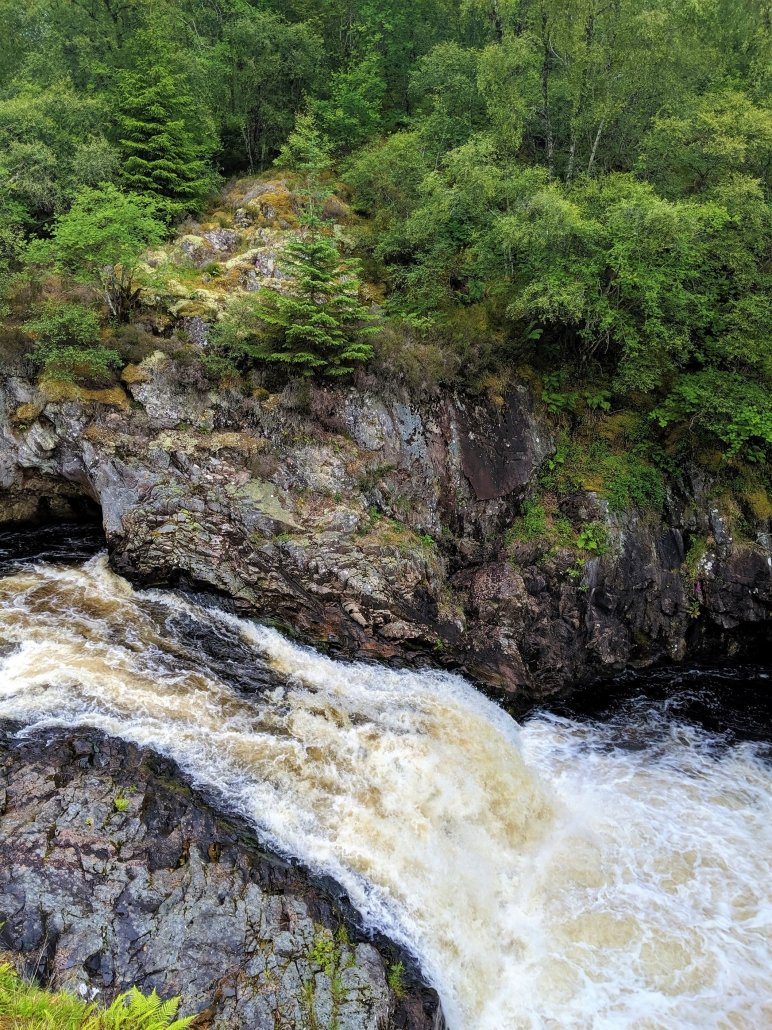 Falls of Shin Visitor Attraction – The Falls of Shin are famous for being one of the best places in Scotland to view salmon in their natural habitat. The salmon can be seen leaping up the falls from the viewing platform between May – October, although we weren't lucky enough to see them during our visit. It is worth noting that the Visitor's center also has a great restaurant, gift shop, mini golf course, children's playpark and woodland trails.
Address: Lairg IV27 4EX, UK
---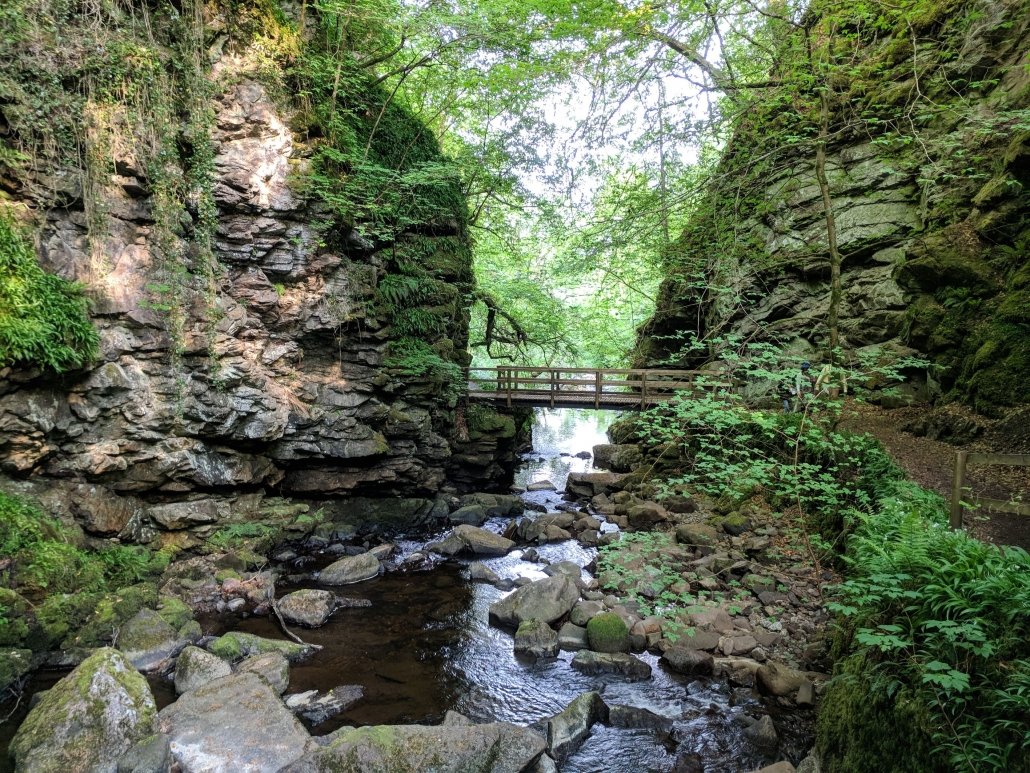 Big Burn Walk – The start of the Big Burn Walk is at the north end of the small town of Golspie. The walk starts with an impressive view of the railway bridge, then winds its way up a narrow river valley, until you reach a lovely waterfall which drops through a restricted gap in the high-sided rocks. Time your visit for May and June to see a spectacular mix of primroses, bluebells, celandines, wood sorrel, campion and wild garlic.
Address: Old Bank Rd, Golspie KW10 6RS, UK
---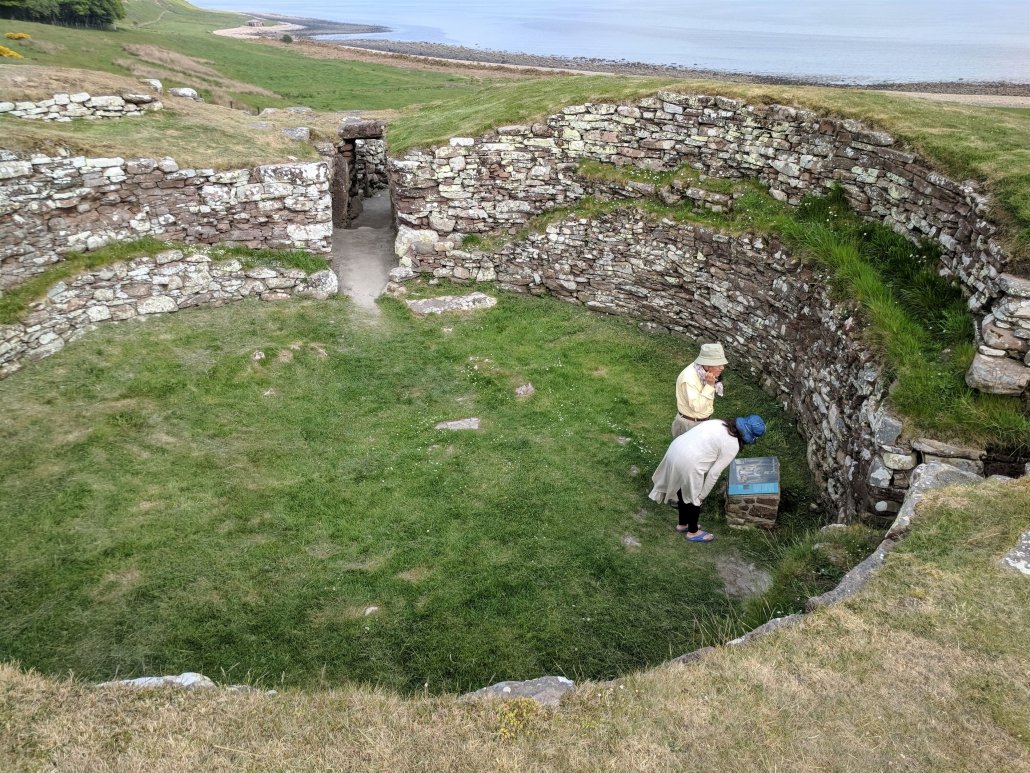 Carn Liath – It is easy to drive by this ancient site when travelling north past Dunrobin Castle, but it is well worth stopping for half an hour or so at this broch – a sophisticated type of Iron Age building. Even in its ruined state, Carn Liath shows the ingenuity of Scotland's Iron Age farmers and the sophistication of their architecture in designing an impressive and well-defended settlement. There is ample parking available on the opposite side of the road.
Address: By the A9, 3m ENE of Golspie, Scotland.
---
Where to Eat: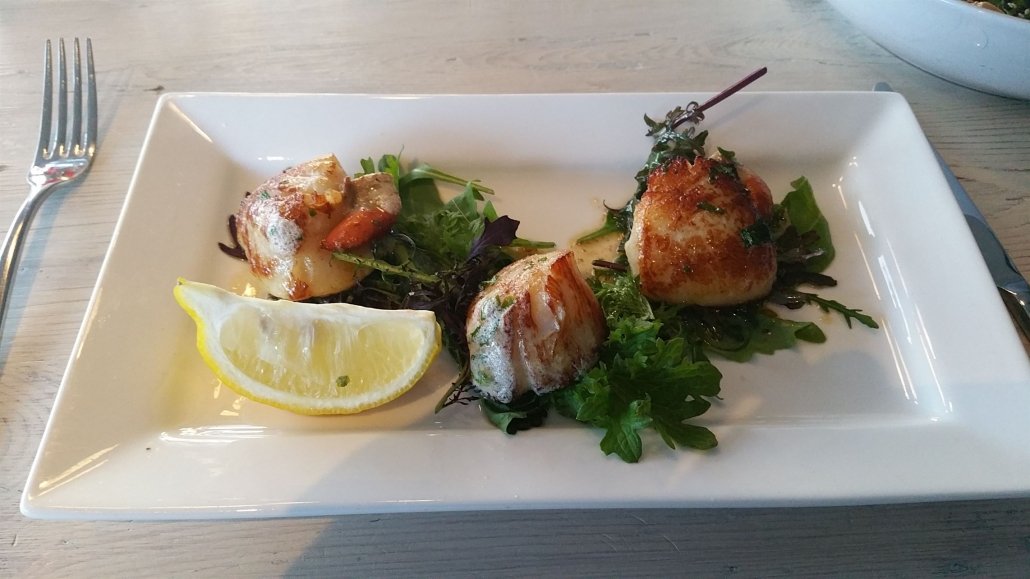 Kylesku Hotel – Perched on the shores of Loch Glendhu, near the impressive modern architecture of the Kylesku Bridge, this historic hotel offers excellent modern cuisine. The original building was a coaching inn dating from around 1680.
Address: Drumbeg, Kylesku, Lairg IV27 4HW
Cocoa Mountain Balnakeil – A fantastic stop for chocolate lovers who are visiting Balnakeil Beach or Smoo Cave. The chocolates are to die for, as is the hot chocolate, which is often very welcome in this northerly climate!
Address: Balnakeil Craft Village, Balnakeil, Durness IV27 4PT, United Kingdom
---
Mac and Wild at Falls of Shin – Delicious modern cuisine next to a spectacular waterfall.
Address: Falls of Shin, B864, Lairg IV27 4EE, UK
---
The Oykel Bridge Hotel – Isolated, traditional hotel, serving very generous plates of hearty grub.
Address: A837, Lairg IV27 4HE, UK
---
Where to Stay:
Golspie Inn – Budget Price – Just a mile from Dunrobin Castle and virtually next to the Big Burn Walk, this relaxed hotel is ideally situated for many of Sutherland's best attractions
Address: Old Bank Rd, Golspie KW10 6RS
The Old School Restaurant and Rooms – Moderate Price – This B&B overlooks Loch Inchard and is housed in a stone building once used as a school. Good location for exploring the coast around Durness or Kinlochbervie.
Address: B801, Inshegra, Lairg IV27 4RJ
Inver Lodge Hotel – Luxury – Family-owned hotel on a hillside setting looking over the fishing village of Lochinver.
Address: Iolaire Rd, Lochinver, Lairg IV27 4LU
---
Hints, Tips and Useful Information:
Electricity: The power plugs and sockets are of type G – square three-pin plugs. The standard voltage is 230 volts AC, 50Hz.
Currency: Pound (GBP; symbol £) = 100 pence. Notes are in denominations of £50, 20, 10 and 5. Additional bank notes are issued by Scottish banks and are usually accepted in all parts of the UK. Coins are in denominations of £2 and 1, and 50, 20, 10, 5, 2 and 1 pence.
Banks and ATMs: ATMs are rare, so if you do not wish to use your credit card, make sure you bring cash when visiting Sutherland.
Telephone dialing code: +44
Emergency numbers: Dial 999 for police, fire, or ambulance. Be prepared to give the telephone number you're calling from.
Internet: Many cafés, restaurants and hotels public areas also offer Wi-Fi.
Transport – Driving: Drive on the left-hand side of the road. If you're coming from a European Union country – as long as you have a valid licence, you can drive in Scotland. If you're coming from outside the EU – as long as you have a valid licence from your own country, you can drive in the UK for up to 12 months.
Driving under the influence of alcohol is taken very seriously in Scotland and the UK and there can be heavy penalties for those found to be above the legal blood/alcohol limit. The legal limit is 50 mg of alcohol in 100 ml of blood.  
Roundabouts are commonly used – give way to vehicles from your right and turn left on entering the roundabout. Bus lanes are used in some cities – they can only be used by buses and taxis when in operation at certain times of the day. Seatbelts are compulsory for all drivers and passengers in the vehicle. Children under 12 who are under 135 cm (4 ft 5 in) tall should use a child seat appropriate for their weight. It is illegal to use a hand-held mobile phone while driving. You must also have proper control while using hands-free. 
Climate: January and February are generally the coldest months, with the daytime maximum temperatures averaging around 5 °C (41 °F) to 7 °C (45 °F). July and August are normally the warmest months, with temperatures at an average 19 °C (66 °F).
Fog and heavy precipitation are very common during the Autumn and Winter months, however, always come prepared for four seasons in one day whichever month you visit.
Scotland's high latitude means that although winter days are short, in summer there are very long daylight hours and often an extended twilight.
Water: Tap water is safe to drink and bottled water is widely available.
Shopping: What to buy in Scotland:
'OorWullie' or 'The Broons' – Scottish comic book character, written in Scots
Malt Scottish Whisky
Quaich – a shared drinking bowl, more often used for whisky
SgianDubh – ceremonial dagger, used as part of the full highland dress
Kilt – traditional Scottish clothing
Tartan scarf (or anything else made in tartan)
Sporran – traditional 'pocket' worn with a kilt
Cuisine: What to try in Scotland:
Scotland's national dish is Haggis (the 'Great chieftain o the puddin'-race' – as Robert Burns once called it). It is a celebration dish, but don't ask what it is made of or how it is made, until you have tried it!
Other foods that you should try:
Scottish smoked salmon
Black pudding (especially StornawayBlack Pudding) – type of blood sausage
Stovies– potatoes, onions and meat
Bridies – meat pastry
Scotch pies – double crust meat pie
Fish and chips – fried battered fish and hot chips
Scotch broth – a soup of barley, root vegetables, pulses and sometimes with meat
Lorne sausage – a square sausage made from ground meat, rusk and spices
Cock a leekiesoup – a soup of leeks and peppered chicken stock
Cranachan – a dessert of whipped cream, whisky, honey and raspberries
Clootie dumpling – a dessert made from flour, breadcrumbs, dried fruit, suet, sugar and spice
Shortbread – a biscuit
IrnBru – soft drink
Tablet – a sugary confection
Smoking: Smoking is banned in all enclosed public places, including stations, pubs and restaurants, throughout the UK.
Alcohol Consumption: Alcohol can be purchased from age 18 and over.
Tipping: It is common to tip in restaurants or taxis when you receive good service. 10 percent is a good rule of thumb though most people will be delighted with any amount of tip. 
Safety: Scotland is a safe country. Violent crime is low, and most tourists will never be bothered by safety concerns other that petty crime. The UK, of which Scotland is part of, is ranked 33th on the ranking of world's safest countries. Traffic and crossing lanes can be an issue since people drive on the left side of the road, and every year tourists get run over because they forgot to look before crossing the road. Pickpockets can be an issue in urban areas or at crowded events. Begging is not uncommon, but you will rarely experience aggressive beggars.