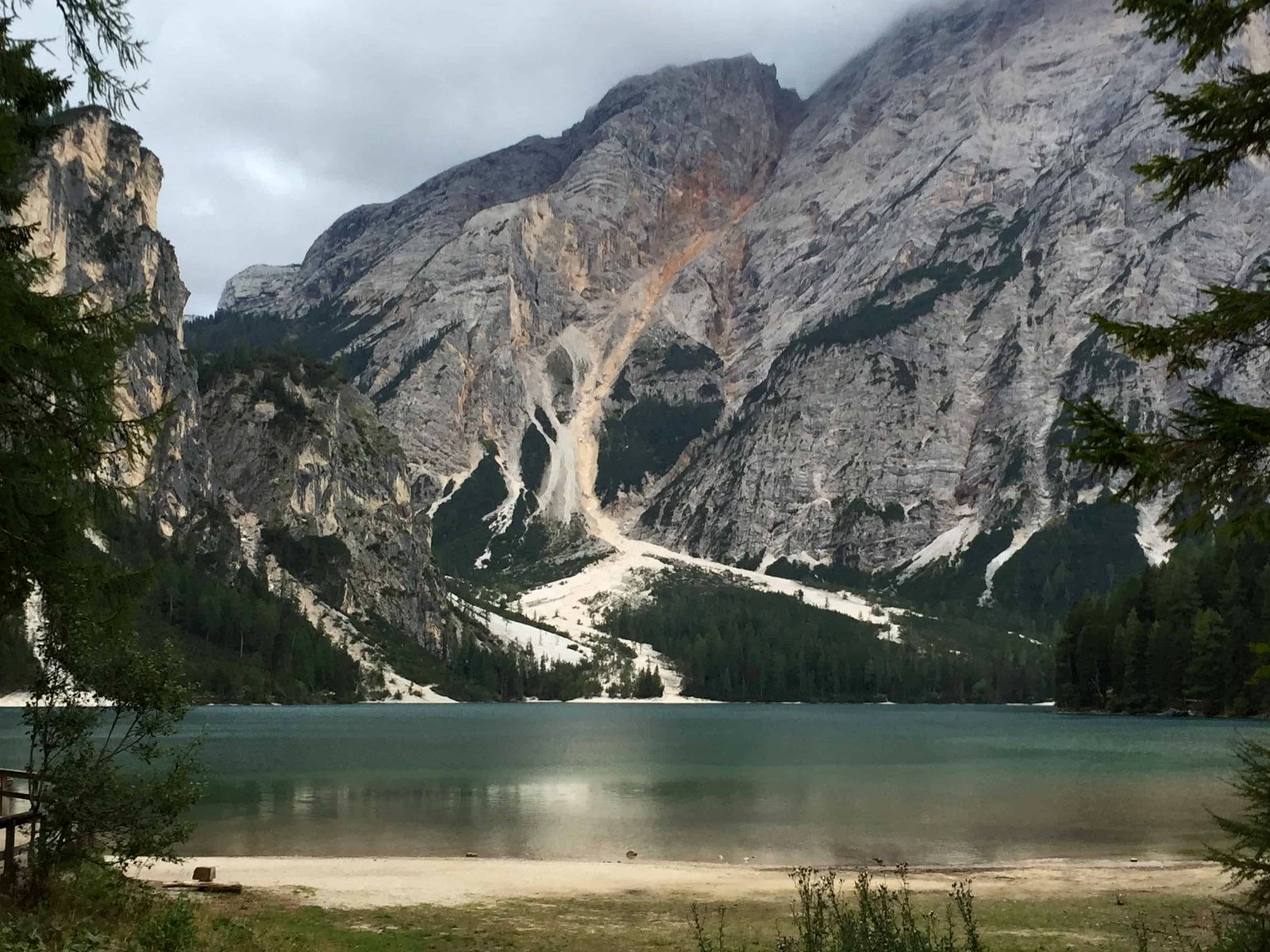 28 Dec

Trekking in the Dolomites – Travel Guide
Trekking in the Dolomites
My first encounter with the Italian Dolomites was as a young teenager on a family European trip. The blend of spectacular alpine beauty and Italian flavors and attitude stuck with me as a place I always wanted to return. When my German friend Edith showed us slides of her trek in the Dolomites several years ago, it sealed the deal. A Dolomite trek was on the bucket list. My husband and I made it happen to celebrate our 60th birthdays.
"Dolomiti" is the name of the unique limestone that composes the distinctive jagged peaks and spires of the mountains in Northern Italy that push up against the Austrian border. You can't really call it a mountain range because the peaks and valleys do not line up in any orderly procession but are a jumble of crags, peaks, masses and towers, as if God tossed them down like thrown dice. The valleys of the Dolomiti possess the same charm and breath- taking beauty of the more familiar Swiss Alps—vibrant emerald fields climbing up steep slopes, chalets festooned with bursting flower boxes, village clock towers and milk cows with tinkling bells. But the mountains themselves have a stark and unusual beauty unto themselves.
Europeans have long trekked the Dolomites and there is an established system of routes called the Alta Vie (high roads) dotted with numerous "refugi" for nightly accommodations. It was the combination of the spectacular scenery and Edith's photos of duvet covered beds and wine glasses on white tablecloths and picnic tables on sun drenched decks at each day's end that really drew me to a Dolomite trek.
Edith, who has trekked in the Dolomites more than once was pretty darn vague about details when I pressed her for the when's and how's. So I got online and ordered "Trekking in the Dolomites"—a Cicerone Guide by Gillian Price. It explains that there are 6 Alta Vie and has detailed day by day directions for Alta Via 1 and 2. We chose Alta Via 1. Routes 2-6 have more technical portions
called "via ferrata," literally "iron way," but in practice meaning iron chains or railings to aid a traverse. Harnesses may be necessary. Routes 3-6 may require even more technical gear and skill and at places only have rough shelters. No thank you. Not only am I a scaredy cat but I wanted my duvet and glass of wine.
The Alta Vie are generally 11-12 day treks. However, as we are still working stiffs without a trust fund, time and money are issues and there were other things we wanted to see and do in Europe. We spent 6 days trekking and 5 nights in refugi. This is one of the great things about a Dolomite trek, at least on Alta Via 1: within a half day, you can get off the route and into one of the charming villages. This is a comforting thought as you plan a long distance adventure and consider the possibility of injury, illness or bad weather. We started in mid-September because European schools are back in session by then. Summer can see more trekkers, snow fields to cross and higher chance of lightning (reference Miss Scaredy Cat) but has the reward of wildflowers that were long gone by the time we arrived.
The refugi vary greatly in size and "cush" level. Many refugi started and remain as the mountain hut for a mountaineering club. All have dormitory rooms with bunks and common bathrooms. Some have small private rooms with 3-5 beds. Only one of our refugi (really a ski inn) had a room with its own bathroom. If you need your own queen sized bed and personal toilet every night, this isn't the trek for you. We planned a route and made reservations before leaving state side because it was our big splurge trip and we wanted a private room when we could get it. But if you're willing to go with a bunk each night, at least at the time of year we were there, no reservations were necessary and you'd have more flexibility. Once there, we realized there are many sub-routes and options. Near the Cinque Torre- a formation of giant stalagmite-like pinnacles and a rock climbing haven, I counted at least four inns or refugi with a half hour or less walk of each other. Each night we had a great dinner and in the morning a European spread of cheeses, breads, bad cereal, yogurt and fruit. The gustatory highlight was Refugio Averau that sits at the top of a chair lift. The chef is regionally recognized and I had a delectable nut and cheese filled tortellini. Each hut has its own variation of apple strudel and I felt obliged to sample each one. My favorite remained the one served at the first night's Refugio Sennes, a sweet little inn with purple geraniums in the window and out the window, a jaw dropping view of a sun spackled spire rising out of a backdrop of shadowy peaks.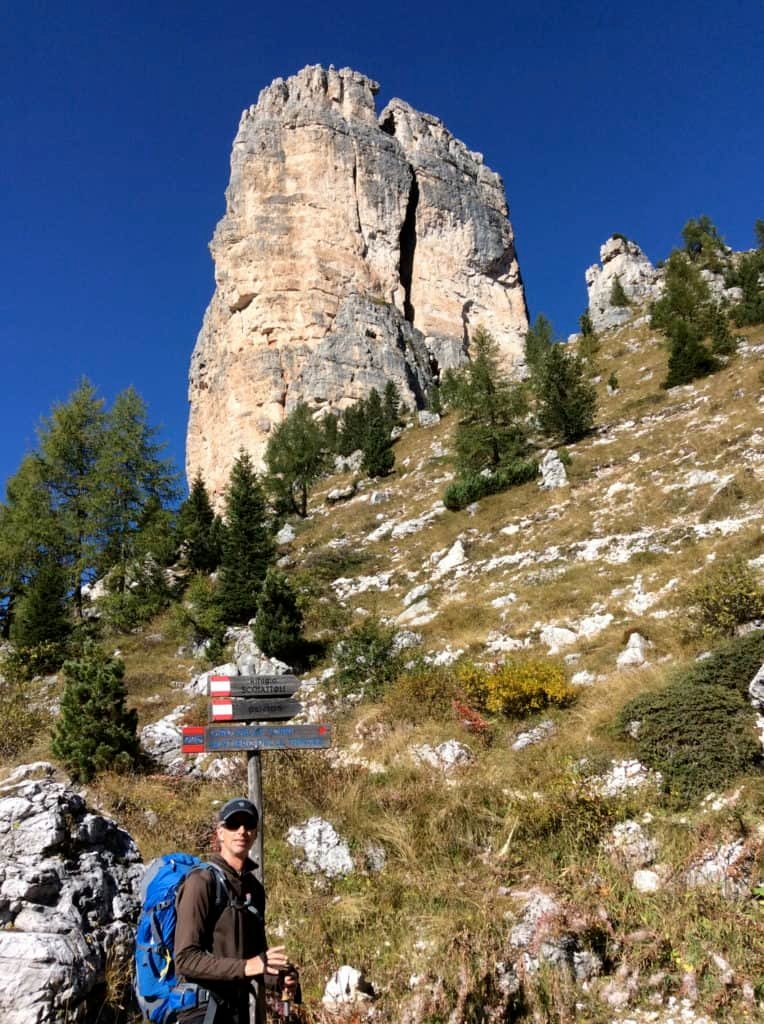 That's the true glory of the Dolomites– the lighting at the end of the day when the sun pierces through the clouds and catches one peak in its spotlight, casting surrounding towers in shadow, or it sets the peachy tones of the limestone afire or creates a more subdued blush. But of course, the days are glorious too. We were lucky enough to be there on bluebird days where orangey crags met azure skies.
The Dolomiti region was hotly contested between the Austro-Hungarian Empire and Italy and the signs of the contest remain. Towns each have an Italian and a German name. At the northern end of the trek, the refugi are also "huttes." Most of the trekkers the first couple of days are Germans. It can get a little confusing. To wit: Alta Via 1 begins at Lago di Braies (Italian) or Pragser Wildsee(German). Either way it is a tourmaline jewel of a lake with almost fake looking plunging forested slopes at the far end. To reach Lago di Braies, it is relatively equidistant from Venice, Milan or Munich. Trains take you to the village of Villabasa (Niederdorf) or Dobbicacio (Toblach) where you can stay the night before and take a local bus past quaint chalets groaning with vivid flowers to the start of the trek. Since it was our big splurge trip, we booked Hotel Pragser Wildsee on the edge of the lake. The hotel is reminiscent of the National Park lodges. Large Art Deco murals grace the walls. We had a drink in the 50-60's lounge complete with a pianist and dinner in the two tiered dining room where we ordered our wiener schnitzel from that night's specially printed menu.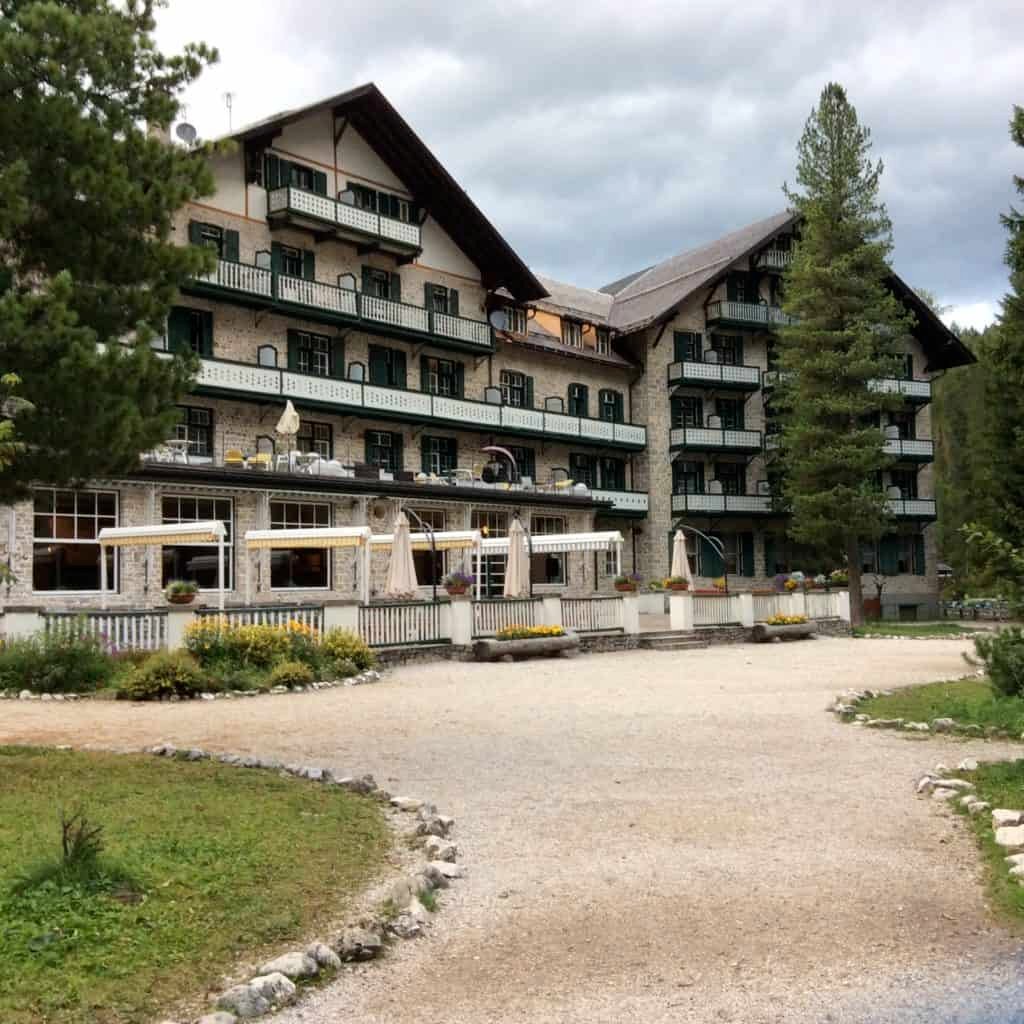 Each day's hike varied in terrain and intensity. Mileage ranged from five to seven plus miles and elevation gains from 1500 to 3000 feet. There's a lot of going up, down and back up again. The first half of the second day we lost almost all of the hard won gain of the first day. My knees started to loudly complain before we started climbing up again to eventually reach Refugi Fannes in the green bowl of the head of a steep valley. Often we were above tree line but still dwarfed by the fortresses of rugged limestone rising above us. Other times we were descending through thick dark forests. The most exhilarating day was bagging Refugi Lagazuoi—a large dormitory inn perched on the top of a high ridge affording unrivaled 360 degree views to an awesome display of God going a little crazy in the mountain making department—an other worldly gallery of pointy monoliths, crested anvils, dramatic peaks and Marmolada, the highest peak in the Dolomites that shelters a glacier threatened by climate change. Getting there required descending a long scree field via tight switchbacks fortified by timbers and then a 1500 foot slog up a huge flank, the cable car building that sends a tram plunging down the other side, always tantalizing visible but just out of reach, until finally, after passing WWI bunkers, we were there. We didn't mind rewarding ourselves with a 7 euro shower.
On our trek we met Germans, Israelis, Australians, South Africans and we hiked about three of our days with an Irish fellow with a dry wit. We only encountered one other American couple at the top of a pass. But, or course, everyone speaks English. One night, whether we wanted to be or not, we were serenaded by a group of older German guys–some sort of hiking-singing club. Another night we were seated for dinner with a young Israeli couple on their honeymoon trying hard to pretend they were not wedged between two older couples—one of who included a pesky gray haired lady (c'est moi) asking lots of questions about life in Israel. We arrived at Refugio Averau in time for a late lunch on a Sunday and the place was packed with raucous local Italian day trippers enjoying a sun drenched fall day and a few beers or glasses of wine with their meal. By evening they all had gone back down the hill and we had a quiet dinner with our Irish friend and a couple young Israeli guys with whom we were leap frogging on the route.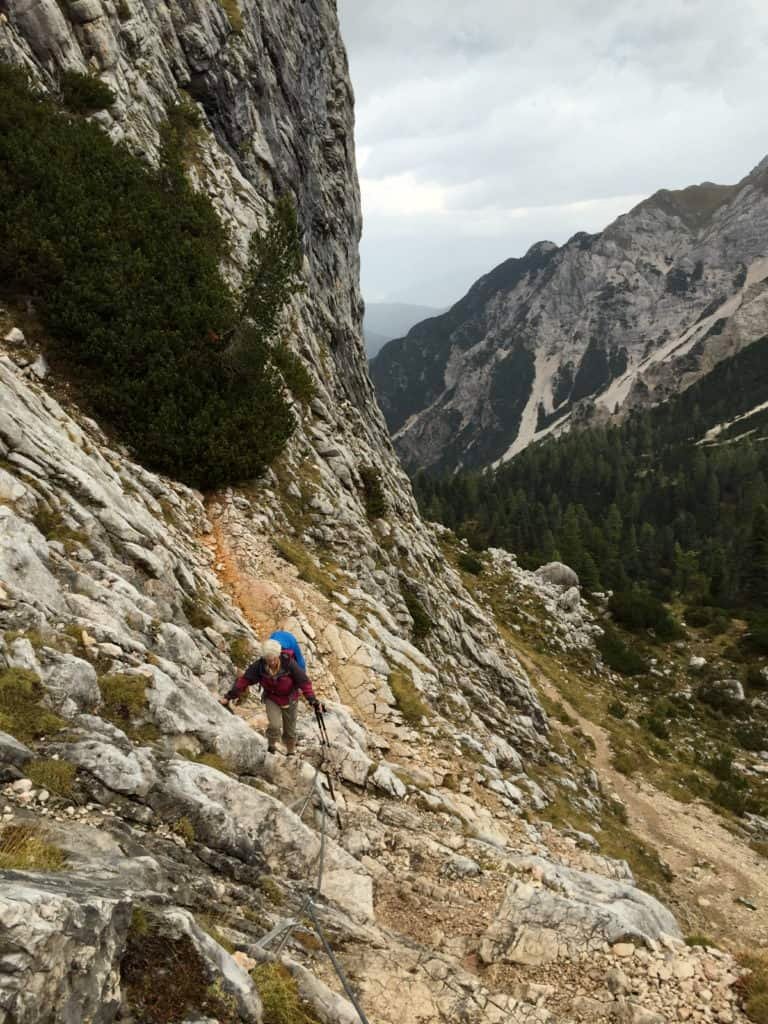 We had borrowed large scale maps from friends whose trek we largely copied but deviated from for the last night's hut. Despite the detail of the map, it wasn't obvious to me how we would get from the end of the trail to Cortina d'Ampezzo, a posh ski resort, where we planned to bookend our trek. Hitchhike? A grind along a rural road? Much to our surprise, we emerged from the forested trail virtually onto a driveway where a helpful tradesman, one of the few non-English speakers we encountered, enthusiastically gestured and pointed around the corner. We walked about 50 yards to a bus stop and a short wait for a bus that took us to the center of Cortina. Since it was off season, we found a delightful room in the flower box bedecked Hotel Montana for a reasonable price, had a pizza at a local joint and conked out on our duvet covered bed, already dreaming of when and how we could return to the Dolomiti and finish our trek.